CSA Week 13: Midpoint
News
Expected Harvest
For Our Members
by Farmer Dana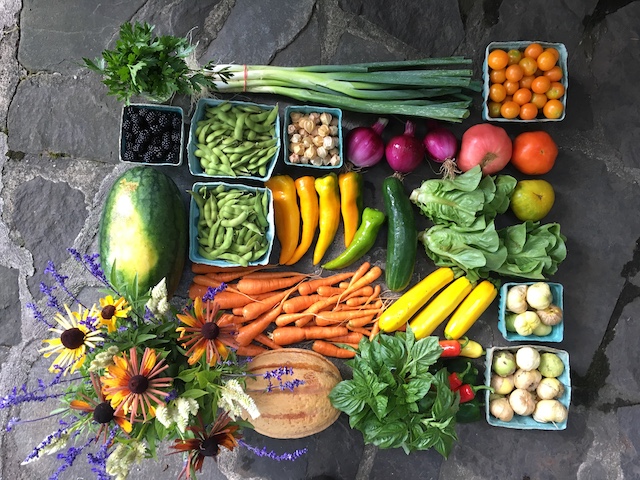 Harvest #13 (Week A) should include cucumbers, zucchini, cantaloupe, watermelon, carrots, tomatoes, onions, eggplant, sweet peppers, lettuce, scallions, basil, hot peppers, okra, shishito peppers, dill, and Italian dandelion. U-pick should include cherry/grape tomatoes, edamame, tomatillos, husk cherries, snap beans, flowers, and herbs.
Notes From The Field
Time to Dry Out
by Farmer Derek
Last week was punctuated by Isaias. I hope you fared well. We were relatively lucky here, only receiving 2.8" of rain, some gusty wind blasts, and a few fallen trees and branches. Not far from us 7" of rain fell and many folks lost power, so overall we made it through relatively unscathed. The worst event from last week was probably the malfunctioning of our cooler system where all of our 2,500 pounds of onions were being stored. Of course it also broke down on Monday morning when there is no time available to devote to the problem until late in the day. Fortunately replacement parts arrived by week's end and function was restored. I did move all those onions into the walk-in cooler temporarily, and now they'll have to be moved back. Soon they'll be joined by potatoes in that less humid storage room.
Last week's wet weather kept us from accomplishing some of our normal weekly tasks like transplanting and cultivating but there were plenty of other jobs to keep us busy. Tuesday we mostly stayed out of the hazardous weather while the other days were spent harvesting, weeding, pruning and trellising, mowing, weed wacking, touring, and seeding.
Carrot seeds have begun germinating and popping up to meet the sun, as well as the acres of cover crops sown last weekend.
This week we'll hopefully have enough time to dry out before the next rain event so that we can cultivate where needed as well as transplant many thousands of fall seedlings including beets, chard, lettuce, kale, kohlrabi, napa/chinese cabbage, dill, and cilantro.
Might as well give a shout out to our new waterways, Jim the 'dozer operator, and the surveying and designing NRCS of the USDA provided. Where there used to be erosion and water woe was nothing but safe soil bliss. Permanent conservation, sustainability improvements meeting expectations are a wonderful thing.
Workshifts for Week of 8/10/20
by Farmer Derek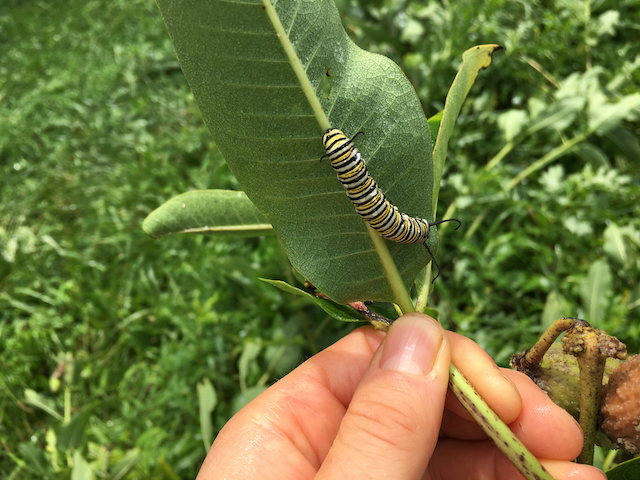 Workshifts will be held rain or shine. If it's raining we'll probably process garlic in the barn.
Workshifts scheduled for this week:

Friday 8/14 8-10am
Sunday 8/16 7-9am
How I Enjoyed My Harvest
"Fruitful" Time of the Year!
By Linda Dansbury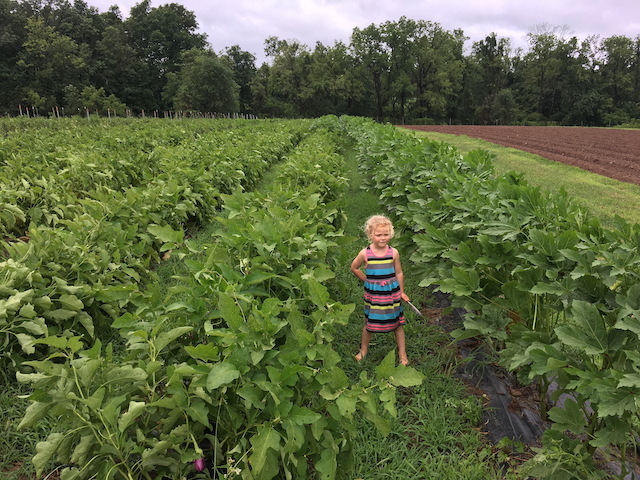 I am loving the fruit part of our share! The watermelon is so, so sweet, the blackberries sweet and tart at the same time - I just received my cantaloupe yesterday so haven't cut into it yet but the fragrance is amazing. Check out Member Ideas and Suggestions for a simple blackberry recipe.
We continue to enjoy having Caprese Salads and Bruschetta, alternating days, as I have previously written. I am making different versions of Zucchini Bread and freezing it for simple desserts later in the year. See below for a few other things I did this week - and please send me how you are enjoying the harvest at lindadansbury@comcast.net - and please put Anchor Run in the subject line.
Onion, garlic, zucchini, basil - we are enjoying our zucchini by doing variations on simply sauteing them. Dice up some onion; mince or grate garlic; saute until lightly browned. Add zucchini cut into matchstick sized pieces, into zoodles, or just sliced - how large the pieces are defines how long the zucchini needs to cook. I am loving the zoodles, because they basically just get warmed up. Add toasted nuts and chopped fresh herbs to "dress it up".
Okra - slice into coins, heat olive oil and drop Okra pieces in. Brown on one side, then turn over and brown on the other side. Drain on paper towels and immediately salt and eat - be careful, these are an addictive snack!!
Peppers, Onions, herbs - had breakfast for dinner - sauteed peppers and onions until nice and soft and slightly browned. Added beaten eggs and cooked until cooked but not completely firm. Topped with some grated cheese and had a nice local sausage with it.
Onion and New Crop Info
By Linda Dansbury
Everyone knows what to do with onions, but storing them is another thing - the onions we are receiving are considered storage onions, but according to Derek the "safest" way to store them is in the fridge. I have been doing this for years and the onions really do keep well in the fridge.
Spaghetti squash will come with our shares in the next couple weeks, as the cucumber and zucchini start to dwindle. Spaghetti squash typically store pretty well in a cool, dry place such as a basement. If there are any knicks or bruises, use them up quickly so they don't rot. The best way I have found to cook the squash is to preheat oven to 400 degrees. Carefully cut the squash in half lengthwise. Scoop out the seeds and save to roast for a yummy snack. Place the squash cut side down in a baking pan - I find putting water in the bottom helps cook the squash more evenly. Bake for 30 min and check for done-ness. When ready, a fork will easily go through the flesh to the peel. You can taste it and if too crunchy, cook for another 15 minutes. Length of baking depends on size of the squash. Pull the strands of the squash gently with a fork. Place in bowl and serve with a little olive oil or butter, salt and a sprinkle of herbs, or use in one of the recipes on this site. For August, I like the
Spaghetti Squash with Sauteed Tomatoes and Basil.
Member Ideas and Suggestions
Member and Farmer Suggestion
By Linda Dansbury
Fellow member Carrie Meunch (who has sent in ideas other years) sent me a note and recipe - she made the
crockpot Chile Verde
for dinner and then found a simple
Blackberry Cobbler
to make. I am posting it for you all to try. Cobblers are great because they are simple and the fruit is somewhat interchangeable. I made a Blueberry Buckle from a recipe from another fellow member, Robin Hoy, and I did half blueberries and half blackberries - wow, so yummy!
Thank you so much Carrie for sharing!
Dana and Derek are not only amazing farmers, they also have some great ideas about enjoying the harvest. Derek said on his night to cook, he heated the oven to 375 degrees. He tossed the okra - whole - didn't even trim the tops off - placed on cookie sheet and let them roast for an hour. He said it was the best okra he ever had - crispy on the outside and tender on the inside. I can't wait to try this for myself.
**Workshop 8/23** Now What… Did you do with your share?
by Gia Yaccarino
Hosted by longtime farm and core group member Gia Yaccarino.

Please join me Sunday, August 23, from 1-3pm at the Pavilion (a rain-out make up date from 8/16).
Wow – This has been one crazy year – both for the world and at the farm! I think we all have settled into our "farm routine" for this growing season – but it is a vastly different routine from previous years! At least for me. And as I take a step back to consider the differences, I of course think of the things I am missing at the farm.
Sorrel! I miss the Sorrel! I love that "lemon lettuce"!
I also miss the "community" part of the CSA – the talking in the pick-up room as we patiently wait to weigh out our share. Passing the time while doing the U-Pick by talking to other members. And the potlucks - YUM! (We have some excellent cooks at the farm!!!) I miss you guys – the other farm members that I felt a camaraderie with as we all attempted to find creative ways to use our plentiful shares of produce. I understand – with the current state of things, people are giving each other space – lots of space – thank you. But, still- I miss the community!
So let's have a workshop!
If you have been a member, prior to this year, you probably remember that I usually run a "Now What" workshop at the start of the season. This year, I want to add a twist – since we are already 10 weeks into the season, I also want my fellow members to contribute what they have done with their shares. Successes, Disasters (we learn from our mistakes!), Misadventures! Are you stuck in a rut and do the same thing with certain vegetable?
I will also be talking about using a dehydrator, since that always seems to be a popular topic!
Please bring a notepad and pen or pencil to take notes!
Please Join me Sunday, August 23, from 1-3 at the Pavilion.