CSA Week 14: Cooler Weather Wonder
News
Expected Harvest
Land Giveth
By Farmer Dana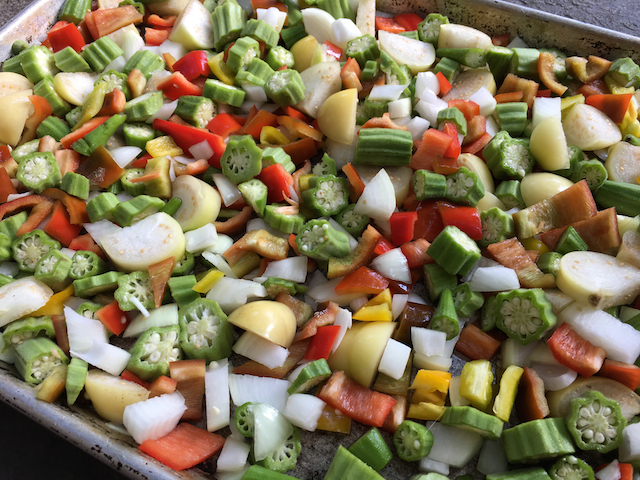 Harvest #14 (Week B) should include cantaloupe, carrots, scallions, garlic, sweet peppers, winter squash, lettuce, onions, basil, tomatoes, eggplant, cucumbers, zucchini, hot peppers, shishito peppers, okra, and Italian dandelion. Some items will be choice. Tomato and eggplant yield is currently down; cucumbers and zucchini are at the end of their season. U-pick should include tomatoes, edamame, husk cherries, tomatillos, blackberries, herbs, and flowers.
Notes From The Field
Harvest Update, A Reckoning
by Farmer Derek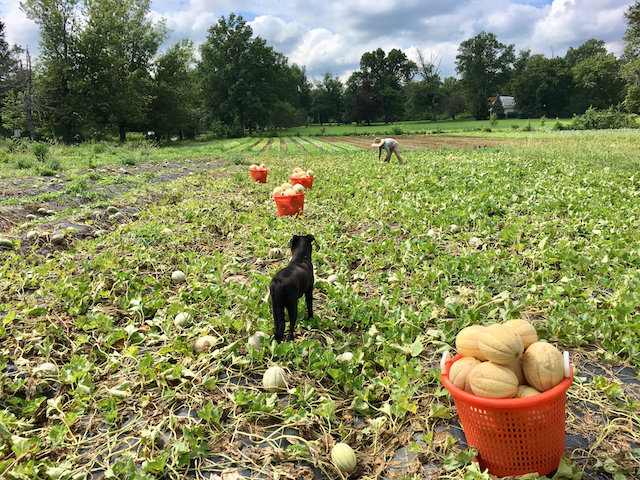 We're in the midst of a transition, a departure, a lessening (with a lesson) of certain crops. Some crops have met their potential and leave us feeling satisfied with their yield. Others have us scratching our heads as we try to understand what undermined their success. Let's not over- or understate the challenge of growing hundreds of varieties of crops over a 9-month growing season. The plethora of variables beyond our control, those we choose not to control because we farm organically, is a daunting list but one which must be assessed when goals aren't met. Crops whose seasons are ending but overall met their yield expectation include watermelon, cucumbers, and zucchini. It's been nice being able to rely on them for the past 1 and 2 months. What I'm most disappointed by is the nosedive drop in tomatoes. From a peak haul of 1,500lbs two and a half weeks ago to barely enough to cover Thursday and Saturday pick up last week is maddening. A quick consultation of past seasons shows me that tomatoes peak somewhere betweend 7-10lbs/member for a week or week and a half then for the next 2-3 weeks provide 4-6lbs then end with 2-3 pounds for a few weeks. So, why such a quick decline this year?
I believe it's a disease issue which could be one or more of the following: anthracnose, alternaria, septoria leaf spot, verticillium wilt. It feels like it's recurring, unfortunately. Last year the field tomatoes had the healthiest foliage on the biggest plants we've had, yielded well very briefly, and also declined rapidly. We practice a minimal 3+ year crop rotation, use covered raised beds, keep plants elevated/trellised to minimize any soil contact and splashing. But, I think, our weakness lies in our unsterilized trellising method. We use 7-foot t-posts and aluminum wire to support the plants and it's possible a disease organism is overwintering on one of those materials. Pruning and clipping means we're in amongst the plants regularly so if a plant is sick the illness can easily spread. Plant stress also can exacerbate susceptibility to illness but the tomatoes this year enjoyed pretty good conditions (except for more recently). July was very hot, humid, and wet, so that could provided too much stress. I'll be thinking this over and will hopefully come up with a solution for next year. Fortunately our 2nd planting of tomatoes, in the hoop tunnel, is starting to ripen and will hopefully yield well enough to satisfy everyone (that is if we can keep the armyworm larva population under control).
Eggplant is another crop that has me perplexed. Big, healthy plants, a good yield for a couple of weeks in the beginning, then just a trickle for the past few weeks. Bookending tomatoes and eggplant in the same field are okra and sweet peppers, crops that are performing as well as expected and look healthy overall.
Thus, we apologize for crops that aren't abundant like they should be.
Workshifts for Week of 8/17/20
by Farmer Derek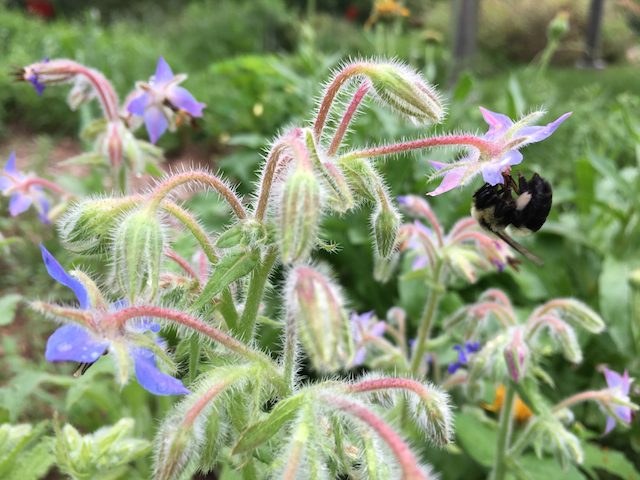 Workshifts will be held rain or shine. If it's raining we'll probably process garlic in the barn. When it's dry we'll probably harvest potatoes.
Workshifts scheduled for this week:

Friday 8/21 8-10am
Sunday 8/23 7-9am
Try New Herbs!
By Linda Dansbury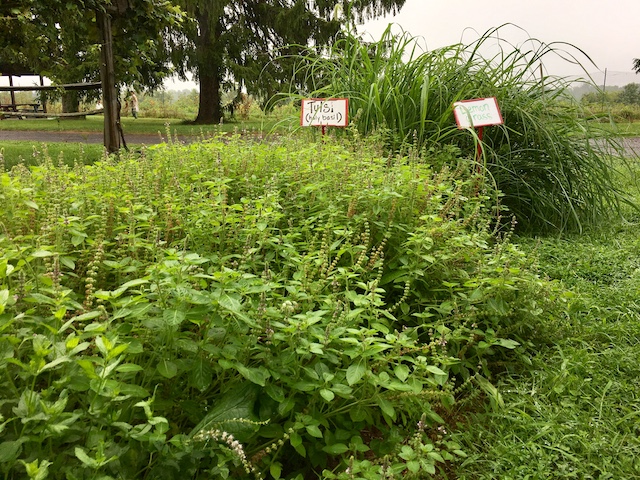 As many of you know from my writings, I love cooking and eating Southeast Asian, and in particular Thai food. There are two herbs in the herb garden which seem overlooked by members: Lemongrass and Holy Basil or Tulsi. As with many other herbs, both of these have both medicinal and culinary uses and benefits. Lemongrass and Holy Basil are both used to make teas and many commercially available teas contain lemongrass as part of the mix. Both herbs reportedly help lower stress and anxiety. You can google each of them to learn more about their medicinal uses. Lemongrass, as it sounds, has a nice lemony aroma and flavor with a hint of ginger and mint. The tulsi variety of holy basil is peppery and crisp, with hints of lemon, peppermint and cloves.
From a culinary standpoint, they are both necessary components in Thai dishes, and Holy Basil is also used in Indian cuisine, and is in fact where the plant originated. The part of the lemongrass that is used in cooking is the lower 1-2" of the stem. Look for the thickest stems and with a very sharp knife or pruner (or a delicate pull and twist), cut the stalk at the base of the plant. Take off the tough outer leaves and the top part of the plant. The inner part has a purple coloring: this is the part of the stalk that is the best to use. Typically in Thai food lemongrass is one component of pastes that can contain garlic, chili peppers, shallots, ginger, and more. A mortar and pestle is traditionally used, but a food processor can also be employed. To provide you with a recipe, I am adding a recipe for
Vietnamese
Lemongrass Chicken
. Almost any protein would work well with this recipe.
Holy Basil or Tulsi is not a familiar herb to most people. Rather than shiny, its leaves are a bit fuzzy. The leaves are used in Thai stir fry dishes, as an aromatic with garlic, fish sauce and chilies to impart flavor into meat, fish, or chicken. Holy basil is best used fresh, as its leaves cannot maintain their aroma after a few days in the refrigerator. I also found that it doesn't hold up in a glass full of water, which is different than the Italian or Thai basils. I typically add the whole leaves at the end of making the stir fry. If it is added early in making the dish, the heat will cause the flavor to diminish, much like what happens with other fresh herbs such as parsley.
How I Enjoyed My Harvest
New things to Eat
By Linda Dansbury
I was pretty adventurous and motivated to cook this past week, trying some new recipes. I would love to hear from you and share with the rest of our members how you enjoyed your harvest too, so please email me at lindadansbury@comcast.net and put Anchor Run in the subject line.
Tomatoes, lettuce, garlic, zucchini
- made the
Warm Sausage Salad with Zucchini
that is on this site. This is a simple and delicious dinner salad. I normally make it a few times during the season, but forgot about the recipe until this week.
Okra - tried a new dish in which you quick fry the okra in neutral oil, just till it turns bright green, about 1 minute. Drain the okra. The pods were bigger this week, so I sliced them on the bias into about 1 1/2 to 2" pieces. While the okra was frying, in a wok I put a little oil, and a tablespoon or 2 of Sambaal Oelek and stir fried it till aromatic. Added a bit of sugar to it, then added the okra which had been fried into the wok and stir fry. Add a tablespoon or so of oyster sauce and a little salt. Toss, place in bowl and top with one or more of thinly sliced chili peppers, fried onions or shallots and roasted peanuts.
Holy Basil, lemongrass, garlic - made a chicken wing dish that started with marinading the wings for a bit, and in a mortar and pestle making a seasoning mix consisting of lemongrass, hot peppers, garlic, onion, ginger. Chicken was browned, then boiled till the water evaporated. Seasoning mix was added and all was cooked together until wings were cooked. Removed from heat and added a few large handfuls of holy basil. Yum.
Green beans, cherry tomatoes, onion, herbs - saw a method for grilling the green beans - yes, you need to be careful about it - that turned out amazing. Grilled the beans and then made it into a salad with the tomatoes, some onion, herbs and a sherry vinegar vinaigrette.
Watermelon, cucumber, mint - made a very simple salad which also used lime juice and pepper and a bit of feta added on the top. Served with spicy bar-b-que ribs and the counter balance was delicious.
**Workshop 8/23** Now What… Did you do with your share?
by Gia Yaccarino
Hosted by longtime farm and core group member Gia Yaccarino.

Please join me Sunday, August 23, from 1-3pm at the Pavilion (a rain-out make up date from 8/16).
Wow – This has been one crazy year – both for the world and at the farm! I think we all have settled into our "farm routine" for this growing season – but it is a vastly different routine from previous years! At least for me. And as I take a step back to consider the differences, I of course think of the things I am missing at the farm.
Sorrel! I miss the Sorrel! I love that "lemon lettuce"!
I also miss the "community" part of the CSA – the talking in the pick-up room as we patiently wait to weigh out our share. Passing the time while doing the U-Pick by talking to other members. And the potlucks - YUM! (We have some excellent cooks at the farm!!!) I miss you guys – the other farm members that I felt a camaraderie with as we all attempted to find creative ways to use our plentiful shares of produce. I understand – with the current state of things, people are giving each other space – lots of space – thank you. But, still- I miss the community!
So let's have a workshop!
If you have been a member, prior to this year, you probably remember that I usually run a "Now What" workshop at the start of the season. This year, I want to add a twist – since we are already 10 weeks into the season, I also want my fellow members to contribute what they have done with their shares. Successes, Disasters (we learn from our mistakes!), Misadventures! Are you stuck in a rut and do the same thing with certain vegetable?
I will also be talking about using a dehydrator, since that always seems to be a popular topic!
Please bring a notepad and pen or pencil to take notes!
Please Join me Sunday, August 23, from 1-3 at the Pavilion.