CSA Week 15: Kale Yeah!
News
Expected Harvest
Greens Party
by Farmer Dana
Harvest #15 (Week A) should include cantaloupe, winter squash, scallions, basil, tomatoes, eggplant, sweet peppers, onions, garlic, kale, swiss chard, hot peppers, okra, italian dandelion, and shishito peppers. U-pick should include edamame, cherry/grape tomatoes, husk cherries, tomatillos, flowers, and herbs. We'll probably give lettuce a break this week to allow it to mature more; kale and chard should be plentiful. Blackberries have some kind of blight and may be unavailable.
Notes From The Field
Future Plans
by Farmer Derek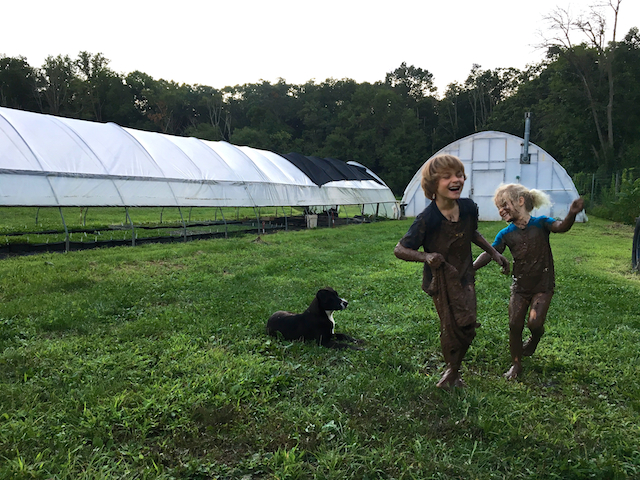 It may be that we're still stuck in summer, occasionally enveloped in thick humidity and blasted by hot sunshine. Nevertheless we're pushing our minds forward up the number line towards cooler weather and shorter days. The time for sowing seeds for outdoor crops has passed; we're now seeding for indoor, protected space growing in our numerous tunnels for fall and winter production. Even though it feels like we're still in the midst of summer - and we are - diminishing daylight over the next few months really slows down plant growth and we need to prepare for November, December, January harvests now. Crops sown now, transplanted late September will be harvested in November. Crops sown in September and transplanted in early October will be harvested in December or early January. Crops sown and transplanted any later will barely grow and won't be harvestable until mid/late February, too late for our growing seasons. From mid-November through end-January daylight drops below an important 10-hour/day mark and plant growth slows remarkably. Well established plants will continue to grow at a diminished rate, but young plants will mostly just sit in a dormant state. It takes a bit of a mind overhaul to switch mental gears from summer to winter growing plans, especially when one makes those plans in the opposite season. But with practice and good record keeping it gets easier.
On that note we decided to invest in two additional tunnels for the farm, albeit slightly less permanent ones that are theoretically movable. They will provide an additional 4800 square feet of protected space, increasing those farm environments by more than 50%. A big part of our motivation for this investment was to better control growing crops on the shoulders of the Main Season, especially for May and November harvests. This past April and early May was way too cold and drastically slowed down outdoor crop growth. October and November can vary significantly year to year and just a slight change in temperatures in the colder direction can impair crop production and harvestability. For example, a 35-degree medium frost compared to a 30-degree heavy frost can render crops unharvestable. 'Simply' putting crops in a tunnel gives them a 10-degree or so buffer. Adding another layer of fabric on the inside can basically pull them through the worst of winter all without supplemental Earth-sourced heat - thanks to the Sun for fusing hydrogen into helium 94,000,000 miles away!
In the here and now we're thankful for a return of the big leafy greens kale and chard. With decent weather these crops should be around for most of the rest of the season. We're also thankful for some dry weather. It's been pretty wet the past 1.5 months. We're also appreciative of member help harvesting potatoes and weeding the fall carrots. Depending on one's disposition, either or both of those tasks could be hard to enjoy, but we've made some great progress on both tasks. The carrots will probably be all cleaned up this week while the potatoes will slowly be chipped away at. We plant 5 varieties with different maturities so that we don't have to harvest all of them at the same time.
Workshifts for Week of 8/24/20
by Farmer Derek
Workshifts will be held rain or shine. If it's raining we'll probably process garlic in the barn. When it's dry we'll probably harvest potatoes or pull some weeds.
Workshifts scheduled for this week:

Tuesday 8/25 8-10am
Wednesday 8/26 9-11am
Wednesday 8/26 6-8pm
Friday 8/28 9-11am
Sunday 8/23 7-9am
2020 Late Fall and 2021 Main Season
by Farmer Derek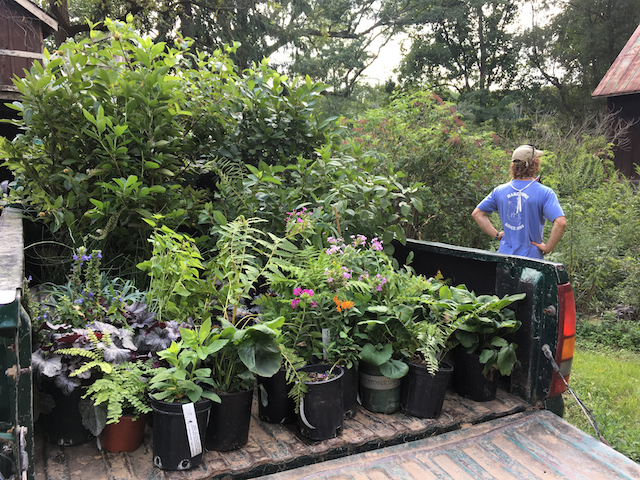 Registration will open for both the 2020 Late Fall and 2021 Main Season simultaneously in September. Late Fall membership will be limited to current CSA members. 2021 Main Season registration will open to current members, then the Waiting List, then the general public. Due to the pandemic and other factors, we anticipate strong demand for both seasons which will be filled on a first-come-first-serve basis. We'll announce via e-mail and you'll be able to join through the website.