CSA Week 17: Into September With Open Arms
News
Expected Harvest
Late Summer Flavors
by Farmer Dana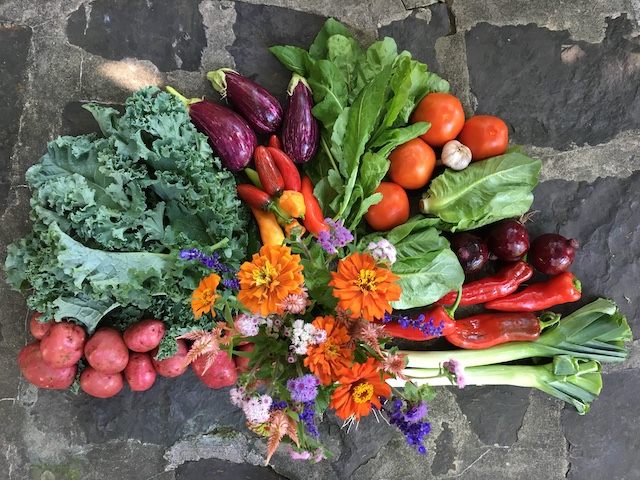 Harvest #17 (Week A) should include leeks, onions, garlic, sweet peppers, eggplant, tomatoes, kale, arugula, lettuce, potatoes, basil, rosemary, okra, hot peppers, shishito peppers, green tomatoes, and italian dandelion. Some items will be a choice and may not be available during all pick up times (total weight/items will stay the same). U-pick is winding down but should include flowers and herbs. Edamame, tomatoes, husk cherries, and tomatillos may be open for 'gleaning' which basically means they're at the end of production, there's not enough quality fruit for everyone, the good ones are hard to find, take what you can get, etc. Consult the u-pick board for up-to-date information.
Notes From The Field
Assess, Observe, Reflect, Plan, Cope
by Farmer Derek (and Dana, ed.)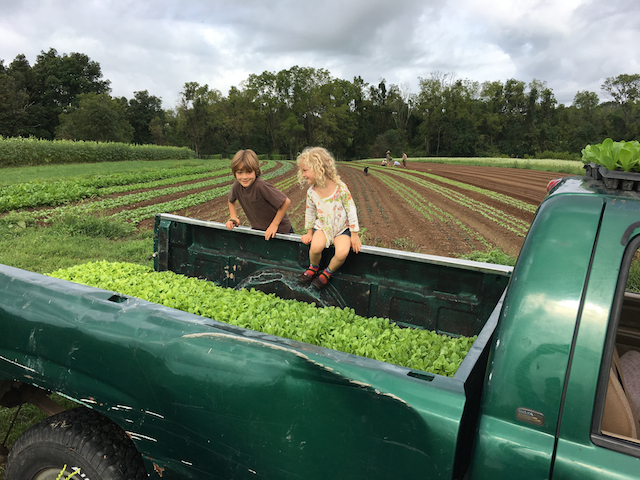 Each weekend I walk or bike around the farm, visit each field, look at most of the crops, perhaps take some pictures, document the growing season, and make a to-do list for the upcoming week as well as take any pertinent notes to add to our digital ongoing farm production please-remember-in-the-future document. The last couple of months have been a challenge, a grind, but with a new month, cooler temperatures, and lower humidity (and maybe the light is seen at the end of the proverbial growing season tunnel) we can feel a bit more relaxed and less overwhelmed.
Overall it has been a good season of production and the rains haven't been terrible. But there is an added undercurrent of anxiety I'm assuming is due to the current pandemic, political turmoil, and the ongoing climate crisis. It's a mental challenge to steer past or through all the negativity we're bombarded with while considering what seems like the grim position the world is in. It's pretty hard to find anything to read that puts a positive spin on the future health of us and this planet. In the midst of these troubles the farm is a consolation. Immersing ourselves in the work is many things at once: a physical and mental outlet; an opportunity to affect the environment around us positively; a space and nourishment to be comforted by. We hope that the farm is a bright spot in your lives too, at least that is what we strive to provide. But I digress...
Crops look great. Late summer kale is the best of the season. Summer crops are still trickling in. Fields are being cleaned up and sown with cover crops. Storage crops are being retrieved and have decent yields. Outdoor transplanting is just about finished for the year while very soon we'll embark on tunnel transplanting. There's two more weeks of seeding for tunnel production then that's all finished until late February. My brain is beginning to think about winter travels, downtime, registration for 2021 Main Season CSA as well as staff needs, big farm projects, longterm goals, and retirement (joking). This weather is a welcome relief and joy and I hope you're relishing it as much as we are!
Workshifts for Week of 9/7/20
by Farmer Derek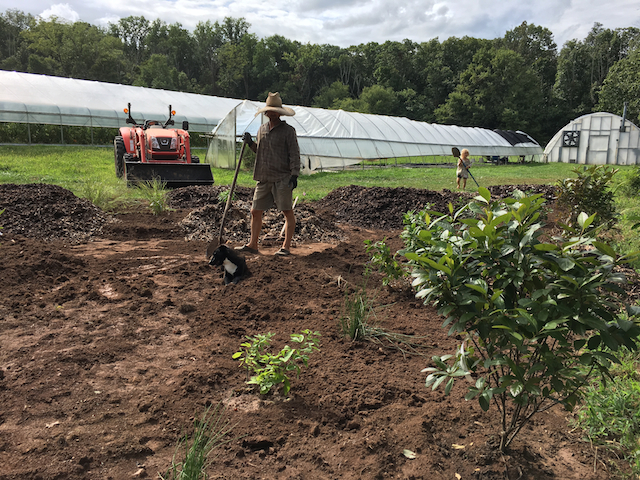 Workshifts will be held rain or shine. If it's raining we'll probably process garlic in the barn. When it's dry we'll probably harvest potatoes or pull some weeds.
Workshifts scheduled for this week:

Tuesday 9/8 9-11am (probably potato progress)
Wednesday 9/9 9-11am (probably potato progress)
Friday 9/11 9-11am
Sunday 9/13 8-10am
How I Enjoyed My Harvest
Fall Meets Summer
By Linda Dansbury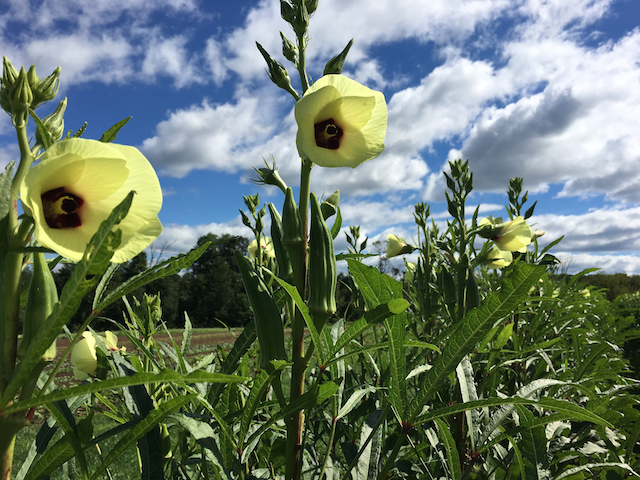 I don't know about anyone else, but this time of year seems a little trickier to figure out how to best enjoy the harvest. Fall crops mix in with summer, and it is very warm one day and chilly the next. So, what to eat? Below is some of what I did this past week.
Okra, eggplant, onion, garlic, tomatoes, peppers
- made a large batch of
Caponata (1 & 2)
to freeze for later use. There are 2 recipes on this site, so check out which sounds best for you. Okra is not on the list of ingredients, but that's okay. I added them because I didn't want them to go bad.
Shishito peppers - not much to say about these except yum! Heat a little neutral oil in a large pan and add peppers. Fry, turning frequently until they begin to brown. Remove from pan, drain, salt and enjoy! Alternatively, put them on the grill at medium/high heat - don't walk away, because they cook fast.
Kale
- it was so nice to see kale back in the share last week. I used some of it for a small
Kale Salad
and I made
Kale Chips
with the rest. I skipped the dried fruit in the Kale Salad.
Peppers -
a few years ago a fellow member sent me the recipe for
Pepper Puree
- I had often made roasted peppers and used them as additions to sandwiches, as a topping for bruschetta, over eggs, etc., but I have found this version even more flexible and it even freezes well.
Member Ideas and Suggestions
Lots of Veggies Used!
By Linda Dansbury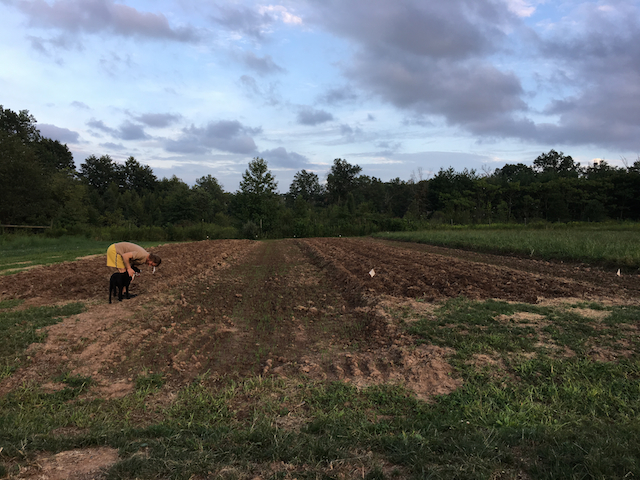 I love it when fellow members send me how they enjoyed their harvest - it always provides me with ideas I hadn't thought of before. Cheryl Dacey sent the following to me this week. I really like how she combines so many of the farm's veggies in one dish. Thank you Cheryl!
"We have really been enjoying the harvest each week. Been making Eggplant Caponata, and Ratatouille almost weekly. I really enjoy these with some foccacia bread. Been making and freezing salsa verde (mild and hot with Anchor Run hot peppers) and Pesto.
This week I made Salsa Verde Chicken Stew and added okra, carrots, onions and some sweet corn. It came out excellent. I made a roasted tomato basil soup with caramelized onions and roasted garlic. Pasta with pesto, chicken and cherry tomatoes - my son loved this. I think my favorite was stuffed pepper soup. It really came out so good!"
Please send me how you are enjoying your harvest at lindadansbury@comcast.net and put Anchor Run in the subject line so I can find your email.