CSA Week 20: A Return of Rain?
News
Expected Harvest
Autumn on my Mind
by Farmer Derek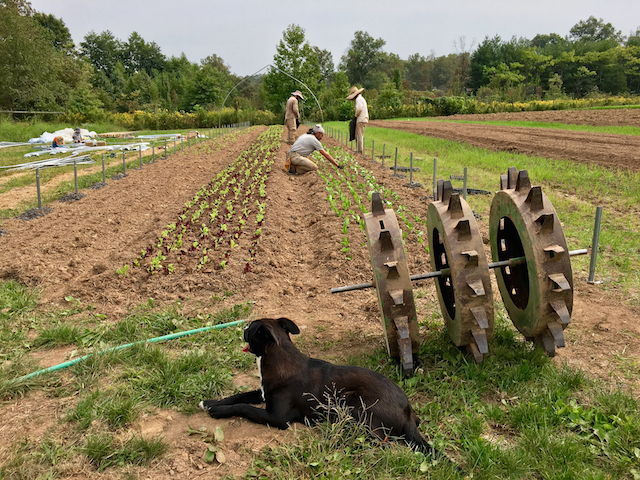 Harvest #20 (Week B) should include broccoli, kale, arugula, leeks, garlic, lettuce, salad radishes, hakurei turnips, beets, kohlrabi, sweet peppers, green tomatoes, hot peppers, italian dandelion, swiss chard, and possibly escarole or celery. Some items will be a choice. U-pick should include herbs.
Notes From The Field
Cold Open, Exit
by Farmer Derek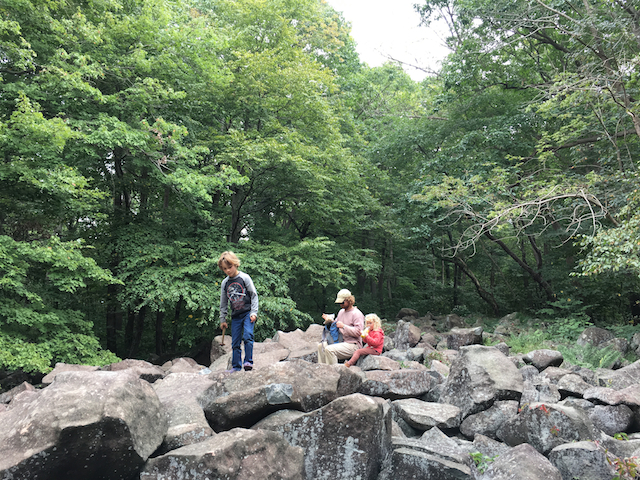 Well that was a first for us. Harvesting on a frosty morning in September, in Summer. Was that a harbinger of a cold fall, winter, or just a strange, random aberration, an early polar vortex-like delivery? A plunge in temperatures this early in the almost-fall was a strange but welcome respite from summer's heat and humidity though I'm not ready to turn on interior heat (though we did fire up the kitchen wood stove a few of those chilly mornings I withheld from burning the aged and compressed organic matter taken from deep underground aka oil). Are we now in what is colloquially known as an "Indian Summer" or is frost and cold in summer irrelevant? From what I can tell no harm was done to any of the fall crops except for slowing down growth (this minor dry spell doesn't help). The summer crops we were still picking (peppers, eggplant, okra, tunnel tomatoes, basil) were at their annual departure date anyway. We'll probably see peppers and green/less ripe tomatoes for another week or so as we harvest all edible fruit. Speaking of basil, I hope you noticed it's longevity this year! Organic seed companies and universities finally bred a few varieties that are truly resistant to basil downy mildew which for the past five years or more has been the scourge that ended the basil season mid-summer (see picture below).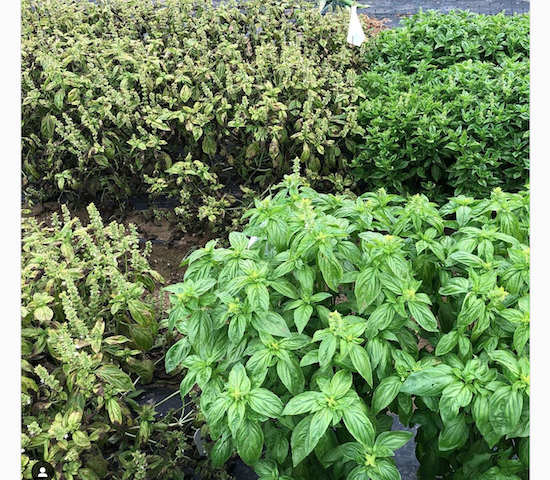 Last week we seeded the final crops for 2020. That's about 30 weeks since we sowed the first seeds this year. We also transplanted kale, lettuce mix, head lettuce, and swiss chard and filled up the space in the movable high tunnel plot as well as one of the two new caterpillar tunnels. Preparation began in the hoop house for next week's transplanting of lettuce, arugula, and greens mix. Since that space was used to harden off plants prior to planting outside, landscape fabric had to be removed and manually forked (aerate). It's possible we did the final cultivation of outside crops last week, too. We'll probably need to cultivate or weed at least one or two of the tunnel plots but maybe we'll be lucky. The new caterpillar tunnels will reside where 2020 garlic and straw briefly called home and the straw probably deposited more than one weed seed. Speaking of the two new tunnels, we should have the frame of one finished this weekend.
This coming week we plan to continue indoor preparations for fall growing. Tomatoes need to be removed to make way for fall crops. Soil needs to be forked, hoed, amended, raked. We'll probably continue to retrieve miscellaneous storage roots (watermelon radishes, purple daikons, beets, kohlrabi). By the way, last week we finished the modest sweet potato harvest. Thanks to the farm crew and members for that!
Happy Autumn!
New Closing Time Monday & Thursday!
by Farmer Derek
**New fall/autumn/post-equinox/early sunset CSA pick up hours starting this week, #19, Week A: 1-7pm Mon and Thu; Sat remains 10am-12pm. If you are unable to make it by 7pm e-mail us and we'll accommodate you.**
Workshifts for Week of 9/28/20
by Farmer Derek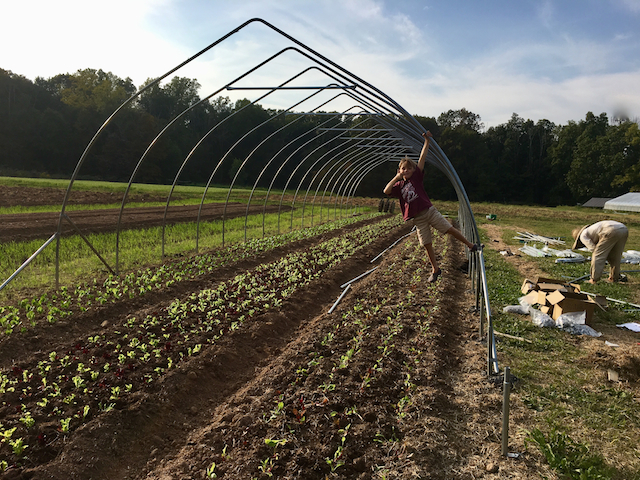 Workshifts will be held rain or shine. If it's raining we'll probably process garlic in the barn or clean up tomato patch in the hoop tunnel. When it's dry we'll probably harvest some crops or pull some weeds.
Workshifts scheduled for this week:

Tuesday 9/29 9-11am
Wednesday 9/30 9-11am
Friday 10/2 9-11am
Sunday 9/4 9-11am
How I Enjoyed My Harvest
Back to Summer?
By Linda Dansbury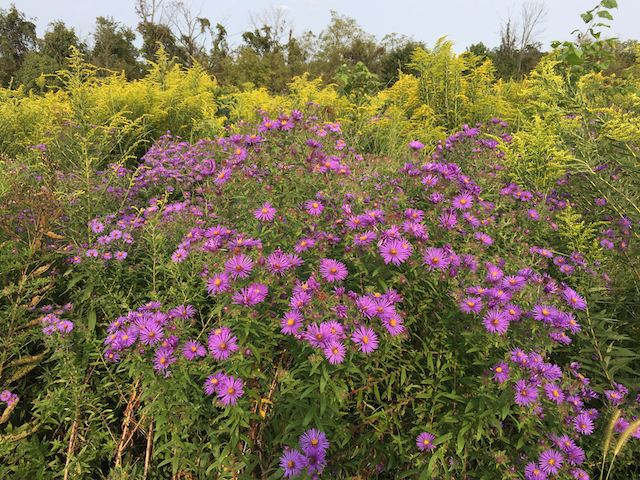 After a few delightfully brisk days, we are back to warm and high humidity weather, so back to wanting to cook summery foods. Here is a few things I made this past week.
Eggplant, peppers, onions - went back to the grill with these last night - simply drizzled with olive oil and grilled till soft and tasty. I added a couple hot peppers and froze them to add to a chili later, which will give it a slight smoked flavor. I did 2 weeks of peppers, onions and eggplant. I will eat leftover eggplant for lunch and the extra peppers and onions I chopped up and froze to add to something down the road. I have never done this before but am sure the grilled veggies will add a wonderful flavor to something during the long winter months.
Onions, garlic, sweet peppers, hot pepper, tomatoes, okra and kale - made a sort of fish gumbo last week when it was cold. Started with a light rue, added celery, peppers and onions and sauteed till translucent. Added cajun spices, tomatoes (I did a mix of canned and fresh, all diced) and okra and cooked till okra was getting soft. Added finely chopped kale and when it was cooked, added cod and shrimp and cooked until done. Topped with chopped cilantro. Yum!
Napa cabbage, radish, turnips, red onion, cilantro
- made the
Napa Cole Slaw
recipe that was submitted by a fellow member.
How did you enjoy your harvest? Please email me at lindadansbury@comcast.net so I can share with the rest of the members.
Crops are Returning
By Linda Dansbury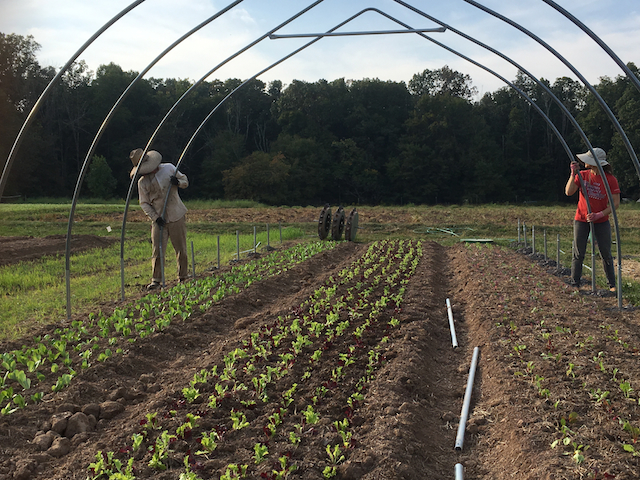 Crops are a great example of the Circle of Life - the crops we receive in the early part of the season, also thrive toward the end due to shorter days and cooler weather. Crops returning are broccoli, beets, cabbage, kohlrabi, escarole, celery, turnips and more. Just a few notes on a few of them:
Broccoli - don't have to tell you how to use it, but since it is organic, it is common to have a worm or 2 hidden in the heads. I have found that the worms make the broccoli go bad quickly. So if you are not going to eat it within a day or 2, check the heads carefully for worms when you get it home. Even run under water to push them out. If you put it under water, let it drain on a kitchen towel before putting in plastic in the fridge so it doesn't rot from too much moisture.
Kohlrabi - delicious as a snack all by itself or dipped in hummus or your favorite dip - also great in salads, where it adds nice crunch. Great mixed in slaws and it can even be roasted. It stores in plastic in the fridge for a while.
Escarole
- among my favorite greens - it can be enjoyed raw when added to salads or as a main salad component, sauteed with onion and garlic and topped with grated cheese and enjoyed as a side dish, and is delicious chopped and added to soups. Try the
Sauteed Greens Plus 3 uses for Them
for ideas - I like to make a large batch (clean out the fridge) and then add to a couple soups and stews and enjoyed in an omelette.
Turnips and Radishes - these have been beautiful and I love them both - do not throw out the tops! They are delicious and super nutritious. I suggest adding them to the greens in the above recipe. Separate the greens from the roots when you get them home.