CSA Week 22: Thankful for the Bounty
News
Expected Harvest
A Balance
by Farmer Derek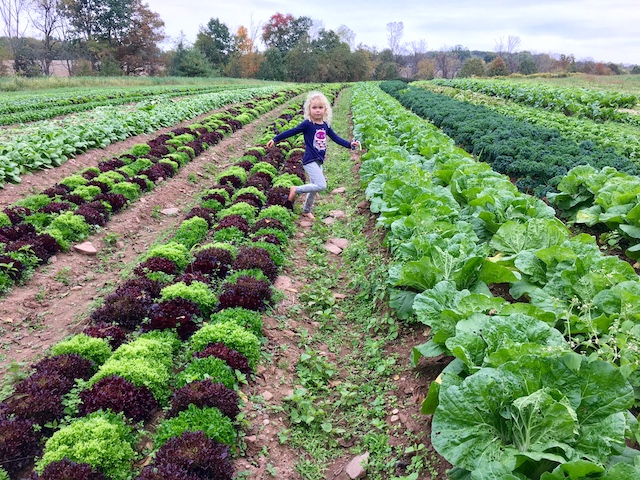 Harvest #22 (Week B) should include lettuce, kale, arugula, hakurei turnips, leeks, potatoes, cabbage, garlic, tomatoes, sweet peppers, cauliflower, chard, escarole, and celery. Some items will be a choice. U-pick should include herbs.
Notes From The Field
Almost There
by Farmer Derek
It feels pretty good to mostly wrap up a big job that has been forcing me to work seven days a week for the past month. I still need to install the endwalls, run another anchoring rope, and set up wire for trellising but the two new caterpillar tunnels are just about done. We're excited to have even more covered space on the farm since crops really love being in there. I'm also looking forward to observing how the new waterways handle the extra water over the next couple of days. Inside all of our tunnels I still need to install driptape but pretty soon we'll be able to just sit back and watch the crops grow. We have one more bed to plant in the hoop tunnel this week then we'll plant the five short greenhouse beds the following week. Besides some miscellaneous mowing, tractor work is almost wrapped up for the season too. Garlic will be planted in early November, hopefully while we're celebrating the election results. Two more passes with the bed shaper then they'll be ready.
Most of our fall crops are doing well. We basically lost the 2nd planting of broccoli to disease, but other than that all fall crops look stellar. Cabbages are the biggest I've ever seen them. Chard and kale are performing fantastically. Fall celery is 90% harvestable (we lost 90% of our summer celery to disease). Escarole, endive, and radicchio look great. Lettuce, romaine, and lettuce mix are happy. Radishes and turnips were more productive than ever. We transplanted them this season and I think that helped along with perfect rainfall and magic soil.
Magic soil? Well we soil test and add fertilizer and compost and cover crops, but I don't think that explains exactly why the fall crops probably look the best they ever have. Because of the interconnectedness of everything in the soil biome/foodweb, ratios matter as much as amounts and it's hard to quantify everything that happens underground. And since we try to rely on rainfall for all of our bare ground crops' water needs this variable has a large influence on everything. Soil moisture conditions when plowing and shaping can also really impact the health of the crops. If the soil gets compacted at all, roots have a harder time penetretating and accessing nutrients, which can also get locked up. I'm not going to try to completely understand and explain why the crops are super happy and healthy right now but instead just really appreciate them at this time and know that a little bit of everything we do gets mixed around together with nature to achieve success.
Workshifts for Week of 10/12/20
by Farmer Derek
Workshifts will be held rain or shine. If it's raining we'll probably process garlic in the barn. When it's dry we'll probably harvest some crops or pull some weeds.
Work opportunities are dwindling! We'll probably host about 2-4/week through October. Later this month we'll process and split garlic into seed. In early November we'll plant and mulch the garlic then pause until next season.
If you signed up for a share with the work discount but you're unable to fulfill your work obligation for your discount you can simply pay the difference. E-mail us for your balance (it's $15/hour; 4 hours for half share, 6 for medium, 8 for full).
Workshifts scheduled for this week:

Wednesday 10/14 9-11am
Friday 10/16 9-11am
Sunday 10/18 9-11am