CSA Week 24: Sunshine Hopeful
News
Expected Harvest
Beneficial Organisms
by Farmer Dana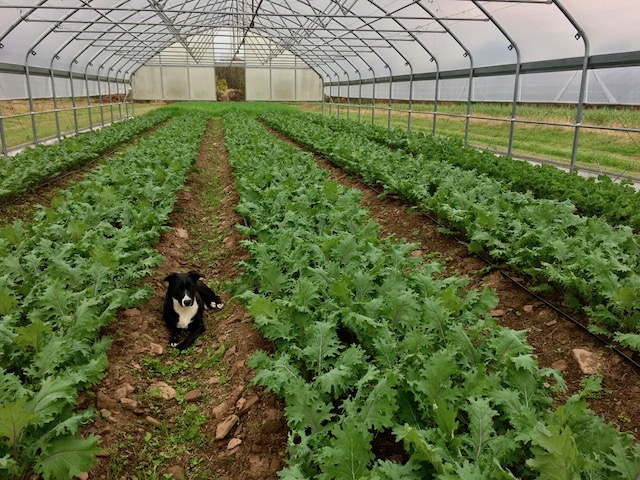 Harvest #24 (Week B) should include romaine, kale, lettuce mix, mini head lettuce, bok choy, beets, onions, hakurei turnips, cauliflower, kohlrabi, fennel, celery, escarole, chard, and radicchio. Some items will be a choice and/or may not be available during all pick up times (though we'll try).
Notes From The Field
October's Final Week
by Farmer Derek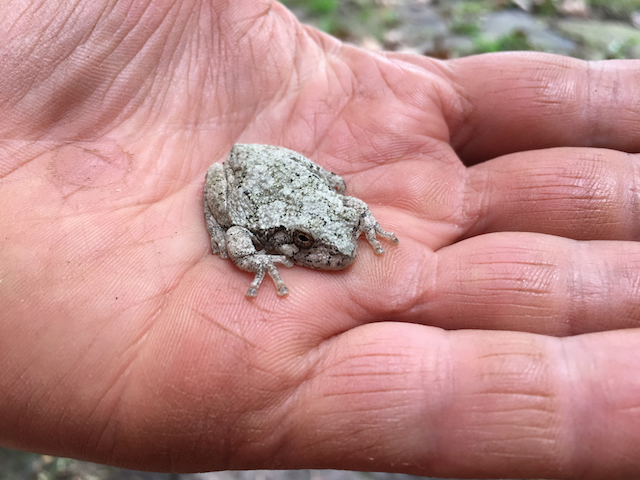 A relatively warm and moist week has ended and transitioned to a chilly and moist Sunday. The forecast for this week looks more seasonal (and moist) and may be followed by the coldest night yet as temperatures are predicted to dip near freezing. A return of dry and sunny weather may be the frosty sparkle silver lining. We've had a couple light frosts so far but those upcoming low temperatures may result in a widespread heavy frost and could force us to harvest or cover any susceptible crops beforehand. A low of 30-32 shouldn't cause too much damage but could burn the tips of some of the tender lettuces. Covering mature field greens is one of my least favorite farming activities and we mostly try to avoid it. For crop cover to be effective it needs to rest on hoops so that there is a buffer of air between the cold frozen fabric and the crops underneath. Normally when temperatures drop in the fall, wind accompanies the event turning crop cover into large billowing kites. Sandbags are used to anchor it and work well most of the time. Either way we'll try our best to avoid covering anything with some prior strategic harvesting as well as put our trust in the cold tolerance of the remaining plants. It will be very satisfying when most of our harvesting will be in the protected tunnels but that won't be until mid-November.
Last week we transplanted the final crop of the 2020 harvest season - lettuce mix into the greenhouse. Watering trays of plants has been an almost daily activity of mine since late February, something that can take between 15 and 60 minutes, depending on the time of season and the number of trays. Now, and for the next month or so, I'll turn the irrigation on in our six tunnels with a turn of a few ball valves about once a week and run it for 2-3 hours. Once temperatures really drop and water in pipes could freeze (mid-20s or so) I'll probably drain the system and hopefully be able to leave it off until next year.
Now that we're about to exit October our farming footprint has really shrunk. The crops we're harvesting are confined to portions of two of our fields. We only have a few more storage crops to retrieve (last of the carrots, green and red and napa cabbage, radicchio). If we had more time, more help, more space, and more containers these items would probably be in storage but we have to be strategic as we harvest storage crops. Most of what is left should tolerate field conditions a bit longer but we'd really like to harvest the rest of the carrots this week. Join us for a workshift if you can!
Workshifts for Week of 10/26/20
by Farmer Derek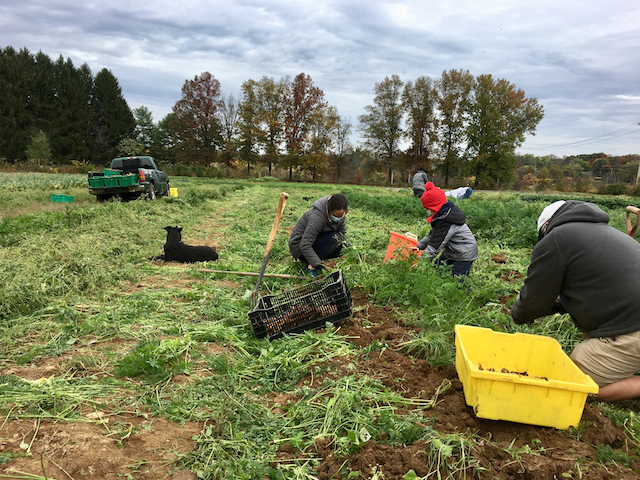 Workshifts will be held rain or shine. If it's raining we'll probably process garlic in the barn. When it's dry we'll probably harvest some crops (carrots, rutabaga) or pull some weeds.
Work opportunities are dwindling! We'll probably host about 2-4/week through early November.
If you signed up for a share with the work discount but you're unable to fulfill your work obligation for your discount you can simply pay the difference. E-mail us for your balance (it's $15/hour; 4 hours for half share, 6 for medium, 8 for full).
Workshifts scheduled for this week:

Wednesday 10/28 10am-12pm
Wednesday 10/28 6-8pm: Splitting garlic bulbs into cloves in the barn to use as seed for the 2021 crop.
Friday 10/30 10am-12pm
Sunday 11/1 10am-12pm (don't forget to change your clocks the night before!)
How I Enjoyed My Harvest
Bright Colored Food to Nourish
By Linda Dansbury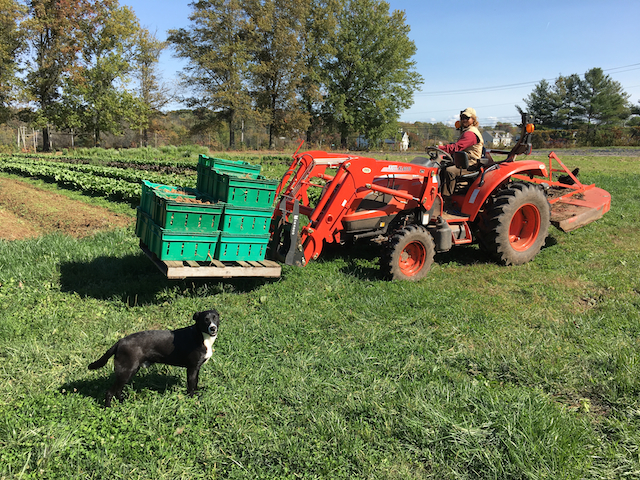 I find the colors of the flowers and trees in fall to be so beautiful - the colors seem so much more vibrant than in the summer maybe because the air is clearer? Anyway, I have found the colors in the harvest seem to be so vivid - purple of the beets and kohlrabi, whites of bok choy and turnips - and so many shades and textures of greens! I am having fun getting foods ready for late fall/winter eating by making large batches of soups and stews - I add greens to every stew type dish I make, even if it doesn't call for them. Below is a bit of what we enjoyed this past week - send me how you are enjoying your harvests by emailing me at lindadansbury@comcast.net, and please put Anchor Run in the subject line.
Kale, garlic, basil and cilantro
- made the
Pork and Kale Rice Bowl
I have mentioned so many times before - it is just such an easy and delicious fast 1 pot meal for busy weeknights.
Beets - made beet chips which turned out pretty well. Preheat oven to 325. Slice beets with a mandoline to 1/16" thick and place slices on paper towels - place more towels on top. Line large cookie sheets with parchment paper. Place beets in a bowl and drizzle just a little neutral oil in the bowl. Mix them well and then place beets on the trays in a single layer. Sprinkle with herb or herb blend(s) of your choice. Think of za'tar, curry, Italian seasoning, etc, or if you prefer just sea salt. Bake until crisp - this takes upwards of 45 min to an hour.
Escarole, onion, celery, carrot, garlic - made Italian Wedding Soup. A lot of people have their family recipes - I made it much different than what I grew up with because I start with a bit of pancetta (or ham or bacon) and I add white beans near the end and no pasta. Yum!!
Kale, cauliflower, garlic, parsley - made a large salad that I based on a recipe I saw. I lightly steamed the cauliflower and julienned the kale. Placed in a large bowl and made a vinaigrette with lemon juice, garlic, salt, pepper, olive oil and herbs. Mixed it all together and grated some romano cheese over the top - it was delicious.
Mixed greens: arugula, lettuce, escarole, celery, carrot - made a large salad with an Italian vinaigrette and served with leftover local, grass fed steak.
Fennel is Back!
By Linda Dansbury
Fennel is back for a couple of weeks. I find it interesting that veggies mature successfully along with other veggies of the same season. So, as it is with fennel. One of my favorite things to do with fennel in the fall is to make a salad called
Radicchio, Fennel and Apple Salad.
The sweet/tart
/
bitter combo of this salad is so wonderful! Salmon and fennel go great together as in the
Salmon and Fennel with Roasted Lemon Vinaigrette
. Fennel also pairs really well with lentils - try the
Lentil Salad with Fennel and Herbs -
pair it with a nice piece of fish or chicken. There are several additional recipes on this site as well, just type "fennel" into the search bar and hit submit. To make it even simpler, just cut the sections of fennel into individual pieces and eat raw - it makes for a very healthy and licorice tasting snack!
Fennel can be stored for a couple of weeks when placed in a sealed plastic bag in the fridge.