CSA Week 26: Main Season Grande Finale
News
Expected Harvest
Ultimate
by Farmer Dana
Harvest #26 (Week B & Final Week) should include sweet potatoes, radishes, turnips, radicchio, lettuce, kale, onions, carrots, cabbage, arugula, and greens mix.
Notes From The Field
Thank You!
by Farmer Derek
This was one challenging season and we thank you so much for your support! We hope it provided tasty nourishment and was also a beacon of positivity during what could be interpreted as a bleak time. We always welcome feedback so if you have anything you'd like to share please do so. If we don't see you during the Late Fall, please have a good and healthy winter and we'll look forward to seeing you in the springtime (but don't rush it).
On the farm and in the fields many areas have been 'put to bed' for the wintertime. Cover crops have been established where available and very soon most of our harvests will come from the tunnels (if it ever actually turns cold). Though we love farming - the good, the bad, the frenetic, the frantic, the infinite work - we do relish the down time to reset and rejuvenate. Additionally we also have to plan for the following season by updating crop plans and schedules and the rotation, order seeds and supplies, make repairs, hire staff, and if we're lucky, take some time away. With the successful completion of the garlic planting and mulching last week, large outdoor tasks are now finished.
To prepare for Main Season 2021 we'll assess all aspects of this season, the successes and failures. We seem to remember the failures more and perhaps this will help us fix them for next season. Underperformers from this year that we'll be more careful with next year include sweet potatoes, garlic, summer celery, tomatoes, broccoli, caulifower, blackberries, and slow growing spring crops. Successes this year that resulted from growing modifications include fall arugula, turnips, and radishes that were transplanted instead of direct seeded. Successful crops from optimum soil health and weather include most fall crops like kale, chard, beets, lettuces, radicchio, carrots, kohlrabi, etc. Fall tunnel greens look stellar for the most part and we look forward to share these with you.
Happy Fall, Thanksgiving, Holidays, New Year, Solstice!
2021 Main Season Registration Open
By Farmer Dana
Maple Syrup and Honey From Augusta Acres, Pre-order Only
By Farmer Dana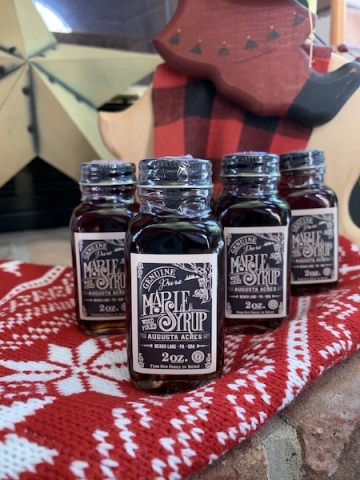 Augusta Acres will be back for this season's final sale of Maple Syrup and Honey.
Pre-order only.
Orders are due by Sunday 11/15. Susan and Todd will be at Anchor Run Farm Wednesday 11/18 1-6pm for you to retrieve your order. If you cannot make it that day, let them know on the order form. To order
follow this link
.
Member Ideas and Suggestions
Member Turnip Ideas
By Linda Dansbury
Two members answered my call for new recipes this week and I truly appreciate it!
The first one came from Ashmali Patel, who has sent other amazing dishes:
"I have been roasting the root vegetables like you said in a sheet pan with oil salt and pepper. Then I make a hummus (with baby Lima beans ). Spread the hummus on a platter, drizzle some basil pesto or any kind of pesto and put the roasted veggies on top.
I also make a garlic chili oil which I drizzle over everything and it turns out really good. My kids have named this "Beyond Veggies".
To make the Garlic chili oil: grate a couple of cloves of garlic into a bowl. Add a pinch of salt and red chili (pepper) powder according to how spicy you want. Heat oil in a pot, add cumin seeds once oil is hot, turn off the heat and pour hot oil over the garlic. The heat from the oil will cook the garlic.
Drizzle this on anything to spice the dish up.
Hope u enjoy!"
Long time member Janine Lazur sent a recipe for
Pickled Harukei Turnips
, which is now posted on this site. She says she hasn't tried them yet because they are still fermenting - I find the addition of mint to be really interesting. This is an easy way to dip your toe into the world of fermentation, or if you are experienced, a new way to enjoy your veggies.
Thank you to both Ashmali and Janine!
How I Enjoyed My Harvest
Loving my Veggies!
By Linda Dansbury
We started the week fairly cool so heartier meals were enjoyed this past week. How did you enjoy your veggies? Please email me at lindadansbury@comcast.net and please put Anchor Run in the subject line. Even our salads contained some heartiness.
Escarole, lettuce, kale, arugula, carrots, turnips - made a couple of large salads to top with leftover proteins (grilled steak and roasted chicken). For the steak, I made a balsamic vinaigrette and for the chicken, the salad was mixed with a lemony vinaigrette.
Beets, onions - made a large batch of Pickled Beets - there are many versions of how to do this, and there are recipes for them on this site. I boiled the beets until tender, peeled and thinly sliced them and thinly sliced a few onions and placed both in a large bowl. Meanwhile I boiled a bit of honey and salt with apple cider vinegar, but any vinegar will work. Covered the beets with the mixture and tasted - I added more vinegar and pepper and then packed the finished beets in containers.
Onion, bok choy, peppers (left from my garden), garlic, hot pepper (frozen) - made a simple stir fry, this one was Thai style, made so by using a mortar and pestle to make a paste of the garlic, hot pepper and some ginger. Both the marinade and stir fry sauce contained fish sauce as well.
Turnips, leeks (had a couple left), carrots - sauteed the veggies in a large skillet with a bit of fresh tarragon (thyme would also be great) until just starting to get soft. Placed a chicken on top and roasted all together - what a yummy fall dish.
Carrots - cut up and boiled a few carrots until just softening, drained water and added a bit of butter and olive oil and cooked until a bit browned, then topped with fresh chopped herbs.
Celery, carrots, kohlrabi, turnips - ate these up as snacks with favorite dips, including an eggplant dip I had made in the summer and froze.