Late Fall Week 1: Sunny and Cold Start
News
Expected Harvest
Welcome to 2020 Late Fall CSA
by Farmer Dana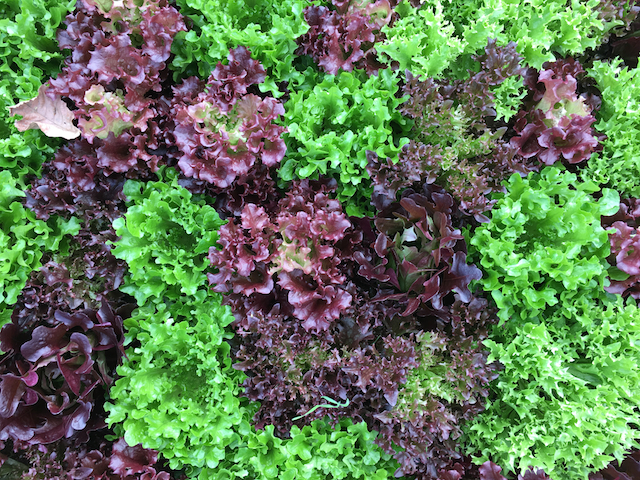 Late Fall Harvest #1 (Week A) should include cabbage, potatoes, kale, carrots, lettuce, radicchio, greens mix, arugula, rosemary, and radishes (salad, purple daikon, watermelon).
Notes From The Field
A New Adventure Begins
by Farmer Derek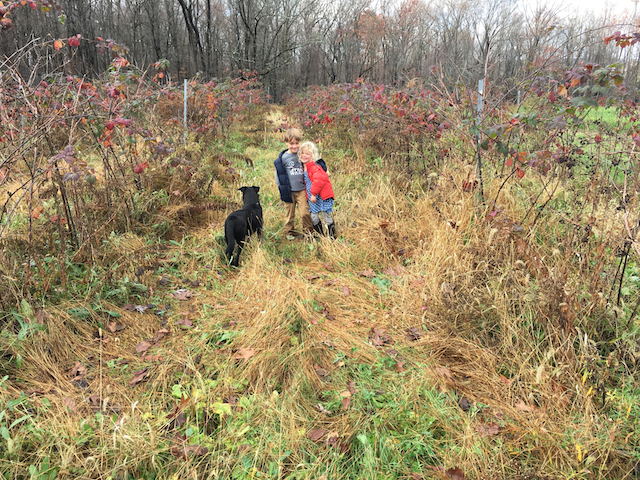 The 2020 Late Fall CSA commences this week. Thank you for joining us! I believe this is our 9th time embarking on this Late Fall adventure.
We're excited to share with you the continued bounty from the fields and tunnels. There's still some great looking cold hardy kale outside but most of our fresh greens will be harvested from our plethora of tunnels. These relatively simple passively temperature controlled structures provide almost enough protection to get us through even the coldest nights (we've made it through single digits several times over the years). When temperatures are forecast for mid-20s or lower we erect hoops within the tunnels and add a layer or two of row cover to provide extra protection by further trapping in earths radiant heat closer to the plants, heat that was absorbed during daytime, thank you sunshine.
Some of my focus is beginning to shift towards preparations for the 2021 growing season. Assembling the annual seed and plant order while consulting our crop plans can take up to a week. Each and every crop and variety needs to be assessed and reflected upon and any planned changes noted and the corresponding close to exact number of seeds needs to be ordered. I don't like to keep any seeds for more than one season if I can help it, mostly because I want to ensure the best germination success of those seeds the following season. I assume the seed companies have optimum storage facilities and maintain the freshest stocks. This time of year I also try to order any supplies and materials we'll need for the following year like potting soil, soil amendments, fertilizer, etc. Our inputs are minimal so this doesn't take very long but it is nice to check it off the list. I also need to reach out to experts regarding specific crop issues we had in 2020 that we can't identify, such as why the blackberries declined quickly and precipitously (could have been something simple like cold injury or something worse like a disease). Over the winter we'll update our schedules for seeding and transplanting as well as the crop rotation. Our four seasons, the winter cold break, provides a fresh blank canvas to work on the following year. It's easy to feel positively excited while working near the wood stove on cold winter days.
Reminder: Late Fall Schedule
By Derek McGeehan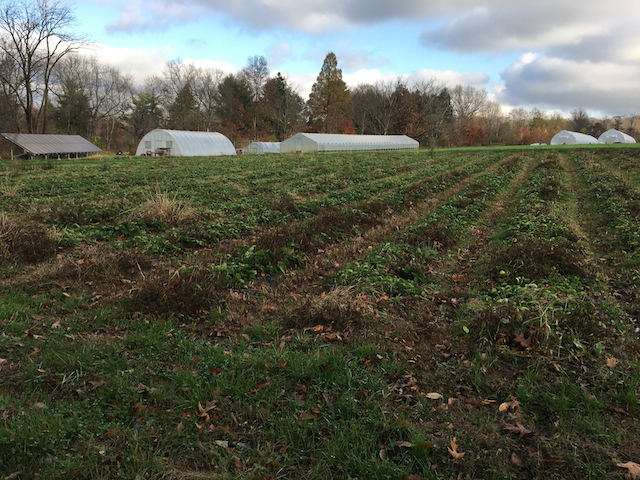 Week 1/A, Wednesday 11/18 1-7pm & Saturday 11/21 11am-1pm
Week 2/B, Tuesday, 11/24 and Sat 11/28
Week 3/A, Wed 12/2 & Sat 12/5
Week 4/B, Wed 12/9 & Sat 12/12
Week 5/A, Wed 12/16 & Sat 12/19
Week 6/B, Tuesday 12/22 & Sunday 12/27
How I Enjoyed My Harvest
Bountiful Harvest
By Linda Dansbury
As we get closer to Thanksgiving one of the things I am thankful for is the delicious, nutritious, beautiful and abundant harvests we are receiving, and for those of us with the late fall share, we will continue to receive for the next 6 weeks. Here is some of what we enjoyed this past week.
Kale, onion, turnips instead, carrots
- made a new salad called
Easy Kale Salad with Fresh Lemon Dressing
, which I have added to this site, because it is a delicious fall dish! It calls for broccoli, but I used turnips instead. It can easily be made into a main course by topping with some type of protein such as tofu, grilled shrimp or chicken.
Sweet potatoes, onions, turnips, carrots - made mixed roasted veggies. Love to do this because it is easy and delicious. Cut veggies into similar sized chunks so they cook at about the same rate. Place in large bowl and add a bit of olive oil, salt and pepper. I also like to add rough chopped rosemary and/or thyme. Bake in a 375 or 400 degree oven until veggies are nice and brown and tender. I like to make extras so I can have leftovers to put in a frittata. Yum!!
Kale, onions - I made a Cuban Pork shoulder roast in the slow cooker - the recipe didn't call for it, but I added a bunch of chopped kale during the last hour of cooking.
Onions, peppers - I sauteed onions and peppers for a topping on steak - just pointing out that I pulled peppers out of the freezer, and they were delicious.
Bok choy, turnips, radishes, carrots - I made a snack with all of these and a couple of dips - I used the bok choy stems and then I put the leaves into salads.
Member Ideas and Suggestions
A Mix of Fall Veggies
By Linda Dansbury
Karen Vanderwall sent the following message with how she has enjoyed some of her recent harvests. Thanks for the ideas, Karen!
Here are some of my ideas over the last couple of weeks:)

Black bean and Sweet Potato Chili - the slow cooker works well. She added diced tomatoes, corn, 1/2 cup orange juice, a little garlic, brown sugar and cumin and she likes to add chipotle in adobo (but it is spicy)

Roasted sweet potato - Karen's method is to cut in half horizontal, rub with olive oil and sprinkle with chili powder, which is optional cook face down in a 425 oven until tender.

Salmon, kale, mushroom noodle bowl - Karen uses a box of veg stock.

Bok choy, kale, mushroom, miso, ramen and bone in chicken - use slow cooker - add cooked noodles and kale at end (she uses curly soba noodles or what you can find)

One rimmed baking pan: chicken legs, turnips, sweet potato with a little ginger, soy sauce, olive oil, rice vinegar and chili paste rubbed over everything - then roast in 425 oven until veggies are tender and chicken is cooked through.