Late Fall Week 2: Thanksgiving! Tue/Sat Pick Up.
News
Expected Harvest
Giving Thanks
By Farmer Dana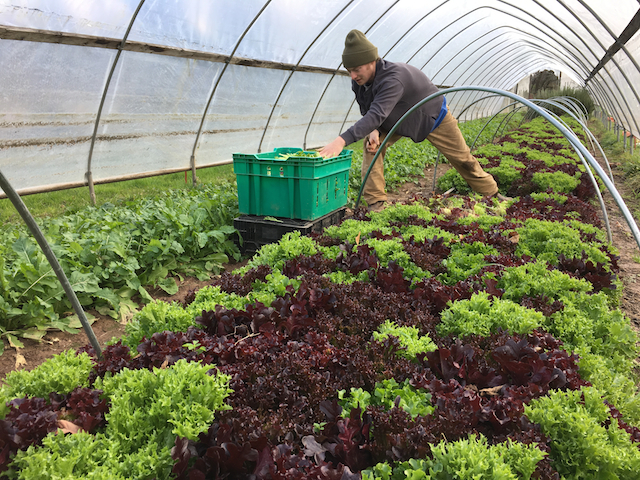 Late Fall Harvest #2 (Week B) should include cabbage, potatoes, kale, carrots, lettuce mix, mild mustard greens mix, arugula, rosemary, and radishes (salad, purple daikon, watermelon).
Notes From The Field
Indoor Activities
by Farmer Derek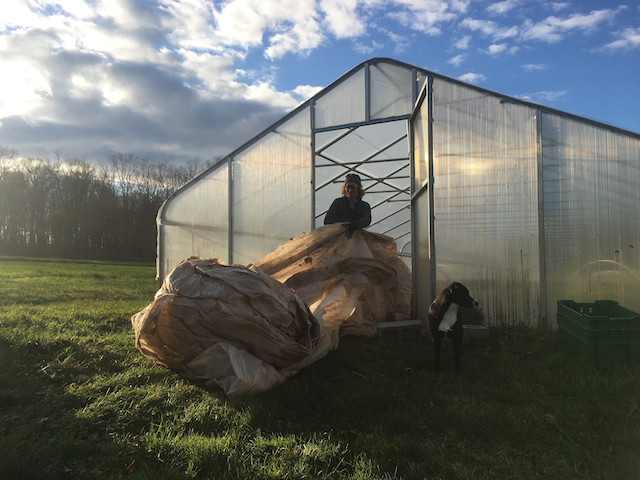 Since I wrote a week ago we endured our first seriously cold night this fall. Compared to past seasons it really wasn't that extreme, probably only bottoming out at 23 degrees, though temperatures did stay below freezing for most of that night. Prior to the cold we set up hoops in most of the tunnels and blanketed the crops with our thickest row cover. Everything appears to have made it through just fine.
Inside at the farm we just about wrapped up the 2021 seed and plant order. We'll double check the hundreds of varieties and quantities requested before we submit it as well as add blackberries, potatoes, and another flower variety or two. Next up is ordering the organic potting soil as well as greenhouse and general farm supplies. One tractor was serviced last week and the other will see the doctor sometime this winter. Fertilizers were ordered and soil samples taken and mailed. Depending on those results additional amendments may be needed but we anticipate optimum soil health results.
Normally I wait until February to update and finalize our crop plan (seeding, transplanting, rotation) but December seems wide open so I may try to tackle that now while my body still recovers from this growing season. By February we'll have departed the Persephone Period - daylight will be greater than 10hrs/day and increasing rapidly - and I'll probably be ready to resume outside physical farm activities on a more consistent basis. Crops won't be growing quite yet but there'll be plenty of barn clean up and organizing as well as fence-line and woodland maintenance. January is set aside as an off month, hopefully off the farm.
Happy Thanksgiving!
Reminder: Late Fall Schedule
by Farmer Dana
Week 1/A, Wednesday 11/18 1-7pm & Saturday 11/21 11am-1pm
Week 2/B, Tuesday, 11/24 and Sat 11/28
Week 3/A, Wed 12/2 & Sat 12/5
Week 4/B, Wed 12/9 & Sat 12/12
Week 5/A, Wed 12/16 & Sat 12/19
Week 6/B, Tuesday 12/22 & Sunday 12/27
How I Enjoyed My Harvest
Thankful for the Abundant Veggies
By Linda Dansbury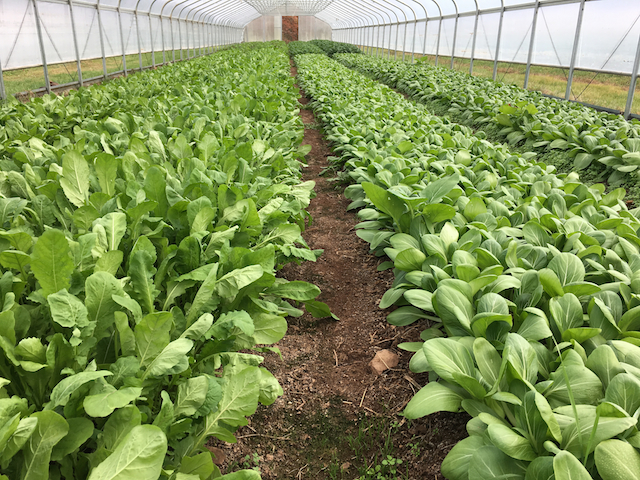 We are so fortunate to be able to have the abundance of delicious veggies from Anchor Run! Here are a few things we enjoyed this week.
Beets, kale, sweet potatoes, onions, garlic, rosemary
- wow - I got to use so many things with this new dish I found. Called
Whiskey Cola Chicken with Beets and Sweets
it turned out delicious. It does use a lot of pans, and several steps, but the chicken part could easily be skipped. Just make half of the sauce to drizzle on the veggies. This is made in a very Chinese style, in that the chicken does not get browned - it stays soft, so if you want a crispy texture, use chicken with skin on and brown it before placing in the oven. It does have really good flavor.
Bok choy (yes, I still had one left), carrots, onions - there was leftover chicken from the dish above, so I made it into a Chinese chicken noodle soup with bok choy, carrots and onions. It was so warming on a raw day.
Sweet potatoes, potatoes, onion, garlic, carrots, kale - it is roasted veggie season. This time I added kale for the last 12 minutes. It added crunch and color - I wish I had thought of this sooner. I just left a third of the cookie sheet open when I put the root veggies in, so there was a space to put the kale in a single layer.
Beyond Garden Radishes
By Linda Dansbury
Most of us love the beautiful red garden radishes we receive - now we are seeing 2 additional varieties: purple daikon and watermelon. Both keep for a long period of time in the refrigerator. So, what do you do with them?
Daikons are great when added to soups and stews - I particularly like them when paired with beef veggie soup or stew. Just add them when you add carrots or potatoes. There are also many ways to incorporate them in Chinese chicken dishes and it is a great veggie for pickling.
Watermelon radishes look like the inside of a watermelon when you slice them - they are absolutely beautiful! Sliced thin they add crunch, flavor and color to salads. I love to add them to a mix of roasted veggies - the color is so festive!