Snowy Sunday on the farm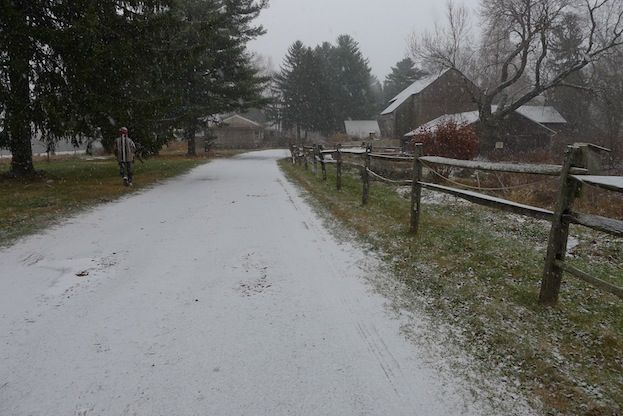 First snowfall of the season beginning to coat the driveway and grass. How much will we receive?
Snow laying on top of a sunflower, just above where birds have removed some seeds.
News
Notes From The Field
Almost Time to Hibernate
By Derek McGeehan
There is a lot less outside activity on the farm these days. Besides harvesting from the high tunnel and what we can from the field, washing produce in the barn, and getting ready for harvest distribution, much of this time of year is spent indoors near the comfort of the woodstove. We reflect upon this past season's successes and failures; analyze CSA harvests, crop yields, and farm efficiencies; attempt to identify improvements that could be made for next season; purchase seeds, soil, fertilizer, soil amendments, irrigation components, and miscellaneous tools, supplies, and equipment; establish schedules for greenhouse seeding, direct seeding, field preparation, and transplanting; fulfill the administrative requirements of the 2014 CSA membership; and hopefully meet all of our 2014 employee needs. We try to finish everything before the next growing season begins so that we can primarily focus on the physical aspects of farming when that time comes. Having schedules and routines in place and all of our supplies on hand makes life and work a bit easier when there is an infinite amount of work to accomplish in a finite amount of time. However, with barely 10 hours of daylight now it is hard to think about the almost 16 hours we receive in late June. Thankfully we're still eating fresh greens and great storage crops!
Expected Harvest
Late Fall Greens and Roots
By Derek McGeehan
Fall Harvest #4 should include potatoes, garlic, arugula, Anchor Run greens mix, ovation greens mix, kohlrabi, beets, radishes, napa Chinese cabbage, and hopefully a chicory (endive/escarole) from the field.
Harvest #6, Christmas Week
By Derek McGeehan
This is a reminder that Harvest #6 is scheduled for Monday, December 23, 3-7 PM. If you are unable to make it on Monday, your only other opportunity to pick up that share is on Sunday, December 22, 3-5 PM, and you must make prior arrangements with us farmers. Thank you for understanding.