Putting the farm to sleep for the winter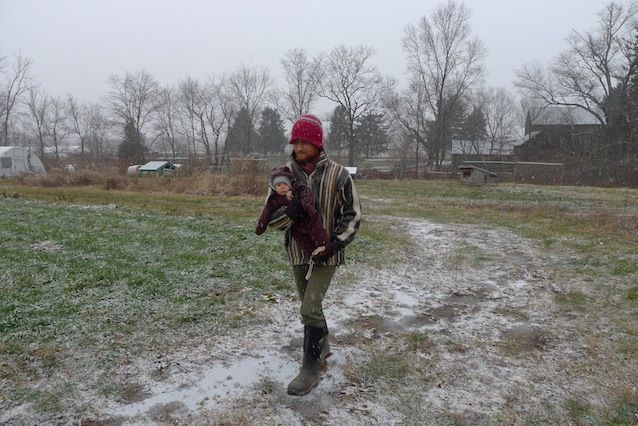 Transporting a lost bear cub up the hill to the woods to reunite with family.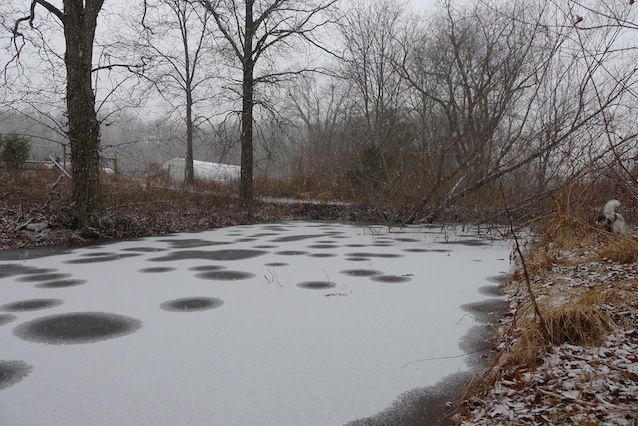 Farm pond looking almost ready for ice skates.
News
Notes From The Field
Approaching the End
By Derek McGeehan
We're down to two more harvest distributions for the 2013 harvest season. Two harvests per week during the 26-week main season plus 6 harvests during the late fall season means a total 58 harvest days this year. During the main season approximately 230 families picked up each week and during the late fall season about 105 families pick up each week. During our first season at Anchor Run, way back in 2009 (CSA season #6), the CSA ran for 25 weeks and about 180 families picked up each week. Besides growing the CSA membership a little bit each season, our farm footprint has increased from 10 to 20 acres or so. Of the 20 acres we're using now, we grow produce for the CSA on 13 acres and 7 acres are fallow, typically sown with a cover crop mix once or twice a year. Our land footprint will hopefully stay roughy the same in the future as our goal is to fallow fields every other year or every third year at least and develop a crop rotation around this strategy. This should hopefully protect and nourish the soils that we depend on. Rather than maximize output every year in terms of production, yield, and profit over our entire footprint, we're trying to tread relatively softly over parts of the farm and invest in our farming future by not depleting soils. After a CSA crop is harvested we put the land to sleep with a cover crop mixture to replenish the soils. Sometimes after a leguminous CSA crop like beans or peas we'll grow another CSA crop instead of a cover crop, but then the following spring or summer we'll fallow that portion of the field with a cover crop. We sill have a lot to learn about the soils and their health and sustainability, but we think we're moving in a good direction.
Expected Harvest
The Penultimate 2013 Harvest
By Derek McGeehan
Late Fall Harvest #5 should include potatoes, garlic, arugula, Anchor Run greens mix, ovations greens mix, kohlrabi, savoy cabbage, beets, radishes, rutabaga, and turnips. A couple items may be a choice. No u-pick this week.
Harvest #6, Christmas Week
By Derek McGeehan
This is a reminder that Harvest #6 is scheduled for Monday, December 23, 3-7 PM. If you are unable to make it on Monday, please send us an e-mail. Thank you for understanding.