Welcome sign of spring--the first Anchor Run CSA newsletter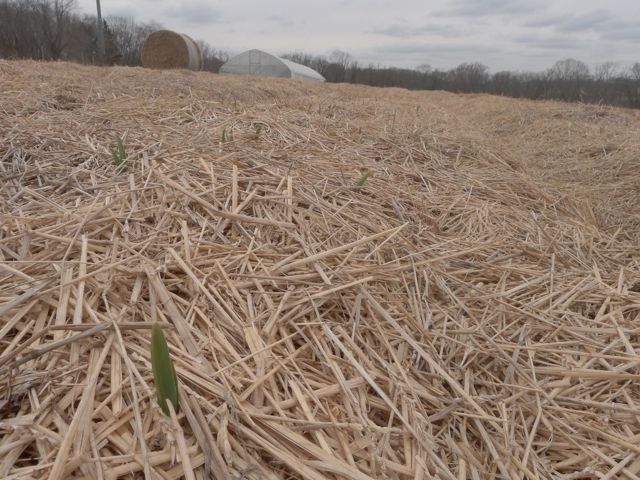 Last week's relative warmth was encouraging enough to coax the first few garlic plants from their winter slumber--here they are poking through protective straw mulch
Rainbow swiss chard bursting from potting soil, ready to put winter to bed
News
Notes From The Field
Spring Arrives Slowly
By Derek McGeehan
We welcomed the official arrival of celestial spring this past week and fortunately it coincided with a relatively mild and average temperature middle-of-March day. I probably don't need to point out the harshness and longevity of this past winter, but its impacts on planting schedules and first harvest and pick up will be felt for a while longer. However, in our climate and growing zone we rely on protective structures like heated and unheated greenhouse structures to maximize and extend the growing season as much as possible. After all, we're trying to harvest the sun with plants when they're able to grow unprotected outside and use this nourishment to get us through the year.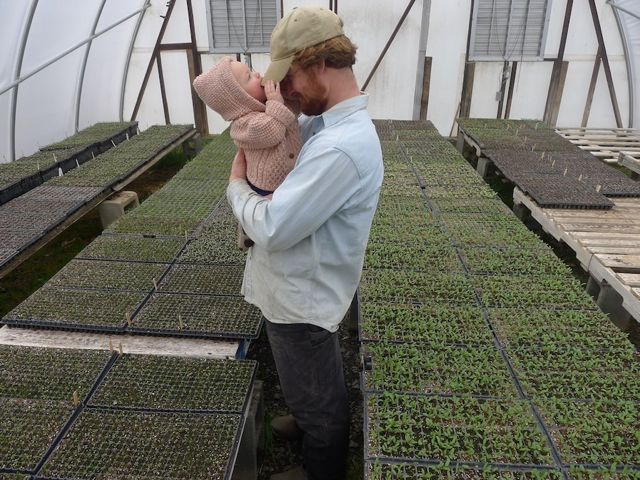 Little Farmer Gabe taste testing and inspecting seams on Papa Farmer Derek's hat in the greenhouse
So, about 3 weeks ago we began seeding and sowing into containers our early spring transplants - lettuce, fennel, endive, escarole, Italian dandelion, French chard, rainbow chard, kale, collards, cabbage, kohlrabi, onions, scallions, spinach, beets, and bok choy - as well as our mid-spring frost sensitive longtime-to-transplant crops - celery, celeriac, sweet peppers, hot peppers, and eggplant. We're busy getting ready for the season in a variety of other ways as well: organizing, rearranging, and tidying up the barn and other farm structures; repairing fences, equipment, and tractors; installing new fences; pruning raspberries; and retrieving season extension supplies like row cover, hoops, and sandbags that were left in the field and frozen in place. Very soon, when soil moisture and the weather allows, we'll begin chisel plowing, raised bed making, and planting outside. By the time the next newsletter is released, we'll probably have a couple of acres planted and will be well into the growing season. Think spring!
Local pastured chicken, local grass-fed beef, wild caught alaskan salmon
By Dana Hunting
This year, again, we'll be collaborating with Ledamete Grass Farm, Tussock Sedge Farm and Wild for Salmon to bring you local pastured chicken, local grass-fed beef and wild caught Alaskan salmon, respectively. All ordering directions will be sent in separate emails but we're including short descriptions of their farming and fishing practices here.
April and Rob Fix (along with their young daughters Tessa and Althea) created and run Ledamete Grass Farm in Schnecksville, PA.
There they raise pastured chickens and turkeys. "Our chickens and turkeys are outside with constant access to fresh pasture as soon as they are old enough and strong enough to leave their brooder (at approximately 2-3 weeks of age for chickens and 4-6 weeks of age for turkeys). Our paddocks, 2/3 acre areas of pasture fenced with poultry netting, are rotated every 10-14 days, so the poultry never live on a denuded section but are constantly on a lush bed of green grass. Their feed and water are always placed at a small distance from their shelters, encouraging them to cross the pasture and nibble along the way. Our animals are fed locally and organically grown grain, from a farmer we know in Oley, PA. While chickens can eat about 30% of their diet as plants, seeds and bugs, they do need grain for the balance of their diet. The grain mix we feed our animals is made of locally and organically-grown corn, oats, and soybeans plus a balanced combination of natural minerals from Fertrell." For more information about their amazing farm, visit their website
www.ledametegrassfarm.com
.
Henry and Charlotte Rosenberger created and run Tussock Sedge Farm in Perkasie, PA.
"Tussock Sedge Farm in Blooming Glen births and raises grass finished beef that have never tasted grain or antibiotics or added hormones in their diet. They thrive on rotational pasture grazing, organic minerals, salt and water from early spring to late fall, and with nutritious hay during the winter. Our farm doesn't use pesticides or herbicides. Thus, our beef is healthy for you and delicious. We will be offering Tussock Sedge beef to Anchor Run CSA members again in 2014. More information and an order sheet will follow." For more information about Tussock Sedge Farm, visit their website
www.tussocksedgefarm.com
.
Steve and Jenn Kurian founded Wild For Salmon after a fishing trip back in 2002.
"Each June, Steve and Jenn travel from their home in Bloomsburg, PA to Bristol Bay, Alaska, to their 32-foot fishing vessel R-J. They make their once-a-year catch in a single, six week season, bringing Alaskan Sockeye Salmon back to PA to supply individuals, farm markets, restaurants and natural food stores with wholesome, natural seafood. They are proud to offer you a product that is healthy and complete with essential vitamins and minerals for you and your family!" For more information about their fishing practices visit their website
http://www.wildforsalmon.com
Reminder - share balances are due by April 1st
By Dana Hunting
For members who sent a deposit, balances are due by April 1st. To find out what you owe, login to the website and view your account information. We will also be sending a website generated email to each member with their respective balance information. Sometimes these emails are routed to your "spam" folder, however, so it's best if you can login to your account to find that information.
Workshifts & Member Work Commitment
By Derek McGeehan
Members of Anchor Run CSA pledge to complete 4 hours of work if they own a half share and 8 hours of work if they own a full share, each over the course of the 6 month harvest season. Starting in April and increasing in frequency as the season warms, there will be regularly scheduled workshifts led by a farmer, assistant farmer, or one of our workshift coordinators. Workshifts will be announced via e-mail and posted on the website over the weekend for shifts scheduled within the following week or two. There will be many types of tasks that members can experience and enjoy such as weeding, thinning, cultivating, harvesting, pruning, among others. The degree of physical labor involved will vary with the task, so please look at the title and description of the shift to get an idea. However, nothing will be overly strenuous or require you to do anything dangerous and, of course, you're welcome to opt out of something you cannot handle. A couple of years ago, we began offering an option to contribute financially to the farm instead of physically. Members may buy out of the work hours at a rate of $15/hour. As a reminder, workshifts on the farm greatly contribute to the overall success and are an integral component of the original CSA model. They also help keep the costs of shares down, give you a sense of what farming is like, and help introduce you to your community and your farmers.
Getting to know your CSA
Judy Wright
Orientation Day--Sunday May 4th, 1:00-4:00 PM
Where--Anchor Run Farm 2578 2nd Street Pike, Wrightstown, PA 18940
Who Should Attend--All CSA Members! Especially new members who would like to check out the farm and learn more about how the CSA works before the harvest season starts.
Why--We'll be hosting field tours and pick-up room tours complete with ample time for Q&A sessions with the farmers and the core group members.
See what your food looks like before it reaches your kitchen, where your pick-up crops will be this year as well as how the pick-up room and work shifts work.
There will be light refreshments and a seeding activity for the kids.
So come on out and meet your farmers, mingle with the farm community, and enjoy some long awaited spring excitement.
Schedule of events--field tours on the hour at 1:00, 2:00, and 3:00. Pick-up room tours on the half hour at 1:30, 2:30, and 3:30. The Q&A, light refreshments, and children's seeding table are all on-going.
It's easy to add extra email addresses to your account
By Hal Wright
There are a number of reasons to log into the Anchor Run website in addition to registering and purchasing shares. One is to sign up for work shifts, which are expected to start sometime in April. Another is to add a spare email address or two to your account for family members who wish to be kept up to date on what's happening at the farm.
After you log in, the Members' Page displays a menu on the right-hand side that includes the choice to add or edit associate or "info" members. You can add an associate member by clicking on the plus sign and filling in the form, or remove a member from the existing list by clicking on the red "x" next to the person's name. All emails sent to you through our website will also be sent to your associate members.
When it's time for work shifts, associate members can sign up, and the hours worked will be automatically credited to your account.
Spring cleaning?
By Linda Dansbury
We are all yearning for consistent warm, spring weather, and anxiously awaiting the first crops from the farm. For new members, welcome! In this spot in the newsletter, I will write tips on how to use the harvest as well as recommend methods of preparation for our harvest bounty and recipes that highlight the crops from the farm. I love the farm community and relish learning from one another about our food. I welcome and strongly encourage members to send me their favorite recipes, cooking methods, and questions. Over the course of the season, we will hold workshops to help enlighten us on different preparation and preservation of our vegetables and herbs; future newsletters will provide dates and details. This is yet another way to participate in the community of the farm. I titled this article Spring Cleaning because in thinking about the farm season starting, I realized I still have many items in my freezer that I cooked through the growing season: blanched edamame, a few batches of caponata and ratatouille; tomatillo sauce and frozen greens and okra - it is time for me to concentrate on using the remaining yummy treats and make room in my freezer for great things to come. Although the weather doesn't seem like it will ever warm up, I know I will be preserving new veggies in the not too distant future! I look forward to seeing and hearing from many of you in the coming season.