Cool Spring, Timely Warm-Up
CSA members, welcome to the 2014 Season, Week 1!
Chive blossoms brighten the herb garden.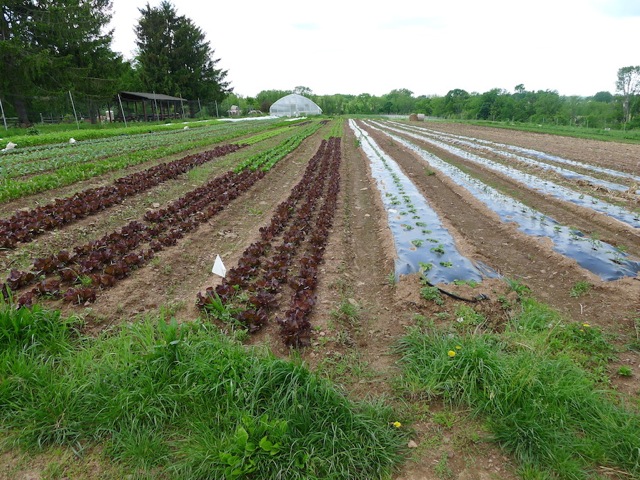 Glorious greens alongside future u-pick cherry tomatoes.
News
Notes From The Field
Fresh and Green
By Derek McGeehan
The 2014 Anchor Run CSA harvest season officially begins this week for full share and week A half share members. We're excited to finally begin the part of the growing cycle where we're able to harvest and enjoy the veggies of our labor, after working hard and farming since very early March.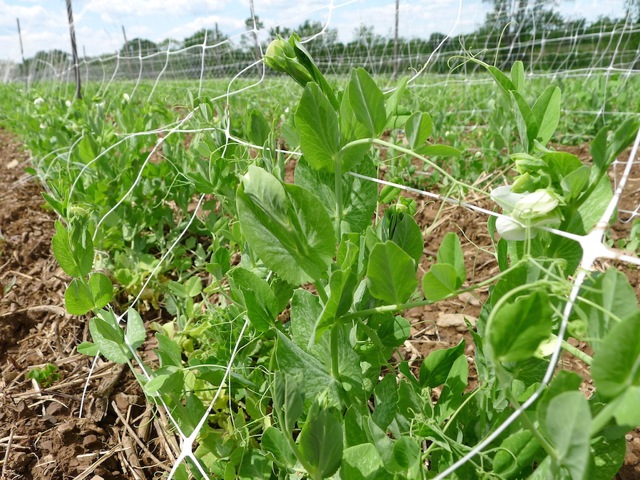 The first pea blossoms hold the promise of crunchy sweetness in weeks to come.
Most of you are probably aware how, this spring, overall temperatures warmed up slowly and later than recent years. Each spring - and every year - has a unique set of challenges and circumstances, especially with different parts of the farm (microclimates) responding differently to the weather (frost, moisture, hours of sun). This year we endured a difficult late winter and early spring (as most seem to be when your soil drains and warms slowly), but now the produce is shaping up as we hope and expect. Because the soil remained cold longer than other years and nights consistently dipped into the 30s for much of April, we've only recently observed the crops adding significant growth. Now, I think, we've finally reached the point where temperatures will remain warm enough during the days and nights to encourage the warm season growth we expect for late May and early June. I still hope spring lasts for a while longer yet before we enter the heat of the summer.
Expected Harvest
First Greens of Spring
By Derek McGeehan
Harvest #1 should include kale, bok choy, romaine lettuce, mini head lettuce, arugula, greens mix, broccoli raab, and a choice of herbs. Half shares, this is Week A.
A Few Important Farm Rules
By Derek McGeehan
To make your experience at Anchor Run Farm safe and enjoyable, here a a few rules to remember while you are here:
Harvest pick ups are from 1 - 8 pm; u-pick is from 8 am - 8 pm Monday through Sunday of your pick up week.
The driveway speed limit is 10 mph.
Parking is available in the designated parking lot. Only members with special needs may park next to the barn.
Respect designated produce allocation in pick up room and in the U-pick field.
Do not pick non-U-pick crops.
Walk in aisles and not on beds in U-pick field.
Bring scissors and bags.
Avoid cell phone use in barn and U-pick field.
The first harvest - Greens!
By Linda Dansbury
Welcome and welcome back to new and returning Anchor Run Farm members! It has been a long winter and a long wait for the CSA season to begin. If you are in need of ways to use your wonderful veggies, this is the place to look first. All recipes on this site are tailored to the veggies we will be receiving over the next several months.
The first few weeks of the harvest will feature mostly greens, which can seem a bit daunting for the newbie to the farm. Each week I will write about a couple of the veggies we will be receiving, as well as how I prepared my harvest over the week. I also always welcome comments, questions, preparations tips and recipes from fellow members. Many of you out there are wonderful cooks, so please share! Email me at lindadansbury@comcast.net.
Two veggies this week that people may not be familiar with are bok choy and kale. Both are nutrient powerhouses, and can be prepared in a variety of ways. Kale is delicious sautéed, baked into kale "chips", julienned and made into a Caesar salad. Kale can even be the star ingredient for a healthy and simple weeknight meal. Some recipes to get you started:
Kale Chips
and
Kale Caesar Salad
, and a new recipe for this week,
Skillet Bruschetta with Beans and Greens
.
Likewise, bok choy is also versatile. It can be eaten raw; cut it up and add it to your salad for a nice flavor and the stalk provides a nice crunch, or use it as the star ingredient in a slaw. It can also be used as part of a mix of other greens in a delicious Asian inspired stir fry. A couple of recipes on this site to check out are
Bok Choy Slaw
and
Roasted Bok Choy
. Again, welcome to the 2014 season and enjoy the harvest!
It's Easy Being Green!
by Gia Yaccarino
Please join us at Anchor Run CSA on Sunday, June 8th from 1pm - 3pm as we exchange recipes and offer suggestions on how to incorporate the abundance of greens we receive at Anchor Run into our meal preparation routines! Smoothies, pestos and fresh herbs are among the topics. We will also include a focus on bok choy and mustard greens. Members are more than welcome to share their experiences or simply listen, taste (yum!) and learn.