Newsletter for June 1, 2014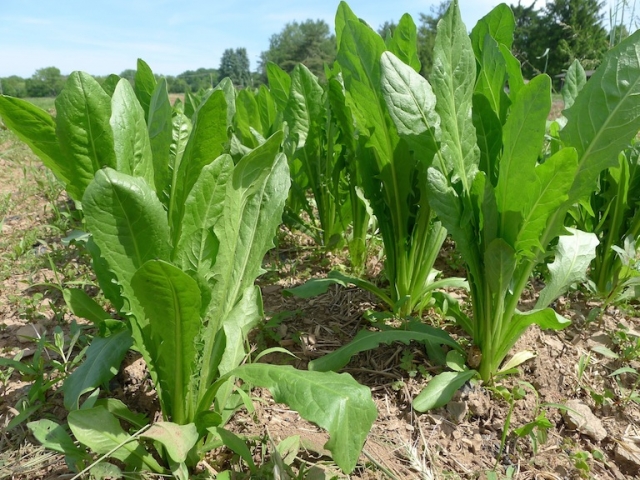 An old favorite greets us again, dandelion greens. A veritable health tonic, dandelion greens are magic for your digestive system, high in calcium, potassium and about a million other things vital to your body's well-being. Learn to love them!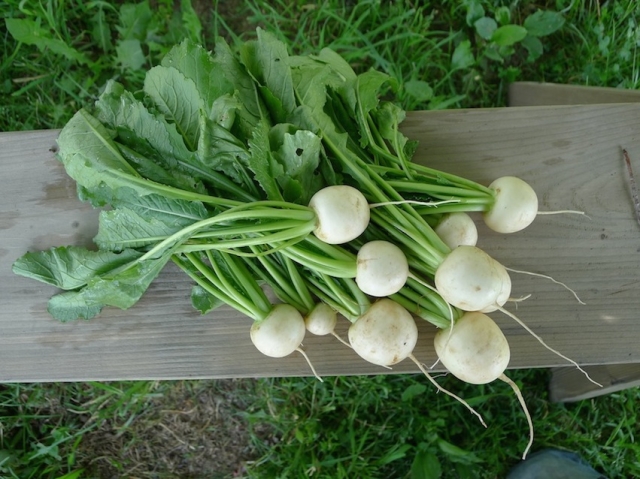 Hakurei turnips in all their tender glory! Both the greens and roots can be enjoyed, cooked or raw.
News
Notes From The Field
Transition to Maintenance Time
By Derek McGeehan
Even though the harvest season has just begun I feel like we're in a different type of transition, from an infinite amount of planting and seeding to now maintaining all those acres of crops. Cultivating, weeding, mulching, trellising, bug monitoring and squishing, mowing, harvesting, all of these activities are at the forefront of my thoughts these days along with making sure fields are ready for all of the planting we still do each week until the middle of September. From the early spring struggles of trying to find ground that is dry enough to chisel plow, add compost, bed shape, amend with minerals, and plant, now we enjoy the struggles of keeping crops weed and bug free, healthy and happy. We've now benefitted from enough dry weather to get safely ahead with all of the field preparations as well as stay on schedule with most of our planting and seeding.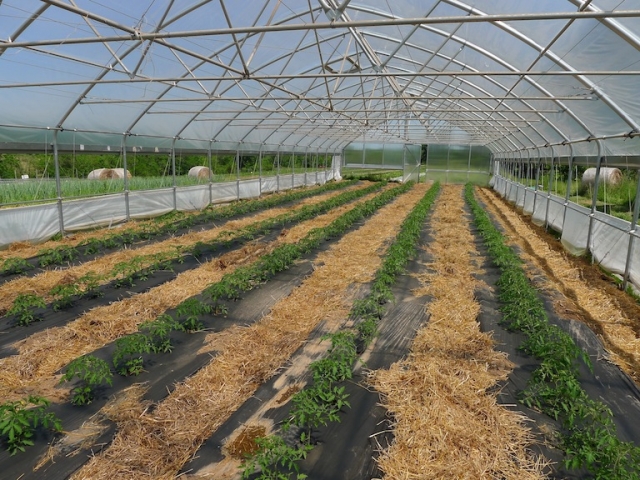 Heirloom tomatoes taking off in the high tunnel and looking lovely thanks to the workshift that helped mulch them.
If one were to plot over time each type of workload on the farm, the trajectory or route would probably resemble a bell curve with most peaks coinciding with the warmer part of the year but separated by weeks or months and each having an abrupt incline and a casual decline. Every season I try to reflect on the various workloads, comparing the current season to past ones in an attempt to determine how long I have to work this many hours at this type of pace for. Reflecting over the past few days on this season so far, I think the planting and field preparation workload peaks sometime in the spring which is why we're now transitioning to more of an emphasis on maintaining the crops. That being said, the weather greatly influences when this peak occurs. When the weather allows, I can do tractor work a month in advance of planting and just re-bedshape before planting to rid the bed of tiny weeds. Weed and bug pressure will continue to increase and probably peak in late July or early August. By then, field preparation for edible crops will be close to minimal and we'll be well on our way to protecting the fields through the offseason with cover crops. I'm obviously getting ahead of myself, but for sanity's sake, keeping it all in perspective helps.
Expected Harvest
Spring Greens
By Derek McGeehan
Harvest #2 (Week B) should include kale, butterhead lettuce, mini head lettuce, romaine lettuce, greens mix, bok choy, hakurei turnips, and a chicory (endive, escarole, Italian dandelion). Some items may be a choice. U-pick this week should include a variety of perennial herbs and a choice of dill or cilantro.
More Greens, plus an Asian treat
By Linda Dansbury
Each week, Derek or Dana send me the planned harvest for the upcoming week - for me, it is with wonderful anticipation to see what treats we will be receiving because the transition of the seasons always bring a surprise. This week's surprise is hakurei turnips. They are snow white and delicious. They can be eaten raw, like you would a radish; they can be steamed until just tender and then have a drizzle of tamari and/or sesame oil and eaten as a side dish or a snack. One of my favorite recipes for them is
Asian Green and White Turnip Saute
.
I think I like it because it uses both the tops and white orb in the same recipe. Any way you use them, do not throw the tops away! They can be combined with other greens in a saute or frozen after a quick blanch for use later in your favorite soup or stew recipe.
Enjoy the farm, and please send me your questions, ideas and favorite methods/recipes at lindadansbury@comcast.net
How did I enjoy my harvest this week?
By Linda Dansbury
Welcome to the long days and nice weather for the start of June. Once again, I will share the ways I use my harvest in the hope of providing some new ideas to the membership. Please send me your favorite ways to prepare your harvest, and don't forget the herbs! Jeannine and her Tuesday team of workers are working hard to improve the layout, variety, and ease of identifying the multitude of herbs that are grown in the herb garden. We will be providing information on the use of the herbs in coming newsletters.
My harvest day is Thursday, so I haven't had many days to use my harvest; therefore, the list of what I have used so far is short.
Chive blossoms - these were a choice item and may not be available again until next year, but for those of you that have them, please use the blossoms - they are delicious and pretty too. Some people I met in the barn said they didn't know the blossoms were edible. They have the same delicate onion flavor that chives do, but add color. Use them as you would chives: in salads - including German potato salad, with smoked fish, or as a garnish for steamed veggies and meats. Jeannine had a jar of chive blossom vinegar in the barn - I went home and started my own! The color is becoming a pretty pink and Jeannine says it will get to be magenta.
Anchor Run Proprietary mixed greens - I love this mix that D&D have started to grow. It is a delicious blend of mild and tangy greens and takes well to your favorite vinaigrette. You can search this site for salad dressings, but for these young, flavorful greens, I just put a dash of sea salt, a nice grind of pepper, a very small drizzle of one of my red wine vinegars and a healthy drizzle of good quality olive oil. Delicious!
Bok choy - fellow member Angela Nace sent me a new recipe for Spicy Roasted Bok Choy that we tried last night. It was delicious! I wish I had thought of it years ago, since I often cook Asian style dishes. There was already a roasted bok choy recipe on the website, but this one is better in my opinion, and takes very little preparation. We had the bok choy alongside a Chinese style steamed halibut. Thank you Angela!
Recipes
V Spicy Roasted Bok Choy
From the blog the wheatlesskitchen. Serves 2-4 as a side dish.
1 large head of bok choy
2 tbsp olive oil
2 tsp sesame oil
2-3 tbsp tamari (gluten-free soy sauce)
2 cloves garlic, minced
2 tsp red pepper flakes (less if you don't want it too spicy)
2 tsp sesame seeds
Preheat oven to 400 degrees.
Cut the bok choy into quarters lengthwise. In a small bowl, whisk together the rest of the ingredients.
Place bok choy on a large baking sheet and pour the marinade all over the wedges. Gently rub the bok choy with your fingers to make sure the marinade gets under some of those layers.
Roast for 6-7 minutes, until wilted and tender-crisp.