Summer solstice comes to the farm
A leguminous area ready for picking, beans on the left and peas on the right
Growing faster than a tomato hornworm can eat, heirloom tomato plants in the high tunnel are on their way to a height of 8 feet
News
Notes From The Field
The First (minor) Heat Wave
By Derek McGeehan
The first heat wave of the season occurred this past week and fortunately only lasted about three or four days. Now, we're enjoying some perfect summer weather as we officially start the summer season. Coinciding with the solstice is the start of the summer squash and cucumber harvest, a sure sign of the season. I love these crops because they're so ephemeral. They produce a bumper crop of fruit over a short period of time before they succumb to any number of various diseases that they're susceptible to. Rather than fight a losing battle, we plant early, cover with row cover for quick establishment and to keep the bugs off, and limit the number of plantings to three for summer squash and two for cucumbers because by mid-summer they get sick almost as soon as they go in the ground. If all goes well squash and cucumbers should be in the harvest for a couple of months.
---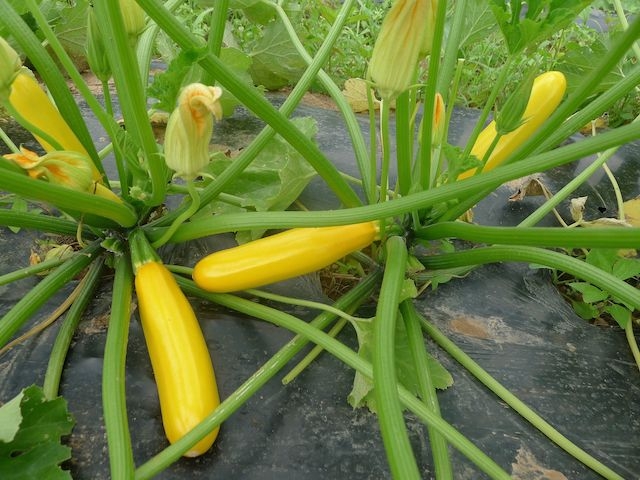 Yellow summer squash ready to be picked and consumed
---
After the previous much needed wet week we had to get caught up on some farm tasks such as cultivating, weeding, trellising, and planting. Lettuces, celery, and celeriac were cultivated, weeding the onion patch was started, the u-pick tomatoes were trellised with field tomatoes next, and 1000 pounds of potatoes were planted along with lettuces, eggplant, and edamame. This week we'll continue to weed the onions, trellis the tomatoes, and transplant leeks, beans, lettuce, dandelion, French chard, dill, and cilantro. In the greenhouse we're now seeding fall crops so I need to continue getting the fields ready for the thousands of feet of cabbage, broccoli, cauliflower, and kale that will soon be planted. As we continue to transition away from spring greens we'll begin sowing cover crops like buckwheat, sunflowers, and sorghum-sudan grass in those areas so they can rest until next year. Happy summer!
Expected Harvest
Start of squash & cukes
By Derek McGeehan
Harvest #5 (Week A) should include butterhead, mini, and romaine lettuces, kale, Swiss chard, hakurei turnips, kohlrabi, endive, escarole, garlic scapes, summer squash, and cucumbers. A few items could be a choice. U-pick this week should include peas, string beans, Italian/pesto and other basils, cilantro, dill, and perennial herbs.
What being a member of a CSA means to me
By Gia Yaccarino
Looking back, a little more than 11 years ago, prior to the first pick-up ever at Anchor Run CSA, I think about how excited I was to be a member of Anchor Run CSA. My excitement focused, revolved, was all about, the organically grown produce – the A of CSA so to speak. I knew what a CSA, Community Supported Agriculture, was all about – members join and pay prior to the growing season, ensuring the farmers a living wage.
Part of the contract between member and farmer included the member's commitment to a certain amount of work hours per growing season. This farming model has both members and farmers reaping the rewards and dealing with the threats from Mother Nature. I clearly understood the S part of CSA. What I wasn't prepared for (at all!) was the C, the Community part of CSA. The Community aspect began to emerge from the first pick-up and became more apparent as the growing season progressed. I signed up for workshifts and learned so much from both the farmers and other members! On my very first workshift (we were thinning out the carrots) I was approached by Lonnie, Jon & Tali's oldest daughter, who was about 3. She asked if I liked tofu pizza – because she loves it! I said I had never tried tofu pizza. She just shrugged. Years later, she had no recollection of that encounter but obviously it left an imprint on me! Many times Lonnie would join me and my children as we did our u-pick. Lonnie was a social butterfly and the fields were her domain. She talked to everyone!
This in turn, encouraged me to talk to everyone! Even with my interactions with fellow members in the fields, I did not attend the first few potlucks. After I had missed those potlucks, I remember feeling uneasy about attending one. Today I look back and feel so silly for that uneasy feeling!! To have fun at a potlucks all you need is plates, utensils, a dish to share and yourself! (Potluck plug: First of 3 Potlucks for this growing season Saturday June 28th!). Communities are systems which remain even during transitions. The community of Anchor Run CSA remained intact even after Jon and Tali left 6 years ago. I believe this was in part due their diligent search for their successors. Their decision to hand over the Anchor Run CSA reins to Derek and Dana, kept the heart of the farm beating. Derek and Dana's tenure as resident farmers have brought another dimension of community to Anchor Run CSA. They have shared with us their wedding, the birth of Gabe and their commitment to Anchor Run CSA. As I look back to my excitement of 2003, I now realize how truly incomplete my idea of a CSA was. I knew what a CSA was but I did not KNOW what a CSA was! And as incomplete as my knowledge was, so too was my initial excitement. As I have witnessed Anchor Run CSA grow and evolve, so has my excitement of what is yet to come. (No pressure D&D!)
Workshift Reminder
By Derek McGeehan
This is a friendly reminder of the importance of workshifts to the functioning of the farm and is in fact tied directly to the cost of the share. Share costs have remained the same for the last 6 years because of the value associated with workshift hours ($15/hour). Now is one of the most important times of the season for workshifts to help the farm stay on top of weed control. If you haven't worked any of your required hours yet, please consider helping out over the next couple of weeks. We really appreciate all of your help in keeping the farm productive and tidy.
Veggies on the horizon
By Derek McGeehan
Over the next month we should see newcomers beets, fennel, radicchio, parsley, scallions, cabbage, beans, and celery as well as a steady supply of greens like lettuce, kale, Swiss chard, Italian dandelion, and collard greens. Sometime in July we should see tomatoes, peppers, eggplant, tomatillos, edamame, and other heat loving crops. Produce that will soon be on hiatus until the fall includes endive, escarole, mini lettuces, turnips, arugula, bok choy, greens mix, and other similar greens.
How did I enjoy my harvest this week?
By Linda Dansbury
As it is most weeks, this week was very busy with work and family. I think it is one of the reasons I welcome all of the salad greens (and I have more in my own veggie garden!). Salads are so healthy, and since years ago I got into the habit of making my own dressings which were somewhat tailored to the meal's main course, it is so easy for me to make salads today. A huge bowl of these tasty greens with or without fresh herbs, chives/scallions/radishes, etc., and variations on basically the same vinaigrette, and I am ready to go. We often just slice leftover chicken or beef onto a large plate of salad for a nice dinner during the week.
Bok choy - for those of you who have been seeing my recipes and reading my column for all these years, I think you realize I steer away from recipes that contain a lot of cheese, butter and cream - it is not that I don't like these ingredients, it is more a philosophy of allowing the veggies to stand on their own and not have the flavors covered up by heavy, fatty ingredients. I certainly consume A LOT of cheese in my home. So, I wasn't sure I was interested in the Buttery Baked Bok Choy recipe that came out of the greens work shop last week. I made it Friday night along with a nice steak and it was so yummy that I am putting it on the website to stay, as opposed to simply a link that will disappear. I think am going to modify it just a bit to add fresh thyme - and in the fall I will use leeks rather than onions.
Romaine - I am highlighting this particular green because we love Caesar salad in my house, but the dressing really isn't very healthy. I recently purchased a new salad dressing - one of the very few I have EVER bought in the store. It is called OPA - it is in the refrigerator salad dressing section of the grocery store and the base is Greek yogurt. The dressing has more tang than an authentic Caesar dressing, but this bottled dressing doesn't have any "icky" ingredients. I even used this purchased dressing when I did a demo at the Wrightstown Farmers Market earlier this year in which I demonstrated kale Caesar salad.
Swiss chard and greens mix, peas, garlic scapes - made a pasta and greens dish - this is another go-to dish for weeknights. I didn't have any fresh mushrooms, but I reconstituted dry ones and then added them to the saute of onion, garlic scapes, a few red pepper flakes, A LOT of greens - to the point that they barely fit into the pan when first added. Then add cooked pasta, grated cheese (see, I do like cheese!), and an egg yolk to each finished plate. A really delicious meal - and I never do this when the farm is not in season because I tried it and I just don't think the greens are as tasty when they are not as fresh.
Peas - in addition to adding them to the pasta, we steamed them twice and had them along side of whatever else we were eating that night - I also ate a lot of them raw.
Kohlrabi - just peeled, sliced and snacked on one - I still have a couple left.
Other lettuces - "normal me" - various vinaigrette variations - now that basil is available, I have started to add slivered fresh basil to the mix. Not too much or it will overpower the greens.
Escarole - I still have this left - it keeps pretty well - but, I will have to use it soon. It works well both raw and cooked, so it shouldn't be a problem.
Enjoy the harvest!
Summer cucurbits and member idea
By Linda Dansbury
Last week marked the first of the summer squash and cucumbers. Please enjoy them, because as Derek talked about, they are fleeting in our local and organic climate. D&D have tried many methods of extending the harvest of these 2 favorite summer crops for a long period, but disease and insects always prevail in the later plantings. You may see in the barn colors and shapes of each crop that look odd to you - please try them! They each have their slightly unique attributes and are delicious. Some members insist they don't like yellow squash - but try them - that is what the CSA experience is about: trying veggies you wouldn't purchase at a store or farmers market.
My favorite way to eat the summer squash is to grill them. I slice them into 1/4 or so inch slices, brush with olive oil and sprinkle with a little salt and fresh ground pepper. Grill, turning as each side begins to brown and they get somewhat soft. Oooh - we are going to do this tonight and I am really looking forward to them!
I met a fellow member yesterday - Jill - and we were talking about kohlrabi. She said she did the following and it was really good. Peel and slice the kohlrabi about 1/4" or so thick. Chop some garlic scapes and add both to a bowl. Toss with olive oil and bake in the oven (I am guessing somewhere between 375 and 400). Bake for about 20-25 minutes, then sprinkle with grated parmesan or other hard cheese. Place back into the oven for about 5 minutes, or until cheese has melted - sure does sound good to me!
1st Potluck of the Season 6/28 6:00 PM
Come out to the farm for the first potluck meal and celebration of the season on Saturday, June 28th, at 6:00 PM. Bring a dish to share that will feed 4-6 folks as well as tableware and drinks for yourselves. The meal will be enjoyed under the pavilion and a small fire might follow dinner if weather allows. Herbalist and member, Jeannine, will be hosting an herb walk after everyone's eaten. She is a veritable walking encyclopedia of herbal knowledge and it's a genuine treat to be able to listen to her. Hope to see you there!
Recipes
Adapted from Rachael Ray Magazine; ready in about 45 minutes; 25 minutes inactive; serves 4-6 as a side dish
3 Tablespoons butter
2 heads of Anchor Run bok choy, sliced, with stems and leaves separated
3 cups sliced onions or leeks
2 cloves of garlic, minced, or 4 garlic scapes, chopped
2 teaspoons fresh thyme leaves
2 Tablespoons flour
3/4 cup half and half - 1% milk works great
1 cup grated gruyere cheese
1/2 cup panko crumbs
In a large pan or Dutch oven, melt butter. When melted, add bok choy stems and onions or leeks. Saute on low until both have softened until softened but not brown, about 12 minutes. Add garlic scapes or garlic and thyme leaves, saute for another 3 minutes. Add flour and stir and cook for another minute or 2. Add half and half or milk and cheese, stir until incorporated. Pour into a greased casserole. Sprinkle with panko. Bake for 25 minutes and enjoy