June comes to a close; onward to the bounty of summer
Edible it its entirety, fennel is cooling, tasty, and nutritious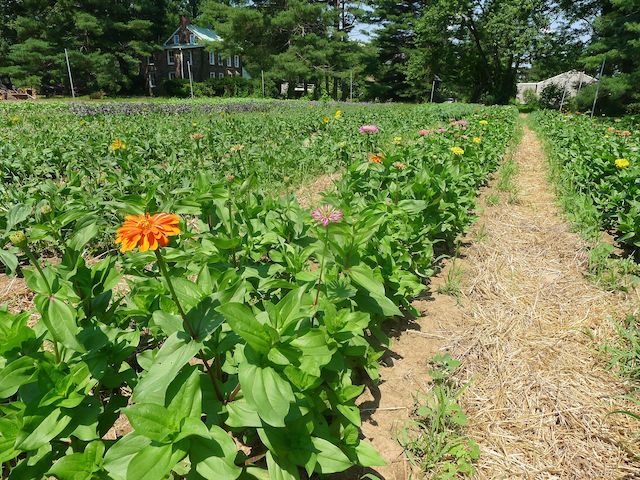 A view of the u-pick flower garden facing west, zinnias, ageratums, and rudbeckia are ready for your bouquets
News
Notes From The Field
Farming at the End of June
By Derek McGeehan
A few plantings of beans and edamame with a summer sunset in the background
About 50 CSA members came out to the farm last night for the first potluck celebration of the season. There was plenty of good food, some nice guitar playing, and a lightning bug light show for those who stayed until dusk. Jeannine, our resident herbalist, treated attendees to a thorough herb garden tour with a cacophony of frogs cheering her on in the background. It really was a perfect summer evening to spend outside with friends. Besides the pleasures of celebration, we had a busy and productive farm week. We finished the first round of pruning, clipping, and trellising of the tomatoes; planted the last of the summer squash, the 4th installment of beans, and the 12th round of lettuces; cultivated and weeded where necessary (the onions are finished!); and continued to prepare fields for fall crops like broccoli, cauliflower, cabbage, kale, and collards, as well as summer sown cover crops like buckwheat and sunflowers. On our large plate for this week is more transplanting and cultivating; harvesting of course; primary bed shaping and amending for fall crops; hopefully sowing some cover crop seeds; and continually working on the tomato trellising system. Also forecasted for this week is the 2nd heat wave of the season, which is supposed to break by Friday. Let's hope for rain at some convenient point as well.
Expected Harvest
At least four new items!
By Derek McGeehan
Harvest #6 (Week B) should include summer squash, cucumbers, lettuce, radicchio, scallions, fennel, beets, Italian dandelion, French chard, kale, and Swiss chard. A few items could be a choice. U-pick this week should include beans, dill, cilantro, pesto and herbal basils, perennial herbs, and a flower bouquet.
Veggies on the horizon
By Derek McGeehan
In the harvest over the next month we should see new veggies such as carrots, fresh onions, fresh garlic, parsley, cabbage, celery, cherry and other tomatoes, tomatillos, sweet and hot peppers, edamame, and eggplant; a steady supply of salad and cooking greens like lettuce, Italian dandelion, French chard, collard greens, and radicchio; and the return of kohlrabi. Produce that will soon be on hiatus until the fall includes endive, escarole, mini lettuces, turnips, arugula, bok choy, greens mix, kale, Swiss chard, and collard greens.
Reuse/Return quart & pint containers
By Derek McGeehan
Your farmers highly recommend bringing your own bags and containers for the farm harvest. When using the farm quart and pint containers for u-pick consider using them to measure the amount of your produce and then transfer the food to your bag and then return the containers to the barn for other members to use. If you're unable to do that, and they're still in good condition, please bring them back to the farm your next time out for use or to return. Thank you!
How did I enjoy my harvest this week?
By Linda Dansbury
It was a busy. yet delicious week using up the abundant harvest.
Snow peas, scapes, escarole, chard - stir fry with shrimp and wild mushrooms - I don't use a recipe and I don't make a sauce in a bowl separately - so I save on clean-up. I just drizzle in tamari and sesame oil in all stir fries. Sometimes I may add hoisin or oyster or fish sauce, depending on which way I want to go in my flavoring. I also always have fresh ginger to julienne for stir fries. Topped with fresh cilantro. I froze Thai chilies last summer, so I also added a couple of those - whew! spicy!
Peas, scapes - blended together olive oil, scapes, cayenne, lime juice, lime zest and Thai basil - steamed peas for 2 minutes - tossed with the olive oil combo - turned out to be a light, summery accompaniment to grilled fish.
Summer squash - those who have read my column may remember that my "go to" for summer squash is the grill. Cut in half or quarters or thick slices, brush with a little olive oil, sprinkle with salt and pepper and grill until there are nice grill marks and the squash just start to soften. After grilling you can eat as is, or drizzle with olive oil and/or balsamic vinegar, and chopped fresh herbs such as basil, cilantro, parsley, marjoram, or oregano.
Cucumbers - so crunchy and yummy! I made a cucumber salad and have been snacking on the rest.
More peas, chard, and scapes - sauteed up onions, red pepper flakes, added mushrooms, peas, a couple sprigs of rosemary, a can of white beans, and lastly Swiss chard. Meanwhile, cooked pasta. Added lots and lots of chopped up greens to the saute. When the pan got a little dry I added a ladle of the pasta water. When pasta was drained, put it into bowls and topped with the saute mixture. Drizzled a bit of nice olive oil, zested part of a lemon, grated parmesan cheese, and some slivered fresh basil. A complete meal in a bowl!
Salads - of course, ate lots of salads - we eat salads at different parts of the meal; sometimes we eat our salad as a sort of appetizer, sometimes I serve it with the meal, and other (most) times, we end the meal with our salad. Italians suggest that eating salad at the end of a meal aids in digestion. I don't know if it is true or not, but I follow how I was taught!
Change of season veggies
By Linda Dansbury
It seems the veggies took the official start of summer last week as a sign they must mature, so this week's pick up will see several new offerings:
Summer lettuce - we received the first head this past week, but this, and similar varieties will be part of the harvest through summer and into early fall. Farmers D&D tried many lettuce types and varieties until they found a couple that stand up to the heat and dry conditions in this area. This lettuce is sturdier and as such stand up to "heavier" dressings and also other veggies mixed in with them. Try grilling squash and soon eggplant and cutting them into bite sized pieces - add chopped lettuce and a dressing with some type of red wine vinegar, olive oil and herbs of your choice - of course garlic and grilled scallions or onions make wonderful additions.
Beets - a farm staple. Beets can be eaten raw, roasted, baked. There are many recipes for them on the website - just search. I will be highlighting some of them in the weeks to come. The beets we will receive do not have their tops due to the leaf miner damage - but the beets survived well and if you want to make a dish that calls for beet greens, just add chard or another green instead. Beets will keep in the fridge for weeks when stored in a plastic bag. I like them best roasted and then peeled and sliced and then turned into a salad. We also found that beets make a delicious and beautifully colored risotto. There is even a recipe for a Beet Chocolate Cake on the website, which is delicious!
Fennel - is a wonderful tasting veggie and is delicious grilled, roasted or braised - many like it raw, but I prefer it cooked - with the exception of the Shaved Fennel Salad with Parmesan Cheese. Fennel is fairly perishable, so use it within a few days. Again, search the site for other recipes.
Scallions - you may not think you need to know about these, but we do get a lot of them at the farm, so I just want to highlight that they can be used in many recipes in place of onions - just don't cook them for too long. Stir fries are perfect for them. I use them instead of onions in my potato salads and coleslaws and they are delicious grilled. I use them in sautés with other veggies and of course mix them into lettuce-based salads. They can be perishable, so store in a sealed plastic bad and try to use them up within a week.
Radicchio - is one of those versatile greens - it is in the chicory family so is somewhat bitter in taste. It can be sliced thin and added to salads with assertive dressings; it can be halved or quartered, brushed with olive oil and grilled and then eaten alone as a side dish, or served along with other grilled veggies; or cut up and added to a grilled, chopped veggie salad. I have added a new recipe for this week: Radicchio, Fennel, and Proscuitto Salad.
As always, I would love to hear from you - do you have any favorites to share? How about the dish you brought to the Potluck? Please send to me at Lindadansbury@comcast.net.
Enjoy the harvest and happy eating this coming 4th of July weekend!
Recipes
Radicchio, Fennel and Proscuitto Salad
From Food52.com; this salad would also come together great if both veggies were grilled and then cut into small pieces. Also, this basic dressing is my go-to for so many salads.
1 head Radicchio
1 large bulb Fennel
1/3 cup Parmigiano-Reggiano shavings
1/4 pound Proscuitto
1/4 cup Balsamic Vinegar (use white if you have it)
3/4 cup Olive Oil
1 teaspoon Dijon Mustard
pinch Sugar
1 small Shallot Minced - or an Anchor Run scallion, thinly sliced
Kosher Salt & Freshly Ground Black Pepper to Taste
Core and slice the fennel as thinly as possible - if you have a mandoline, use it for this. Core and half the radicchio; slice into tagliatelle sized ribbons. Cut the proscuitto the same size as the radicchio. Mix vinegar, mustard, sugar, shallot or scallion, and salt & pepper together. Slowly whisk in olive oil or put all ingredients in a container with a tight fitting lid and shake to emulsify. Shave Parmigiano-Reggiano with a vegetable peeler and combine with radicchio, fennel, and proscuitto. Mix salad with enough of the vinaigrette to adequately dress. Let sit in refrigerator for 30 minutes, then serve.