Let's do a rain dance
Note: It appears that the newsletter was not sent Sunday evening as we intended. Apologies! Here is the latest from Anchor Run CSA...



Asian eggplant, earlier than Italian, ready to pick after fighting off the dreaded eggplant flea beetle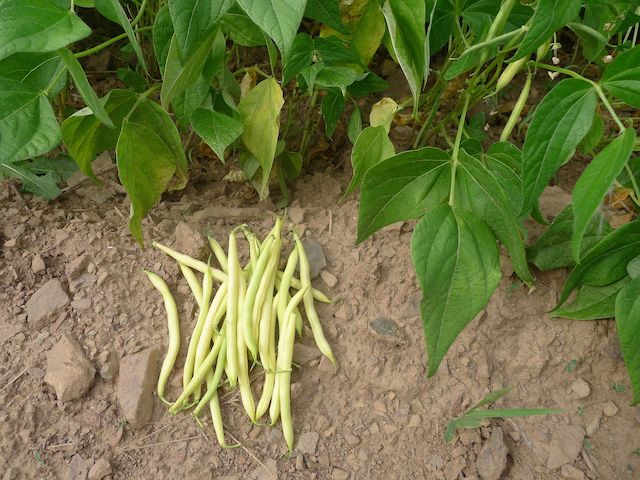 Yellow wax beans ready for harvest and fresh eating
News
Notes From The Field
Right or wrong amount of precipitation
By Derek McGeehan
Plenty of storms rolled through our area last Wednesday and Thursday and mostly missed the farm. Overall we received about a quarter inch of rain which was probably enough to cool off the above ground portion of the crops but was definitely not enough to soak into the soil and reach the roots. We always wonder if all plants are able to absorb some moisture through their leaves and, if so, will hopefully bide their time until the next rain event, this week please.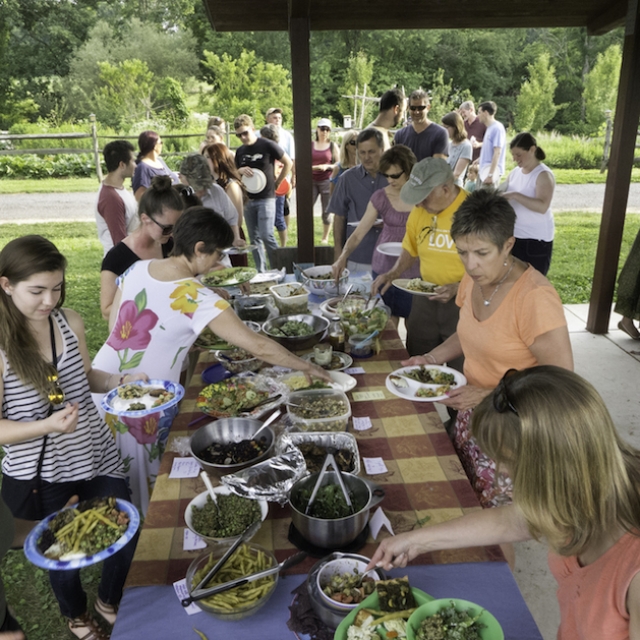 CSA members helping themselves to the fine spread of food at the recent potluck
(photo by David Graham)
We are able to irrigate the farm, but we'd rather not. Our soils hold a lot of moisture and our tillage techniques seem to preserve it as well. Straw and mulch also keep moisture in. Unfortunately, with three or four days in the 90s last week and a return to the 90s this week, we may be forced to finally irrigate. In farming, and probably a lot of endeavors, one can constantly try to control various variables and in turn outcomes, but it is also a fun challenge to test the resiliency of plants and rely a little on Mother Nature. Some farmers spray their crops to get rid of bugs, disease, and other undesirables, but that then impacts the health of the environment and the health of us human beings. Like spraying, we could try to add water to the fields regularly like clockwork and hope that the investment pays off with increased yields outweighing the time and money and resources spent adding water to acres and acres. So, we wrestle with the options of how to bring in a nice harvest of so many different plants. It is nice when we receive a weekly supply of an inch or so of rain with lots of sunshine in between, but rarely does it work out just like that. Perhaps you'll see me racing around the farm this week with a truckload of irrigation supplies being chased out of the field by a sudden drenching thunderstorm.
Expected Harvest
An early July mix
By Derek McGeehan
Harvest #7 (Week A) should include lettuce, beets, summer squash, cucumbers, fennel, scallions, radicchio, Italian dandelion, parsley, eggplant, and sweet peppers. Some items will be a choice. U-pick should include yellow wax beans, pesto and other basils, perennial herbs, dill, cilantro, and a flower bouquet.
When the farm hands you herbs...make pesto!
By Linda Dansbury
Annual, tender herbs are hitting their peak now, and so we can cut large handfuls of basil, cilantro and soon parsley. So, what do you do with all of these herbs? Make pesto - and not only with basil. Search the website for "pesto" and you will find a long list including basil, parsley, cilantro - even kale and collards. And don't think they are only for pasta. Use pesto to accent fish, poultry, meat, veggies of all types and of course, pasta. Make a lot of batches this summer and freeze in ice cube trays or other small containers, and you will have delicious, fresh tasting food for months to come. So, don't forget to bring your scissors to the farm so you can cut your large handfuls of herbs. Enjoy!
How did I enjoy my harvest this week?
By Linda Dansbury
Summer is definitely here as revealed by both the temperature and veggie availability. It is so much fun to see the new items each week in the barn and out in the field. Here are some of the things I did with my veggies this past week:
Swiss chard
- I made the
Chickpea and Chard Curry
that is on the website. It is so delicious, that I made it twice. The first time I made it, I used the chard it calls for. The second time I didn't have chard, so I used dandelion greens - it was just as good.
Beans, peas, scallions, garlic scapes, mint, basil - made what I am calling a summer salad - again, had this twice. Steamed the beans and peas for a couple of minutes, then plunged them in ice water. Prepared a dressing using the chive blossom vinegar I made in the spring, scallion, scapes and the herbs and olive oil. Mixed everything together and enjoyed - refreshing, delicious and healthy!
Cilantro, scallions - made a dipping sauce with Greek yogurt, lime juice, salt and pepper to serve with Siracha chicken wings we had as part of our 4th of July celebrations.
Squash - as with last week, we grilled them and served them to our guests. Yum
Cucumbers - sliced thin and added to salads; I also like the crunch when I slice them thin and add to sandwiches. Ate as a snack.
Romaine - made Caesar salad with the OPA dressing.
I roasted the beets with the intent of making the beet risotto, but didn't do that - I will probably use them for a beet salad. I also have plans for the fennel for today, which I will talk about next week.
I hope you are enjoying the harvests as much as my family!
Veggies on the horizon
By Derek McGeehan
In the harvest over the next month we should see new veggies such as carrots, fresh onions, fresh garlic, parsley, cabbage, celery, cherry and other tomatoes, tomatillos, sweet and hot peppers, edamame, okra, and eggplant; a steady supply of salad and cooking greens like lettuce, Italian dandelion, and radicchio; and the return of kohlrabi. As long as we receive rain sometime, there should be a steady supply of fresh beans, basils, dill, cilantro, cherry tomatoes, and flowers for you u-picking pleasure.
Preserving the harvest workshop - freezing and canning
By Gia Yaccarino
The next workshop is on Saturday, July 12th from 1 to 3. We will discuss supplies needed, freezing techniques and proper canning methods. Some books I have used will also be available to look at. A list of websites and other resources will be provided.
Reuse/return quart & pint containers
Your farmers highly recommend bringing your own bags and containers for the farm harvest. When using the farm quart and pint containers for u-pick consider using them to measure the amount of your produce and then transfer the food to your bag and then return the containers to the barn for other members to use. If you're unable to do that, and they're still in good condition, please bring them back to the farm your next time out for use or to return. Thank you!