Enjoying this year's harvest while planning for the next
A hummingbird moth enjoying some nectar from bee balm blossoms. I didn't know these existed until I saw one at the farm a couple years ago. They're a dead ringer for a hummingbird if you don't know what you're looking at, or if you notice the creature in passing.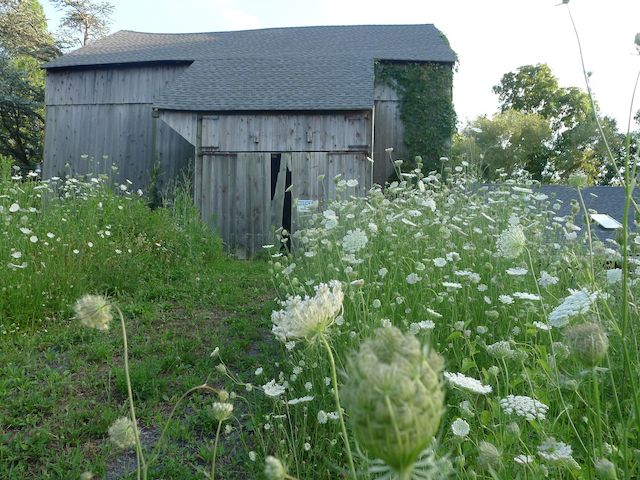 Queen Anne's Lace is in its element this year and can be admired here where it dresses up the bank up to our barn, which is in need of a door doctor.
News
Notes From The Field
Drying, Planting, Harvesting
By Derek McGeehan
It was a productive week on the farm. We transplanted over 4000 bed feet of fall cauliflower and broccoli, a couple rounds of lettuces, the final planting of beans, additional dill and cilantro, as well as the fall plantings of fennel and celery. With the help of workshifts last Sunday we harvested all of the 2014 garlic, some of which went right into our walk-in cooler for fresh garlic distribution while most was hung in the barn rafters to cure for long-term storage.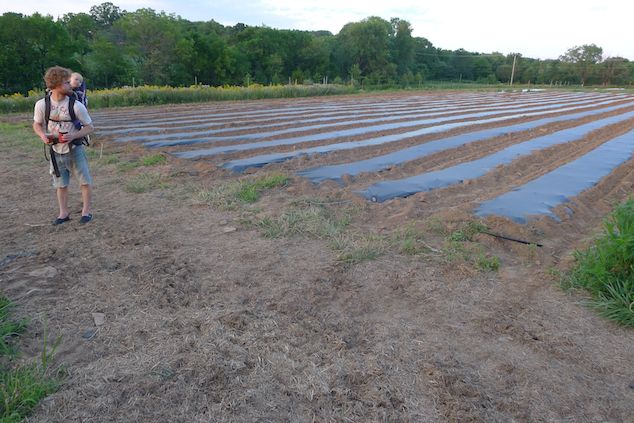 Derek and Gabe stand proudly next to a Friday afternoon's efforts, the beds which will house next year's strawberry patch.
Also with the help of a workshift we harvested part of the onion crop, which looks satisfyingly pretty good this season. We grew seven varieties this year, each with slightly different maturity dates. Some we'll give out fresh and some we'll cure like the garlic. Besides these alliums, we'll also have scallions for a while and will harvest leeks in the fall. Our 2015 strawberry plants arrive this week as dormant, bare root 'tips', 6000 in all. Raised beds were made and fertilized organically, mineral and micro-nutrient amended, re-made and re-fertilized, covered in black plastic mulch with drip tape added below, and finally punched with holes in two rows 12 inches apart in row using the transplanter. We're hoping this final step will allow water penetration before we plant the strawberry tips. We usually lay straw mulch in the aisles before or right after we plant, but this year we're trying something new. I used the push seeder that we typically use for our produce crops to seed a cover crop mixture of crimson clover and daikon radish in the aisles, hoping that it can get established and prevent erosion while also suppressing weeds. Before it pours later today or tonight I think I will have to add straw mulch in places to slow heavy water flow.
Expected Harvest
Fresh Onions Arrive
By Derek McGeehan
Harvest #10 (Week B) should include lettuce, cabbage, carrots, fresh garlic, fresh onions, summer squash, cucumbers, fennel, celery, sweet peppers, hot peppers, eggplant, and tomatoes. A few items could be a choice. U-pick should include cherry tomatoes, husk cherries, beans, basils, dill, cilantro, perennial herbs, and a flower bouquet.
What being a member of a CSA means to me
Judith Richardson
This is the second in a series of ruminations by Core Group members about why we are members of Anchor Run CSA. I have been a member since the inception, and have lovingly watched the CSA grow and bloom (puns intended) into a place where fabulous food is produced by people who care deeply about the earth.
Being a part of something larger than oneself -- helping to produce the bounty that Dana and Derek lovingly grow for us -- is something I value more than I can say. Being a part of a community of people who share those same values gives me great joy.
Eating healthily is another main reason for my being a member of this CSA. Stories about the benefits of organically grown fruits and vegetables have been in the news a lot recently due to the findings of an international team of researchers led by Professor
Carlo Leifert
at Newcastle University in the UK. Their research showed that
"Organic food has more of the antioxidant compounds linked to better health than regular food, and lower levels of toxic metals and pesticides. Plants produce many of their antioxidant compounds to fight back against pest attacks, so the higher levels in organic crops may result from their lack of protection by chemical sprays. But the scientists say other reasons may be important, such as organic varieties being bred for toughness and not being overfed with artificial fertilisers."
Common sense has always told me that eating organically grown food has to be better for both me and the earth. Being able to help spread that concept to others through my involvement with the farm enables me to contribute in a small, local way to the healing of the soil and to maintaining my family's good health.
How did I enjoy my harvest this week?
By Linda Dansbury
Another great and delicious week of veggies - I made and consumed a lot, and still have many things to look forward to eating this coming week. It is both fun and challenging to come up with different dishes to use all of the veggies this time of year. How do you prepare all of your veggies? Email me at lindadansbury@comcast.net.
Beans, scallions, pepper, parsley, basil - made a large bean salad with the yellow beans. In my bean salad, I normally add a can of chick peas, scallions, garlic, herbs including parsley and basil, a chopped up pepper, vinegar and olive oil. It actually tastes better the second and third days. I ate it for lunches - added a can of tuna one day.
Lettuces, herbs, scallions, tomatoes, cucumbers - large salads with lots of veggies chopped up - a really cool, crunchy and delicious way to finish up meals in the summer.
Cherry tomatoes, cucumbers and kohlrabi - in addition to adding them to salads, I snack on these as part of my lunches.
Summer squash, scallions, pepper, eggplant, tomatoes, basil and parsley - I made stuffed squash with the round zucchini's. I had made extra brown rice for a stir fry a couple days before. I cut off the tops and hollowed out the zucchini and chopped up the flesh. Also chopped up all the other veggies and sautéed them all up in a skillet. Once they were tender, I stirred in the rice and some grated parmesan cheese and mixed it well, then placed them in the oven for about 45 min. For the last 5 minutes I put a slice of fresh mozzarella on top and then let it melt. It was a really tasty dish.
Summer squash, scallions, pepper, eggplant, fennel - grilled them along with a nice piece of fish.
Parsley - made pesto with walnuts and used it over grilled fish and steamed beans.
Fresh onions and lots more!
By Linda Dansbury
Fresh onions will be added to the mix this week. As with the fresh garlic, fresh onions are used exactly the same as cured onions, but since they aren't cured, they are perishable and must be stored in the refrigerator.
At this time of year, the quantity of veggies is high - I am sure you have noticed the weight of your pick up bags is increasing. For the full share members especially, this is the time of year to start thinking of canning or preserving some of the harvest for later use. I often make
Ratatouille
or
Caponata
. Both recipes are on this site. There are differences, but both are what I like to call French and Italian versions of veggie stew. They freeze well and then can be used in a multitude of ways: as a topping for bruschetta, over meat or fish, over veggies or pasta, as a side dish, or cook sausages right in the veggie stew. For the half share members who try to draw out their harvest over 2 weeks, keep in mind that certain veggies do not keep well for more than a week, especially the eggplant, fennel, cucumbers, and make sure the lettuces are used relatively soon also. Peppers keep for awhile, but they don't last long in my house because they go so well with the other veggies! Cabbage will store well for a couple of weeks in a plastic bag in the fridge.
As for tomatoes, you may or may not know that they should NOT be stored in the refrigerator, as they really lose their field fresh, just picked flavor. Store them on you kitchen counter and check them daily for the ones that need to be used up first. Enjoy them at their peak.
I talked previously about how to determine if the cherry tomatoes were ripe, and as I was picking this week, I realized I hadn't said that a ripe tomato will have some give in it when gently squeezed. If it is very firm, it is not ripe. Hopefully just looking toward the bottom makes it clear which tomatoes are ripe!
U-pick note
By Linda Dansbury
Everyone's lives are very busy, but I am still amazed that I don't see more members doing their U- pick on the weekends. U- pick veggies are a large and important part of your share. Also, being in the u-pick fields is a great way to meet and make new friends and reconnect with others you may not have seen for awhile. It is also a wonderful time to connect with nature: to "unplug" and to see and hear the abundance of wildlife and plants and flowers around you. So, wear comfy clothes and shoes, bring your scissors and bags, and spend some time in the fields - right now, while there are herbs, husk cherries, tomatoes, beans and flowers to pick. Plan for it to take about an hour - more time is even better so you can really take your time and enjoy. Just remember that there are many members coming after you to pick, so please make sure you take care of the plants and don't harvest the herbs down to the ground. Happy picking!
New! Phone-friendly work shift sign up
By Hal Wright
Our new, responsive calendar and work shift sign-up pages are in beta test, and you can help us be sure they are functioning properly. From your mobile device, click
here
to view the calendar. By default, the calendar shows two weeks (the current week and the next), but scrolling all the way to the bottom or top causes new weeks to become visible automatically. To sign up for a work shift, log in (it's easily done right from the top of the calendar page), then click on the "person" icon

next to the shift you are interested in.
We'd love to get feed back on the new calendar, but please don't bother our farmers! Email me directly at this address:
hal@sheltermouse.net
. Thanks in advance for those who give this a try.