August's bounty: an assortment of delicious veggies and beautiful flowers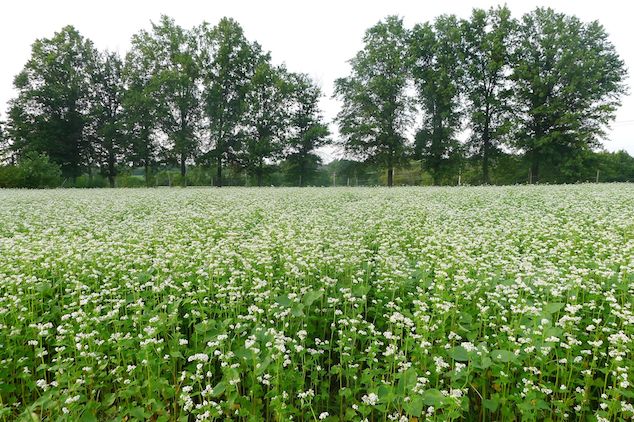 Buckwheat, a summer cover crop, flowering and attracting a multitude of happy insects. Standing nearby, one can hear the perpetual buzz of recognizable insects like honey bees, bumble bees, and bald faced hornets, as well as many bugs we simply don't know the names of.
Sunflowers similar to this one in the herb garden will soon be flowering in the u-pick flower garden and will be ready to be picked this week. Enjoy!
News
Notes From The Field
Into August we go
By Derek McGeehan
Another productive week behind us, a full month of August in front of us. The cool, moist, overcast weather has us thinking about harvesting and squirreling away the fruits of this season's labor for the other half of the year. Winter squash, potatoes, and storage onions are all about ready to be harvested. Cucumbers are about finished, with summer squash, Italian basil, and field tomatoes not far behind (mostly due to the various diseases they're all susceptible to causing an earlier than normal finish). We're hoping for a few more weeks of squash and even longer for the tomatoes; basil we're not sure about since this is the first time we've noticed this type of damage. As of now, the high tunnel heirloom tomatoes look happy, but being next to the cherry tomato patch is a weak point. Last week we planted 6000 strawberry tips into 3000 feet of bed space and also transplanted fall Swiss chard, more lettuce, fall beets, Italian dandelion, and the last round of basil. A few thousand feet of raised beds were made for fall plantings of kale, collards, lettuces, chicories, radishes, and greens like arugula, mix, choy, and tatsoi.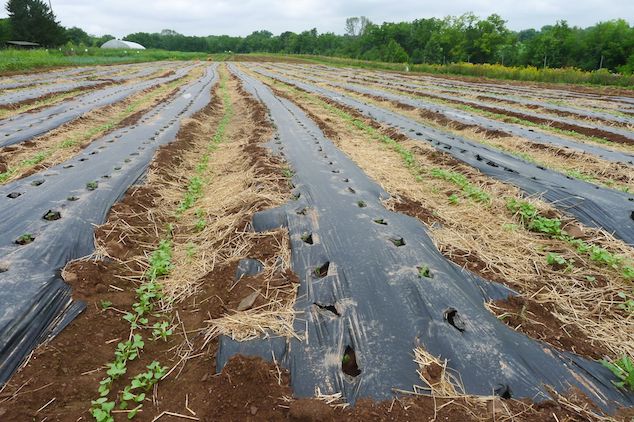 The 2015 strawberry patch starting to wake up. Dormant strawberry tips were planted in the black plastic covered raised beds and a cover crop mix of daikon radish and crimson clover was sown in the aisles.
We're continually modifying and adapting our practices for many reasons and this year we're planning to make raised beds in the fall for spring planting. After primary deep tillage with our chisel plow we wait for weeds to germinate then make primary raised beds. After weeds germinate again we'll amend and reshape again depleting the weed seed bank even more. Then, we'll sow a winter killed cover crop like buckwheat, oats, tillage radish, peas, or sorghum-sudan grass over the raised beds to protect them from erosion during the winter. Come spring, instead of having to do deep tillage in cold and probably wet soil, all we'll have to do is remake the beds slightly with the same tool we used to make the primary beds in the fall. This is an experiment that could have great results for soil health as well as time and resource efficiency.
Expected Harvest
Summer's Bounty
By Derek McGeehan
Harvest #11 (Week A) should include lettuce, summer squash, cucumbers, cabbage, garlic, onions, scallions, tomatoes, hot peppers, carrots, celery, tomatillos, eggplant, and sweet peppers. Some items could be a choice. U-pick should include cherry tomatoes, edamame, beans, husk cherries, basils, dill, cilantro, and flowers.
Foodshed Alliance potluck & farm tour
By Derek McGeehan
This Wednesday from 6-8 PM we will host the Bucks County Foodshed Alliance's final summer potluck and farm tour. A potluck meal will begin at 6 PM and a farm tour will begin at 7 PM. For more information about the evening and the Foodshed Alliance, please visit:
http://www.bucksfoodshed.org
. Members of Anchor Run CSA are of course welcomed and encouraged to attend!
Summer veggies - new and abundant
By Linda Dansbury
Last week and this week, new items have arrived on the farm: edamame and tomatillos, plus a continued abundant supply of green beans. So, how do you use them?
Edamame, also known as soybeans, are delicious and very nutritious, but you can't eat them raw. Simply bring a large pot of water to a boil and HEAVILY salt it - about a tablespoon for 3 quarts of water - and at least one source says a tablespoon per each quart of water. Put the beans in - shell and all - and start testing for doneness at 8 minutes. The beans take anywhere from 8-11 minutes to reach desired tenderness. Drain and plunge them into a large bowl of ice water. Once cool, they can be eaten immediately as a snack: just bite on the pod and pull out the beans with your teeth. Or freeze as is, or take the beans out of the pod and freeze for later use. The beans can be used as a replacement for lima beans or fava beans in many recipes and there are some recipes specifically for edamame on the website.
Tomatillos are another farm treat that are new to many people. They are in the same family as tomatoes and look like green tomatoes with a husk covering over them. To use them, simply remove the husks. I like to roast them and then make batches of
Tomatillo Sauce
using the recipe on the website. It is meant for chicken or fish, but can also be used as a salsa with tortilla chips or other veggies. It also goes really well in Posole Soup, a recipe for which I will post later this season - it is difficult to think of hot soups right now.
Abundance of green beans for which there are many recipes available with a simple internet search. I have talked about a bean salad that I make, which is great because it gets better the second, third, and fourth day after it is made. If you want to store some green beans for later use, bring a large pot of water to a rolling boil, place beans in the pot and bring back to a boil. Boil for 1.5-2 minutes and then quickly drain and submerge in iced water and cool. Drain well, place on a kitchen towel to dry. I like to then place on a cookie sheet in a single layer and freeze. Once frozen, place in plastic freezer bag and return to the freezer. Freezing on a cookie sheet first makes it easier to remove the exact quantity you want from the bag.
U- pick note and member recipe
By Linda Dansbury
We have reached the peak time for U-pick veggies. I always make this statement once the edamame are ready to pick. I met another member in the field yesterday and she said she had been at the farm for an hour - and then she walked to the flower and herb gardens. So, you need to allot at least an hour, and an hour and a half would be even better for each week for the next month or so, when U-pick will slow down again. This is a significant part of your share, so come out and enjoy the sights and sounds. I always take a few minutes to stop and stretch my back and look around. The buffer zones around the farm provide beauty (in addition to the fields themselves) and the happy sounds of the farm are a pleasure to experience. Please don't miss out!
Fellow member Nicole Peirce sent me a link to a recipe for Zucchini Butter, which I have added to our recipes. It looks really good and tasty and will help keep the squash for longer periods - and it is easy!
How did I enjoy my harvest this week?
By Linda Dansbury
Well, another week of summer has rushed by. I truly cannot remember a lot of what I cooked this past week, which means that I have not done new recipes. I think even people like me who love to cook have lulls in which you simply go through the motions and make what is in your normal repertoire. Writing this newsletter each week helps push me to try new recipes, but this past week, I didn't do much new. However I did use a lot of veggies - here is some of what I recall!
Squash, eggplant, scallions, fresh garlic, parsley - I made a frittata - actually, it was more like a vegetable and egg hash. Once I had chopped all the veggies and sautéed them, there were too many for the amount of eggs I needed to make a frittata, so I just scrambled the eggs into the mixture - it didn't look very pretty, but it tasted delicious!
Heirloom tomatoes, basil - I made a Caprese salad - slice the tomatoes into thick slices, get the best quality mozzarella you can find and slice, and then keep basil leaves whole. Place the thick slices of tomatoes on plates - sprinkle with sea salt. Top with slices of mozzarella and basil, then drizzle a really good extra virgin olive oil (EVOO) over all. Yum! Once of the best summer dishes.
Tomatoes, basil, fresh garlic - made bruschetta - again - grilled bread, seeded and chopped heirloom tomatoes, a little chopped garlic and julienned basil and nice EVOO - so good and only good this time of year!
Cucumbers - canned more pickles this weekend!
Lettuce, carrots, scallions, celery, parsley and basil - lots of large salads this past week - for lunches I made tuna and chicken salads and had them over big beds of greens - added celery, carrots and scallions to both the protein salads and the greens salads.
Eggplant, squash, peppers, scallions - again, grilled them and served along with the meat that was also grilled. So simple and delicious.
Recipes
V Zucchini Butter
Submitted by member Nicole Peirce; from Food 52, time is about 30 minutes; makes about 2 cups. Nicole added chopped parsley and garlic scapes.
2 pounds zucchini or assorted summer squash (feel free to use less or add extra -- cooking times will vary)
1/4 cup olive oil or butter
2 minced shallots, garlic, or combination of both
Salt and pepper
Coarsely grate the zucchini. Let it drain in a colander for 3 to 4 minutes or until you are ready to begin cooking. To hasten cooking time, squeeze the water out of the zucchini by wringing it in a clean cloth towel.
In a deep skillet, heat the olive oil/butter. Sauté the shallots or garlic briefly. Add the zucchini and toss. Cook and stir over medium to medium-high heat until the zucchini reaches a spreadable consistency, about 15 minutes. If you scorch the bottom, turn the flame down! (And scrape those delicious bits into the butter for added flavor -- you can splash in a little water to help deglaze the pan.) The zucchini will hold its bright green color and slowly caramelize into a nice vegetable jam.
Enjoy on toast, or as a side dish all summer long!