Happy First Birthday Farmer Gabe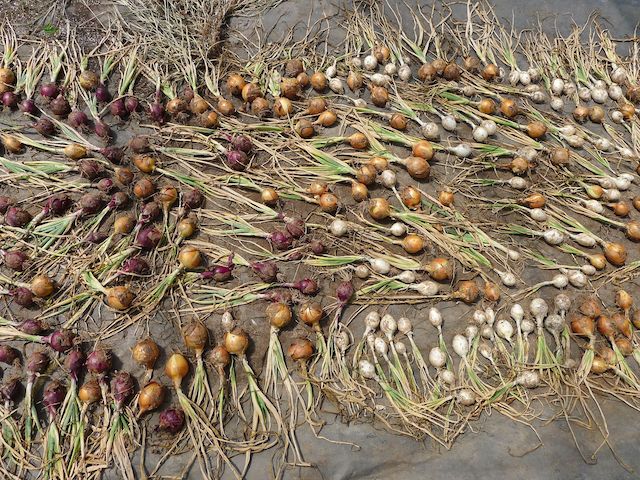 Storage onions curing in the protective hoop house which was covered with shade cloth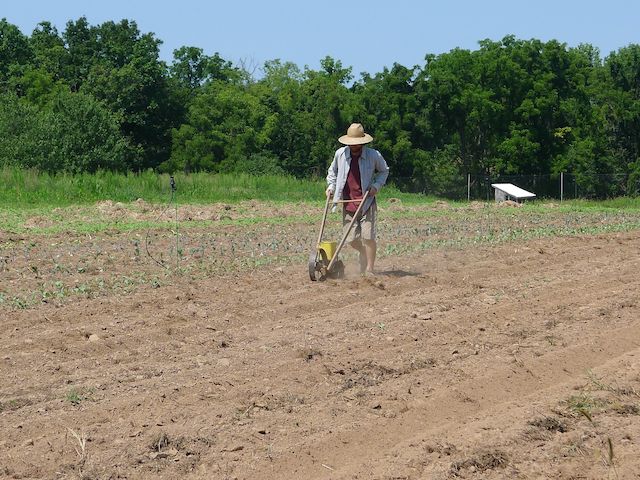 Derek push seeding large fall radish varieties on a parched August day
News
Notes From The Field
Another dry and productive week
By Derek McGeehan
Last week we transplanted a nice variety of fall produce, including white russian, red russian, and toscano kale; georgia collards; winner and kossak kohlrabi; rubicon and bilko chinese cabbage; and magenta and cherokee summer crisp lettuce. Yesterday I seeded a variety of large fall radishes: red meat, nero tondo, alpine, miyashige, and bravo.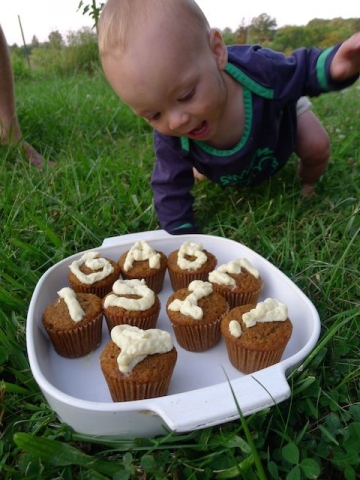 On Friday, using the tractor and a toolbar implement with a variety of metal attachments, I cultivated the thousands of feet of fall cabbage, broccoli, and cauliflower. I also removed the fabric row cover from the late fall harvested rutabaga so it can be cultivated and thinned to appropriate spacing.
Our farm crew spent almost 8 hours of straight harvesting on Monday and Thursday to bring in the bounty for distribution. Each day they harvested well over a thousand pounds of tomatoes, 150 pounds of peppers, 300 pounds of eggplant, 120 bunches of scallions, some okra, and a few hundred pounds of summer squash and the last of the cucumbers. All of that time spent harvesting only leaves us with about 3 other weekdays for all of the other work. Workshifts helped remove the last of the storage onions from the field, some for curing and some for fresh eating. The onion crop looks great this year. Multiple beds of edamame were weeded for better u-pick enjoyment. Crops were seeded in the greenhouse for the penultimate time this season. Eighteen flats of beets were thinned with scissors, each flat containing 288 cells, for a total of 5,184 cells that needed attention. Each beet seed is actually a small fruit with multiple seeds in it, so thinning is always necessary. Besides all of these tasks, more were attended to, and Gabe turned one.
Expected Harvest
Peaking Tomatoes
By Derek McGeehan
Harvest #12 (Week B) should include tomatoes, sweet/bell peppers, eggplant, hot peppers, lettuce, summer squash, celery, garlic, onions, scallions, and tomatillos. U-pick should include basil, dill, cilantro, beans, edamame, cherry tomatoes, husk cherries, and a flower bouquet.
Basil Issues
By Derek McGeehan
A couple of weeks ago we noticed our main Italian/pesto basil plantings were becoming sick and infected by some sort of moldy-looking disease. After some research, it unfortunately appears they've contracted basil downy mildew, a disease that was mainly confined to Africa at the end of the 20th century but surfaced in Florida in 2007 and has since spread all over the United States. So far, the other herbal basils (lemon, sacred, thai, and red) seem to be in better picking condition, so grab them this week if you can. We have one more basil planting that went in about a week ago and we'll hope it doesn't succumb as well. For more information about basil downy mildew, check out this link:
Basil Downy Mildew
Upcoming Events
By Derek McGeehan
Our 2nd potluck of the season is Saturday, August 23, at 6:00 PM.
Our fermentation workshop is Saturday, September 20, at 11:00 AM.
Workshift Reminder
By Derek McGeehan
Workshift opportunities and farm help needs are past the midway point for the season. If you still need to satisfy the requirements of your share, please consider joining us sometime over the next month. There will be work opportunities through October but workshift frequency slows down as we approach autumn. Please remember that your work commitment keeps the share costs stable and is factored into the cost of the share. If you're unable to do the work for your share, you must contribute to the farm financially instead of physically at the rate of $15/hour to make up the share cost balance. You may e-mail us to make other arrangements.
How did I enjoy my harvest this week?
By Linda Dansbury
The unusually cooler summer weather makes it more fun to cook, since the kitchen doesn't heat up quite as much. The amazing weather also has us grilling a lot. I have not heard from many members this year and I know many of you are accomplished cooks, so please take a few minutes and email me with some of your recipes, tips, methods and/or questions. You can reach me at
lindadansbury@comcast.net
. Here is some of what I made this week:
Summer Squash, basil, scallions - made a new salad this past week with the summer squash - it is called Summer Squash and Sweet Corn Salad with Feta. It is really tasty - and simple to make. I have included the recipe for your enjoyment.
Green Beans - used some of these in a different way. We had leftover grilled chicken, so I made a dish using mixed mushrooms. We blanched the beans first and then added them to the "stew" of the chicken, mushrooms and a little mascarpone cheese. We served it over pasta and to with a lot of parsley and a bit of thyme. It was delicious.
Tomatoes, garlic, basil - made bruschetta a couple of times this week. One of the reasons I mention this now is that when we have some of the tomatoes left over, I use them as a delicious base for a salad dressing. I typically add a bit of balsamic vinegar and a little more olive oil and mix into my salad of greens, cherry tomatoes, scallions and parsley. A really nice taste!
Lettuce, celery, scallions, tomatoes - salads a few different ways, including the one mentioned above.
Eggplant, zucchini, peppers, squash, scallions - grilled a large pile of these and ate some immediately with dinner. The rest made for a delicious salad. I chopped them all up and put into a bowl. In a small bowl I put a little balsamic vinegar, salt, pepper and then some good quality olive oil and mixed it well. Poured it over the veggies, then added a good amount of parsley and a bit of mint. Ate it a few days for lunch. Really, really tasty. I added a little cheese one of the days along with some chick peas for variety.
Edamame - boiled them for about 9 minutes, then made Peppery Edamame, which is really simple and delicious. I have included this recipe this week.
Beautiful weather and veggies - some thoughts
By Linda Dansbury
The weather has been so perfect, so I hope you have been spending the hour each of your pick up weeks to pick veggies and flowers. I think the flowers in the garden are just beautiful this year.
A couple of thoughts I have had during the week that I wanted to share with you. We receive quite a bit of celery, which can be used in a lot of ways you may not think of- check out the website, search for celery, and you will see several recipes, including
Braised Celery
,
Celery and Mushroom Salad
,
and
Succotash Celery Salad
.
They are all delicious.
You may find that you do not always use the tops - but DON'T throw them away. Bag them up and freeze them to add to soup stocks - they give stock such a nice flavor - much more flavor than the grocery store varieties.
Derek told me that people were wondering what to do with tomatillos - I did talk about them in the newsletter a couple weeks ago, but maybe some of you missed it. Tomatillos are in the same family as tomatoes, but are ripe when they are still green to slightly golden or even a blush of burgundy. They can be chopped up and added to salads for a citrusy flavor. I like them best used for a sauce or salsa. In the Member's Page, click on the Search option. Select recipes, then type in tomatillo and there are several delicious recipes listed. I hope you enjoy.
I plan to try a few new things this coming week, so be sure to read my columns for new ideas next week! And, please, send me your ideas - I am sure the membership would welcome different ideas and opinions.
Recipes
Summer Squash and Sweet Corn Salad with Feta
From Bon Appetit, Ready in about 20 minutes; serves 8-10 - I made a much smaller batch.
4 ears of corn, husked
Kosher salt
4 small zucchini (about 1½ lb.), thinly sliced lengthwise on a mandoline
8–10 zucchini blossoms, torn into large pieces (optional)
¼ cup coarsely chopped fresh basil
¼ cup coarsely chopped fresh flat-leaf parsley
⅓ cup olive oil
¼ cup white wine vinegar
½ teaspoon crushed red pepper flakes - or a sliced fresh hot pepper from Anchor Run
Freshly ground black pepper
4 oz. feta, crumbled (about 1 cup)
Cook corn in a large pot of boiling salted water until bright yellow and tender, about 3 minutes; transfer to a plate and let cool. Cut kernels from cobs and place in a large bowl. Add zucchini, zucchini blossoms, if desired, basil, parsley, oil, vinegar, and red pepper flakes and toss to combine; season with salt and pepper. Serve topped with feta.
DO AHEAD: Corn can be cooked 1 day ahead. Cut kernels from cobs; cover and chill. Bring to room temperature before using.
V Peppery Edamame
Adapted from Bon Appetit; Ready in 15 minutes.
1 pound of fresh edamame - about a quart
3 Tablespoons toasted sesame oil
1 teaspoon freshly ground black pepper
1/2 teaspoon kosher salt
1/2 teaspoon sugar
Cook edamame in a large pot of well salted, boiling water until tender, about 8-10 minutes. Drain and transfer to a large bowl. Add oil, pepper, salt and sugar. Toss to coat and serve immediately.
NOTE: the pepper can be changed out for cumin or other spices or fresh chopped herbs.