At the half-way point
A close up view of a marigold bloom in the flower garden to brighten your day.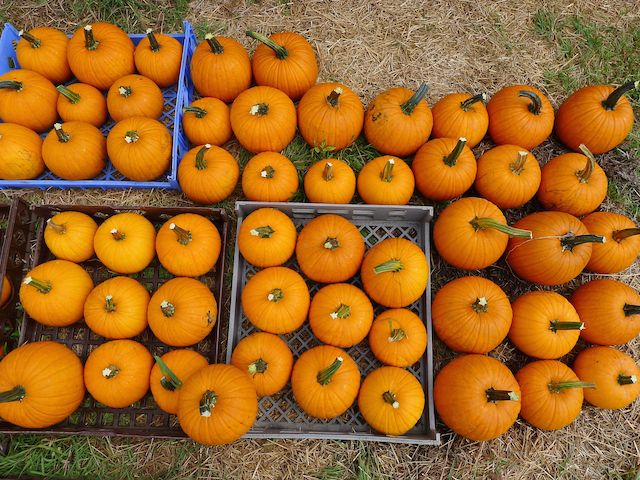 Harvested with the help of Sunday's workshift, pumpkins are lined up and ready for transport to the barn for storage.
News
Notes From The Field
Mid-season musings
By Derek McGeehan
Here we are starting harvest week #13 which sounds like the halfway point of the harvest season, if we are in fact able to go through 26 weeks like we aspire to. Technically, we need to finish this week before we're actually halfway, but close enough. At this point of the season we're beginning to see harvests transition away from some of the summer crops like summer squash and cucumbers and the slowing down of tomatoes to the first harvests of some fall crops like winter squash, potatoes, and leeks. Winter squash and potatoes will be harvested in several stages as each variety reaches maturity and cures in the field and will be distributed over many weeks. Leeks, on other hand, will be harvested as needed for each pick up day. Summer crops like eggplant, peppers, tomatoes, beans, edamame, watermelon, and cantaloupe will be here to stay for a while longer, thank you plants. Scallions are almost finished and we're about to start harvesting from the final plantings of basil, dill, and cilantro. There are two more plantings of both beans and edamame to take us through another month or so. Fall greens like kale, Swiss chard, arugula, greens mix, endive, romaine lettuce, mini lettuce, and escarole should be part of the harvest sometime in September or October. Fall cabbage, broccoli, and cauliflower are somehow growing happily without much rain and should arrive in harvests in October.
Fall broccoli, freshly cultivated, thriving amid the dry and cool conditions.
Speaking of the lack of rain, the 2014 season is shaping up to be one of the driest ones we've experienced at Anchor Run in the past 6 years. Rainfall has been so localized this year that some of you will think that sounds crazy. In the past month the farm has received 1.5 inches of rain, which is about 2.5 inches less than ideal. Fortunately it has not been hot, so plants are growing and appear content. Winter squash, somehow, found plenty of water to drink and has produced a very satisfying yield. I attribute their size and productivity to the biodegradable plastic mulch and straw mulch holding in whatever moisture they actually received. I'm mostly holding off irrigating but have been watering the newly planted strawberries, kale, napa cabbage, collards, radishes, and heirloom tomatoes. I guess we're lucky, though, because parts of Long Island received 5 inches of rain in an hour and 13 inches in a day, which would have been a disaster on the farm. We'll always take not enough rain over too much. In truth, I do love this low-humidity, dry, cool weather, and the plants seem to also.
Expected Harvest
Lucky 13
By Derek McGeehan
Harvest #13 (Week A) should include lettuce, Italian dandelion, eggplant, sweet/bell peppers, hot peppers, tomatoes, tomatillos, fresh garlic, fresh onions, scallions, celery, and tomatoes. U-pick this week should include yellow wax beans, a lot of edamame, basil, dill, cilantro, perennial herbs, husk cherries, cherry tomatoes, and a flower bouquet.
Workshift Reminder
By Derek McGeehan
Workshift opportunities and farm help needs are past the midway point for the season. If you still need to satisfy the requirements of your share, please consider joining us sometime over the next month. There will be work opportunities through October but workshift frequency slows down as we approach autumn. Please remember that your work commitment keeps the share costs stable and is factored into the cost of the share. If you're unable to do the work for your share, you must contribute to the farm financially instead of physically at the rate of $15/hour to make up the share cost balance. You may e-mail us to make other arrangements.
Upcoming Events
By Derek McGeehan
Our 2nd potluck of the season is Saturday, August 23, at 6:00 PM.
Our fermentation workshop is Saturday, September 20, at 11:00 AM.
Calling quart and pint containers home to the farm!
By Linda Dansbury
It seems that many, many containers have left the farm. Please help keep costs down by bringing your containers back to the farm for re-use. Also, if you aren't going to use the rubber bands that secure various vegetables and greens in the pick up room, there is a basket in the barn for those as well.
How did I enjoy my harvest this week?
By Linda Dansbury
There are so many delicious veggies this time of year, that I sometimes wish I could eat more. It was a busy week for using the bounty from the farm. Here is some of what we cooked this week:
Green Beans, scallions, parsley - made a grain salad using barley. Cooked the beans until crisp-tender, then shocked them in ice water. Cooked barley according to package directions, then drained and cooled it on a cookie sheet. Placed barley, beans, a can of chick peas in a bowl, and made a lemony vinaigrette. Mixed it all up and added the scallions and parsley. Topped with crumbled feta cheese and marcona almonds - the recipe I based this on used toasted sunflower seeds, but I didn't have those.
Summer squash, mint, garlic
- made
the longer squash into "spaghetti". Salted them and placed in a colander to drain for about 30 minutes. Gently squeezed water out of the squash. Put a small amount of olive oil in a non stick skillet and added garlic and let it sizzle for about 30 seconds. Added squash "spaghetti" and kept it moving in pan until hot. Removed from the heat and stirred in a couple of tablespoons of torn mint. Delicious!
Cucumber, mint - made a cucumber relish as a topping for lamb chops.
Edamame
- I added the
Peppery Edamame
recipe to the website last week. Last night we made some for friends and they liked it as much as we do. So if you haven't already, try out that recipe.
Tomatoes and basil - continued to enjoy bruschetta and caprese salads with these delicious and colorful tomatoes.
Scallions, garlic, rosemary - we have been using a method for cooking whole chickens for a couple of years called spatch-cocked chicken. It is the name for removing the backbone and ribs and flattening out the chicken so it cooks evenly. If you have never heard of it, Google it and see how it is done. After you have done it once, it is very easy and only takes a couple of minutes. We often cook it on our charcoal grill, placing the charcoal on either side and then placing the chicken in the middle over indirect heat. This time, we made a "bed" of scallions (the entire bunch), a few smashed cloves of garlic, and a few rosemary sprigs. We placed the chicken on the top of the "bed", closed the grill and left it undisturbed for 35 minutes - it always comes out perfectly cooked! We often put soaked wood chips on the charcoal for flavor, but this time we really enjoyed the taste of the scallions, rosemary and garlic. Yum!
Tomatoes, lettuce, scallions, cilantro - we had tacos, so used these items chopped up as some of our toppings.
Today I am trying a new method of making ratatouille. It is somewhat labor intensive, but if it comes out as delicious as I think it will, I will post it for next week. I am also cooking up 2 weeks worth of tomatillos. I will make them into tomatillo sauce and salsa verde. Some will be put in the fridge for use this week, and the rest will be frozen for use during the year. I also plan to grill some eggplant tonight using different flavorings than I have in the past - again, I will report in next week with how this goes.
Member recipe
By Linda Dansbury
Fellow member Carol Barry Marini sent me a recipe that is right up my alley - she likes it because it uses several farm items in the same recipe. Those of you that have been reading my columns for years know I love recipes that utilize many harvest items at one time. Please enjoy the recipe for Yellow Wax Beans in Warm Bacon Vinaigrette that is included in this week's newsletter and will be on the website. The recipe uses wax beans, but green beans can be used. It also uses a shallot, but scallions or the farm's fresh onions can be substituted. Just adjust the amount for the taste you like.
Remember to take the time to do all of your U-pick! It represents a large portion of your share, and U-pick amounts will start to go down in the next few weeks. Even though the cherry tomato plants look sickly, the tomatoes are happily ripening so don't let them rot on the vines!
Remember that the green and yellow wax beans can be blanched and frozen if you can't use them all up. But check out the website for many recipes using your harvest. And, the edamame also freezes very well, either in the cooked pods, or taken out of them. Also try the
Edamame Hummus
. It is really yummy and freezes very well.
Recipes
Yellow Wax Beans in Warm Bacon Vinaigrette
From Food and Wine; 30 minutes, serves 6-8 people.
2 pounds yellow wax beans (or green beans), trimmed
3 tablespoons extra-virgin olive oil
4 ounces thickly sliced bacon, cut into lardons (1 cup)
2 tablespoons sherry vinegar
10 ounces cherry tomatoes, halved
1 small shallot, very finely chopped - or 1-2 scallions, thinly sliced
2 garlic cloves, very finely chopped
1/3 cup chopped basil
Kosher salt
Freshly ground pepper
Cook the beans in a large pot of salted boiling water until crisp-tender, about 5 minutes. Drain the beans and cool them under cold running water. Drain well and pat dry; transfer the beans to a large bowl.
In a large skillet, heat the olive oil. Add the bacon and cook over moderate heat, stirring, until golden, 7 to 8 minutes. Remove the skillet from the heat and stir in the vinegar, tomatoes, shallot, garlic and basil. Scrape the bacon vinaigrette over the beans, season with salt and pepper and toss to evenly coat. Serve warm.