Rain on the farm...welcomed with open arms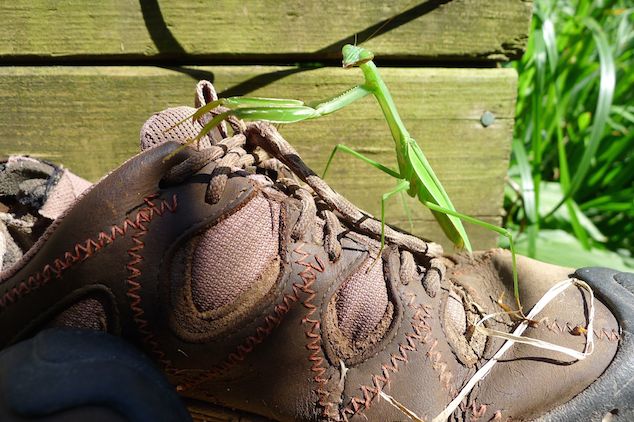 After a season of eating, a praying mantis has multiplied in size perhaps a hundredfold, but not quite enough to fill out this shoe.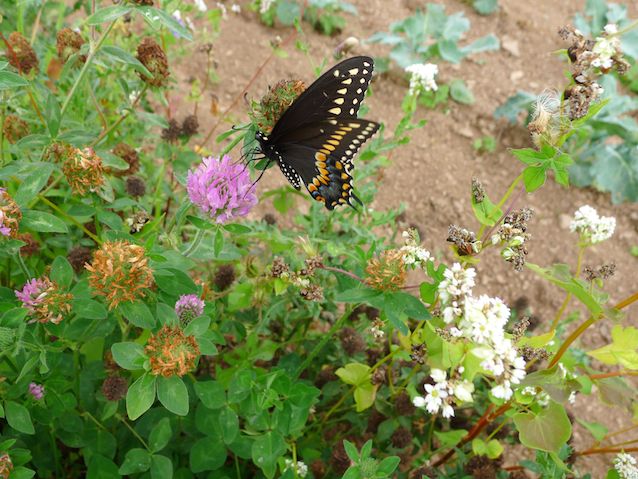 One of at least two varieties of swallowtail butterflies that flutter around the farm, this one enjoys a red clover blossom near the fall broccoli and cauliflower.
News
Notes From The Field
Serious rain received - finally!
By Derek McGeehan
The farm received some much needed rain last week, about 1.6 inches total. That is definitely enough to keep plants and people happy for a good week or two, depending on temperatures and sunshine. Either way, it'll give a quick burst of growth to all of the broccoli, cauliflower, cabbage, kale, collards, kohlrabi, Swiss chard, beets, and lettuces that we're all looking forward to eating and enjoying. By the way, greens like kale and Swiss chard should return to shares either later this coming week or next week and should be present through the end of the season (hopefully). When distribution of summer squash ended a week or so ago we resumed giving out our insurance crop, Italian dandelion. We hope you have found or will find a way to enjoy these dark, bitter, super healthy greens. Dana and I like to put two bunches into our morning smoothies, along with some watermelon, and then mix it with our homemade dairy kefir. Talk about a medicinal energy boost that is extremely good for the insides! Also, by insurance crop, I mean that Italian dandelion pretty much grows through all conditions and has few pests if any, thus it is almost guaranteed to reach maturity and be harvestable. We don't always harvest every planting of Italian dandelion, rather we sometimes treat it as a good replacement for a failure of a much loved and more susceptible crop, say French chard or cucumbers. Besides dandelion, irrigation is also a farm insurance policy that we try to utilize as a last resort. We fortunately held out just long enough this time.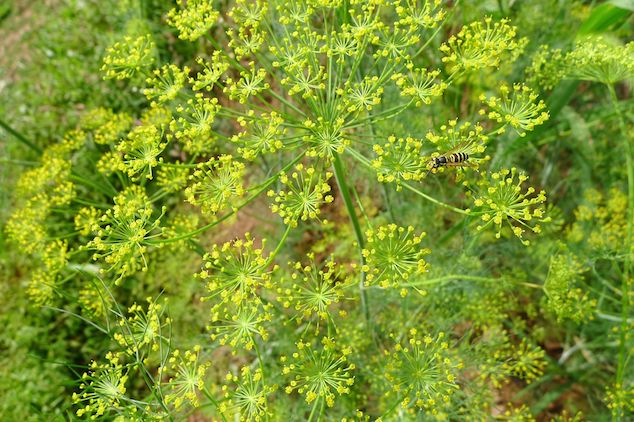 Dill flowers are great for a variety of species - honey bees, yellow jackets, small native bees, and humans. They're great in sour, fermented pickles and on roasted potatoes, among other things.
We're looking forward to observing the effects of the rainfall on soil conditions and plant health. The addition of rain stimulates so much soil activity that a visibly rough, primary made raised bed will mellow into nice friable, flowable soil and with one more pass with the bed shaper will transform into a nice raised bed. The dry conditions of the last month or so drastically slowed down soil activity so beds with a lot of organic matter basically stayed the same, make planting conditions less than ideal. We're nearing the end of the planting season. Last week we transplanted beets, lettuces, endive, escarole, radicchio, and Chinese (napa) cabbage and direct seeded broccoli raab, arugula, greens mix, purple top turnips, nero tondo radishes, hakurei turnips, and scarlet queen turnips. In less than a month we'll be finished transplanting and seeding, except for winter greens that will go into our movable high tunnel that now houses the heirloom tomatoes (which are approaching a height of 8 feet and continue to grow).
Expected Harvest
Rain appreciative produce
By Derek McGeehan
Harvest #14 (Week B) should include lettuce, fresh garlic, fresh onions, eggplant, sweet/bell peppers, hot peppers, tomatoes, tomatillos, celery, melon, scallions (last time), and Italian dandelion. U-pick produce should include edamame, green beans, cherry tomatoes, basils, dill, cilantro, husk cherries, perennial herbs, and a flower bouquet.
Do you want early winter produce?
By Derek McGeehan
Announcing the 3rd season of Anchor Run Winter CSA (formerly known as Late Fall CSA)! Regular season CSA members can now begin signing up online through the Members' Page of our website. Look for the 'Join' button on the right hand side of the page. The Winter CSA will run for 6 weeks from the end of November to the end of December, a perfect way to supply your holiday meals. Pick ups will begin the week following the end of the regular season CSA, which should be November 25. This year, pick ups will be held from 3-7 PM on Tuesdays only, and should not interfere with any of the holidays. There is one share size that picks up every week and costs $200. The number of items in the share is similar to the regular season share, 10-12 items each week. Produce included in the share will be cold hardy crops like leeks, kale, Swiss chard, arugula, lettuce, romaine lettuce, mini lettuce, greens mix, mustard greens, and other Asian-type brassica greens; root crops like beets, rutabaga, radishes, kohlrabi and turnips; and storage crops like cured garlic, cured onions, winter squash, cabbage, celeriac, and potatoes. The Winter CSA is still in the developmental phase, but this year will be similar to the past two seasons. Over time, we hope to develop a year-round produce growing system. Please let us know via e-mail if you have any questions!
How did I enjoy my harvest this week?
By Linda Dansbury
It has been a busy week and weekend, so I didn't cook as much as I often do, meaning that this morning I had a lot to work to do to ensure my harvest doesn't spoil in the refrigerator. In my other article, I will talk in a little detail about how you can preserve some of the veggies so you don't lose them in your fridge.
Eggplant, garlic, parsley
- made 3 batches of
baba ganoush
- made a double batch last Sunday and a single batch today. The recipe on the website calls to grill the eggplants whole, which I really like because of the smokey taste it imparts to the finished product. The recipe also calls for you to mash it all by hand. I for one, have always made my baba ganoush in the food processor, resulting in a creamy, uniformly colored dip. Today, I followed the recipe and mashed it by hand. It is delicious with a little texture and the color variation looks nice too.
Eggplant, last of summer squash, peppers - I found a recipe in one of my favorite cookbooks for a delicious way to use eggplant - there is a quote in it that says "this recipe has converted many an eggplant hater". Prepare your grill to medium high. and while the grill is heating make a marinade of equal parts tamari and olive oil, 1/4 cup chopped rosemary to 1/4 cup of the liquid(I made extra), and a large garlic clove. Put it all in a food processor, however I used my spice grinder to make the garlic and rosemary into a paste and then whisked it into the oil/tamari mix because I was too lazy to get out the food processor. When the grill is ready, dip the eggplant, which has been cut into thick slices of Italian type, or in half if Japanese type, into the oil/tamari/spice concoction. Since eggplant is porous, don't leave eggplant soaking in the liquid - they will get mushy. Grill until desired doneness. I also dipped the summer squash into the liquid. Yummy!
Eggplant, tomatoes, peppers, summer squash, lots of herbs, garlic - made a ratatouille in which everything is roasted in the oven with a lot of herbs, then chopped up and mixed together with a bit of balsamic vinegar. It is then stuffed back into the halved eggplant shells and roasted for a second time. It is labor intensive but did turn out delicious. We had it for 2 nights - one to test it on ourselves, and then served it to a friend that was visiting from out of town. We even had a little of the mixture leftover that we ate as bruschetta.
Green beans, cherry tomatoes, scallions, garlic, parsley - made a large green bean salad - I like to add a can of chick peas so it makes a delicious and nutritious complete meal. A vinaigrette of your choosing will work well and it keeps for several days, and even tastes better the second day.
Preserving your harvest
By Linda Dansbury
The cool, damp nights are having a negative impact on the tomato crop, so the quantities are dipping. If we get a warm spell, the quantities may come back up for a time. You may be getting a bit overwhelmed with the quantities of other veggies we have been getting and continue to get in good quantities. Below are a few ideas:
Eggplant - I never thought eggplant could be frozen until I was a member of Anchor Run. I think it was about my second year I decided to try and freeze baba ganoush and 3 months later I pulled it out of the freezer and - yippee it was delicious! I have done considerable research and read(but was skeptical) that you could grill slices of eggplant and then bag them up and freeze them and then remove what you want and have for sandwiches later in the year. I tried this too and found that it does work, but add some nice crispy lettuce to the sandwich for a textural difference. Also, freeze the grilled slices on a cookie sheet lined with parchment paper and when frozen, then place them in bags. This method ensures you will have individual slices when you want to get them out of the freezer. I have also often frozen batches of ratatouille and caponata.
Peppers - They can be mixed into veggie stews such as ratatouille or caponata, but if you don't have the time, just put them into freezer bags whole, or seeded and then you can use them in recipes like stews, chili, or caponata later in the year. They won't have any crunch left after they come out of the freezer, but the taste will still be delicious.
Edamame - I have said this before, but the easiest way to freeze for later is to cook them in their pods, shock in ice water and drain well, then place on cookie sheets to freeze. Once frozen, they can be placed into bags and then all through the year you will have a healthy delicious snack. Just defrost them and use as is or take out of the pods and use in recipes. I usually try to take some out of their pods before I freeze them for easier use during the year. While watching TV I sit and take them out of the pods; then during the year when a recipe calls for lima beans, I use edamame instead.
Green and yellow wax beans - We grow our own beans too, so you can imagine how many beans we have! We give some to family and friends and cook them up 2-3 times per week. We make them into salads, which I then enjoy for lunches - sometimes as is, or with some leftover chicken or fish added. We stir fry them, or steam them and eat them right away. And, I blanch and freeze them using the same technique as the edamame. Once frozen and in bags, I can get them out and add to lots of things during the winter months. It is always rewarding to dig frozen produce from the farm out of the freezer in the cold, winter days - it makes you know that summer will return again!