Summer weather returns as we look towards autumn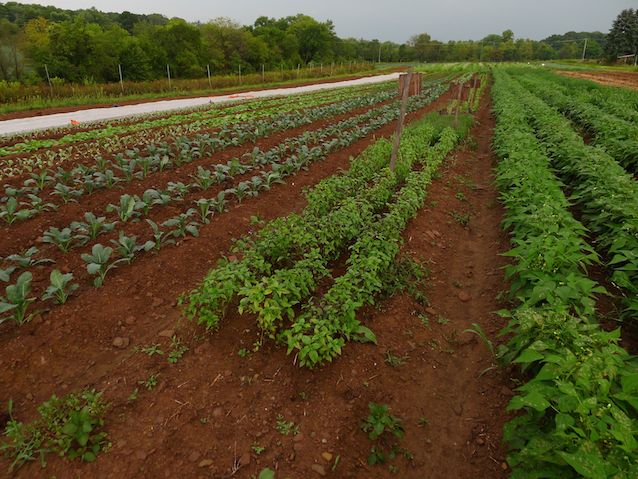 Looking forward to autumn. Last of the beans on the right, later kale on the left with kohlrabi and Chinese cabbage below.
Following buckwheat in the flowering cycle, the sunflower cover crop is flowering and attracting insects for pollination.
News
Notes From The Field
Wow, September Already
By Derek McGeehan
I'll try to keep this short and sweet since it is Labor Day weekend and I've already worked the entire weekend outside, prepping for and sowing cover crops as well as direct seeding radishes, arugula, greens mix, and turnips, all in anticipation of the forecasted rain.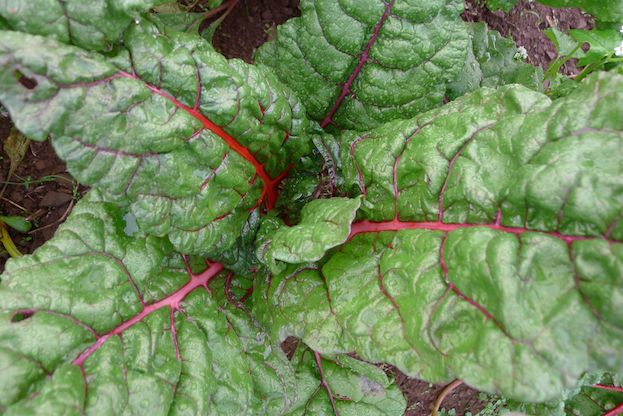 Unharvested fall Swiss chard looking appetizing. Use as a spinach improvement.
A few fall crops start making an appearance in the pick up room this week, such as kale, Swiss chard, and leeks. Very soon, winter squash and potatoes will be distributed. As you've probably noticed in the u-pick field as well as in the pick up room, the tomato season is slowing down and will be finished soon. I'm okay with that. I love the return of greens and fall crops in general. I think the best, most tender kale and chard comes from the first harvest of the fall planted crop, which you'll get to enjoy over the next few weeks. Most of our greens plantings are large enough so that they're on at least a two week cycle, that is, we won't harvest from the same plant for at least two weeks. We try to structure most of our crops that way, so that everyone can enjoy them over two weeks and because of the half shares. If we direct seed arugula, greens mix, or hakurei turnips, we want it to be enough to harvest for two weeks, which is about 4 rows on a 200 foot bed, if not slightly longer. Crops like eggplant and peppers have a Monday patch and a Thursday patch. For those, it seems harvesting once a week is best for the plants and fruit. Tomatoes get harvested every Monday and Thursday and squash and cucumbers get harvested every other day. Enjoy the return of summer weather and the start of September!
Expected Harvest
Arrival of leeks, swiss chard, & kale
By Derek McGeehan
Harvest #15 (Week A) should include leeks, lettuce, tomatoes, beets, eggplant, sweet peppers, hot peppers, celery, tomatillos, Swiss chard, kale, and garlic. U-pick should include green beans, edamame, basils, dill, cilantro, cherry tomatoes, husk cherries, perennial herbs, and a flower bouquet.
Pick up schedule same as always
By Derek McGeehan
Even though Monday is Labor Day and is technically a 'holiday' for some folks, for farmers it tends to be another regular work day. So, produce pick up schedule this week is the same as always. If you have the day off, congrats!
Do you want early winter produce?
By Derek McGeehan
Announcing the 3rd season of Anchor Run Winter CSA (formerly known as Late Fall CSA)! Regular season CSA members can now begin signing up online through the Members' Page of our website. Look for the 'Join' button on the right hand side of the page. The Winter CSA will run for 6 weeks from the end of November to the end of December, a perfect way to supply your holiday meals. Pick ups will begin the week following the end of the regular season CSA, which should be November 25. This year, pick ups will be held from 3-7 PM on Tuesdays only, and should not interfere with any of the holidays. There is one share size that picks up every week and costs $200. The number of items in the share is similar to the regular season share, 10-12 items each week. Produce included in the share will be cold hardy crops like leeks, kale, Swiss chard, arugula, lettuce, romaine lettuce, mini lettuce, greens mix, mustard greens, and other Asian-type brassica greens; root crops like beets, rutabaga, radishes, kohlrabi and turnips; and storage crops like cured garlic, cured onions, winter squash, cabbage, celeriac, and potatoes. The Winter CSA is still in the developmental phase, but this year will be similar to the past two seasons. Over time, we hope to develop a year-round produce growing system. Please let us know via e-mail if you have any questions!
Have any farm quart or pint containers?
By Derek McGeehan
Farm quart and pint containers are disappearing this year as fast as a flash of lightning and a short roll of thunder and it seems that once they leave the pick up room, they're gone for good. Those containers are reusable and are handy for measuring and transferring produce into another vessel or for you to take home. If you do take them home, please try to return the containers after you've used them. Thank you!
How did I enjoy my harvest this week?
By Linda Dansbury
In this crazy weather week, with very cool mornings and warm afternoons, it is sometimes difficult to figure out what to have for dinner. Most of us were really happy to see the Swiss chard in the pick up room this past week. Get ready, different greens will now be arriving regularly.
Eggplant - made more baba ganoush and grilled others to use for snacks and for lunch in pita bread with some crumbled feta cheese, lettuce and parsley. Really good.
Cherry Tomatoes - I blistered these in a cast iron skillet with a bit of olive oil and garlic until the juices started to come out a little and the outsides were nicely browned. Once out of the pan, I added chopped fresh herbs. I had this alongside fish and my grilled and marinated eggplant.
Green beans, sweet and hot peppers, scallions, fresh onions, fresh garlic, cilantro - made a large stir fry, with thinly sliced meat.
Green beans, cherry tomatoes, scallions, parsley - made a large green bean salad, which we had alongside hamburgers one night and then put tuna on top for a beautiful lunch for 2 more days.
Sweet peppers, hot peppers, fresh onions, cilantro, tomatoes, tomatillos - I did a demo/tasting of salsas at the Wrightstown Farmer's Market yesterday. Please see the salsa recipes added this week.
Tomatoes - made a beautiful tomato and mozzarella salad (aka caprese). I love having all different colors of tomatoes on the same plate.
New crop, new member ideas, and a salsa demo
By Linda Dansbury
Our farmers do an amazing job of having alliums, that is items in the onion family, available almost every week of the season. We start off with chives and chive blossoms that are very mild, and are perfect for delicate spring greens and veggies. Next come an abundant supply of scallions, which are mild enough to enjoy raw on a crudite platter or chopped up as a granish, but bold enough to stand up to grilling along side other summer veggies. Then come the fresh onions, a welcome product for making salsas, tomato sauces and caponata - all more assertive finished dishes. Fall is just around the corner and more delicate veggies and greens appear; but with cooler weather and shorter days we crave longer cooked dishes. The leeks arrive just in time. The leeks from Anchor Run are beautiful - unlike super market varieties, they are not packed with that sand that is so annoying to wash out. So, enjoy cooking with leeks in your stews, soups and braises - check the website for ideas. And, don't throw the tops away - they are a great addition to veggie (or any) stockpot.
I met 2 members in the U-pick field yesterday and when I told them who I was, they quickly offered me ideas. Mary said she roasts her okra along with other veggies, such as garlic, onion, peppers, potatoes - just a bit of olive oil and salt and pepper and a 450 degree oven for about 20 minutes, or until veggies are desired tenderness - she says this is delicious and hearty. Another member, I didn't catch his name said he makes rolotini out of the eggplant. He fills his with mozzarella cheese, and then wraps prosciutto around it. They get baked in the oven until the prosciutto is crisped up - the dish is then finished with a balsamic glaze - sounds delicious enough for company - I will probably try this in the next couple weeks - could be a finished recipe coming your way!
Finally, I did a salsa making demo this weekend at the Wrightstown Farmer's market. The purpose was to show how easy it is to make salsa using almost all local ingredients currently available. The only ingredients that aren't local are the limes and salt and pepper. I am adding 2 of the recipes this week: Oven Roasted Tomato Salsa and Peach Salsa. The tomato salsa is really simple to make. I hope you will try them both!
Please send me your thoughts and ideas - lindadansbury@comcast.net.
Recipes
V Oven Roasted Tomato Salsa
Adapted from Smitten Kitchen. This was originally called 3 ingredient salsa, but I added a few others, and it turned out delicious. The broiler gives all the veggies a really great flavor.
1 pound plum tomatoes, cut in half lengthwise
1-2 chile peppers of your choice, also cut in half
1-2 garlic cloves, peeled and cut in half
1 medium onion, peeled and quartered
1/2 a lime, juiced
salt and pepper to taste
as much cilantro as you like, chopped
Turn on your broiler and place a rack five inches away from the heating element. Line a baking sheet with foil and place the tomatoes, chili pepper halves and garlic on the baking sheet; season with salt. Cook under the broiler for five minutes or until the chili peppers, onion and garlic have brown spots. Remove the peppers, onion and garlic from the baking sheet and place in a blender or food processor and blend until completely broken up.
Meanwhile, return the baking sheet to the oven and continue to broil the tomatoes for five more minutes, or until they have browned on top. Remove the tomatoes from the oven and add them to the blender/food processor, also pouring into the blender any juices that may be in the baking sheet. Begin to pulse on a low speed until the salsa reaches your desired texture; if needed, add a bit of water to get it to your desired consistency. Adjust salt and pepper to taste. Stir in cilantro. Eat with everything.
V Peach Salsa
Recipe loosely based on one from Natashaskitchen.com. Not only is it really good as an appetizer with tortilla chips, it's also really good as a topping for fish or pork. Serves 6-8
1 lb tomatoes, diced
About 4 oz of sweet peppers, seeded and finely diced
2 chili peppers, seeded and finely diced
1 medium onion, finely diced
1½ lbs peaches, diced
½ bunch cilantro, chopped
2 Tbsp lime juice
1½ tsp salt, or to taste
¼ tsp freshly ground black pepper or to taste
Chop tomatoes and transfer them to a large bowl.
Finely chop seeded bell pepper and jalapeños. Finely chop onion and transfer all your veggies to the bowl.
Dice the peaches, leaving them slightly larger than the other veggies to make them more of the center stage in this salsa. No need to peel them. You won't notice the peels and the color is prettier with the peel on. Transfer peaches to your bowl.
Add chopped cilantro, the lime juice and salt and pepper. Taste and add more salt and pepper, if desired. Fold everything together until well mixed, and enjoy!