Chilly temperatures of autumn arrive on the farm
Everyone rests after a long time spent harvesting what seems to be an infinite broccoli harvest. Yields and quality are better this year than ever before. Thank you cool and dry weather!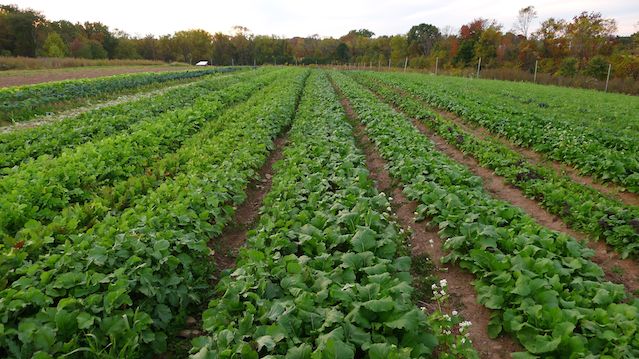 Autumn colors are visible in the tree line downhill from the fall brassica patch that includes kale, collards, kohlrabi, radishes, arugula, greens mix, and broccoli raab. A smattering of volunteer buckwheat flowers for the pollinators.
News
Notes From The Field
A Bit of Rain and Some Cold Mornings
By Derek McGeehan
I thought I was going to see some frost this morning when temperatures dipped into the 30s for the first time since the spring. No frost was seen, but even if it was present, all of the crops would have been fine and happy, except for heirloom tomatoes and eggplant. These two crops will be harvested and distributed for the final time this week (except for green tomatoes) as we make room for more fall produce in the shares.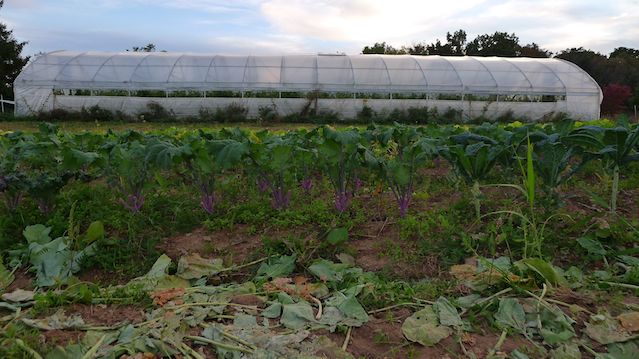 Purple stemmed red russian kale in the foreground with an early fall view of the high tunnel before the last of the heirloom tomatoes are removed.
Our high tunnel that houses the heirlooms needs to be cleaned up and out so it can be moved to its new position protecting the last of the fall greens. These were seeded on Friday before the .4 inches of rain we received Friday night and Saturday morning. All brassica family greens were seeded; I seeded arugula; our greens mix which includes mizuna, vitamin, scarlet as well as golden frills mustard; red russian kale; yukina savoy; and a new mustard greens mix full of reds and purples for late fall color. We're busy harvesting storage crops from the fields. Because we lost a significant portion of our potato harvest due to the cold and wet soil of early spring, we seeded and planted many more radishes, beets, and kohlrabi, roots that mature relatively quickly, store very well, are super-duper nutritious, and are, of course, fun and good to eat. Pretty soon we'll start harvesting sweet potatoes which will need to be cured at 85 degrees and 85% humidity for a week or so to toughen skins to allow for storage and improved available nutrient content. As sweet potatoes store, they get sweeter and their beta-carotene content increases. Let's hope for a good yield this year!
Expected Harvest
Pumpkins, cauliflower, cabbage, autumn
By Derek McGeehan
Harvest #20 (Week B) should include kale, lettuce, broccoli, cauliflower, arugula, greens mix, Swiss chard, tomatoes, eggplant, leeks, fennel, pumpkins, hot peppers, and cabbage. Some items will be a choice. U-pick this week should include dill, cilantro, herb garden herbs, and flowers.
Final potluck of the season - let's celebrate!
By Derek McGeehan
The final potluck of the season will take place Saturday, October 18, at 5:00 PM under the pavilion. The meal should begin around 5:00 and we'll warm ourselves by the fire afterwards with music, conversation, and revelry. See you there!
Registration open for 2014 Winter CSA, 2015 Main Season CSA
By Derek McGeehan
Registration for the 2014 Winter CSA and the 2015 Main Season CSA is available for current farm members on the
Member's Page
of our website. To sign up, simply log in and click on the 'Join' button on the right hand side of the page and follow the few steps. The Winter CSA is a 6-week (for now) season extension CSA with cold hardy greens such as arugula, greens mix, lettuces, chard, chicories, and kale; root crops like radishes, turnips, kohlrabi, rutabaga, and beets; as well as certain storage crops like garlic, winter squash, celeriac, and cabbage. Harvests are very similar to those at the end of the Main Season, and will begin following the final week of the 2014 Main Season, and will run through the last week of December. Pick ups are on Tuesdays from 1-8 PM. The 2015 Main Season CSA should once again last 26 weeks from May to November. Prices for the Main Season, the 12th CSA season, remain unchanged, but we have removed the $5 discount for making one payment instead of two due to some confusion during the sign up process. When you sign up, a $200 deposit or full payment is due to secure your membership. Registration for non-members will begin later in the fall, probably in December. E-mail us if you have any questions.
Cool days, warming meals
By Linda Dansbury
Today is a far cry from the weather of last Sunday. It truly feels and looks like fall! The cooler autumn weather turns my thoughts to longer cooking, warming meals like soups and stews. This week we will see cabbage for the first time this fall. Check out the website for several nice ideas. I looked and found 2 that incorporate both cabbage and kale - one of them,
Provencal Kale and Cabbage
is a meal in itself. Cabbage is such a great veggie and can, of course, be eaten raw but also can be sliced thin and simply sautéed in a pan with oil or butter, onion/leeks and allowed to brown slightly. It takes on a nutty flavor when slowly browned. Cabbage is also delicious when added to soups--think
Minestrone
.
As you probably remember from the summer crop of fennel, I talked often of grilling or slicing very thin and making into a salad. As my cravings now shift with the weather, I look to ways to roast or braise it. My favorite way to use fennel in the fall and winter is to braise it and serve alongside any type of meat or fish. It is also really delicious in fish stew/soup or as part of broth to drop some nice mussels and/or clams into and then eat with a nice loaf of crusty bread.
Enjoy the harvest and let me know how you are preparing your share at lindadansbury@comcast.net.
How did I enjoy my harvest this week?
By Linda Dansbury
On this very chilly morning I am wondering what to have for dinner tonight, however realize I still have a lot of summery produce. How are you enjoying your harvest? Please email me at
lindadansbury@Comcast.net
to send me your ideas, recipes and/or questions. Here is some of what I did with my harvest this past week:
Hot peppers, broccoli, peppers, Swiss chard, eggplant, garlic and cilantro - made a large stir fry. I often go on the internet and just google an idea I have. When I find a recipe that is close to what I was thinking, I use it as a guide for the ratio of ingredients. For things like a stir fry I often do not replicate what I have done twice in a row because I never follow the recipe exactly.
Broccoli, leeks, fennel, eggplant, garlic - roasted them all until slightly charred and tender and then served over pasta with olive oil, grated cheese, and parsley. Easy and delicious.
Tomatillos, onion, hot pepper, cilantro, garlic
- made the
Tamale Pie
again, since I still had tomatillos to use.
Tomatoes, parsley, garlic, fennel seeds, vinegar - made a tomato topping for a nice piece of fish.
Lettuce - I haven't mentioned making salads lately but rest assured I make an Anchor Run CSA salad nearly every night.
Dandelion greens
- made the salad
Dandelion greens with the warm hazelnut dressing
. The recipe is on the website. I now have hazelnut oil, but in the past I have used walnuts and walnut oil and even olive oil. This is a tasty way to use these greens.
Arugula - I have been mixing it in with my other lettuces in salads, but we also like a salad composed of just arugula, sliced mushrooms, radishes, and bits if nice tomato. Simply dress with a nice squeeze of lemon, salt, pepper and olive oil. Delicious!