The first frosty morning on the farm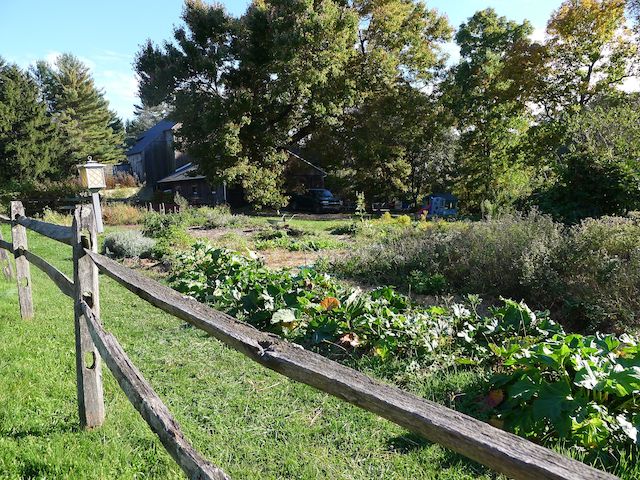 A barn and herb garden scene, seen from the driveway. Still waiting for the large red maple outside the pick up room to begin its autumn color transition.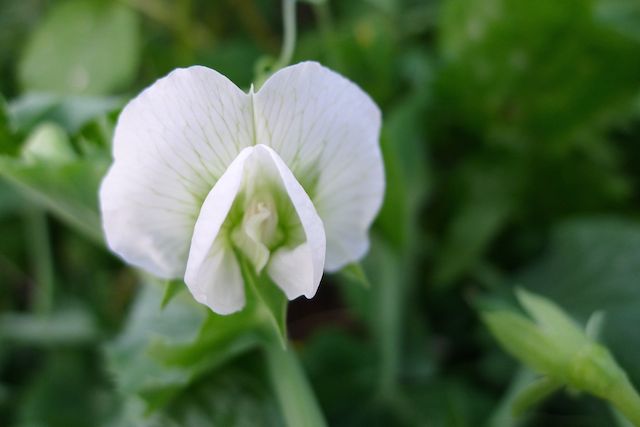 A remnant of spring, this is a flowering pea plant 'volunteer' in our fall kale patch.
News
Notes From The Field
First frost and more rain
By Derek McGeehan
Cold mornings are becoming more frequent and the first official frost occurred Monday morning. We also received more rain on Tuesday, Friday, and Saturday which means over the past week we've seen the same amount of wet stuff as all of September.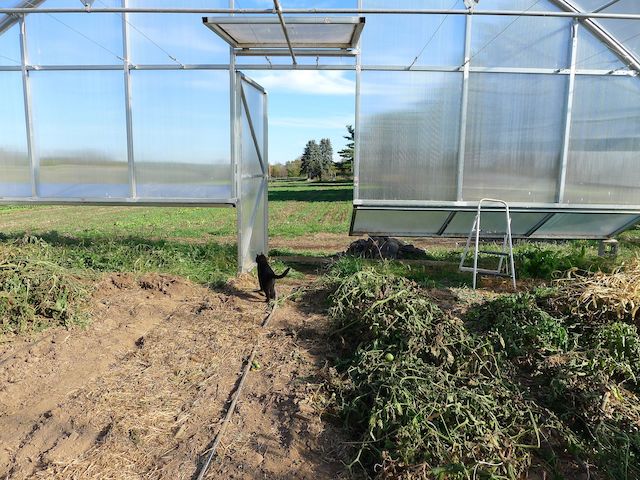 Looking east, Radar is on patrol for any unwanted rodents in the high tunnel, hopefully overlooking any avian creatures. The high tunnel will be moved to its winter location sometime this week. Thank you workshift helpers for tomato de-trellising!
We started harvesting the 2000 bed feet of sweet potatoes and so far, so good. I wasn't expecting much bounty since it was such a dry season and they're planted into raised mounds, but they look just about the same as other years if not better. Their foliage can be damaged by frost so I'm hoping to retrieve the rest of them very soon, or whenever we have another dry day with dry soil. We've been striving to figure out a good growing and harvesting system for this crop. Their vines are very long, fibrous, and wherever they send their roots down new sweet potatoes form. One could easily harvest the entire footprint of the vines and find lots of potatoes, but most of them seem to form where the original seedling went in, which was planted the first week of June. They take around 90-100 days to reach maturity. Instead of planting them in the same raised-bed system we use for most of our crops I further hill and mound the beds so they're narrower and slightly higher. Sweet potatoes don't like perpetually wet soils. Also, confining them into thin, high beds, and periodically push mowing the aisles keeps the vines and tubers confined to the narrow beds, allowing for a much easier harvest. The dry soil and confinement of the vines enables me to pull, with the tractor, our bed lifter which raises and fractures the soil. After this is done, we follow through with our hands pulling out the sweet potatoes by the vines and sifting through the loosened soil for any that we initially miss. The first round is curing in the greenhouse and should be in shares very soon. Also new and returning to shares soon: onions, Chinese (napa) cabbage, salad turnips (hakurei and scarlet), kohlrabi, celery, romaine, endive, escarole, potatoes, and butternut.
Expected Harvest
Hooray For Fall Veggies!
By Derek McGeehan
Harvest #21 (Week A) should include lettuce, cabbage, broccoli, cauliflower, arugula, greens mix, onions, kale, winter squash, fennel, a chicory choice (endive, escarole, or dandelion), green tomatoes, and eggplant. U-pick should include dill, cilantro, herbs from the herb garden, and flowers.
Final potluck of the season - let's celebrate!
By Derek McGeehan
The final potluck of the season will be held this coming Saturday, October 18th, at 5:00 PM. Bring a dish to share and plates, utensils, and drinks for yourself. Following dinner we'll have a small fire and hopefully live music, s'mores, and stars.
Registration open for 2014 Winter CSA, 2015 Main Season CSA
By Derek McGeehan
Registration for the 2014 Winter CSA and the 2015 Main Season CSA is available for current farm members on the
Member's Page
of our website. To sign up, simply log in and click on the 'Join' button on the right hand side of the page and follow the few steps. The Winter CSA is a 6-week (for now) season extension CSA with cold hardy greens such as arugula, greens mix, lettuces, chard, chicories, and kale; root crops like radishes, turnips, kohlrabi, rutabaga, and beets; as well as certain storage crops like garlic, winter squash, celeriac, and cabbage. Harvests are very similar to those at the end of the Main Season, and will begin following the final week of the 2014 Main Season, and will run through the last week of December. Pick ups are on Tuesdays from 1-8 PM. The 2015 Main Season CSA should once again last 26 weeks from May to November. Prices for the Main Season, the 12th CSA season, remain unchanged, but we have removed the $5 discount for making one payment instead of two due to some confusion during the sign up process. When you sign up, a $200 deposit or full payment is due to secure your membership. Registration for non-members will begin later in the fall, probably in December. E-mail us if you have any questions.
New ideas from members
By Linda Dansbury
This week brought 3 ideas/recipes from members -- thank you so, so much. It certainly makes my weekly writing a lot easier when you send your thoughts to me at
lindadansbury@comcast.net
.
The first idea came from Joyce Rivas who wrote "Pop some arugula, tomatillos, tomatoes, & peppers in the food processor to make a quick chopped salad along with an herb (tarragon complements arugula nicely). Add some olive oil, balsamic, & salt and enjoy your killer salad".
I am thinking that as the weather changes and we have different veggies, other items can be substituted, such as a bit of fennel, kohlrabi when we get it. Cabbage could also form the base of the salad - just experiment!
Judy Reed sent me a soup idea that she made last Sunday. Her soup exudes exactly what I like to do: look in your fridge, freezer and pantry and think about how you can blend things together. Soups are warming and delicious, and made the way Judy does below, very healthy. This is similar to what I talked about last week in taking veggies and making a minestrone type soup.
From Judy Reed: "Today I made a turkey soup using the carcass and some meat of a roasted turkey I made about 3 weeks ago. I had frozen the carcass and meat. I used a big soup pot and put all the turkey and bones I had saved along with an onion and 7 or 8 peppercorns. Then I simmered the meat and bones for 3 or 4 hours, covered. I scooped out all of the meat and bones and let them cool. Then I defatted the broth that was left and cut up all the leftover veggies I had in my fridge from the farm. I cut up leeks, squash, some tomatoes, carrots, kohlrabi, cabbage and collard greens. I then added some frozen corn, lima beans, and green beans. Simmered it for 45 minutes, covered, then added the turkey I had separated from the bones. Stirred in lots of freshly ground pepper and some kosher salt. Yummy."
The last suggestion I received is from Laura Womack. She wrote to me that she has a friend who is a professional chef with a blog - storiesinabowl.com. The recipe is for
Kale Salad with Mixed Herbs and Sunflower Pesto.
The chef talks about massaging the kale until it starts to soften. You may remember that I talked about this a year or 2 ago when I made the
Kale Caesar Salad.
It really does change the kale - you can see the color deepen as you massage the leaves. This new recipe has some similarities to other recipes but I like that is uses cilantro and parsley. And I am a big fan of the addition of cheese.
Thank you so much to Joyce, Judy, and Laura for sharing your ideas with the rest of our farm community!
How did I enjoy my harvest this week?
By Linda Dansbury
So many veggies, so little time! With the chillier temperatures we look for warming meals. Here is some of what I did with my harvest this week:
Leeks, carrots, celery, garlic, cabbage, dandelion greens, green beans - I made soup last weekend using chicken stock and meat I had in the freezer. I sauteed up the leeks and garlic and when slightly softened I added the celery and carrots and let them simmer for a little while. I then added the cabbage and dandelion greens and, green beans that I had frozen earlier in the season. I turned off the heat as soon as I added those because I was making the soup to have for dinners during the week. Then, when I reheated it, the beans and greens didn't get overcooked. Also when reheating, I added some leftover brown rice I had from a previous meal.
Leeks, celery, carrots, Swiss chard -
made a lentil soup I saw in a Williams Sonoma catalog. Ate this for 2 nights. Yum!
Broccoli, cauliflower, leeks, potatoes, eggplant
,
herbs
- made a large batch of roasted veggies. This mix is delicious but I forgot to add the squash to the mix though however will make sure I remember to add it this coming week when I roast more veggies.
Kale -
made
Kale Chips
to eat as a snack when I came home from work really hungry one day. I ate the entire cookie sheet full by myself.
Also continued to make large salads using the various greens and veggies and dressings. I cut the broccoli into small pieces and added that to a mixed green salad. I also slivered some of the cabbage and added it to a salad. This adds a nice crunch and flavor.
Recipes
Kale salad with mixed herbs and sunflower pesto
From the blog storiesinabowl.com. Makes about 4 servings. Takes about 45 minutes to get to table. My note: I normally stack and chiffonade the kale leaves before I massage them. This works well as it is easier to stack them before they are limp from working with them.
PESTO:
1 cup Italian parsley, packed (leaves only)
1 cup cilantro, packed (leaves only)
¼ cup extra virgin olive oil
¼ cup soft tofu
¼ cup sunflower seeds, toasted
1 small garlic clove, chopped
1 tablespoon lemon juice
salt and freshly ground black pepper, to taste
SALAD:
1 large bunch kale
1 tablespoon extra virgin olive oil
1 tablespoon lemon juice
⅓ cup ricotta salata or feta, crumbled
PESTO: Place all the ingredients of the pesto in a small food processor and pulse till well combined. It will be slightly chunky. Taste and season accordingly. Set aside. The pesto can be made ahead of time and kept in the refrigerator for up to five days.
SALAD: Wash the kale leaves. Cut off and discard the thickest part of the stems. Put whole leaves in a very large bowl. Sprinkle with olive oil and lemon juice. Proceed to massage the leaves with your fingers. Apply a some pressure so the kale will absorb some of the liquid. The more you massage, the more tender the leaves will be; it will also help take their bitterness away. Stack a bunch of leaves on your cutting board and slice them very thin. Place in a salad bowl and toss with some of the pesto (you probably won't need all of it, just enough to coat the leaves well). I find it easier to do use my hands instead of tongs. Garnish with ricotta salata or feta.