Nearing the end of the season and planning for 2015 and beyond...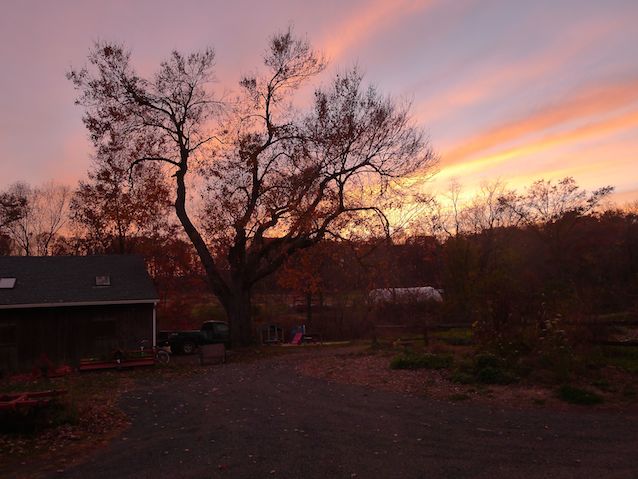 Another mid-fall farm scene capturing sunset behind the large red maple by the barn. Not too long ago the sun set in a very different location.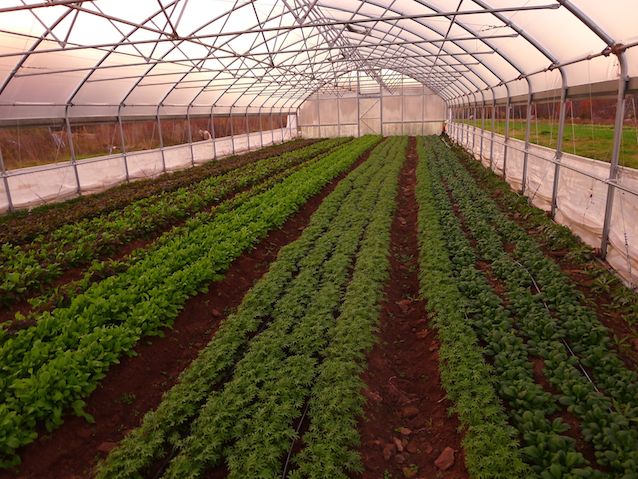 These greens love this time of year, at least based on how happy they look and how fast they seem to grow. A little bit of protection goes a long way.
News
Notes From The Field
Almost to the planning stage
By Derek McGeehan
We're into the final two pick up weeks of the CSA season and for Week A half share owners that means this will be your final pick up. We hope you enjoyed the 2014 harvest season and are already looking forward to more seasonal treats in 2015. Pretty soon we'll begin earnestly planning for the 2015 season, from buying seeds and supplies to updating our numerous planting, prepping, and seeding schedules. We'll make modifications where we feel are necessary and update our crop rotation plan and map out the crops for next year and maybe beyond.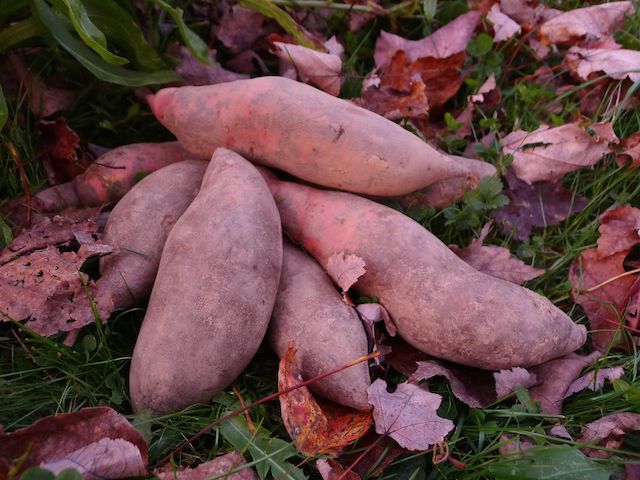 An autumn delicacy, sweet potatoes make their share appearance this week and next. We're pleased by the tuber turnout.
We're now managing the full extent of the organic part of the 100-acre open space preserve, about 20 acres or so, in our rotational system. The final 5-acre piece is now in full production and out of the 3-year post conventional farming fallow system. Even though we have about 20 acres to play with, at least a third of that remains fallow every year, for at least 2 to 3 years. We're still fine-tuning this fallow rotational system to see what works best for us and the land. It is a balance between utilizing annual and perennial cover crops to add sunlight to the soil and feed that ecology while also trying to not lose any added fertilizers and minerals that went in over the years. From a practical standpoint, fertilizers and minerals cost money and one would rather have them be used by the harvestable cash veggie crops than leach from the soil. We don't add very much if any fertilizer anyway, so we probably don't lose much of that. We do like to add minerals, though, to the soil every year, mostly some type of calcium with trace minerals, like aragonite. The other factor determining the lengths of the fallow and production periods is how long the benefits of the fallow period remain after it is put back in production. For example, if it is 3 years on and 3 years off, do the benefits of the 3-year fallow remain during the 3rd year of cash crop production or are they depleted after 2 years? So maybe a 2 year system would make more sense. These questions will get answered over the next several years, as long as we take some notes, make observations, and understand the variables.
Expected Harvest
Welcome Sweet Potatoes
By Derek McGeehan
Harvest #25 (Week A) should include lettuce, chicory, sweet potatoes, cabbage, Chinese napa cabbage, beets, potatoes, onions, radishes, kohlrabi, celery, arugula, greens mix, broccoli raab, and bok choy. Some items will be a choice. U-pick should include herbs from the herb garden.
Registration open for 2014 Winter CSA, 2015 Main Season CSA
By Derek McGeehan
Registration for the 2014 Winter CSA and the 2015 Main Season CSA is available for current farm members on the
Member's Page
of our website. To sign up, simply log in and click on the 'Join' button on the right hand side of the page and follow the few steps. The Winter CSA is a 6-week (for now) season extension CSA with cold hardy greens such as arugula, greens mix, lettuces, chard, chicories, and kale; root crops like radishes, turnips, kohlrabi, rutabaga, and beets; as well as certain storage crops like garlic, winter squash, celeriac, and cabbage. Harvests are very similar to those at the end of the Main Season, and will begin following the final week of the 2014 Main Season, and will run through the last week of December. Pick ups are on Tuesdays from 1-8 PM. The 2015 Main Season CSA should once again last 26 weeks from May to November. Prices for the Main Season, the 12th CSA season, remain unchanged, but we have removed the $5 discount for making one payment instead of two due to some confusion during the sign up process. When you sign up, a $200 deposit or full payment is due to secure your membership. Registration for non-members will begin later in the fall, probably in December. E-mail us if you have any questions.
When is your final CSA pick up?
By Derek McGeehan
Full shares and Week B half shares, your last pick up will either be Monday, November 17, or Thursday, November 20. Week A half shares, your last pick up will either be Monday, November 10, or Thursday, November 13.
How did I enjoy my harvest this week?
By Linda Dansbury
I didn't have the opportunity to cook much this past week, but here are a few things that I did prepare:
Escarole - made a salad that included local pears, blue cheese and a dressing that contained a bit of maple syrup. It was so delicious! I used the huge head of escarole and served the salad with a loaf of crusty bread, this made a delicious meal.
Greens, cauliflower, onions, parsley, garlic - made a frittata - this is a go-to meal for me when life gets hectic. I steamed the cauliflower until nearly cooked through. I also steamed the cauliflower in the same pan that I cooked everything else in so I only had one pan to wash after dinner. I probably call this a frittata very loosely, although I do always finish it in the oven.
Onion/leek, celery, kale, garlic, endive - made a minestrone inspired soup twice - made a big pot last week to give to family and made another pot today to eat this week. The soup also included carrots.
Beets, Boston lettuce - roasted beets today and will serve tonight with the Boston or Bibb lettuce. It looks beautiful and tastes wonderful. The dressing also includes tarragon, because I love the flavor of tarragon with beets.
Eating locally and what the farm means to me
By Linda Dansbury
When you are a member of a CSA, you practice "local eating". You concentrate on eating what is in your fridge rather than buying things at the store, many of which would not be in season around here at that time.
When I first became a member of Anchor Run, my main reason was to preserve and support local farms and farming. I have always grown veggies and have enjoyed home grown food since I was a little girl eating out of my parents' garden. But little did I know 10 years ago when I joined Anchor Run that my world would be opened to a passion that revolves around eating locally. Once I got a taste of the variety of what the farm has to offer and how wonderful everything tastes, it just fueled my interest to the point that even though there are only 2 of us in my home, I continue to have a full share every year plus I grow a lot of my own vegetables. A good portion of my life is centered around growing, cooking, experimenting, writing about, and eating locally grown food. With my own gardens, I start eating some local items by April, and with the winter CSA, and what I have in my gardens, at least a portion of my food will be locally grown through most of the winter. Family and friends probably tire of me telling them about the locally grown produce I am serving them. Some of my happiest moments are when I serve something to someone and they ask me what it is or what is in it and when I tell them, they say "I don't like ____, but I really like this!" It happens frequently.
I also have gained many like-minded friends at the farm with whom to share ideas, thoughts and recipes. This is a wonderful benefit to belonging to a CSA and I have learned and continue to learn a lot from fellow members. For those whose last week is coming up, I hope you enjoyed the wonderful harvest of this past season. I wish you a wonderful holiday season and hope to see you back at the farm in 2015!
For those whose last pick up is next week, I will be sharing my ideas with you one more time this season. Enjoy the harvest!