Good bye 2014 Main Season...and thanks!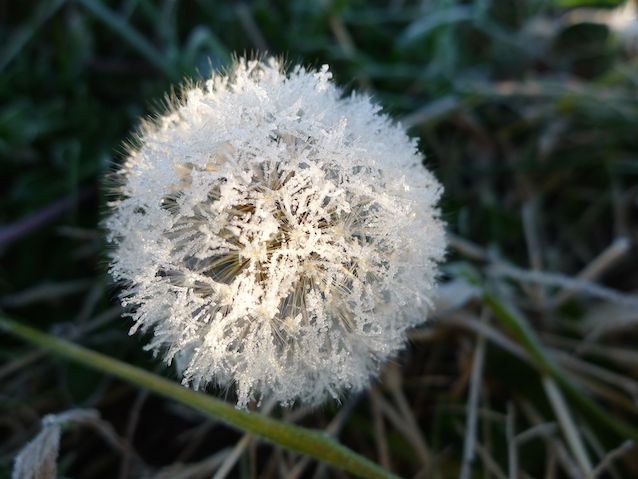 A frosted puff of dandelion seeds with a hint of sunshine in the early morning.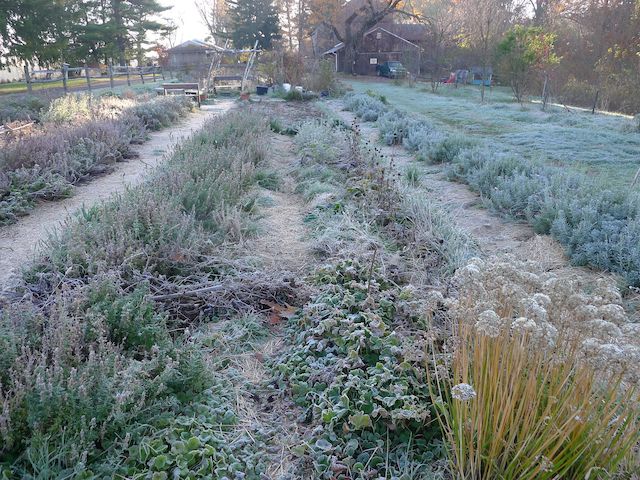 t's the time of year when fields and plants are frozen in the morning and sometimes into the afternoon on a cloudy day, like Sunday.
News
Notes From The Field
Thanks to our supportive members!
By Derek McGeehan
These are the final field notes some of you will receive until spring 2015, about 6 months from now. I truly hope you enjoyed your season at Anchor Run CSA. It is hard to believe that 26 pick up weeks - 52 harvests - have come and almost gone. A growing season is a long time and is made up of 3 and now 4 of the other seasons: winter, spring, summer, fall. Some patterns follow us throughout the year while we ride the ups and downs of everything else: temperature, precipitation. Overall the 2014 season, I feel, was a good one. Spring started off with a challenge because of the very cold soils that were practically still frozen in March followed by our wettest month of the season, April. That time of year we do so much ground preparation and planting that we feel the effects through much of the season. Summer was dry, but almost perfectly so, with cooler-than-average temperatures. Autumn has come with slightly more rain but also pretty moderate dips in temperature before this current arctic mess, which is something we have to watch very closely this time of year. Perhaps we're all getting better at weathering the weather and understanding when to worry and when not to, but every year I feel a little more confident in the plants' ability to survive conditions they don't control. Those little susceptible creatures are rooted in one place and really take what comes their way. We do everything we can to contribute to their success but sometimes, oftentimes, we cannot control the variables with which they interact.
Hairy vetch, a great cover crop, covered with tiny ice crystals. Will it survive the forecasted low in the teens this week?
Besides our lives with plants, we're dedicated to our CSA members. We strive to provide you with an ample harvest of fresh, nutritious, and pure produce. I want to be able to convince all of you to learn ways to enjoy everything we grow from dandelion and collard greens to radishes, turnips, kohlrabi, and broccoli raab. If you are new to a CSA, much of what you saw this year in the pick up room could have been your first exposure to the wonders of variety. Besides the value of all those vitamins, minerals, and living foods, eating fresh food should be fun. Instead of going to a supermarket, a restaurant, a big box, your valuable dollars are going right to where your food comes from. There is no veil, no marking up, no hiding what we do. You, our members, walk through our fields and see how your food is grown. We are not perfect farmers and we aren't claiming to be. But we do work our hardest to provide you with good quality and tasty food. It is our job and we love it.
Expected Harvest
Roots and Leaves
By Derek McGeehan
Harvest #26 (Week B) should include lettuce, chicory, beets, cabbage, napa Chinese cabbage, kale, sweet potatoes, celeriac, celery, radishes, kohlrabi, garlic, turnips, arugula, greens mix, and tatsoi. Some items will be a choice. U-pick should include herbs and icicles.
Thank you and have a healthy and happy holiday season and new year
By Linda Dansbury
It is hard to believe that this is the last week of the main CSA season! It seems like such a short time ago when we were eagerly awaiting the season's start. D&D won't be completely dormant, but hopefully they will be able to breathe and slow down for awhile. With 6 weeks left for the winter CSA, their time will be focused on dealing with the crazy weather to keep as much alive as possible.
This week the new item is celeriac. For those of us that are long time members, it is a welcome treat. It looks pretty ugly, but under that bumpy, skin lies a white-golden delicious interior, that is just as wonderful raw as it is cooked. It can be roasted or boiled with potatoes and sweet potatoes to make a "mixed mash", one of my family's favorites on Thanksgiving. Check out the website for specific recipes, including
Celeric Remoulade,
Potato and Celeriac Gratin,
Celeriac and Apple Salad,
and
Potato/Celeriac and Leek Puree.
If anybody out there has been overwhelmed with greens, take this advice from a fellow member: put your food processor to good use by "processing" the greens and putting them into smoothies, soups, and stews. Or, as I have said before, do a simple blanching by putting the greens in a large colander and then pour boiling water over them. Let cool, squeeze out the water and then freeze in freezer bags. Then the fistfuls of greens can be pulled out as you need them for any of the above uses.
Thank you to all that have written me during the season with your thoughts and ideas. I will be doing some posting to the website during the next 6 weeks, mostly with ideas for holiday eating. So, if you have a holiday idea, or question, please let me know at lindadansbury@comcast.net.
Again, have a healthy, happy holiday season and a Happy New Year and I hope to see you all again soon!
How did I enjoy my harvest this week?
By Linda Dansbury
I am not going to do a list of what I prepared this week, but rather talk a bit about my eating philosophy. Eating locally means learning how to enjoy and get the most out of a bounty of similar vegetables that are available at the same time. The summer seems easiest, because tomatoes, eggplant and peppers are in the same family and cucumbers and summer squash are in the same family, preparing them together is easy as these are vegetables that we are familiar with. Many greens are also in the same family. Although they have different textures and flavor profiles, you can enjoy them in specific ways on their own, but when cooked or processed into a smoothie or soup, they are very interchangeable. If you think you don't like a certain green, try it when it is blended with a lot of other flavors that you do like, as in soups or stews. I started out really disliking collards and mustard greens, but when I use them in soups or stews, they are fine and actually add something nice to the finished product plus are very nutritious.
I did make a carrot-fennel soup this past week that was delicious, as well as another large pot of sausage and veggies and lots of greens soups, most of which went into the freezer. I also used the wonderful Tuscan kale made into a Caesar salad.
I hope I helped you enjoy your harvest this year and that I see and hear from you in 2015.
It's time to take the survey
By Hal Wright
Our 2014 member survey is ready and waiting for you. Tell us what you liked, what you loved, and what you could do without during next year's growing season. We're all ears!
Get started now »