Thankful for home and harvest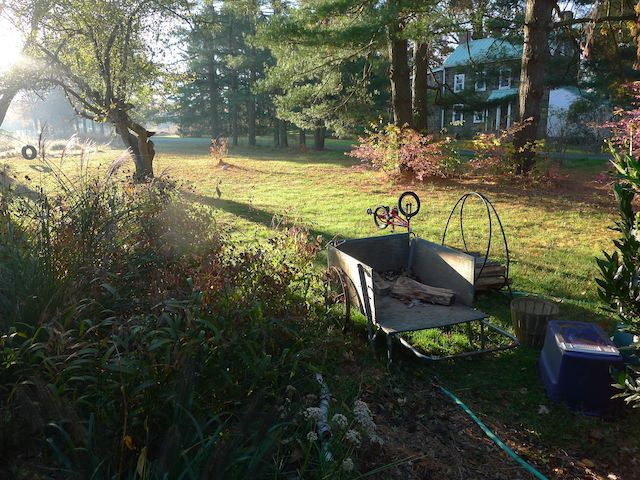 Seen through the white pines from the steps of our old resting place, our renovated farmhouse is finally ready to accept us. We're glad and looking forward to settling in.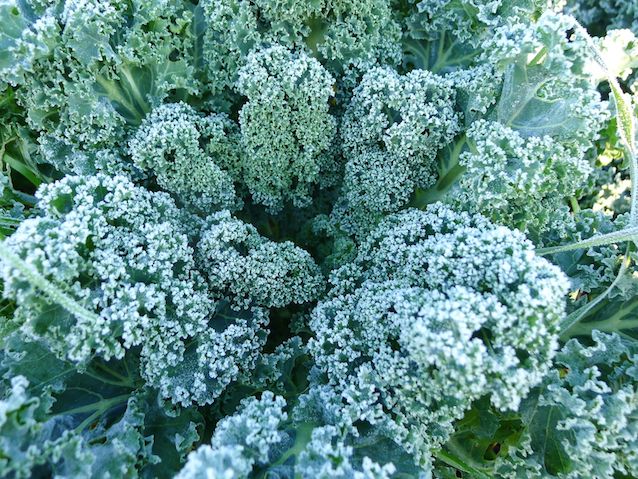 One of the greens from the field that we're pretty sure survived the cold, winter curly kale is seen here with plenty of frosty ice covering its leaves.
News
Notes From The Field
A long week but still thankful
By Derek McGeehan
An inch and a half of rain, two days below freezing, two nights in the teens, a day in the forties, two more nights and days below freezing, and now above average temperatures and more rain on top of partially frozen ground. What a week it has been. The main CSA season has ended and now we are able to enjoy one less harvest day per week, which really opens up a lot more time to do other types of work, such as moving over to our new abode across the driveway. Over a year in the making, we've officially settled into our farmhouse and will spend the next couple of weeks gradually moving belongings over. When this is completely wrapped up hopefully that will make available even more time as well as space in our heads for other projects. As of now, Sunday morning, we're still waiting for crops in the field to thaw to assess their survival. Nighttime temperatures definitely dipped below many tolerance thresholds - which varies widely for plants - but we do know that all of the greens in the high tunnel pulled through. Even the unprotected winter kale and rutabaga appear to have survived, which is fairly marvelous. We won't know whether the protected sensitive greens like lettuce, endive, escarole, tatsoi, and bok choy made it through for a couple more days; many are still in frozen limbo. Either way, we have much to be thankful for during this week of Thanksgiving.
Expected Harvest
Survivors
By Derek McGeehan
Winter Share #1 should include kale, cabbage, napa Chinese cabbage, sweet potatoes, potatoes, radicchio, beets, celeriac, turnips, radishes, garlic, winter squash, and kohlrabi. U-pick should include herbs. *As of Sunday we're still unsure what survived the temperature plunge so harvest could be slightly different.*