Welcome December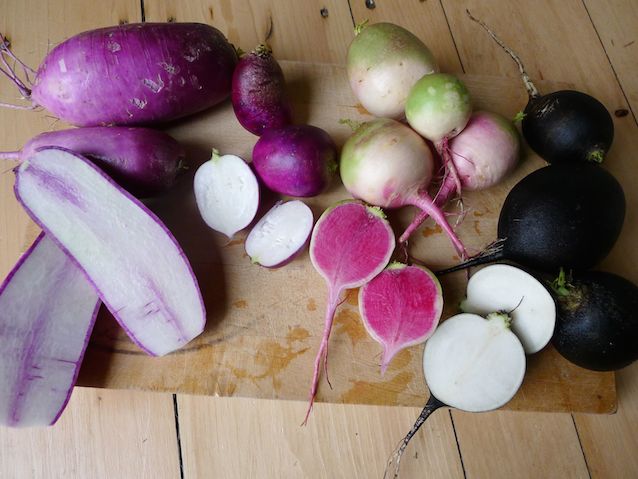 Shown here are four types of radishes you'll probably see over the next five weeks of share distribution (L-R): Bravo, Amethyst, Watermelon, and Nero Tondo.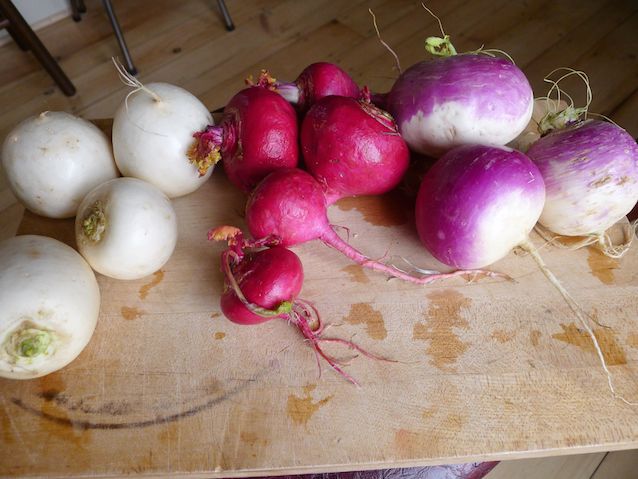 Hakurei, Scarlet Queen Red Stems, and Purple Top (L-R) are different types of turnips you'll see in your share this fall.
News
Notes From The Field
Between the holidays
By Derek McGeehan
Thanksgiving has come and gone and with it our first full week in our new abode. We're slowly getting settled in, moving out of our house, and trying to efficiently pare down our possessions. The farm has been snow covered since Wednesday and is just now starting to thaw and melt. Greens in the high tunnel are still alive, thankfully, and look almost perfect, but did endure some leaf burn from the deep freezes we've already been dealt. The late fall roller coaster continues this week, but it will at least be warmer for the most part. Suddenly highs in the upper 40s feel balmy and 60s are a reminder of summer. Farming and harvesting over the next 5 weeks will sure be an interesting experience as we procure from the field the hardy survivors and get to observe the variety of cold tolerance thresholds. I'm already starting to dream about a second unheated high tunnel to make our lives a little bit easier growing food this time of year. I still remember the first year we embarked on the winter/late fall share - 2012 - and were able to harvest lightly protected greens from the field until the end of December. After last autumn and winter I figured we wouldn't experience such harsh cold so early for at least a few years, but of course we already have this year again. And now here comes December.
Expected Harvest
Roots, Leaves, and Stems
By Derek McGeehan
Winter Share #2 should include lettuce, kale, arugula, cabbage, napa Chinese cabbage, kohlrabi, celeriac, garlic, sweet potatoes, potatoes, winter squash, turnips, radishes, and a chicory. U-pick should include any herbs that haven't entered hibernation mode.