Harvests continue despite rain and mud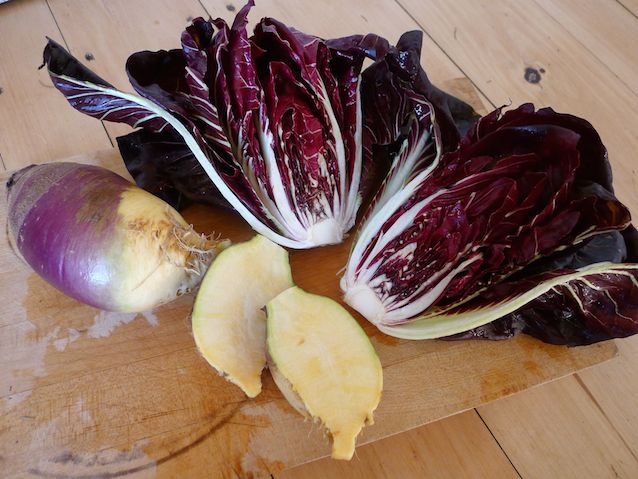 Rutabaga and radicchio survived the freeze as well as the mud and make their way to our tummies.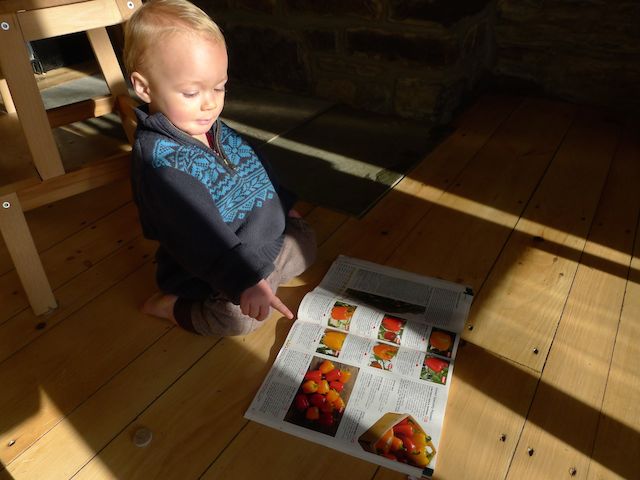 Beginning the long journey to acquire seeds for next year's season, Gabe makes an early selection.
News
Notes From The Field
A soggy but thawed farm
By Derek McGeehan
Physical farm work is almost at a minimum this time of year, but we still spend time harvesting and washing produce for the Winter CSA. We were pleasantly surprised this past week to learn that two more types of cabbage, the last planting of kohlrabi, additional radicchio and endive, some napa Chinese cabbage, and all of our rutabaga survived the November arctic weather as well as the perpetually soggy fields. Remarkably, this felt like the first time all season that we had to harvest in deep mud and puddles. During previous seasons we definitely had stretches of time where the ground was this wet, so we were very fortunate this year. After this next dosage of a nor'easter deluge we're hoping to retrieve the rest of the rutabaga from the field, asking the farm gods to let it survive another few days in the mud. With the conclusion of harvesting for this week's share and after the rutabaga is saved post-storm, I think the only items outside of the high tunnel to harvest yet are collard greens, kale, Chinese cabbage, and possibly a couple of surprises. Inside the high tunnel the greens are looking sprightly spring-like, mostly ignorant of the outside wet and cold and should carry us through the end of the Winter CSA season.
Expected Harvest
Welcome Rutabaga
By Derek McGeehan
Winter Share #3 should include kale, cabbage, endive, radicchio, lettuce, arugula, sweet potatoes, potatoes, turnips, radishes, rutabaga, garlic, and kohlrabi. Some items will be a choice. U-pick should include a few springs of herbs.