Winter Solstice and Happy Holidays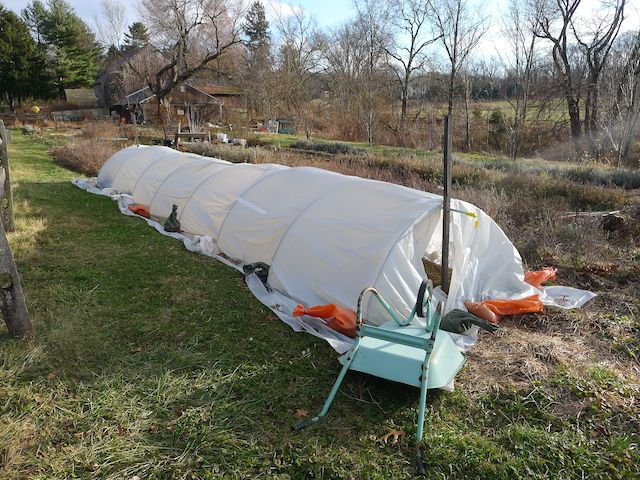 A hibernating herb garden with protected rosemary in the foreground on a nice and sunny first day of winter.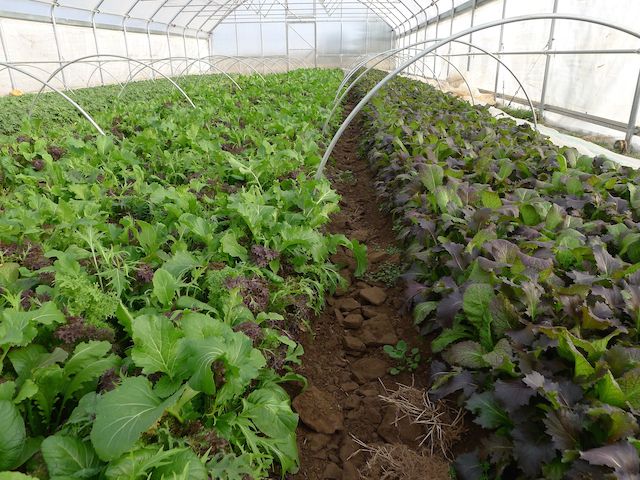 A mild December and the protection of the high tunnel ensure fresh greens until the end of the Winter CSA.
News
Notes From The Field
Holidays, Food, and Winter
By Derek McGeehan
Today is the Winter Solstice, the start of winter for some, the shortest day and longest night of the year here. Currently the sun is shining, wind is absent, and it feels nice to be outside on a quiet winter day. The sun rises and sets so far south in our sky and is so low on the horizon that its warmth is hardly felt, but the light and blue sky still can't be beat. Cloudy, damp, dreary days have been so common for the last couple of weeks that any little bit of sunshine feels rejuvenating, but hopefully not beckoning for another couple of months. Most outside farm work, not including chores and clean up, is on hiatus until the end of February at the earliest. Over the next couple of months we'll order a million seeds (literally); make equipment and tool repairs and new acquisitions; update and modify our ground preparation, greenhouse seeding, transplanting, and direct seeding schedules; plan the crop rotation; hire 2015 interns and employees; and clean up, organize, and fix buildings and other infrastructure. At some point it will feel exciting to think and plan for next season. We'll practically wipe the slate clean and start fresh, a new year and a new season to implement changes and hopefully make improvements. As of now we're still in 2014 and have two more Winter CSA harvests and pick ups. Happy holidays!
Expected Harvest
Roots & High Tunnel Greens
By Derek McGeehan
Winter Share #5 should include high tunnel greens, celeriac, kohlrabi, rutabaga, radishes, turnips, cabbage, winter squash, garlic, onions, and beets. Some items could be a choice. U-pick should include a few sprigs of herbs.
Next Week's Newsletter
By Judy Wright
Due to holiday travel, next week's Winter CSA newsletter will be sent out on Monday, 12/29/14, instead of Sunday. Sorry for any inconvenience. Wishing everyone a very happy holiday season!