Spring...finally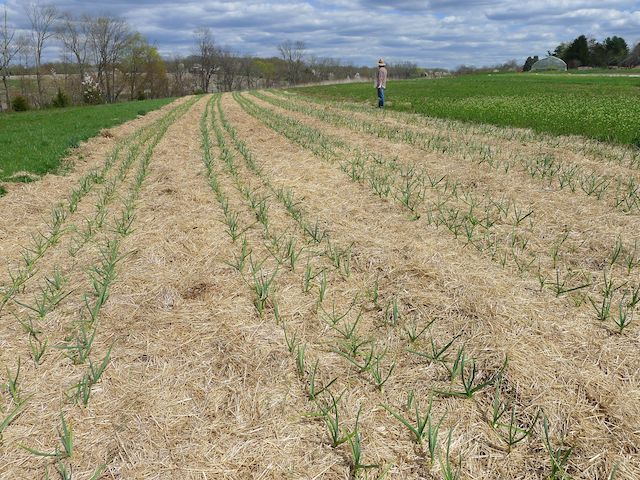 Fresh out of hibernation and recently released from the thick straw cover, the 2015 garlic patch is a sure sign that spring is here.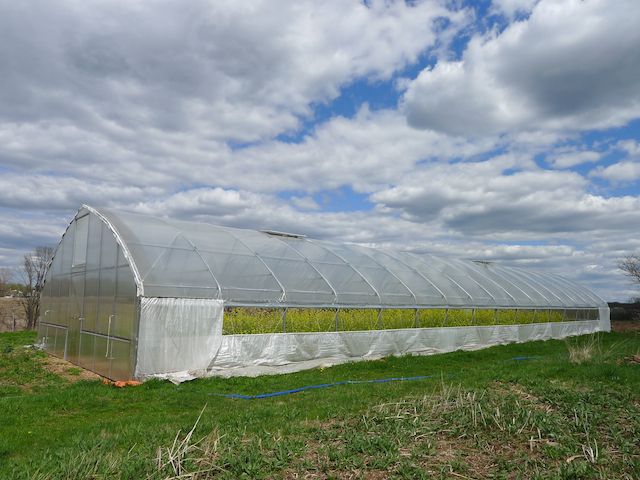 With leftover greens from the fall and winter in the warm protective environment of the high tunnel flowering profusely, many pollinating insects get an early season snack.
News
Notes From The Field
Quick start to the season
By Derek McGeehan
A month ago I didn't foresee us planting and farming on schedule. The ground was wet and very cold and the clutch of winter still surrounded us. I had no reason to expect the driest April in our past 7 seasons here. Temperatures haven't been above average, and we did have that weird week of moist mists and cold, but we didn't have any extreme lows and only a few frosts and freezes.
Romaine, butterhead, and summer crisp lettuce varieties are ready to be transplanted into the ground.
Either way we're a bit lucky or blessed as we generally expect the worst of April; now we can feel thankful for a nice start to the season. Crops have been going in the ground in large quantities for three weeks and we're about two weeks from the frost-free date. There is no turning back or slowing down. We even had to contemplate irrigating, and will have to again soon, which does feel largely wrong since this is normally a wet time of year. We had one soaking measurable rain in April that totaled 1.7 inches, enough to satisfy us and hopefully the crops. Spring feels like the 2nd busiest time of the year with all of the ground preparation and planting that takes place; we plant so many crops that aren't even part of the weekly successions and only go in one time but probably cover a quarter to a third of tillable fields. These include onions, peas, potatoes, tomatoes, peppers, winter squash, watermelon, cantaloupe, and more. The busiest time of the year commences when harvesting begins, hopefully late May this season. Even though this time of year is crazy for a farmer, we do love spring so. The peepers and other frogs, the great scent of blossoms, eating fresh food right out of the ground, listening to the birds and bats wake up and seek food and mates, life springs anew and surrounds us once again.
Orientation Day
By Derek McGeehan
When: Sunday May 3rd, 11:00 AM - 4:00 PM
Where -- Anchor Run Farm 2578 2nd Street Pike, Wrightstown, PA 18940
Who Should Attend -- New members who would like to check out the farm and learn more about how the CSA works before the harvest season starts.
Why -- We'll be hosting field tours and pick-up room tours complete with ample time for Q&A sessions with the farmers and the core group members. See what your food looks like before it reaches your kitchen, where your 'u-pick' crops will be this year as well as how the pick-up room and workshifts function. There will be light refreshments and a seeding activity for the kids. So come on out and meet your farmers, mingle with the farm community, and enjoy some long awaited spring excitement!
Schedule of events -- field tours on the hour at 11:00am, 12:00pm, 1:00pm, 2:00pm, and 3:00pm. Pick-up room tours on the half hour at 11:30 am, 12:30pm, 1:30pm, 2:30pm, and 3:30pm. The Q&A, light refreshments, and children's seeding table are all on-going.
When will harvests begin?
By Derek McGeehan
Good question! The start date fluctuates between the middle and end of May. As of now we're anticipating the first week of pick up will be May 24th, but this could change. We'll notify you as soon as we have a better idea. Typically we'll know for sure about a week prior. Half shares, since you pick up every other week, you'll receive your A/B pick up week designation in the next few weeks. The first harvest will contain a lot of greens and may include butterhead, romaine, and mini head lettuces, kale, endive, escarole, Italian dandelion, Swiss chard, broccoli raab, arugula, greens mix, bok choy, radishes, turnips, and a few perennial herbs like oregano, rhubarb, and chives.
New farm email address
By Hal Wright
Please note that we have a new email address: anchorruncsa@gmail.com. Please update your address books, as our old address is being removed. Thank you!
Second payment/balance due
By Derek McGeehan
If you have a balance on your account, we request payment in April please. To view your balance, log in to the website and navigate to the
Members' Page
.
Additional shares/other farm offerings
By Derek McGeehan
We will once again be partnering with
Tussock Sedge Farm
,
Ledamete Grass Farm
, and
Wild For Salmon
. These farmers use organic practices while pasturing their animals and purchase organic feed when necessary. The salmon and other fish are caught sustainably in Alaska by local fishermen. For more immediate information, please follow the links to their websites. Look for email correspondences from us over the next few weeks about ordering specifics for this year.
Member Handbook
By Derek McGeehan
Besides our website, the Anchor Run CSA 2015 Member Handbook contains all of the information you'll need as members of the farm. Follow this
link
to familiarize yourself with the CSA.