Hot and dry days on the farm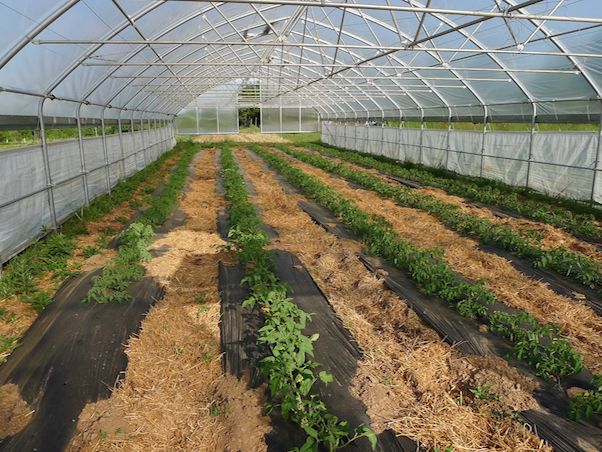 Heirloom tomatoes in the high tunnel protected from the elements and ready for trellising.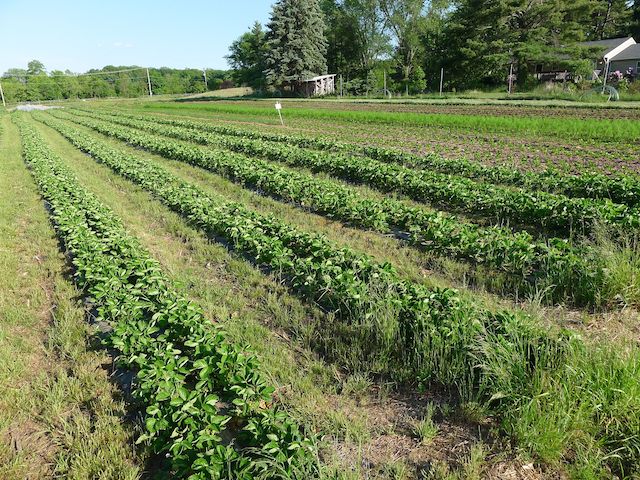 The top of the strawberry patch abuts this week's u-pick dill and cilantro. A first blush of red on the green fruits indicates sun warmed and ripened strawberries will be a part of shares "berry" soon!
News
Notes From The Field
Another Dry Week
By Derek McGeehan
We're getting pretty used to this dry weather pattern we've been experiencing for the past two months, regularly irrigating and generally being able to control this one very important variable for growing crops. After many seasons of not having to rely on irrigation for water needs, this season has been a reminder of the precarious balance between relying on mother nature and trying to control various aspects.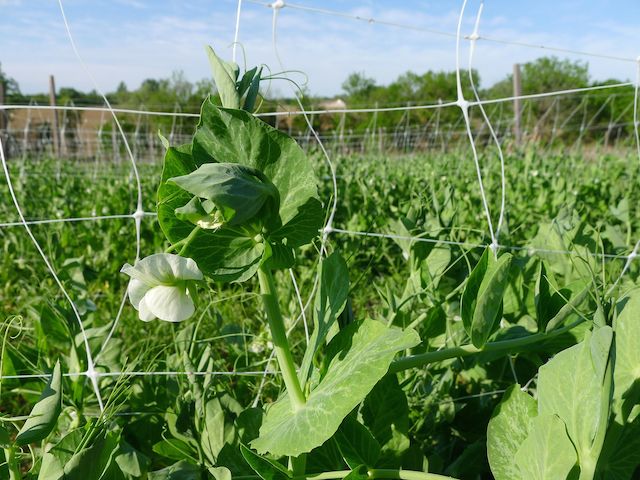 Sugar snap peas are blossoming in profusion which means peas aren't far behind!
Normally we're reminded that so much is beyond our control, but when we're in these dry weather patterns and have the ability to add water, it almost feels like we have an upper hand. However, the opposite of that feels true when temperatures hit the uppers 80s and 90s and it is still dry. It's very easy to feel constantly helpless when oppressive heat and dry weather coincide; relief doesn't seem to set in until temperatures drop, rain arrives, or we get caught up with setting out irrigation supplies and are able to add water. We're almost there, but a few crops like garlic and potatoes still have not been irrigated. The garlic because it is covered by a very thick mat of straw which really preserves soil moisture and potatoes because they take up so much space and they've only just begun growing a couple of weeks ago. However, both will be irrigated this week if no rain arrives or none is predicted. Basically to set up irrigation means we're not spending time doing something else, which tends to work out okay during dry weather because we are already on schedule or ahead with field and ground preparation and planting and cultivating and weeding. The relief of rainfall is definitely welcomed because it gives us a mental and physical break (as long as our new roof is fixed in time).
Besides thinking and writing about the weather, we just planted 4000 feet of winter squash and laid experimental ground cover fabric in the aisles to suppress weeds, rather than using straw. Laying straw mulch is the least enjoyed activity on the farm and it has largely been ineffective at controlling weeds. This is mostly because of the quality of the straw mulch; many of the weeds that germinate through or along the edges come from the mulch itself. A benefit of the mulch is the addition of organic matter to the soil and moisture retention. So, we're hoping the fabric ground cover does a better job of weed suppression and is reusable for several seasons. After I lay biodegradable/compostable plastic mulch over the raised beds with the tractor (while also laying drip tape for irrigation), we transplant the winter squash two and a half feet apart in the row, one row per bed, then roll out the fabric ground cover and secure with ground staples every couple of feet along each edge, and finally cover with floating row cover to keep unwanted bugs out and provide extra warmth. There are many steps and much investment that goes into crops like this (winter squash, watermelon, cantaloupe, summer squash, cucumbers) but if it practically guarantees a nice harvest and allows for slightly less work weeding and dealing with diseases, then it is worth it.
Expected Harvest
Greens and herbs
By Derek McGeehan
Harvest #2 (Week B) should include butterhead lettuce, romaine lettuce, mini lettuce, radishes, turnips, bok choy, arugula, broccoli raab, greens mix, and a chicory. U-pick should include perennial herbs, dill, and cilantro.
2015 Workshop #1: "Now What?!" Please join us on Saturday, June 13th from 2 to 4 PM.
By Gia Yaccarino
Maybe you are a new member. Maybe you've been a member for a while. Either way, this workshop is for you!
In the barn, everything made sense as you were putting your share into your bags to bring home. At home, once you began unpacking, it suddenly became very overwhelming. We have all been there.
Let us help you make the most of your farm share.
Being a member of a CSA opens the door to so many topics. We will talk about:
Resources: books, websites, Anchor Run CSA website (Recipes and Veggies 202 it has pictures!!)
How to keep your veggies as fresh as possible once they are in your refrigerator.
The pros and cons of different preservation techniques (freezing, canning, dehydrating).
Tools of the trade, which I find invaluable.
Before you compost: radish greens are edible!
Composting: Composting at the farm; what and what not to include in a compost pile; vermicomposting.
Solar Cooking
Hopefully this will pique your interest for the next workshop on Sunday, June 28th Recipes Tried and True. We will share the recipes from our farm shares that our families love. And by share I mean taste and provide copies of the recipes. Pestos - don't limit yourself to basil! What to do with all that Bok Choy! Veggie Hash! The list goes on! Stay tuned for the time of this future event.
New composting area for CSA members
By Dana Hunting
If you'd prefer not to compost at home but feel guilty every time you put perfectly biodegradable past-due farm produce in the trash, our new member-friendly composting area is just for you.
We've located it right by the parking lot so you don't have to truck your decomposing food scraps all the way to the barn. Look for the "Compost" sign on the same side of the driveway as the pavilion just at the entrance to the parking lot.
Great things to compost:
any vegetable or fruit matter, eggshells, moldy bread, coffee grinds, coffee filters, tea bags.
Things not to compost: plastic bags (that may house your compost), meat or bones, dairy products.
We'd love to assist your efforts in returning nutrients to a productive form of energy on the farm!
Farm open as usual Monday
The farm will be open for pick up 1-8pm on Monday.
As the harvest begins
By Linda Dansbury
Welcome to new members and welcome back to returning members! It is so exciting to be back to having fresh, delicious and nutritious veggies. For those of you that dont know me, I am the Recipe Coordinator for Anchor Run. Each week I try to help enhance your farm experience by providing recipes, methods and tips on how to prepare and store your harvest. For the newer members, it can be daunting to pick up 10-12 of seemingly similar ingredients (i.e. greens). I research, taste, and test recipes I find or create showcasing our farms harvest. Our CSA website is easily searched for recipes by typing in the ingredient you are trying to use. Additionally "Veggies 202" is helpful by providing pictures of some of the farm produce along with preparation and storage tips.
Over the years I have been lucky to meet many members who love to cook, and are very knowledgeable on preserving, storing and preparing the variety of veggies we receive through the season.
If you have a recipe, method, tip about using or storing your harvest, or a question, please contact me at
lindadansbury@comcast.net
. I am always thrilled to receive emails from members. Hope to see you at the farm!
Bountiful greens
By Linda Dansbury
For the next several weeks, you will see mostly greens in the harvest room. This is due to the seasonality, or growing needs of the veggies. Eating locally means we have to wait for things like green beans, eggplants and tomatoes to have enough warm days to produce their fruit. Greens on the other hand, thrive in cool weather and mature much faster.
The first couple weeks we receive a lot of lettuces. My husband and I eat salads virtually every day, so receiving 4 heads or more is not a problem in my house. There are several salad dressing recipes on the website, but I most often do a simple vinaigrette of 1 part red wine vinegar to 3-4 parts olive oil. I sometimes whisk in some Dijon mustard and/or lemon juice. I often add minced shallot/scallion or at this time of year chive blossoms, which are a favorite early season treat.
If you are grilling this weekend, as many of us are, lightly grill the romaine lettuce - just enough to slightly char the outer leaves. Chop it up and then add your favorite recipe of caesar dressing. I used to always make my own, but have now found that we really like OPA brand - it is in the fridge section of the grocery store, with the other refrigerator salad dressings.
The custom greens mix from the farm is an Anchor Run exclusive. I love this mix because of its versatility: it can be used to make a flavorful salad that will stand up to grilled meats; it can be added to a soup pot; or one of my favorites is to stir fry it with a little garlic, some type of onion and then add a splash of soy sauce, sesame oil and/or fish sauce. Yum!
Next week, How I enjoyed my harvest will return - my pick up day is Thursday, so I haven't done much yet, but this weekend is a big cooking weekend!
Happy Memorial Day!
Leave a corner of the garden wild for the fairies
By Gia Yaccarino
For me, it will seem as if the sun does not shine quite as brightly on the herb garden this season. It has nothing to do with the sun or the herb garden itself, but rather it is due to the passing of our herbalist, Jeannine Vannais, who was a constant light shining from within the garden.
Whether you are a new member or a returning member, we will all continue to benefit from the legacy of Jeannine. She helped to transform the herb garden into the member friendly area that it is. Jeannine, was often present in the herb garden, constantly with a smile and always willing to share her extensive herbal knowledge to anyone who asked. It was obvious to those who spoke with Jeannine or just listened to her talk, such as when she gave her herbal garden tours at the farm, that Jeannine was an encyclopedia of knowledge.
In January, I attended the Quaker service for Jeannine and was made aware of how I had only known a miniscule fraction of who Jeannine was. It was only then, I realized the farm (and the world) had not just lost an encyclopedia; we had lost an entire library!
We were so very fortunate for the time we had with her. Im just selfish- I wanted more time with her.
Former assistant farmer Cathy, along with a few other members, will be taking over the reins of the herb garden. Cathy recalled how Jeannine had said to always leave a corner of the garden wild for the fairies. I trust Cathy will continue to leave an area wild and perhaps in those quiet moments in the herb garden, we will feel Jeannines presence.
Maybe the herb garden is just as bright as it ever was. Jeannine is still there with every herb that grows. Maybe I will just need to look a little closer to see her smiling face in all the blossoms.