Moving along into summer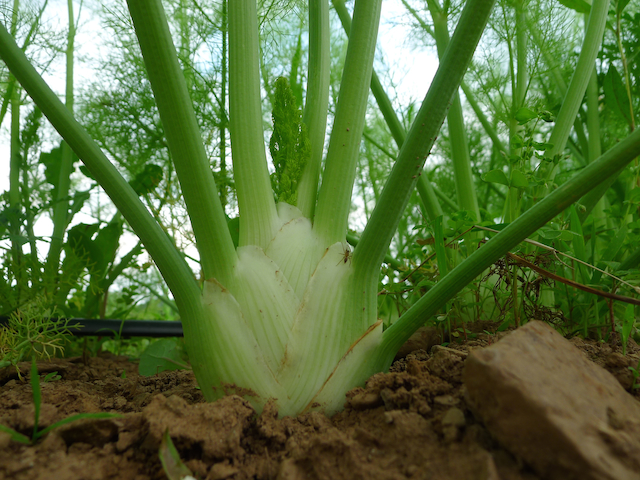 The unrivaled sweet anise flavor of fresh fennel cannot be beat.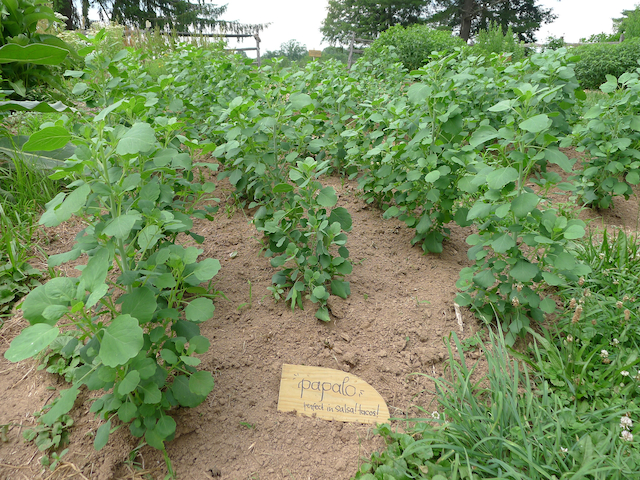 According to our seed supplier, papalo is "an aromatic Mexican native herb for salsa and tacos" with a flavor "reminiscent of cilantro and arugula."" We highly recommend you try it. Look for it in the herb garden.
News
Notes From The Field
Into the Heat of Almost Summer
By Derek McGeehan
Mid-June, the end of the strawberry season and many spring greens. This week the earliest sunrise of the year takes place and soon the longest day of the year will be here. It is also a transition time as far as harvests go. Longer maturing but cooler weather loving crops like celery, fennel, beets, and scallions will replace quick maturing cool loving greens.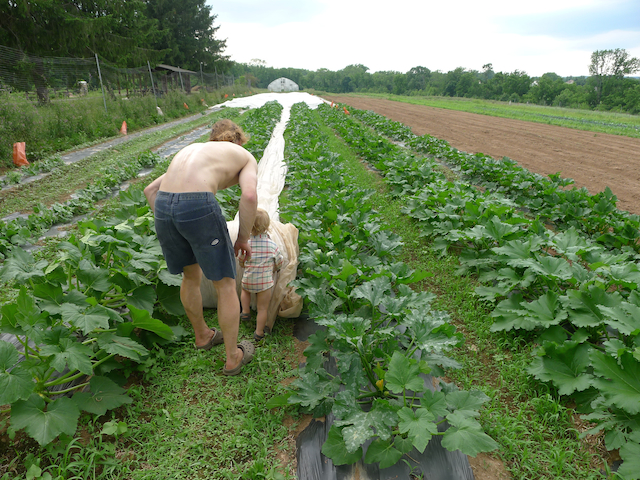 Father and son uncover flowering and fruiting summer squash, rolling up the protective row cover like a giant snowball.
Summer heat loving crops like summer squash and basil are starting, cucumbers can't be far behind, and before we know it tomatoes, peppers, and eggplant will be here. We've been lucky to receive about an inch of rain a week for the past two weeks with enough drying out in between to get work done. More rain is in the forecast, right on schedule for this coming Monday. Pretty soon we'll be finished planting summer crops with the last of the summer squash and melons going in the ground over the next two weeks. In the greenhouse we're now sowing cabbage, broccoli, cauliflower, kale, chard, and collards and are beginning the long process of getting the ground ready to accept these plants.
Half of the fall brassicas will be planted in an area that has been fallowed in clover for the last three years with two helpings of compost. Grass was starting to make inroads so we began chisel plowing and disking a little while ago. I'm sure you're all aware of this, but grass and sod takes a long while to get rid of (unless you take a short cut and use something called herbicide). We don't use that stuff here so we have to think in terms of weeks and months for ground preparation. Now, though, we're rewarded with beautiful friable soil teeming with biology. I'm excited to see how the plants respond. It will be hard to beat last year's harvest of broccoli and cabbage. That was definitely a record for us. Speaking of harvests, the above ground portion of the potato plant looks incredible, especially after I was able to hill the soil around them. After an absence last year we're very much looking forward to a good potato haul. Of course, nothing in farming is guaranteed, but we'll at least enjoy their appearance for now. Oh, and a big THANKS to all the folks who responded and came out to help in the fields! This is community supported agriculture after all and it wouldn't be successful without your assistance.
Expected Harvest
Transitioning
By Derek McGeehan
Harvest #5 (Week A) should include scallions, kale, garlic scapes (for real!), butterhead lettuce, romaine lettuce, kohlrabi, fennel, summer squash, basil, endive, escarole, beets, and radishes. Some items will be a choice. U-pick should include dill, cilantro, snow and snap peas, perennial herbs, and the last of the strawberries.
2015 Workshop 2: Recipes tried and true
By Gia Yaccarino
Our next workshop is scheduled for Sunday, June 28th from 1 pm to 3 pm. Whether you want to share, need assistance, or maybe a little of both -- this workshop should have something for everyone.
This is a perfect workshop for members who are sometimes overwhelmed by the quantity and mix of veggies in the harvest, who find themselves using the same recipes time and again, or who just want to explore recipes other members have enjoyed.
Included will be:
Pestos (and Pistous) -- don't limit yourself to just basil.
What to do with all that Bok Choy... it's not just for stir frys anymore.
Veggie Hash
If you have recipes to share, please make copies to bring with you. This should be a fun-filled, educational event and I hope to see you there!
Recap of work shop #1--"now what"
By Gia Yaccarino
We had an excellent turnout for our first workshop--twenty members were in attendance!
We spent a lot of time focusing on how to keep our share fresh. Core group member and recipe coordinator, Linda, makes a list of her share and posts it on her refrigerator and crosses items off as they are used. I try, and try being the operative word, to get my share prepped for use, immediately following pick up.
Many of us in attendance, shared we have had success with ethylene gas absorbers placed in our refrigerators.
A standard way to save many greens for future use is to blanch them, squeeze out the water, and freeze as a ball in a container or plastic bag. For a variation of the standard boiling method for blanching, Linda said that a member shared with her to just pour boiling water over the greens in a colander instead of actually boiling them.
We also talked about the different resources we use for recipes, including my favorite: From Asparagus to Zucchini: A Guide to Cooking Farm-Fresh Seasonal Produce. It includes information on storage tips, cooking tips and recipes. It is my "go to" book!
Judith, another Core Group member, shared if it's leafy and green, puree it and try it as a pesto. We also learned from Judith that a pesto without the nuts (as mine usually are) is actually called Pistou.
I shared some of the gadgets which I find indispensable, such as my immersion blender, which I love. Certain kitchen gadgets are time savers and have stood the test of time in my kitchen and I wanted to share those such as my immersion blender, a chopper, a mandolin slicer, and the Vidalia Chop Wizard, which I use to dice all root vegetables. I also shared different ways I keep my cut herbs fresh and preserved for future use. I am currently trying out an item called FreshMill and will report on that one soon.
We briefly discussed using a dehydrator and even more briefly, the solar oven. I am going to try to utilize both a bit more this year we will see how it goes.
Members in attendance were treated to Bok Choy leaves wrapped around Kale Pistou. And Nutella or Peanut Butter on Bok Choy Stems.
We had so much to talk about that we never got around to composting and vermicomposting. Maybe that is a topic for a future workshop.
Thank you so much to Linda and Judith for your wonderful additions to the workshop. And thank you so much to everyone who attended. The getting together and sharing of ideas is what makes the "community" part of being a CSA member so wonderful.
How did I enjoy my harvest this week?
It was a really hectic week, but with all the delicious greens I made large salads of course -- I really don't get tired of them! Here are four things I did with our harvest:
Endive, escarole, and kale - using a large saute pan, I sauted onions and garlic and a few red pepper flakes; once these were nicely cooked, I added the kale and escarole and then endive. When these were barely wilted, I made a couple of "wells" in my saute pan and then cracked an egg into each well. I covered with a lid and cooked them until the top of the egg white was opaque. You want the yolk to remain runny. I then carefully lifted each egg along with greens onto a plate -- with a nice piece of toasted bread and the runny yolk making a rich tasting sauce, it was an easy delicious, one-pot meal.
Bok choy, turnips and turnip greens, and kale - made a large stir fry. I know it sounds like I am in a rut, but we really like stir fries and they work well with these great greens -- it is a simple meal to make during the week.
Summer squash and scallions - as I said in last week's newsletter, my favorite way to eat summer squash is to grill it. So on Friday we lit the grill! We cut the squash in half lengthwise, and brushed them with just a bit of olive oil. We grilled them until nicely browned and barely soft. We also put the scallions on the grill whole. Once nicely charred we cut the roots off the scallions and then cut them into about 1 1/2 inch lengths and mixed them with the squash -- drizzled with olive oil and sprinkled with a little salt and pepper. Other things can be added like a sprinkling of cheese and/or herbs, but we just ate them as is -- such a nice harbinger of summer.
Peas - we made a ham and pea risotto using our ham from Ledemete Grass farm. We also added a few mushrooms that we had left from another dish.
Enjoy the harvest and let me know how you enjoyed yours at
lindadansbury@Comcast.net
. Please put Anchor Run in the subject line of your email.
Member ideas and suggestions
By Linda Dansbury
This week I received a couple emails from members -- thank you! Yesterday was also the first of our workshops and Gia did an amazing job organizing the open dialogue of about 20 members on how we eat and store our veggies. She also brought us snacks using bok choy, a veggie that is overwhelming several members. The stalks she used as you would celery, stuffing them with peanut butter and nutella; the leaves she used as a "wrap" filling them with kale pesto. All great ideas for using your bok choy. A few hints I learned yesterday:
When we have a bountiful harvest of garlic, the individual cloves can be peeled and then placed in a mason jar and stored in the freezer.
In a time when summer is hectic and there are way too many eggplants to use timely, put them whole into the freezer -- in bags. The large globe eggplants can be thawed and then chopped up and roasted or stewed and/or made into baba ganoush. The long Asian type keep their shape and texture and can be roasted.
Green Beans, which most of us were taught and believed must be blanched before freezing, a member shared information she had read that they can be frozen right from the field. She tried it last year and it worked very well.
These are all great tips for saving the harvest and saving time.
Joan Schultz emailed me that she cooked the broccoli raab and bok choy together using olive oil. Along with these she cooked carrots and a can of chick peas, salt and pepper and in Joanie's words "it was quite good!".
Joanie's note to me was great because I often forget to mention that adding beans to the bitter greens really helps tame the bitterness, so if you or your family don't care for them very much, try employing both of Joanie's methods: mix a bitter green with a mild one and add a can of beans.
Emily Mahoney also emailed me, sending me a recipe that I unfortunately deleted last week as well as another recipe. I am going to hold onto them until we get closer to fall. Both sound great but are soups and they use ingredients that are not in season right now -- broccoli raab is finished for the spring and edamame won't be available for several weeks. But Emily, please keep the emails coming. I love hearing from the members -- you have great ideas!
New this week - fennel and beets
By Linda Dansbury
Two new crops this week demonstrate the transition of spring to fall -- both fennel and beets take longer to reach maturity, but are still considered cool weather crops. Here is a bit of info on each of them:
Fennel
- also called sweet anise; this is a staple in many Italian and French dishes, most notably bouillabaisse. Fennel will look like it is storing well in a plastic bag in the crisper drawer of the fridge, but starting around day 4 it starts to lose it's flavor. you will see how much more pronounced the flavor of our CSA fennel is vs the fennel you purchase in the grocer store. Try slicing fennel thinly and put on a sandwich for an interesting twist. Fennel takes awhile to cook until it is tender -- braising is a good way to go if you prefer it cooked. A couple of recipes on the website that I like are:
Shaved Fennel Salad with Parmesan cheese
and the
Lentil Salad with Fennel and herbs
. Lentils and other beans such as white beans and chick peas are wonderful companions to fennel. Another one is salmon -- and in searching I see that there isn't a salmon and fennel recipe on our website, so I am going to work on that for next week.
Beets
- Over the years I have heard many people say that they never liked beets until they had them from the farm and I would tend to agree with this statement. A couple important items to know for when you get your beets home: cut the tops off, leaving about 1/2" or so of stem and store the leaves separately as you do other greens. Do not throw the tops away. They are delicious and can be used in place of many other greens in recipes, including spinach, chard and bok choy. The reason for removing the tops is that they pull moisture and minerals out of the bulb -- by removing the tops you preserve the sweetness and tenderness of the bulb. The bulb will keep for awhile in a plastic bag in the fridge, but I know my first beets won't last long. Some excellent recipes for beets featured on the website that I like are:
Roasted Beets with Beet Greens
,
Roasted Beet and Beet Green Risotto
(it is a beautiful pink -- guests will be leery at first but it really is delicious), and
Chocolate Beet Cake
-- so moist and yummy. Next week I will talk about my favorite beet salad.
Enjoy the harvest!