A Busy Solstice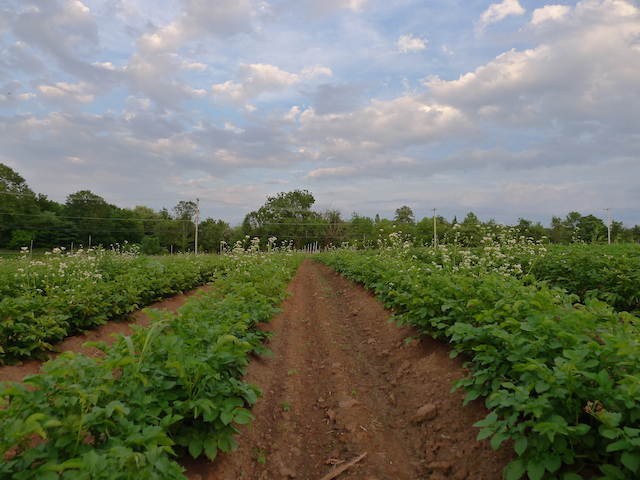 Hilled potatoes and flowering buckwheat backed by a textured sky make for a pleasant scene.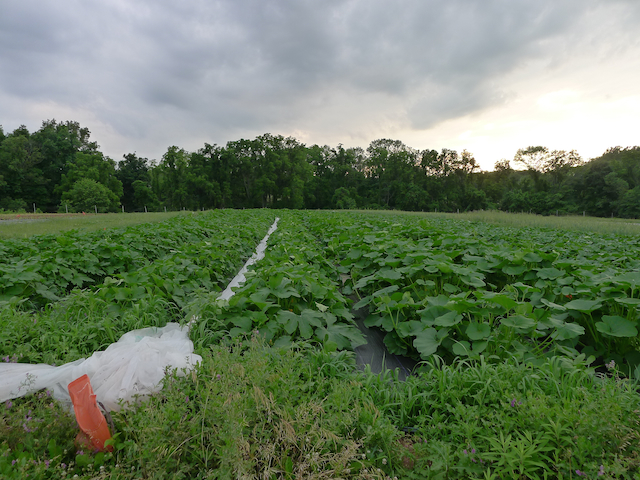 Just uncovered winter squash and pumpkins have grown by leaps and bounds since they were transplanted a month ago.
News
Notes From The Field
At the Solstice
By Derek McGeehan
Heat and humidity, rain every few days, daylight from 5:30 am until 9:00 pm, it sure feels like summer. The crops, and equally the weeds, are growing with abandon. We're doing our best to keep up with all the work and especially the trellising of the tomatoes. A lot more time is devoted to harvesting this time of year, now that the summer squash and cucumbers need to be harvested every two or three days. On Friday alone we harvested around 500 pounds over two hours, which is good news for you guys! Soon the eggplant, peppers, and tomatoes will start flowing and it will be a full deluge of summer produce. After losing a significant portion of our spring kale to flea beetles and all of our swiss chard to leaf miners, we're feeling pretty good about the state of the summer and fall produce. Not that spring harvests were lacking quantity or diversity, but it always makes me thankful that we have so many vegetable options to choose from.
Since we're a completely no-spray farm (we don't even use certified organic pesticides) all we can do is try to outsmart the bugs and diseases ahead of time by using crop rotation and fabric barriers. Most of the time these relatively simple techniques guarantee a harvest, but sometimes not. It does seem that crops are a success or failure on a rotational basis as well, but I think that has something to do with how much attention we're able to devote to a certain crop. After losing a crop like potatoes last year or feeling like something has drastically underperformed we tend to double our efforts and focus on their success slightly more and this seems to translate to an actual harvest increase (intuitive). I think I mention this repeatedly, but our best insurance policy is found in crop diversity. But doesn't that basically mimic the natural world? If we had 100 acres of one crop (hopefully an edible one), what would we do if there was a pest or disease outbreak? Whether or not we can weather the weather or a bug or a disease or a groundhog, there should be something worth harvesting that is healthy, nutritious, and uncompromised.
Expected Harvest
Introducing radicchio, celery, cucumbers
By Derek McGeehan
Harvest #6 (Week B) should include: butterhead lettuce, muir lettuce, celery, fennel, radicchio, summer squash, cucumbers, kohlrabi, beets, scallions, garlic scapes, eggplant, and endive. Some items may be a choice. U-pick should include dill, cilantro, peas, flowers, perennial herbs, and possibly green snap beans and basil.
2015 Workshop 2: Recipes tried and true
By Gia Yaccarino
Our next workshop is scheduled for Sunday, June 28th from 1 pm to 3 pm. Whether you want to share, need assistance, or maybe a little of both -- this workshop should have something for everyone.
This is a perfect workshop for members who are sometimes overwhelmed by the quantity and mix of veggies in the harvest, who find themselves using the same recipes time and again, or who just want to explore recipes other members have enjoyed.
Included will be:
Pestos (and Pistous) -- don't limit yourself to just basil.
What to do with all that Bok Choy... it's not just for stir frys anymore.
Veggie Hash
If you have recipes to share, please make copies to bring with you. This should be a fun-filled, educational event and I hope to see you there!
Change in U-pick field - check U-pick map for new location
As we transition from spring to summer crops, the u-pick field will also change. This week will see the first of summer u-pick crops, beans and basil. We had hoped the u-pick crops of these two seasons wouldn't overlap, but it looks like there will still be peas to pick this week. Make sure to check the map in the barn to orient yourself to the new u-pick location.
The CSA model operates on the 'honor system' of mutual trust and respect between farm staff and farm members. You trust us to deliver a nice harvest throughout the growing season and we trust you will follow farm rules and veggie allotments. Specifically regarding u-pick, crops available for u-pick are only those listed on the u-pick board in the barn. If something is not listed on the u-pick board, like summer squash, it may not be picked by anyone other than farm staffers. Thank you for your adherence to farm rules so that the CSA can function as intended.
New this week - radicchio
By Linda Dansbury
We will be receiving many new items this coming week, but I figure the one people need the most help with is radicchio. Like endive and escarole, radicchio is in the chicory family. It comes in different forms: a round fairly tight head, and an elongated version looking much like a red romaine. It will keep for at least a couple of weeks in a plastic bag in your fridge, but make sure you have a paper towel in there to soak up the water from the heads being washed. Sitting water in the bag will cause rotting to begin rather quickly.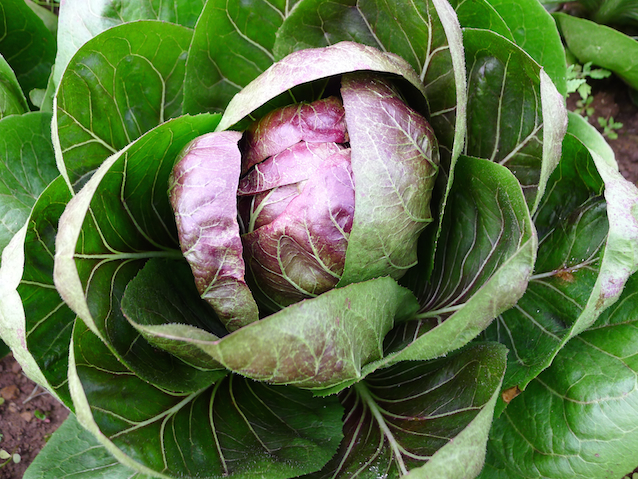 The vividness, contrast, and sharpness of its colors, the veining of its leaves, and its general appearance make radicchio a very nice veggie to look at. By the way, it is great to eat, too.
Radicchio being in the chicory family means it does have a somewhat bitter taste, but its underlying flavor is really nice and it pairs well with many foods, including creamy cheeses, balsamic vinegar and olives. Try it as a component in cole slaw or in a mixed green salad with a balsamic vinaigrette. Balsamic is stronger than red wine vinegar, so be careful in the amount you use in a dressing so as not to over power the salad. Radicchio is also delicious cooked. It can be cut into quarters, brushed with a little olive oil, and then lightly grilled. When off the heat, drizzle the radicchio with a small amount of olive oil, and add a light drizzle of balsamic vinegar, salt and pepper, and (if desired) a bit of a fresh soft mozzarella such as burrata. Radicchio pairs really well with fennel in salads, or braise them both until tender.
Take the time to try new things, and please let me know about them: lindadansbury@comcast.net.
How did I enjoy my harvest this week?
By Linda Dansbury
As the harvest is transitioning, so will our cooking, but for this past week, I was still focused on greens. My pick-up day is Thursday, so I am often running a week behind those of you with Monday pick-ups.
Peas and kohlrabi - When I am hungry, I will go into the fridge and grab the bag of peas and/or kohlrabi and start snacking. I normally dip them in some hummus, or better yet if I have thought ahead I take some baba ganoush from the previous year out of the freezer and dip the peas and kohlrabi. Healthy snacking!
Peas, bok choy, mint, cilantro
- I found a recipe for
Thai Portobello Mushrooms with Snow Peas and Herbs
that I am posting for this week. It is delicious and uses multiple items from the farm. We had it as a side dish, but it can be a meal. My hubby loved it so much he wants it again this coming week. But this coming week there won't be bok choy, so I'll use escarole instead.
Bok choy, garlic scapes, escarole, kale - made a stir fry dish as a bed for salmon. I only had a bit of the bok choy left, so I used it along with kale and escarole, and instead of the garlic, we used the scapes, but added them at the end instead of the beginning. I also added some shitake mushrooms. It was a really simple, light meal for the end of the week.
Butterhead lettuce, scallions, kohlrabi, cilantro, mint, peas - We did lettuce wraps one night. We hadn't had them in a long time, but at last week's workshop a fellow member mentioned them and it was a great reminder for a fun dish. There are numerous recipes online for these. I started with ground chicken. The recipe called for water chestnuts, but I used kohlrabi instead and it worked really well. We normally make these similar to Vietnamese spring rolls, in that we top them with herbs and other crunchy and tasty things, so this time we used cilantro, scallions, mint, and we sliced some peas up thinly for added crunch. Again, so yummy that my hubby wants it as part of his Father's Day feast.
Fennel - We cooked lentils, and fennel is a wonderful addition to the pot for lentils. The longer simmering time makes them delicious.
Beets, lettuces - One of our favorite things to make using beets is beet salad with goat cheese. Since this is a recurring crop, I will be talking about this one fairly frequently. Monday's pick-up day received greens with their beets, but the insects did such damage that by Thursday we received beets with no tops. But it is no problem, because if you want to make a recipe calling for the beet greens, just substitute another green for the tops.
Member ideas and suggestions
By Linda Dansbury
I received two emails from members this past week.
Emily Mahoney sent me another soup recipe which sounds amazing! She makes soups to have for lunches because her workplace is so cold she needs soup for lunch to thaw her out. I'll be talking about her soups and adding the recipes when it turns chilly again.
Judy Reed, another regular contributor, sent me a nice email saying that she uses an eight quart pressure cooker to make turkey stock from cheap cuts of turkey purchased at the farmers market. She uses the meat for Waldorf salads, and also braises or steams greens with a little bit of the turkey stock.
Gia also sent me a recipe for
Bok Choy Mexican Casserole
. It calls for bok choy, which is finished for this season, but looking at it, a combo of greens or the escarole would also work. Experiment with mixing up the ingredients!
If you have questions or comments, please send them along! Our community truly benefits from each member's experience and expertise. As I said last week, Gia, Judith and I, who are long time members, all learned a lot at the most recent workshop. So think of this newsletter as an ongoing workshop, and continue to share your experience and expertise by emailing lindadansbury@comcast.net.
Other resources for workshops and information
By Gia Yaccarino
There have been requests for workshops which Anchor Run CSA has not offered this season, such as canning. There are so many alternate sites for information and workshops, we thought it might be helpful to provide our membership with a list of some.
The Bucks County Food Shed Alliance offers many educational programs:
The Penn State Extension is an awesome resource of information and workshops:
Bucks County Community College is also offering some classes:
Farm to Jars offers classes in PA and NJ
The USDA and Georgia State Extension also offer a plethora of information:
Member Share Board
By Gia Yaccarino
Did you notice the Member Share Board in the pick-up room? If you have an idea you would like to share with fellow members regarding your share, please feel free to post it on the Member Share Board!
Recipes
V Thai portobello salad with bok choy, peas and herbs
From Food52. Serves 4 as a main course. Ready in about 30 minutes. Other greens, such as escarole or a sturdy lettuce can be used in place of the bok choy.

4 portobello mushroom caps
2 Tablespoons neutral vegetable oil, such as safflower
Kosher salt and freshly ground pepper
2 Tablespoons lime juice
1 Tablespoon fish or soy sauce
1 teaspoon agave nectar or sugar
1 Tablespoon finely chopped lemongrass
1 teaspoon chili-garlic paste
4 cups thinly sliced baby bok choy (from 2 small)
8 ounces snow peas, thinly sliced lengthwise
1 pint cherry tomatoes, halved
1/2 cup roasted salted peanuts
1 cup cilantro leaves
1 cup mint leaves
Preheat grill or grill pan to medium-high. Rub mushrooms with oil and season with salt and pepper. When grill is hot, add mushrooms and grill, turning once, until just tender, 6 to 8 minutes. When cool enough to handle, cut mushrooms into 1-inch slices.
In a large bowl, whisk together lime juice, fish or soy sauce, agave, lemongrass and chili-garlic paste. Add bok choy, snow peas, tomatoes, peanuts, cilantro and mint; toss to coat salad in dressing. Season salad with additional salt and pepper if needed. Plate salad and top with mushrooms.
Bok choy Mexican casserole
Compiled by Gia from several recipes. Serves a lot of people and can be made ahead and baked right before serving.
2 cups cooked grain (rice, quinoa; I used a brown rice blend most recently)
1 16 oz can black beans, rinsed
2 cups chopped tomato (or tomatillo)
About cup Kalamata olives, chopped
3 Tablespoons butter
2 lbs bok choy- dice stems; chop leaves (the diced stems will measure 3 - 4 cups)
3 cups diced onion
4 cloves garlic, chopped
4 Tablespoons flour
1 cup half-and-half
1 to 2 cups shredded Mexican blend cheese (Amount based on preference)
1 1/2 cup panko
Grease 9 x 13 baking dish with butter. Spread grain on the bottom of the baking dish. Press down a little. In large pot, melt butter over medium heat. (A tall, wide pot is best, in order to allow much of the liquid which forms to evaporate off.) Add bok choy stems, onion and garlic; season; cook 15 minutes. Add tomatoes. Cook for another few minutes. Stir in flour and cook for a few additional minutes to get the raw taste out of the flour component. Add half-and-half; stir. Add bok choy leaves, olives, black beans. Stir. Cook 3+ minutes. The bok choy leaves will start to wilt.
Remove from heat. Stir in cheese. Spread in on top of grain in baking dish; top with panko.
Bake at 400 degrees for 25 minutes.
Serve with condiments of your choosing sour cream, avocado, guacamole, salsa.
2lbs bok choy is about 5 - 6 average size heads received at the farm. Experiment with the recipe, by varying the grains and cheese!