July arrives as do squash and flowers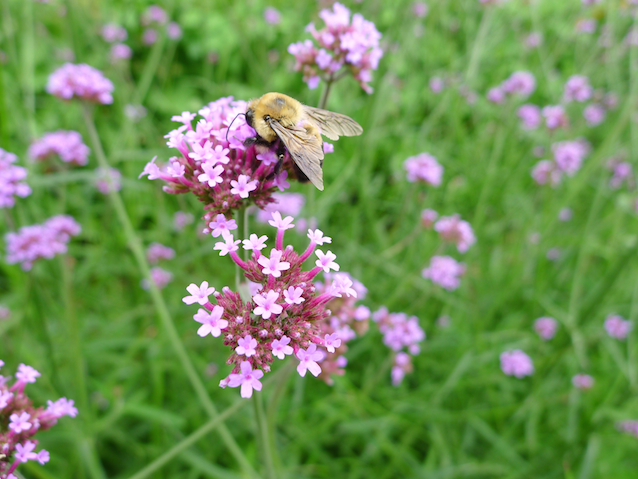 The flower garden has many purposes including attracting beneficial pollinators and insects that appreciate the scent and sweetness of the blossoms, as well as humans who cut the flowers and take a handful of beauty home.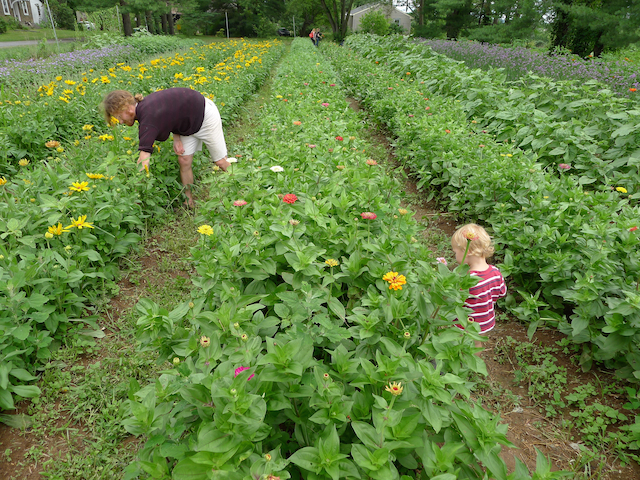 Beginning to erupt in color, the flower garden is now officially open to members for pick-your-own bouquets. Please see the u-pick board for quantity.
News
Notes From The Field
Into July
By Derek McGeehan
The steady progression of the farming season keeps on rolling through the weeks and months as the world rotates and revolves around the sun. We've passed the summer solstice and slowly the length of daylight will dwindle. Summer is just beginning but many crops and plants know we're past the peak.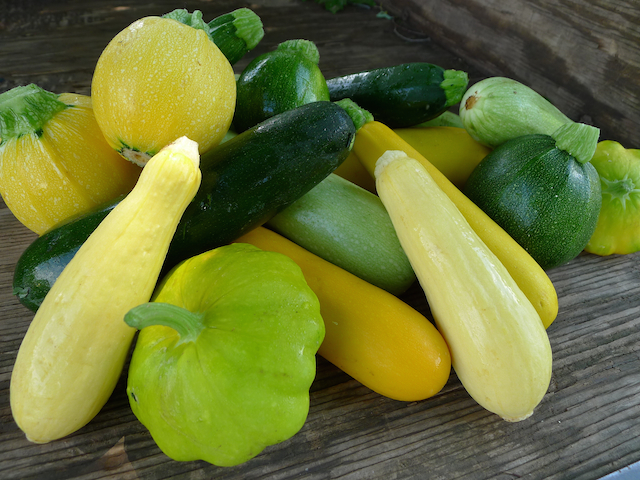 We grow around a dozen summer squash varieties, some of which are shown here. Besides having different colors, sizes, shapes, yields, and disease resistance, growing various types is more fun.
Crops like onions, potatoes, garlic, tomatoes, squash, and cucumbers will hustle to maturity before any disease or blight comes a knockin' and we do hope our crops make it to the finish line first. So far the tomatoes and potatoes seem to be disease free and healthy, which is remarkable considering it's almost July. We can thank the dry and warm spring for that. The garlic will be harvested, hung to dry, and cured starting in a few weeks. Onions begin bulbing considerably after the solstice and soon we'll begin giving out fresh uncured onions, along with infinite scallions. Summer squash and cucumbers have been particularly bountiful, especially this past week. I think we broke our own record being able to give everyone over 5 pounds of summer squash. That means we harvested at least 1500 pounds last week alone. Squash and cucumbers should continue to be bountiful for a least another few weeks. We plant 3 successions of summer squash and 2 of cucumbers spaced about 4 weeks apart to guarantee a plentiful supply for a long while. At some point both crops succumb to migrating mildews and other pestilence so that it becomes unmanageable to even try to grow them. Thus, we inundate you now with both. Pretty soon the first of the wonderful looking potatoes will be harvested, once they cure underground and develop thicker skins. Our earliest variety, Dark Red Norland, has already fattened up. And, we bought a brand-new Canadian potato digger to help us retrieve the 10,000 pounds of potatoes that wait underground.
Expected Harvest
Early Summer Bounty
By Derek McGeehan
Harvest #7 (Week A) should include summer squash, cucumbers, butterhead lettuce, muir lettuce, eggplant, scallions, garlic scapes, basil, celery, kohlrabi, fennel, and radicchio. Some items may be a choice. U-pick should include green beans, basil, dill, cilantro, perennial herbs, and flowers.
It has been said that this is a bad year for ticks and we have heard from a few members that they've left the farm with a few on them. So, it is a good idea for you to thoroughly check yourself and your kids when you leave or at night before bed. We check ourselves for ticks every night. You should treat coming to the farm, where nature still sort of exists, like going hiking or camping. We do not recommend spraying yourself with pesticides unless you've found an organic alternative. Checking oneself seems to work well.
How did I enjoy my harvest this week?
By Linda Dansbury
I am growing old or got heat stroke as I am really struggling to remember what we prepared for our meals this week. However since much of my harvest has been used, I know we enjoyed most of it. At this time of year, many of the veggies are the same every week - squash, cucumbers, eggplant, and celery to name a few. We all get into ruts about what we cook - hectic schedules cause us to go with what is familiar. Every few weeks, I pick a couple of veggies and do a search on the website for recipes I have forgotten. When we find new ones we like, we will eat them a few times in close succession.This is what happens when you eat locally and seasonally. You eat a lot of certain vegetables that are in season during a short timespan. Learning from each other is a great part of the eating "locally and seasonally" community, so please send me how you enjoy your harvest at:
lindadansbury@Comcast.net
.
Cilantro, basil, mint, kohlrabi, butterhead lettuce, garlic scapes - made the lettuce wraps again. My husband loved them so much the first time that we made them again.

Beets, tarragon, lettuces - made a beet salad. Beets are finished until the late summer/fall, so I won't spend a lot of time on them. I roast my beets ahead, usually on the weekend and then they are ready for a delicious salad during the week. Once roasted and peeled, make into a salad with a vinaigrette. I made mine with shallot, mustard, touch of honey, red wine vinegar, a mild olive oil and tarragon. I then added goat cheese and pecans finish it off - delicious!
Escarole, scallions, cilantro, basil, parsley, mint peas - again, my hubby wanted a repeat of the Thai Portobello, bok choy and pea salad, but the bok choy was gone for the spring season so I used escarole for the greens instead and it turned out really yummy. As I continue to point out, think more about the overall dish rather than each specific ingredient; that way you can interchange items for what you have on hand.
Greens, peas, kohlrabi - we tried a chicken dish that was really simple and delicious. We marinated chicken thighs in just a 1/4 cup of plain white vinegar and salt and pepper. We browned it in a skillet and then placed it in the oven to finish cooking. The recipe called for sauteing radishes in a little butter and then adding a bunch of mustard greens, however I used the kohlrabi cut into small pieces and sauted them in the same pan we used to brown the chicken. I let them cook until they were almost tender, then I added a bunch of peas and finally a mix of greens that was a combo of some radicchio and some baby kale I had in my garden. The dish gets finished off with the vinegar for the last few minutes. It was really delicious and it was much less complicated than it sounds. And you have just 2 items to clean up: the saute pan and the baking dish in which the chicken was marinated and baked. If you want to look for the recipe it is from Bon Appetit.
Squash and eggplant - grilled and enjoyed them plus there was enough leftover to put on a homemade pizza the next day.
Member ideas
By Linda Dansbury
Please send your ideas for veggies we are going to be receiving in large quantities over the next few weeks, in particular squash, cucumbers, celery and eggplant. Please send to
lindadansbury@Comcast.net
Judy Reed sent me a recipe she for beet soup - thank you Judy! However, beets are gone until late summer/fall, so I will wait and send that one along when beets are back in the harvest. For long time members who remember receiving several weeks of beets this time of year, the low amount of beets is due to the heavy outbreak of leafminers, which damaged the leaves so badly the plants were dying. You may have noticed the abundance of tiny beets last week; our farmers gave out what they could rather than plowing them under.
Member Lorraine VonHohen sent Dana a recipe for a dill sauce, which I have posted. The title says it is for boiled meats, but I think it would be nice on roasted fish or veggies too.
Dana also sent me her method for preparing squash which we had talked about a few weeks ago. Like me, she doesn't care for the "mushy" texture of the squash that results from sauting the squash. She preheats the oven to 400 degrees and while it is preheating, she cuts the squash lengthwise into strips that are about an 1/8th of an inch thick. She places them in a single layer on cookie sheets and drizzles a bit of olive oil and a sprinkle of salt and pepper and then bakes them for about 30-40 minutes. She serves the roasted squash with pasta or alongside other lightly cooked veggies. This is similar to grilling the squash and is delicious this way!
2015 Workshop 2: Recipes tried and true: A recap
By Gia Yaccarino
Though the attendance was light, all who were present engaged in a lively discussion regarding how we use our share. Participants enjoyed tasting variations of Kale & Arugula Pistous.
In my household, I usually make Pistou (Pesto without the nuts), which is some combination of a green, garlic, a liquid (oil, vegetable broth, kalamata olive juice) and cheese (parmesan, romano, asiago).
I also had Fennel Zucchini Pie which is a variation of the Zucchini, Fennel and Andouille Pie recipe found in From Asparagus to Zucchini: A Guide to Cooking Farm-Fresh Seasonal Produce. (My variation is omitting the andouille sausage!) Another recipe from the same cookbook, which is on our website under "Mixed Greens" was the Fresh Greens Pasta Pie. I used escarole instead of spinach and lightly sauted the escarole before combining it with the other filling ingredients. The final dish I shared was Zucchini Lasagna where I substituted the lasagna noodles with baked summer squash strips. We spoke about having the right tools to aid in your food prep, which can really make a difference. I stated again how I have found the From Asparagus to Zucchini cookbook contains a wealth of information and is my number one go to reference. I had a great time meeting members and sharing my experiences with them while also learning from their experiences!
Zucchini Lasagna
Olive oil
Tomato Sauce
5 pounds summer squash
Breadcrumbs
Ricotta Mixture
2 eggs
2 pound container part skim ricotta
Parmesan (or Romano or Asiago or some combo)
2 cups part skim mozzarella
Fresh basil & oregano, chopped very fine
Slice summer squash to uniform thickness. I use the 7mm width on my mandolin slicer. Arrange squash slices in oven. I covered the racks with foil, lightly coated with olive oil. Five pounds sliced at 7mm completely covered both oven racks. Bake at 350 for about 30 minutes. Check every 10 minutes or so and remove any slices which are done first.
Spread tomato sauce on bottom of 13 x 9 baking dish.
In large bowl, combine ingredients for Ricotta Mixture and mix well.
On top of tomato sauce, spread squash slices slightly overlapping each other (as you would for lasagna). Spread ricotta mixture on top of squash layer. (I used slightly more than half of the above ricotta mixture recipe). Arrange another layer of squash on top of ricotta layer. Sprinkle with mozzarella. Cover with tomato sauce. Cover with breadcrumbs. Cover with foil and bake at 350 for about 30 minutes.
Other variations to try:
How about using eggplant for a layer instead of squash?
How about "mex-ing" it to the max: Spread a mild salsa on the bottom instead of tomato sauce. Try a bean layer instead of the ricotta mixture. Maybe black beans pureed with tomatillos or tomatoes or both. Substitute the mozzarella with a mexican blend of cheeses. Top with sour cream, guacamole, pico de gallo……
Abundance of several veggies
By Linda Dansbury
We are well into the summer season of veggies: squash, eggplant, green beans, cucumbers and celery will all be in the pick up room for the next several weeks. I'll talk about a few of them this week and then more next week, since the harvest will likely be the same or virtually so for the next few weeks.
Summer squash
- I did already talk a little about this, but didn't realize the abundant harvest we would be seeing. Derek says in his writing that they broke their all time record for a single week of squash harvest. Fortunately, they will keep in a plastic bag in the fridge crisper for about 10-14 days. I am adding a recipe this week that I haven't made yet, but I have found the recipes from Smitten Kitchen are usually delicious. It is
Herbed Summer Squash Pasta Bake.
I think what attracted me to this recipe is that she suggests doubling the recipe and freezing half; and given the sheer amount of squash we will be receiving, I think that sounds like a great idea. Ingredients include scallions and a mix of different herbs. It can be made ahead and sounds delicious - just serve with a nice salad. I have found a few other interesting recipes that I will try over the next few weeks and add them if deemed worthy - they include salads and Thai or Curry flavored veggies, often with some type of pasta.
Cucumbers
- they will also store for at least a week in the fridge if in a plastic bag. Other than salads, what can you do with them? Cut them up and eat as a snack dipped in your favorite dip or hummus. Perfect for a Fourth of July picnic along with squash, green beans, celery, and fennel. Better yet, make your own
baba ganoush
and
garlic scape pesto
and and impress your family and friends! If you want to try your hand at making pickles, the
Refrigerator Pickles
recipe, they turn out really nice and are simple to make.
Celery
- most people think of celery just to cut up and have with peanut butter, or cream cheese or served with dip. But it is so delicious cooked, especially braised. Try the
Braised Celery
recipe on the website. I especially like it when I use a combination of celery and fennel.
Recipes
Takes about 15 minutes to prepare. Serve over boiled meats, roasted fish or vegetables.
1 Tablespoon butter
1 teaspoon finely chopped onion
1 heaping Tablespoon flour
2 Tablespoons chopped dill
1.5 cups chicken stock
1 Tablespoon sugar
1 Tablespoon vinegar or to taste
Salt and pepper to taste
1 large Tablespoon sour cream
Melt butter in a saucepan. Add onion and saute until translucent. Add flour and blend, stirring constantly - cook for a couple minutes so the final sauce doesn't taste like raw flour. Add dill and then whisk in chicken or vegetable stock. Bring to a boil and simmer until slightly thickened. When thickened, add the sugar, salt and pepper and vinegar. Remove from heat and stir in the sour cream.

Herbed Summer Squash Pasta Bake
From Smitten Kitchen; Serves 4, heartily, as written. Takes about 45 min to prepare and another 30 minutes to cook.
8 ounces pasta, any shape you like
1 Tablespoon olive oil
1 pound summer squash, halved lengthwise and sliced thin
1 teaspoon finely grated lemon zest (you won't need this yet, but better to zest before juicing, to avoid grumpiness)
Juice of half a lemon
3 Tablespoons (45 grams) unsalted butter
2 cloves garlic, minced
3 large or 5 skinny scallions, sliced thin with white/pale green parts and dark green tops in separate piles
Pinches of red pepper flakes, to taste
3 Tablespoons (25 grams) all-purpose flour
1 1/2 cups milk, ideally whole but low-fat will also work
1/4 cup chopped flat-leaf parsley, divided
1 Tablespoon finely chopped mixed herbs of your choice (I used a mix of thyme, oregano and mint, but if you only have, say, thyme or oregano, a full tablespoon will likely overwhelm, so use less)
Salt and more pepper to taste
3/4 cup finely grated parmesan or aged pecorino romano cheese, divided
4 ounces (115 grams) mozzarella, cut into small cubes
Cook the pasta: if you've got an oven-safe 3-quart deep skillet or braising pan, use it here and you'll only need one pot for the whole recipe. Otherwise, bring an medium/large pot of well-salted water to a boil. Add pasta and cook until al dente, about 1 to 2 minutes before perfect doneness. Drain and set aside.
Heat oven to 400 degrees.
Prepare the squash: Heat a large skillet or the pot you just used to cook your pasta to high heat. Once hot, add olive oil, and let it heat until almost smoking. Add sliced squash, season with salt and pepper flakes and let it sear underneath, unmoved, until golden brown. Continue to saute until browned and somewhat wilted, about 10 minutes, trying to get some color on each layer before moving squash around. Transfer to a bowl and squeeze lemon juice over bowl. Add more salt or pepper if needed.
Make the sauce: Reheat your same pot over medium heat. Melt butter in bottom of pan. Add scallion white and pale green parts and garlic and let sizzle for 1 to 2 minutes. Add flour and stir until all has been dampened and absorbed. Add milk, a very small splash at a time, stirring the whole time with a spoon. Make sure each splash has been fully mixed into the butter/flour/onion/garlic mixture, scraping from the bottom of the pan and all around, before adding the next splash. Repeat until all milk has been added, then add lemon zest, salt and pepper to taste. Let mixture simmer together for 2 minutes, stirring frequently; the sauce will thicken. Remove pan from heat and stir in half of chopped parsley, all of mixed herbs and reserved scallion greens. Adjust seasoning to taste.
Assemble dish: Off the heat, add drained pasta, summer squash, 1/2 cup grated parmesan and all of the mozzarella to the pot, stirring to combine. If pan is ovenproof, you can bake your final dish in it. If not, transfer mixture to a 2 to 3 quart ovenproof casserole or baking dish. Sprinkle with remaining 1/4 cup parmesan.
Bake: For 25 to 30 minutes, until edges of pasta are golden brown and irresistible. Sprinkle with reserved parsley and serve hot. Reheat as needed.
To freeze: Let dish fully cool to room temperature, then transfer, wrapped well, to the freezer. Let defrost in fridge for a day before rewarming in oven. If I have time, I like to rewarm at a lowish heat (300 to 325 degrees) with the foil on, then finish it for the last 10 minutes or so at a higher heat without the foil to restore some crisp.