Always Moving In That Direcion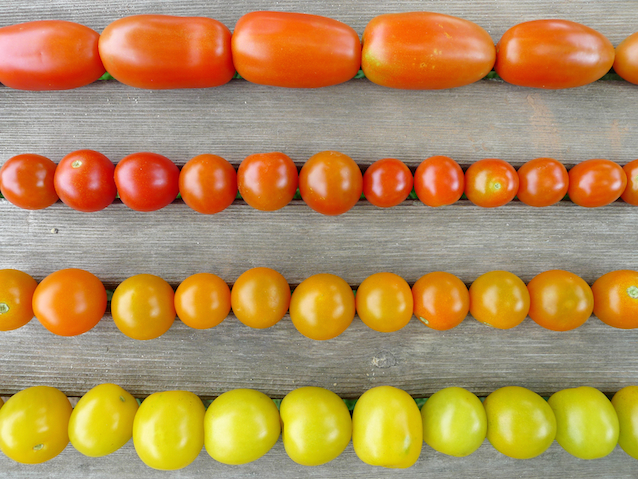 The u-pick cherry tomato patch contains tomatoes of all shapes, sizes, colors, and flavors. You'll probably quickly learn which ones appeal to you the most.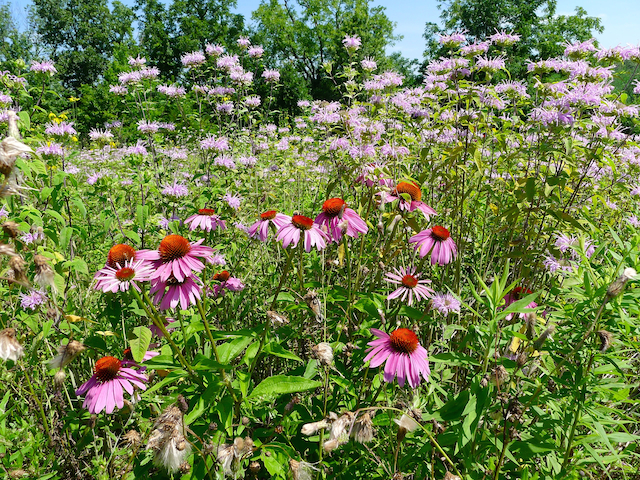 The 2.5 acre pollinator habitat is beginning to erupt in color satisfying many creatures simultaneously. A goal of ours is to create a path through the habitat, hopefully this season or next.
News
Notes From The Field
Goodbye Humidity, For Now
By Derek McGeehan
I always forget how oppressive humidity can feel until it has departed. Once it has been removed by whatever new pressure or weather system rolls through it feels like a proverbial blanket has been lifted. The contrast is so pronounced it feels like a really good reason to celebrate, like a new life has been granted. Physical work becomes slightly easier, perhaps more enjoyable, and definitely more tolerable. The crops get tired of humidity and perpetual moisture and intermittent rain, too, especially the tomatoes. Diseases can spread like wildfire in those conditions which is why the high tunnel is nice because it can keep some of the moisture off the leaves. The maturing of the tomatoes should slowly pick up speed with the ample sunshine over the next few days (I am writing this on Friday).
Our watermelon patch looks better than it ever has thanks to a new investment in ground cover fabric to suppress weeds. These beauties should be ready to pick within the next month. Yippee!
Last night we received our first short-lived deluge/burst of torrential rain of the season, luckily. I remember receiving multiple storms like that other years which quickly take soil downhill without soaking into the ground much. We're still feeling pretty good about the overall weather this year and hopefully it will stay that way. I think having been through some horrible weather events in our seven years here has me almost expecting the worst so anytime it isn't as bad as that it feels like a blessing from nature but really we're just incredibly lucky. Even last night we were right on the fringe of receiving a longer duration of the terrible downpour which was right to our south. Thankfully the mental barrier I imposed in the atmosphere held up okay.
We're beginning to dismantle much of our earlier season farm infrastructure such as the pea trellising and the plastic mulch on the strawberry beds. Both of these tasks are very labor intensive and take a significant amount of time but as of now we haven't developed a better system. For the strawberries I am thinking about trying a thicker grade of the biodegradable plastic mulch which would decompose into the soil. One potential weakness of this is that it wouldn't last from planting time in early August until fruit set and harvesting the following June. A permanent pea trellising system would be ideal but then I wouldn't know what to do about soil born pathogens. We rotate all of our crops on a 3-to-5 year schedule and of course peas are susceptible to various diseases. One improvement we could make is spacing the beds farther apart so we can better deal with weeds and the forest-like growth of the peas and the patch. If you have any good ideas let us know!
Expected Harvest
Cabbage, Carrots, Kohlrabi: Slaw Time
By Derek McGeehan
Harvest #9 (Week A) should include cherokee lettuce, carioca lettuce, summer squash, cucumbers, eggplant, tomatoes, fresh onions, carrots, fennel, kohlrabi, scallions, and cabbage. Some items may be a choice. U-pick should include yellow snap beans, cherry tomatoes, basil, dill, cilantro, parsley, perennial herbs, and flowers.
New this week - cabbage and info on papalo
By Linda Dansbury
The new item this week is cabbage. I am sure you have your favorite cole slaw recipe - if not, search this site for some ideas. Kept in a plastic bag in the crisper drawer of your fridge, it will last for weeks.
Papalo is a large plant on the front right part of the herb garden if you have your back to the new U pick field. It is starting to gain popularity in the US, but has been used for generations in both Spanish and Mexican cultures for both medicinal and culinary purposes. These cultures believe that papalo can help in curing liver issues, inflammation and high blood pressure. In cooking, it is used as you would cilantro, that is, used raw as a garnish or in cooked dishes added at the very end. It can be used in soups, salads, guacamole and grilled meats, fish and veggies. Gia tried it in her Mexican bake and said it would have been better if she had cut it up more finely so that the taste was more subtle.
How did I enjoy my harvest this week?
By Linda Dansbury
We had a very hectic week, so honestly didn't cook very much, I even took something out of the freezer from last year! Here are a few things that we did use/prepare:
Scallions, kohlrabi, cucumber - we served smoked salmon - we smoke our own salmon and during the winter we serve it with chopped shallots and sliced radishes. This time of year, we are using the listed veggies and they all work really well.
Carrots, kohlrabi, celery
, cucumbers

- all continue to be part of my lunch each day and if I am really hungry when I get home in the evening, I munch on them, sometimes dipped in hummus.
Lettuces
- have now transitioned into hardier summer varieties and so they work well with celery, cucumbers, kohlrabi and carrots all added - make your own version of a "chopped salad".
Tomorrow I am home all day and this coming week will not be as hectic, so I will be spending time catching up in using my harvest. The good news is that most of the veggies coming out of the farm right now have a good shelf life.
Member ideas and suggestions
By Linda Dansbury
Members were great about sending things to me this week and I thank those who took the time to send me your ideas. If you have a question, suggestion or a favorite way of using your harvest, please let me know at
lindadansbury@comcast.net
. Please put Anchor Run in the subject line so I can find your message in my inbox. Thank you so much to Mindy, Nicole and Leslie!
Mindy Bence, long-time farm member and workshift leader, sent me a great email about what her family did over the 4th of July weekend. I will be using Mindy's thoughts over a couple of weeks, but here are a couple of takeaways for me. When she makes baba ganoush, she roasts both her eggplant and garlic scapes - a great idea!. She is always checking out new ways to make pestos and uses some interesting combinations. I try to help you in your efforts to experiment by telling you what I did and hope that will trigger some ideas for you. As many famous chefs say, learn a few favorite recipes really well and you will be able to adapt them in different, interesting ways. I have found that most people who have been members for several years have done this to effectively and efficiently use their harvest.
Nicole Pierce sent in a recipe for Eggplant French Toast. Sounds strange doesn't it, but Nicole says her family isn't crazy about eggplant so they are always looking for new ways to try it. She said the kids gobbled it up! She said the recipe calls for Stevia, but she used honey, although it doesn't really need the sugar since you use your favorite syrup. I have added the recipe to the website, but with our editor on vacation, we want Derek's load to be a little easier.
Leslie McHugh sent in a recipe for Zucchini Tots that she found on FB and adapted it a bit. She wanted to send it in because she has noticed all the young kids at the farm this year. Again, to make Derek's work easier, I am just putting the recipe here, but will add it to the website so it is there for the future.
1 cup packed grated zucchini
1 egg
1/8 cup onion, finely chopped(or sliced scallions)
1/4 cup grated cheddar cheese
1/4 cup breadcrumbs (I used 2 slices gluten free bread to make mine)
Crushed black pepper and coarse sea salt
Preheat oven to 400. Line a baking sheet with parchment paper. Grate zucchini into a clean dish towel, wring out all the excess water. In medium bowl combine all ingredients. Roll 1 Tablespoon into small ovals. Bake 18-20 minutes, turning halfway through cooking, until golden brown. Makes 9 tots.
Thank you again for sending me your ideas!