Harvesting with a little help from our friends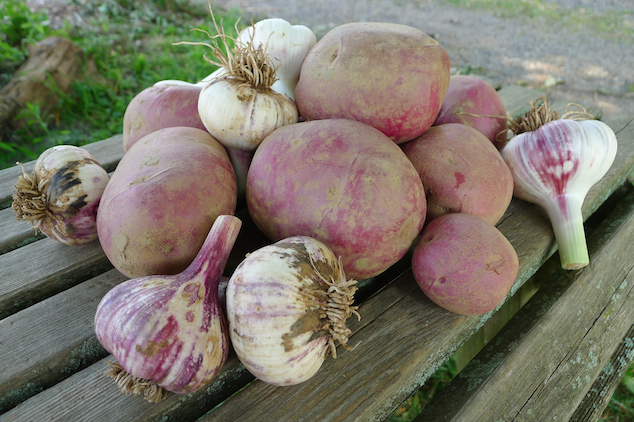 Dark Red Norland potatoes and Anchor Run garlic, two crops harvested recently with the help of CSA members.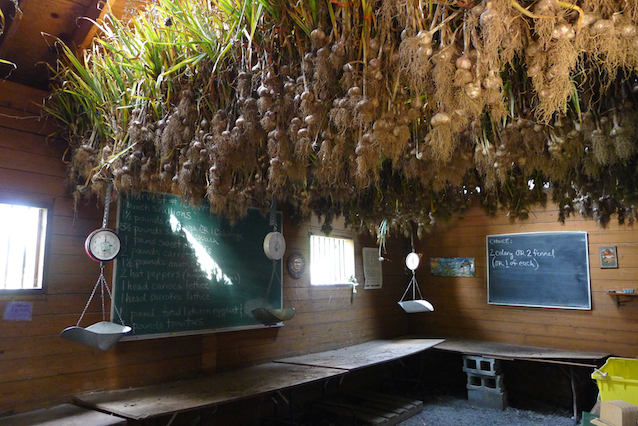 A welcome sight in the barn this time of year, garlic hangs from rafters and wire to cure for later distribution as well as 2016 garlic seed.
News
Notes From The Field
With Help From Our Members
By Derek McGeehan
We successfully harvested all of the 2015 garlic this morning with help from 50 CSA members. We harvested approximately 12,000 bulbs, hung around 75% of them from the rafters to dry and cure, and trimmed and stowed the remaining 25% in the cooler to give out as fresh garlic over the next month. The garlic harvest is a true reminder of the community aspect of a CSA and what folks are able to accomplish when they work together. Besides the pleasant aroma that surrounded us while we worked, it was nice to work hard together doing something that is healthy, medicinal, and nutritious for our bodies. There is a reason we see many of the same faces each year at this event.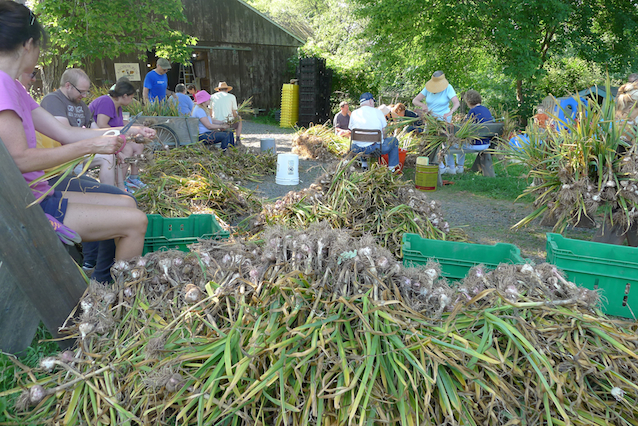 Some of the 50 CSA members that helped with the garlic harvest are shown here, either trimming roots and stems for fresh garlic storage or tying string around the bunches for hanging.
With the help of another workshift, on Friday we began harvesting the 2015 potatoes and we're thrilled to say that so far this crop looks awesome this year! It could have something to do with their absence last season, but their size and yield so far is among the best we've grown. The regular rain we've been receiving over the last month and a half has definitely contributed to their size. Putting our new potato digger to the test and seeing it succeed was encouraging as well. Initially we ran into the same issue that complicates harvesting potatoes, mainly the inability of all the weeds and organic matter to flow through the machine or get pushed to the side. I decided then to try hooking the digger up to our bigger tractor which has more clearance underneath and in between it and the potato digger. This worked well and the new machine proved its value, dropping most of the potatoes on top of the soil for relatively easy collection. The variety we'll be seeing for the next month or so is called Dark Red Norland. Let's hope the rest of the 8 varieties of potatoes yield this well!

Expected Harvest
Hello Potatoes and Fresh Garlic
By Derek McGeehan
Harvest #11 (Week A) should include potatoes, lettuce, tomatoes, sweet peppers, hot peppers, eggplant, summer squash, celery, cabbage, fennel, okra, onions, scallions, and carrots. Some items will be a choice. U-pick should include beans, cherry tomatoes, husk cherries, tomatillos, basil, parsley, dill, cilantro, perennial herbs, and flowers.
2nd Potluck this Saturday
The 2nd potluck of the season takes place under the pavilion this Saturday, August 1st, at 6pm. Bring a dish to share that serves at least six plus your own place settings and beverages. There may be live music, too!
New this week: potatoes and fresh garlic
By Linda Dansbury
If you were one of the lucky ones that participated in harvesting garlic you know you are in for a tasty treat this week. Anchor Run garlic has been grown now for so many years that it is considered it's own variety. Dana and Derek save the largest, healthiest bulbs for separating into individual cloves that get planted in October and then harvested the following July. For the next few weeks, we will receive fresh garlic, while hanging in the rafters of the barn will be the garlic that will get us through the fall and winter. Use this garlic the same as you would cured garlic, but the bulbs must be kept in the refrigerator - be careful, it is pungent, so you may need less than the recipe calls for since the garlic you purchase at the store has likely been in storage for months.
The potatoes we are receiving are cured so should be stored at room temperature. They need to be kept in the dark such as in a box or dark paper bag so they don't turn green. Do not store in plastic or they will rot. This is an early red variety we are receiving and are delicious boiled (potato salad), roasted or made into French fries. Enjoy!!
Members ideas and suggestions
By Linda Dansbury
Thank you to all that have sent me emails in the past few weeks. Since Judy, our editor is back from vacation and back to civilization, I am going to try and catch up and cite as many of the items you sent. When you send me a message, please, please put Anchor Run in the subject line. As most of us do, I receive so many emails per week and I don't remember every email I receive. I need Anchor Run in the subject line so I can search for your messages. I always feel bad if I don't acknowledge the time you have taken to write to me and have missed posting your great information, but I do know that I miss adding some of your content.
lindadansbury@comcast.net
is my contact info. Thank you for taking the time to share with fellow members.
Emily Mahoney sent me an interesting recipe for strawberry-tomatillo pie saying it tastes like strawberry rhubarb pie. I am providing the link and Emily said she made the following changes to the recipe: the fillings were enough for two pies, so the base of each was the standard pie pastry, but for the top I made an oatmeal crumble using quick oats, butter, cinnamon, and sugar. I didn't measure them, but I would guess it was about 1 cup oats, 2 Tbsp butter, and 1 Tbsp each of cinnamon and sugar. I asked Emily and I'll ask you bakers out there - could either peaches, blackberries, and/or husk cherries all of which are in season now be used in place of the strawberries? Here is the link for the recipe
http://m.allrecipes.com/recipe/233152/lisas-tomatillo-and-strawberry-pie/
If someone makes this with what is in season now and it is delicious, I will add the recipe to the website, so please let me know.
Joanie Schultz said she made minestrone soup using up a lot of veggies. She will freeze it without the pasta. This is a great idea for using your share and guaranteeing you have healthy, delicious and simple meals in the winter. I find it very rewarding to take something out of my freezer in the middle of winter that was made from our farm harvest. We have a recipe on the website which is similar, but I like Joanie finishing the dish with an herb pistou, so I am going to add that component to the recipe that is already on the website. Enjoy!
Larissa Wolowec sent me a recipe for squash "noodles". She used a spiralizer to make the noodles. A spiralizer can be picked up at many stores for around $15 and they really work. I purchased one last year and it is great to use. The recipe Larissa sent to me included an avocado pesto, but when I make mine this week - and I really appreciate the reminder of this delicious dish - I am going to do one of two things, or a combination: use an herb pesto, or a barely cooked tomato sauce using cherry tomatoes. Either way, the basic method is to spiralize the squash and place in a colander and add salt and let the "pasta" drain for about 30 minutes. Rinse the noodles and then squeeze out as much of the moisture as you can. Add a little olive oil to a saute pan and heat it up. If desired, add aromatics such as onion or garlic and let saute for a minute or two. Add the squash and let it cook for 2-3 minutes - you want it to keep its texture. Turn off the heat and stir in your pesto of choice. If you use a light tomato sauce, add the tomatoes to the aromatics and let cook for about 3 minutes, then add the "pasta" and cook for another 2-3 minutes. Add fresh herbs and grated cheese if desired. Yum and thanks Larissa! I can't wait to make this and I had completely forgotten about it.
How did I enjoy my harvest?
By Linda Dansbury
Last week I cooked up a storm - this week, not so much. Which was fine because I wanted to devote most of this week's writing to the ideas and suggestions fellow members have sent me over the last couple of weeks. A couple notables to help you with ideas:
Tomatoes, garlic scapes, basil - made bruschetta twice. We love to make this dish when the tomatoes are so delicious. I also really like the use of the scapes rather than garlic cloves because it is a much more subtle taste and doesn't mask the wonderful taste of the tomatoes.
Tomatoes, sweet and chili peppers, onions, cilantro
- made
peach salsa
. The recipe makes a large amount and is so delicious with peaches being in season right now. Last night, I had it with grilled pork chops and tonight I am having it with fish. The recipe is on the website.
Tomatoes, sweet peppers, onion, garlic scapes, basil - prepared a tomato salad with a very simple vinaigrette of red wine vinegar, olive oil, salt and pepper. I peel the tomatoes, but you don't have to. Not only is the salad delicious, but the "juice" left at the bottom of the bowl is amazing - make sure you have bread to dip into the bowl. Even as a kid, we would all be trying to get as much of this tasty treat as we could.