Rain Dances please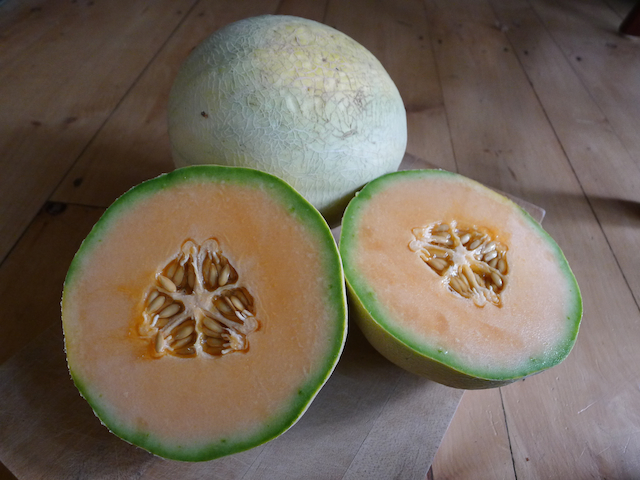 Growing and harvesting successful cantaloupe - and then eating - is a true treat, especially when it is done with organic methods. The ground cover fabric experiment has worked well here, too.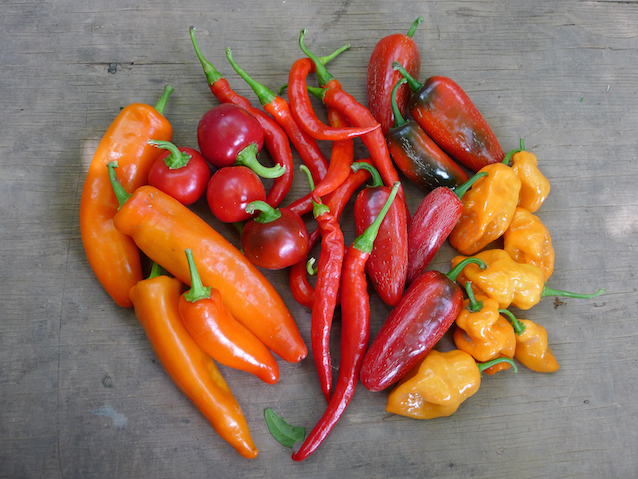 Anchor Run grows around 10 varieties of hot peppers. Shown here left to right from mild to hot are hungarian hot wax, capperino cherry, jalapeño, and habenero. Hot peppers can be frozen whole and sliced very easily for later consumption.
News
Notes From The Field
Time For Some Rain, Please
By Derek McGeehan
We were receiving regular rainfall for a while, now it is very dry again. The ponds have been water-free for two weeks and over the last three weeks we've had four storms give us .2" each. That has been just enough to keep our young transplants alive as well as add a small amount of new growth. The older, deeper rooted crops seem to be weathering the lack of water okay. I'm always very hesitant to set up the irrigation because there are a million other jobs to do and normally we receive enough rain. If there is a half inch of rainfall predicted within the next three or four days I tend to wait. So, as of now, rain is predicted for Monday night through Tuesday night. If this misses us then it is back to irrigating. Once it is set up it is fairly easy to get in a regular watering schedule. Rainfall is better for the plants, though, and us, too, since it gives us some breathing room.
This photo was taken this morning during a workshift by CSA member Kristen Hawes after successfully harvesting winter squash with fellow CSA members.
Last week we continued harvesting potatoes, retrieved the last of the onions, and just started cutting, collecting, consolidating, and organizing the winter squash. This crop appears to be a good one. Look for them to appear in your share after the watermelon is wrapped up, probably in a week or two. Soon we'll transport them from the field to the safety of our climate controlled rodent proof storage room. Winter squash should be in shares through the end of the season. Scallions are almost finished and leeks will probably be harvested when they're done. Greens like kale and swiss chard will return to shares in a few weeks or sooner, depending on the rain and temperature. Lettuces will keep rolling in as we try to outpace their desire to flower and produce seed (sorry lettuce!). Dormant strawberry tips that were planted a couple of weeks ago have broken hibernation and are producing new leaves, an encouraging sign. Soon fall cover crops of oats, clover, buckwheat, daikon radish, and other winter-killed species will be sown to scavenge and collect nutrients, protect the soil, and provide organic matter for subsequent crops. Later this month we'll resume direct seeding greens and roots like arugula, mixes, radishes, turnips, and other crops that like cool weather. Summer crops like squash, tomatoes, eggplant, and peppers have peaked and will slowly decline and taper off but will probably linger for another month. We're still in the rush of summer and harvesting and planting, but soon our days will shorten as daylight lessens and temperatures cool. It's not even the middle of August yet but we look at least four weeks into the future so that we can stay right on schedule. For now, though, let's all do a rain dance!
Expected Harvest
Hello Cantaloupe
By Derek McGeehan
Harvest #13 (Week A) should include cantaloupe, watermelon, lettuce, tomatoes, summer squash, eggplant, scallions, fresh onions, hot peppers, okra, sweet peppers, potatoes, and fresh garlic. A few items may be a choice. U-pick crops should include cherry tomatoes, edamame, tomatillos, husk cherries, green beans, yellow wax beans, parsley, dill, cilantro, basil, perennial herbs, and flowers.
Workshifts Over For Season
By Derek McGeehan
Workshifts have ended for the year. If you weren't able to finish your hours, please send your $15 per missed work hour check made payable to "Anchor Run CSA" as soon as possible (half share - $60, full share - $120). This fills out the balance of your share cost and saves us the need to contact you for payment.
Height of the season
By Linda Dansbury
It is now peak season as you have felt carrying the weight of the harvest to your car. The newest additions to the pick up room, watermelon and cantaloupe don't need any explanation, just slice them and eat! To use all these veggies successfully, you do need to think outside the box and try to preserve them. Remember, eggplant and green beans we have learned this year in one of our workshops can be frozen without cooking them, which makes it really simple. Even tomatoes can be frozen whole.
I am doing a demo at the Wrightstown Farmers Market next week and in trying to think of a theme I came up with the idea of side dish salads using vegetables instead of lettuce. When it is so hot outside, you don't want to have to cook a lot - veggie salads can be made ahead and they typically get better as they sit for a day or so; using vinaigrettes also helps preserve them - green bean salad has kept in my fridge for a week. In addition, you can add in protein sources such as beans and/or cheese to make them a complete meal. I will post recipes that I use next week, but I am thinking of doing green beans, eggplant, and summer squash. Our summer squash is on the way out, but it will be good to try out for the future.
How did I enjoy my harvest?
By Linda Dansbury
This was a very busy week, so I had to put eggplant in the freezer and even some green beans. Below is how I enjoyed some of the remainder of my harvest. Please let me know what you are cooking by emailing me at lindadansbury@comcast.net and please put Anchor Run in the subject line.
Summer squash, onion
- I made the
Summer Squash Pickles
that I posted from a member - they are quite good and they are simple to make.
More Summer squash - made Zucchini Bread using a combination of the squash we get from the farm. I made it into muffins so that I can easily remove individual servings from the freezer.
Potatoes - we par-boiled them until not quite tender and then put them on the grill to get nice and brown and tender. To finish them off, we drizzled with a little olive oil and a sprinkle of parsley. They were delicious - and...we had some leftover (on purpose) so those will be home fries with our breakfast today.
Tomatoes, tomatoes, tomatoes, plus peppers, onions, scapes, scallions, herbs - made tomato salads and bruschetta. I can't get too much of these two summer favorites!!
Green beans, scallions, scapes, peppers, herbs - made a large green bean salad. I add a can of chick peas to my version, but it isn't necessary. We ate it one night as a side dish and then I had it for two days as my lunch. When having for lunch I added some feta cheese.
Watermelon, scallions, tomatoes, chili pepper, basil, mint
- made a
Watermelon and Heirloom Tomato Salad
which was so delicious. As I am typing this, I realized I forgot to add the goat cheese that I was going to sprinkle on our plates when I served it. It was so good without it, but now I have to make it again to see which is better!
Kohlrabi, carrots, celery, green beans - one night I didn't have time for dinner, so I just cut up some veggies and dipped them in hummus (which I always have on hand), added a few crackers, and that was my dinner.
Member ideas and suggestions
By Linda Dansbury
Everyone must be busy trying to preserve and use their harvest, because this is the first week that I haven't received any emails from membership. Please extend your ideas to the rest of membership by emailing me at lindadansbury@comcast.net and please put Anchor Run in the subject line so I can find your email when I search for it.
Recipes
Watermelon, heirloom tomato and goat cheese salad
From Kitchykitchen.com. Serves about 4. Ready in 75 minutes, but an hour is inactive time in the fridge. This is also delicious without the cheese, making it a great vegan dish as well.
2 small chilies, thinly sliced (optional)
1 Tablespoon sherry vinegar
3 Tablespoons olive oil
salt and pepper
1/4 watermelon, sliced into 1/4 inch thick pieces
2 heirloom tomatoes (or 3 regular tomatoes) cut 1/4 inch thick
1/2 cup goat cheese, sliced into small chunks
1/3 cup thinly sliced shallot
1/4 cup basil, chiffonade
2 Tablespoons mint, chiffonade
Combine the chilies, vinegar, olive oil, and a big pinch of salt and pepper in a small container and mix to form a vinaigrette. Put the rest of the ingredients in a large bowl and pour the vinaigrette over it. Let the bowl sit in the fridge for 1 hour, then serve. Enjoy!