Plentiful Harvests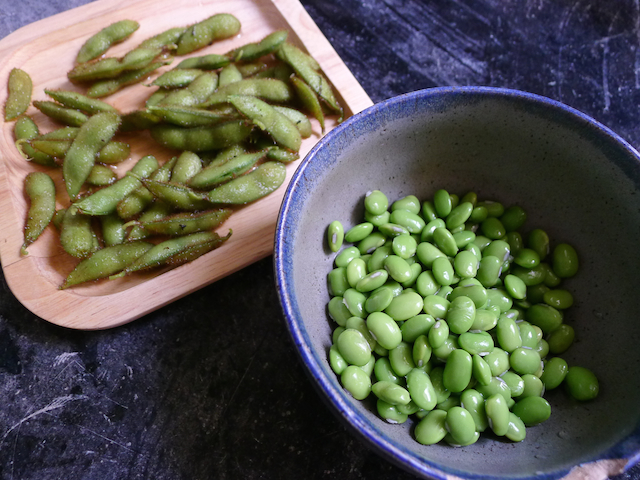 Simmered in salted water for 15 minutes renders edamame truly delectable, fun to eat, and easily shelled.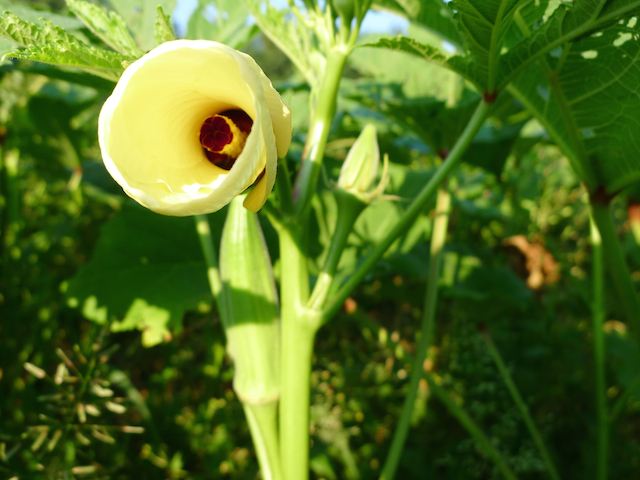 Love it or hate it, okra plants produce beautiful flowers. This crop should be around for at least another month and has been rounding out the eggplant and summer squash choice. As the plants grow, yields should increase and hopefully everyone who wants a taste will have one.
News
Notes From The Field
Harvesting, Harvesting, Harvesting
By Derek McGeehan
The potato crop continues to be high yielding, the watermelons keep rolling in, winter squash distribution begins, and fall greens make their appearance. We're still racing to keep ahead of the lettuces' desire to flower, harvesting them whenever we perceive the formation of a central stalk. Definitely more bitter this time of year, these summer crisp varieties really do have to deal with heat and lack of water, two components lettuces don't enjoy dealing with. We strive to provide lettuce every week of the season and I think we've been able to do so all of this year so far as well as last season. The first harvest of fall kale begins this week and the first cutting always seems to be the best of the year. It is tender and flavorful. I'm not sure exactly why the potatoes are yielding so well. It could be due to the consistent moisture in June and early July when they were bulking up or it could be the nice fertility in the soil thanks to last years incorporation of a lot of straw, this years application of compost and gypsum, and the organic broad spectrum fertilizer we applied. In reality it is probably a combination of all those factors, plus some unknowns, and maybe the little bit of extra attention we gave them after a bad year in 2014.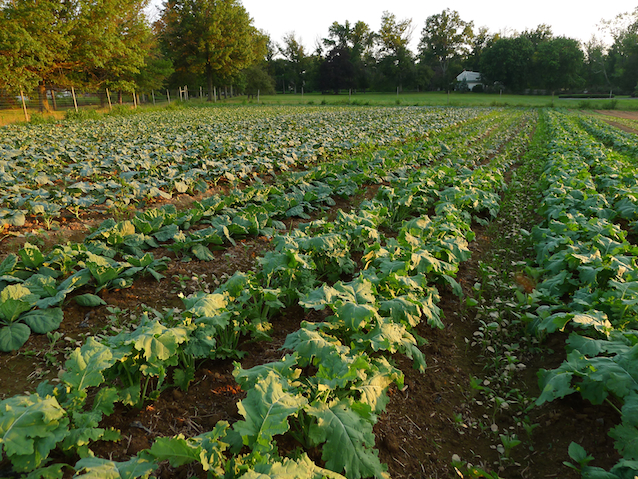 A fall scene in the summer. This is about a third of our fall brassica patch and includes broccoli, cauliflower, kale, cabbage, kohlrabi, and Napa/Chinese cabbage. Kale will be in the harvest this week.
Dana, Gabe, and I went out to the watermelon patch expecting to find a lot of seconds and barely any first choice melons, but we were blown away by the continued abundance of this patch. We are growing the same number of plants that we always do, but with a little extra tender loving care the size and quantity blows my mind. The ground cover fabric has truly done its job. Experiments, trial by error, and farmer information sharing really pay off sometimes. Obviously not every experiment or trial is rewarding but some are and hopefully easy to replicate again. I mention this at our Orientation Day in the spring, but we plan to have everything figured out exactly by the time we're ready to retire, then we'll just need one more lifetime to put all the knowledge to use. Or, hopefully we'll pass it along to someone else, like Gabe.

Expected Harvest
Return of Kale and Start of Winter Squash
By Derek McGeehan
Harvest #14 (Week B) should include kale, lettuces, tomatoes, sweet peppers, hot peppers, scallions, garlic, potatoes, cantaloupe, watermelon, spaghetti winter squash, eggplant, okra, and summer squash. Some items will be a choice. U-pick should include cherry tomatoes, edamame, green beans, husk cherries, tomatillos, parsley, dill (bolting), cilantro (bolting), perennial herbs, and flowers.
Workshifts Over For Season
By Derek McGeehan
Workshifts have ended for the year. If you weren't able to finish your hours, please send your $15 per missed work hour check made payable to "Anchor Run CSA" as soon as possible (half share - $60, full share - $120). This fills out the balance of your share cost and saves us the need to contact you for payment.
Tomatillos, Edamame and Kale
By Linda Dansbury
If you have been doing your u-pick, and I hope you are, since it is a large component of your share, you may be walking away from the tomatillos because the plants look like a jungle and you don't readily see all the ripe fruit that is there. Go ahead, don't be afraid - it is really not bad. I got over 2 quarts of beautifully ripe tomatillos in only about 5 minutes! Just walk through slowly and look toward the ground and you will see groupings of fruit ready to be picked up. Much of what I got was laying on the ground. You can place them in plastic bags and freeze now and then cook them later; or, grill/roast them and freeze, or make into sauce or salsa now. We have a tomatillo soup recipe on our website, as well as sauce and salsa recipes. Don't let this delicious and versatile crop get away from you - the tomatillos that are in the stores are not very ripe so are not as flavorful.
This is also peak season for edamame - a favorite of members. Make sure you get out there as soon as you can to get your share this week. The pods are at their peak. If this is your first experience with edamame, peruse the recipes we have on the website. To start, they cannot be eaten raw. Bring a large pot of water to boil and salt it heavily. Two to three tablespoons per 4 quarts of water is not too much. Boil the edamame, and start testing for tenderness at 8 minutes. It could take up to 12 minutes for them to be ready. Drain and plunge into an ice water bath. Drain well and enjoy as is or in any of your favorite recipes.
The first of the winter squash, spaghetti squash, will be in the pick up room this week. I really like these a lot because they are equally appealing to me in the hot weather as in the winter months. One way that I like to prepare it in the summer is to microwave it so I don't heat up the kitchen and "fork" the insides so I have a large bowl of "spaghetti" and then top it in one of the following simple ways:
1. chop up fresh herbs such as parsley and thyme, drizzle good quality olive oil over the "pasta", salt and pepper to taste, add the herbs, then toss well. Plate it up and then sprinkle with some type of yummy cheese.
2. While the squash is cooking, make a fresh or barely cooked tomato sauce and mix into the squash along with olive oil and a grating of a good hard cheese.
Kale is making its return. You may be thinking that kale needs to be cooked for awhile - think stews and soups - for it to be delicious and with the heat and humidity, who wants to do that? But kale is delicious raw and in salads too - not only in your morning smoothie. Remove the tough midrib and then stack the leaves together and cut into a chiffonade. Place into a bowl and then massage the leaves for a few minutes. The texture will change and become soft and velvety. The kale can now be made into a salad in combination with other greens or alone - it makes a delicious Caesar salad.
Enjoy the harvest!!
Member ideas and suggestions
By Linda Dansbury
I received one suggestion from fellow member Lia van Rijswijk this week. I had met Lia one day in the pick up barn and we talked about a salad keeper but she couldn't recall the name. She has found a new one called Prep Works. It keeps greens fresh for over a week and she has been impressed with it. She has seen it at kitchen stores and it is also available at Amazon.
Please send your ideas, suggestions to me at lindadansbury@comcast.net.
How I enjoyed my harvest this week
By Linda Dansbury
I did a cooking demo yesterday at the Wrightstown Farmers Market and of course, highlighted how wonderful Anchor Run Farm is to the many patrons who came by to taste and learn about making salads out of veggies rather than just using lettuce all the time.
Tomato, watermelon, scallions, mint, basil and hot pepper- made the Watermelon and heirloom tomato salad with basil and mint again, and this time I remembered the chevre. It was really good with the cheese but I think I may have preferred it without.
Summer squash, lettuce, tomatoes, garlic, parsley
- made the
Warm Summer Squash and Sausage Salad
that I have referred to before. Again, it is a nice, 1 pan/1 bowl meal.
Eggplant, garlic, mint, scallions - prepared the Grilled Thai Eggplant Salad

for the demo. I had almost forgotten how delicious this is. A few people commented that they don't like eggplant, but liked this. It truly is a wonderful dish, and keeps well for a couple of days in the fridge.
Beans, scallions, garlic, colorful peppers, parsley - made bean salad with a red wine vinaigrette for the demo. It looked so pretty with all the colors and people loved it. I know from past experience that when I have a lot of beans I make a large bean salad. It keeps for at least a week and it makes for really good lunches. Add whatever you like - I often add chick peas, sometimes feta cheese. I can eat it as is, or have some tuna or leftover chicken with it. Yum!
Summer squash, mint - made a new recipe for the demo called Refreshing Summer Squash Salad, which I am posting here. It has a lemon mint vinaigrette which is so refreshing! The recipe calls to top it with feta cheese and crisped proscuitto, which I prepared, but tasters agreed it didn't need the toppings, and one taster said that it was so refreshing that it was almost like eating dessert.
Please let me know how you are enjoying your harvest at lindadansbury@comcast.net and please put Anchor Run in the subject line.
Recipes
V Refreshing Summer Squash Salad
From allrecipes.com. Serves 4 as written. Although the recipe calls for feta and proscuitto, it is delicious without them. Takes about 25 minutes to prepare.
2 yellow squash, shaved into thin strips
1 zucchini, shaved into thin strips
1 teaspoon salt
2 Tablespoons chopped fresh mint
1 Tablespoon olive oil
2 teaspoons fresh lemon juice
1/2 teaspoon grated lemon zest
1/2 teaspoon freshly ground black pepper
3 slices prosciutto, chopped
1/4 cup crumbled feta cheese
Toss yellow squash and zucchini with salt in a large bowl. Whisk mint, olive oil, lemon juice, lemon zest, and black pepper in a small bowl; pour over squash mixture. Toss to coat. Heat a small nonstick skillet over medium heat; cook and stir prosciutto in the hot skillet until crisp, about 2 minutes.
Divide squash salad over 4 plates. Evenly sprinkle prosciutto and feta cheese over salads.