Sowing the Seeds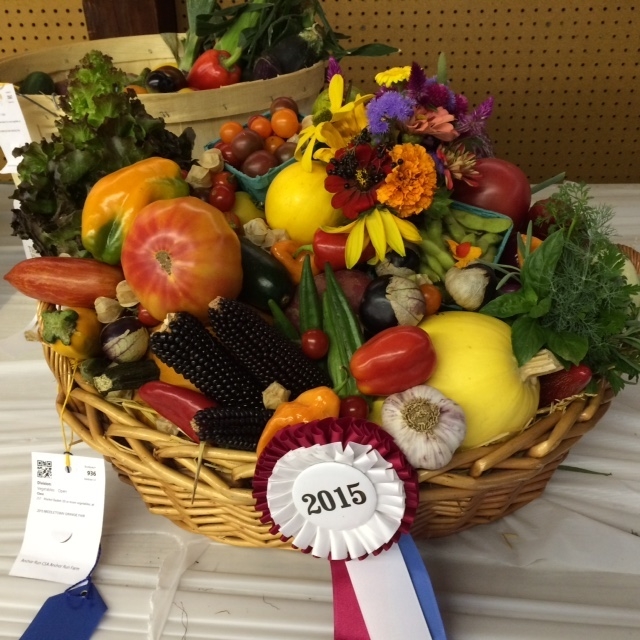 Anchor Run CSA's market basket won first prize and best in show at the 2015 Grange Fair. Photo courtesy of Ginger Solomon.
Manually mixing oats, crimson clover, daikon radish, and buckwheat seeds in the 500 pound capacity spin spreader.
News
Notes From The Field
Welcome Rain and Respite
By Derek McGeehan
With ample rain comes some room to breath. Always with an impending rain forecast there is an extra hustle prior as we attempt to accomplish all the tasks that need to be finished before the ground turns wet for a few days: preparing ground for planting crops and cover crops; transplanting and direct seeding; cultivating while the ground is dry and sun is shining; as well as harvesting more potatoes and winter squash. Days begin earlier and end later; breaks are shorter; and there is quicker movement around the farm. Then, when the rain arrives after the tasks are completed, we can sit back and enjoy the brief slowdown and feel thankful for the necessary water.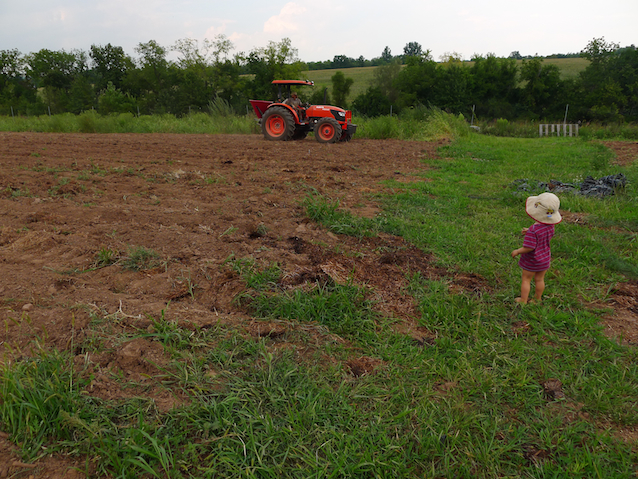 Desperately trying to sow the cover crop mixture before the rain on Wednesday while Gabe supervises and shouts instructions.
This week we sowed the first cover crop mixture of the season over a couple of acres where spring and early summer crops grew. Oats, buckwheat, crimson clover, and daikon radish seeds were hand mixed in our seed hopper and spread with the tractor. Before this we spread compost and chisel plowed twice. After sowing, the seeds were disked in as rain threatened all around. This is the latest in the season we've ever sown a cover crop, but with a quarter to a third of the farm already fallowed in perennial cover crops there is slightly less pressure to continually sow annual cover crops. Our view has also taken in a larger perspective. Rather than attempt to cover crop as much as possible every year and then have to mow and plow and deal with extra work in the spring, we're understanding much better the balance between the benefits of cover crops and the work required to have ground ready in the spring and early summer. Like any crop or plant, cover crops need bare soil to become established, which requires tractor work and interaction with the soil. Every time we disturb the soil we're disturbing its positive qualities and its ecosystem. But cover crops protect the soil, secure leachable nutrients, and provide organic matter. They're also known as green manure. Some cover crops like clover, rye, and hairy vetch over winter and regrow in the spring, shooting up to 2,3, and 4 feet in height, requiring extra management like mowing and plowing numerous times. Other cover crops like oats, peas, buckwheat, and daikon radish are winter killed with cold temperatures. These crops will protect the soil with their foliage but will be much less hassle to deal with in the spring. As they break down into the soil they will feed the following crop. Another benefit of cover crops is their appearance; they just look nice.

Expected Harvest
Time For Leeks
By Derek McGeehan
Harvest #15 (Week A) should include leeks, potatoes, spaghetti winter squash, kale, lettuces, sweet peppers, garlic, hot peppers, tomatoes, watermelon, eggplant, okra, and summer squash. Some items may be a choice. U-pick should include filet green beans, edamame, husk cherries, tomatillos, cherry tomatoes, parsley, dill, cilantro, basil, perennial herbs, and flowers.
Ways to Improve U-pick
By Derek McGeehan
We're brainstorming ways to improve the u-pick crops and experience for next season. Some of our ideas as of now include widening the walking aisles and taking a complete bed off in between rows of peas, husk cherries, tomatillos, and flowers; using the ground cover fabric to fully suppress grass and weeds; rotating the flower garden with the rest of the u-pick crops so that it isn't a separate and far away entity; and labeling varieties of cherry tomatoes. Please share with us any helpful suggestions you may have!
Workshifts Over For Season
By Derek McGeehan
Workshifts have ended for the year. If you weren't able to finish your hours, please send your $15 per missed work hour check made payable to "Anchor Run CSA" as soon as possible (half share - $60, full share - $120). This fills out the balance of your share cost and saves us the need to contact you for payment.
New this week - Leeks and a lot of peppers
By Linda Dansbury
The new crop this week is leeks. One of many things I love and appreciate about farmers D&D and their planning and executing at the farm is that they keep us in the Allium (onion) family from the start of the season through the end and beyond - Mother Nature willing. At the start of the season we have delicate chives and chive blossoms to go along with the delicate greens. Then comes the garlic scape. Next, and for numerous weeks come the scallions, which can be used in most summery dishes that call for onions, meaning uncooked or short-cooked dishes, as well as grilled. Move onto the fresh onions, which are uncured onions and need refrigeration. Now we have leeks - they have a more delicate flavor than onions, but for any soup, stew, caponata or ratatouille that you are thinking of cooking, leeks will fit the recipe. I say this every year - the leeks from the farm are so nice to work with because they don't have all the sand you find in much of the commercial crops. Typically, recipes call to only use the white and light green parts - save the darker green part to make veggie, or meat-based stocks - they are delicious! Store in plastic bags in the fridge. They will keep for at least a couple of weeks
I realized that last week when I talked about yummy spaghetti squash, I did not talk about how to store them. Along with the potatoes, they will keep for a long time if stored properly. The tricky part is that the best storage locations in our homes change with the seasons, so you need to think about it. Neither crop can handle very high humidity or warmth. For now, find the coolest part of your home. Typically, it is in the basement, but it might be in a spot in which your AC is cooler than in other parts of the house.
Please let me know what you are doing with all of your peppers, or let me know if you are overwhelmed and need help in using all of the beautiful peppers we have been receiving. Remember you can always chop them up and freeze them for later use in stews and chili.
Enjoy the harvest and if you have storage ideas, please let me know at lindadansbury@comcast.net
How I enjoyed my harvest this week
By Linda Dansbury
Wow, another week has gone by! And, like most of you out there, another busy week with a lot of commitments, all the while thinking about how to best use my harvest. I was able to hold my own, mostly with go-to recipes, as opposed to a bunch of researching and new ones, but here is a sampling:
Summer squash, tomatoes, lettuce, garlic, parsley - made the Warm Summer Squash and Sausage Salad that is on this site. I make it several times during the season - I never make it off-season because it would not be nearly as good with produce from a grocery store. I also purchase the feta cheese from the Farmers Market, which is so yummy.
Green Beans, scallions, peppers, parsley, garlic - made yet another green bean salad, which I ate a couple days for lunch, in addition to having it with dinner.
Tomatillos, onions, peppers, hot peppers, garlic - I tried a new recipe, which was delicious, called Slow Cooker Chicken Chili Verde. I will make this again, and have added the recipe to this site. I would change it - the recipe calls for a whole chicken, which is great because there is a lot left over that I can freeze, but with a whole chicken it could have used double the veggies. Once I shredded and added the chicken back into the slow cooker, the veggies were not the star, as I would have liked.
Member ideas and suggestions
By Linda Dansbury
Two members sent me their suggestions this week and I really appreciate it, especially since I wasn't very inventive!
Carol Barry Marini sent me 2 recipes and some thoughts on how she uses her harvest too. Carol's philosophy is similar to mine - get comfortable with a couple of basic methods, such as stir fry and then vary the ingredients based on what the farm has to offer. Here are Carol's words: "I'm a member of Anchor Run CSA and look forward to your newsletter columns each week. I've noticed that member ideas and suggestions have been a little light lately, so I thought I'd send in a few ways I've been enjoying my harvest.
My favorite thing to do this time of year when the harvest is so abundant is to play a little game of "just add protein" -- I try to make meals where the only thing I need to add to my Anchor Run veggies is a protein. At least once a week I do a stir fry and another night or two I'll grill chicken to have with various veggies. That said, I do have a few recipes that members might find interesting...depending on the week, these can be made exclusively using produce from the harvest.

Last year, my dad sent me a recipe for braised pork with tomatillo sauce (attached). It is crazy good and is a great way to use tomatillos. He suggests a side of rice and beans, but when I made this recently, I made a quick slaw with red cabbage and carrots, lime juice, olive oil, and salt a pepper--the slaw was a nice, light addition to the rich pork and its sauce."

I shared with her a recipe that I have added this week using a slow cooker(see How I enjoyed my harvest) and she agreed that the pork would be interchangeable, so I have adjusted the recipe accordingly.
Emily Mahoney sent me a recipe that she invented! Here are her words: "I invented a pretty tasty recipe the other night. I made Sweet Pepper Husk Cherry turnovers. Very delicious, and I highly recommend!"
You go Emily!!
Thank you to both Carol and Emily and if anybody has suggestions, ideas or questions, please email me at lindadansbury@comcast.net and please put Anchor Run in the subject line.
Recipes
Slow Cooker Chicken or Pork Chile Verde
From Chow.com. Serves about 8. Ready in 6-8 hours depending on slow cooker heat used. Prep is about 30 minutes before cooking and 30 minutes after. Double the veggies for a more balanced veggie:meat ratio. Recipe said to serve with spicy black beans and rice, but I just served it with warmed tortillas. Fellow member Carol Marini said of the pork version that she made a cole slaw and it was really nice to cut the richness of the pork.
1 pound medium tomatillos, husked, rinsed, and quartered
6 medium garlic cloves, finely chopped
2 medium poblano peppers, medium dice - I used sweet peppers
2 (6-inch) corn tortillas, cut into 1/2-inch pieces
1 medium white onion, medium dice
1 medium jalapeño pepper, stemmed and cut into small dice
2 teaspoons ground cumin
2 teaspoons kosher salt, plus more as needed
1 teaspoon freshly ground black pepper, plus more as needed
1 (4- to 5-pound) whole chicken, neck and giblets removed from the cavity; or about a 4 lb pork shoulder roast, trimmed of thick fat and tied if necessary.
1 Tablespoon vegetable oil
1 cup coarsely chopped fresh cilantro (from about 1 bunch)
1 Tablespoon freshly squeezed lime juice
Place the tomatillos, garlic, poblanos/sweet peppers, tortillas, onion, and jalapeño in a 4-quart or larger slow cooker and stir to combine; set aside.

Place the cumin, measured salt, and measured pepper in a small bowl and stir to combine; set aside. Place the chicken or pork on a work surface or cutting board and pat it dry with paper towels. Cut off and discard any extra fat. Drizzle the oil on the chicken/pork and rub it all over. Season inside and out with the cumin mixture. Place the chicken breast-side up on top of the vegetables in the slow cooker.
Cover and cook until the chicken/pork is cooked through and falling off the bones, about 5 to 6 hours on high.
Transfer the chicken/pork to a rimmed baking sheet. When it's cool enough to handle but still warm, use your hands to shred the meat into bite-sized pieces; discard the skin, cartilage, and bones. Return the shredded chicken/pork to the slow cooker, add the cilantro and lime juice, and stir to combine. Taste and season with salt and pepper as needed. Alternatively, use an immersion blender to blend the veggies and then when serving use it as a gravy.
V Sweet pepper and husk cherry turnovers
From member Emily Mahoney. Emily says that she started this as a desert but it was too savory, so she served it as an appetizer and she suggests adding Brie cheese for another flavor component. Makes 12 turnovers.
2 cups sweet peppers, diced
2 cups husk cherries
2 Tablespoon butter
1 cup brown sugar
1 teaspoon cinnamon
1 teaspoon cornstarch
1 Tablespoon water
1 package frozen puff pastry sheets, thawed
Melt butter in a large skillet over medium heat. Add peppers and husk cherries and cook until peppers start to soften - about 5 minutes. Add brown sugar and cinnamon and cook for a few more minutes. Mix together the cornstarch and water, pour mixture into skillet. Cook, stirring constantly until the sauce thickens, 3-4 minutes. Take off heat and let sit for a few minutes.
Preheat oven to 400°F
Lay out puff pastry. Cut each sheet into six smaller squares. Spoon filling into pastry (I did about 1-2 Tablespoon). Fold ends together - I found the best shape to be a dumpling shape. Place turnovers on baking sheet and bake for 25 minutes. Let cool and enjoy!