Harvest to run as usual on Labor Day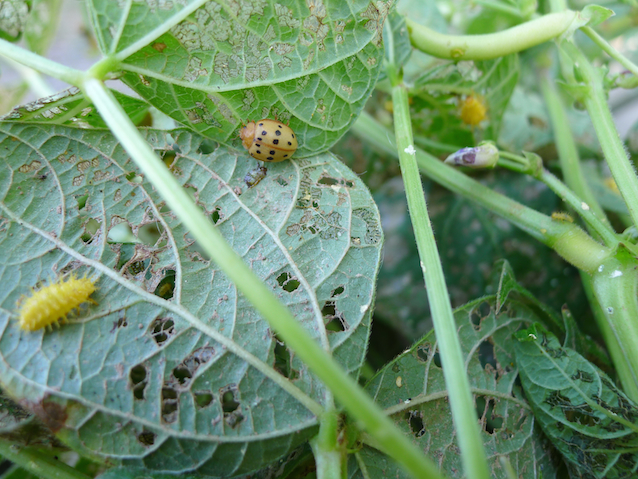 Scourge of this season's beans is the Mexican Bean Beetle, shown here in its adult and larva life stages. This is the worst outbreak we've ever had after mistakenly thinking that an absence of beans in this field for 3 years would have broken the pest cycle.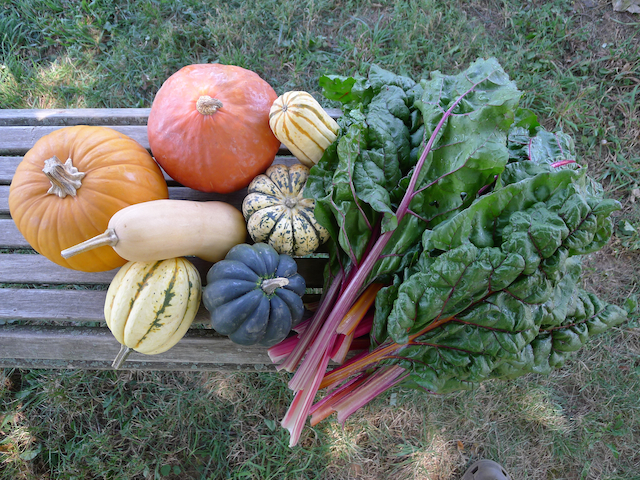 Scourge of this season's beans is the Mexican Bean Beetle, shown here in its adult and larva life stages. This is the worst outbreak we've ever had after mistakenly thinking that an absence of beans in this field for 3 years would have broken the pest cycle.
News
Notes From The Field
Importance of Water
By Derek McGeehan
We're still setting up and running irrigation on a daily basis. Fortunately as of now there is precipitation forecasted for the end of this week so we probably will only irrigate through one more cycle then we'll go back to relying on Mother Nature for water input. We've managed to reuse drip tape for everything we're now irrigating, which saves us on material cost and saves the world from a little more discarded plastic but does add significantly more labor to set up the irrigation infrastructure. Organizing, storing, and reusing drip tape is a challenge but is something we aspire to. Now that we have everything set up I wouldn't mind if it doesn't rain much for the next month but I will try to feel happy and relieved when it does arrive to quench the thirst of the cover crops and everything else that is thirsty.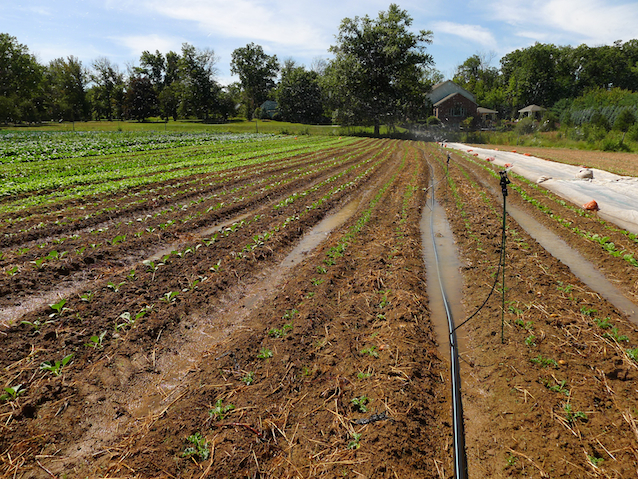 A soggy field after six hours of overhead irrigation, soon to be soaked up by the soil and plants. These are the only overhead sprinklers currently being used; the other thousands of bed feet are being irrigated with drip tape.
Besides irrigating, last week we also harvested and stowed the remainder of the winter squash and made more progress getting the potatoes out of the ground. This week we're planning to finish the potato harvest. We also transplanted the last of the fall crops from the brassica family. We planted the final round of kohlrabi and the only round of bok choy and yakina savoy, two tender greens for later in the fall. The third to last round of lettuces and chicories also went in and now the greenhouse is completely empty of plants, a very welcome sight. The hoop house is protecting the final two rounds of lettuces and chicories. I'll probably direct seed one final round of outside radishes and brassica greens this week and then all that is left is seeding under the protection of the high tunnel for the winter share. The equinox is around the corner and soon it will officially be fall and maybe even feel like it.
Expected Harvest
Swiss Chard Arrives
By Derek McGeehan
Harvest #17 (Week A) should include swiss chard, beets, lettuces, leeks, kale, fresh garlic, hot peppers, fresh onions, sweet peppers, potatoes, winter squash, heirloom tomatoes, and okra. U-pick should include perennial herbs, flowers, and parsley. The drought and mexican bean beetle have really taken a toll on the beans and edamame these last few weeks so they may have prematurely ended for the year.
Workshifts Over For Season
By Derek McGeehan
Workshifts have ended for the year. If you weren't able to finish your hours, please send your $15 per missed work hour check made payable to "Anchor Run CSA" as soon as possible (half share - $60, full share - $120). This fills out the balance of your share cost and saves us the need to contact you for payment.
The CSA Season and Winter Share
By Derek McGeehan
We're in harvest week #17 and are planning to go through 26 weeks. Immediately following this season is the Winter CSA which will probably run for 6 weeks again. New this year will be a half share option that will pick up every other week. There will still be the full share option that picks up every week. We're planning to try to better balance roots and storage crops with additional greens this year with the help of another moveable hoop house. The past two harsh winters taught us that we can't rely on outside crops with simple row cover frost protection. Bigger hoops and 6 millimeter thick transparent plastic provides 10 degrees of protection compared to 2-4 degrees from the row cover. Look for sign up and share details after Labor Day.
Welcome Swiss Chard
By Linda Dansbury
I normally get to talk about how wonderful a crop Swiss chard is in the first couple weeks of harvest, but insects damaged the crop to the point that it couldn't be harvested earlier in the harvest season. It is the same insect that ate our beet tops and caused the spring beet crop to be smaller than normal.
But...both beet tops and Swiss chard are now healthy and delicious. They are both in the spinach family and so they pack a lot of nutrition into their pretty leaves. Chard can be used in any cooked dish that calls for spinach - it will just take an extra minute or 2 to soften. Remove the thick stems and save to add to vegetable stock, or when sauteing add along with the onions to give them additional time to soften. Hopefully chard will be a frequent crop in the pick up room this fall. Check out the many recipes on the website:
Cold Swiss chard and white bean salad
,
Skillet gnocchi with beans and Swiss chard
, and
Provencal Green Soup
to mention just a few.
Member ideas and suggestions
By Linda Dansbury
I hope everyone has a wonderful Labor Day weekend. And, after cooking up one of your wonderful meals, please send your ideas to me at lindadansbury@comcast.net. And, please put Anchor Run in the subject line.
How I enjoyed my harvest this week
By Linda Dansbury
I spent a lot of my time preserving some of the harvest this past week. Tomatillos were roasted in the oven until nicely charred and then made into the sauce that is on the website as part of
Chicken stew with tomatillo sauce
. This is a go-to dish for me throughout the year. The sauce is not a big deal to make now and it freezes well and then it is such an easy and delicious weeknight meal down the road. I also hope to go and glean the tomatillos and make some more of the slow cooker chicken with tomatillos and other veggies so I can get that in the freezer as well.
I also blanched and froze some of my okra and boiled and froze most of my edamame. I think since I have an extra day off this week I will boil my next batch of edamame and then take them out of the pods and freeze them for easy use in recipes through the winter.
Carol Marini had told me she roasts her okra and although I had done it in previous years, I hadn't done it recently so I roasted it with a few potatoes this past week. Just a little olive oil, salt and pepper and roast at about 425 degrees for 45 minutes or until tender and browned in spots. The tips of the okra came out crispy and the entire veggie was so delicious! I'll be doing this every week until the okra run out. Thanks again Carol.
Green beans, onions, tomatoes, herbs - made a vegetable fricasse. The recipe called for sausage, but we used mushrooms from the farmers market instead and browned those up, and added some onion. Then we took a couple of ears of corn and grilled them, took the corn off the cob to add in at the end. The recipe also called for snap peas, but we used green beans instead which we had blanched. A few small tomatoes were cut up and added near the end and then basil was torn over the top once on our plates. It turned out delicious!!
Let me know how you enjoyed your harvest at lindadansbury@comcast.net and please put Anchor Run in the subject line.
Farm Open As Usual Monday
By Dana Hunting
The farm will be open as usual this Monday even though it is Labor Day (U-pick, 8am-8pm; Share pick up, 1-8pm).