Slowly winding down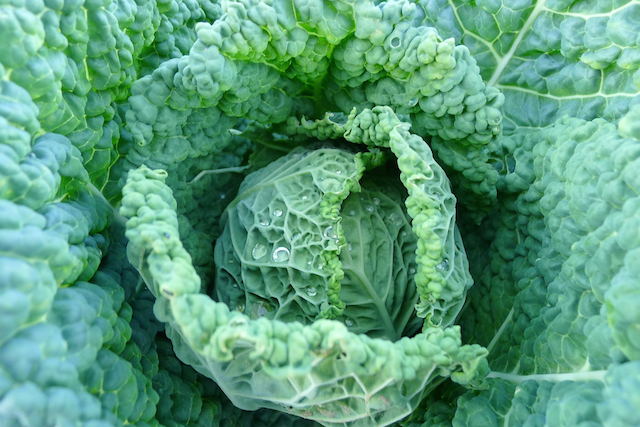 Cabbage will be part of the share starting this week. Packed with nutrients and durability, cabbage is a vegetable with muscle.
Broccoli season is an exciting time of year, a reward for fertile soil, consistent water, and warm days and cool nights.
News
Notes From The Field
Atypical Farmscapes
By Derek McGeehan
Wow, dry weather returns. This time, thankfully, the irrigation is mostly ready to go. A week prior I was concerned about too much water. A week before that I was probably concerned about not enough. I return there this week. I'm not turning the irrigation on quite yet but it is starting to creep into my mind, especially for the new crops. One rain event in the last month and no precipitation forecasted for the next ten days. I love how we cannot have any expectations regarding weather year to year. Either way, physical farm work is slowly and slightly lessening, our list of tasks grows shorter. This translates into being able to devote time to thoughts and projects put on hold until availability opened up: planning and administratively preparing for next season, organizing and cleaning the barns, fixing machinery, etc.. It is interesting how the seasons of the year steer us subconsciously into a time of reflection and change from a time of no time for anything else but physical work. I embrace the bell curve of farming now after 8 seasons as a full time farmer.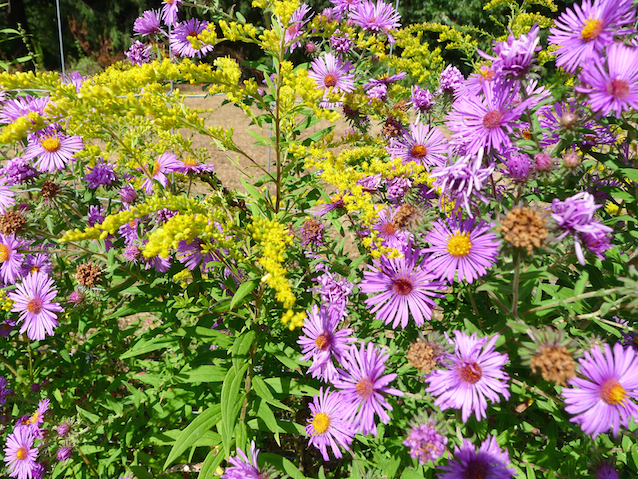 Blooming aster and goldenrod are sure signs of late summer and early fall, providing pollinators with a snack before winter.
With most of our storage crops out of the ground, we are now able to take stock of stores and assess our ability to make it through winter, making that final push to sow any remaining seeds that will mature in time before the hard freeze. We begin to look back on the 2015 season and gauge what experiments worked out and are worth replicating and which will remain as a one-time trial. We also start planning for the 2016 season and have even opened registration to build up our budget for next season. One of the best qualities of a CSA-only farm is the ability to get the financial stuff out of the way during the offseason to be able to fully focus on farming during the growing season. Our operating budget - farm revenue - is set by the number of members we have which is now at its financial and farm sustaining peak. Our expenses are very high right now with the additional work of repairing and renovating farm buildings but we're still at least breaking even and staying afloat. As always, we thank our members for their support.
Expected Harvest
Broccoli and Cabbage
By Derek McGeehan
Harvest #19 (Week A) should include broccoli, cabbage, kohlrabi, kale, chard, lettuces, onions, garlic, winter squash, leeks, heirloom tomatoes, dill, cilantro, arugula, sweet peppers, and hot peppers. Some items will be a choice. U-pick should include flowers and herbs.
Workshifts Over For Season
By Derek McGeehan
Workshifts have ended for the year. If you weren't able to finish your hours, please send your $15 per missed work hour check made payable to "Anchor Run CSA" as soon as possible (half share - $60, full share - $120). This fills out the balance of your share cost and saves us the need to contact you for payment.
Final Potluck of the Season - Let's Celebrate!
The final potluck of the season is scheduled for Saturday, September 26th and will begin at 5pm. Please bring a dish to share to feed 6 adults, plus your own drinks and place settings. If you come please try to arrive on time so we can all eat together. If the weather allows we will enjoy a nice fire and some live music.
2015 Winter Share
By Derek McGeehan
The Winter CSA will begin on Tuesday, November 17th, 1-8pm, for Full Shares and Week A Half Shares. Week B Half Shares begin Tuesday, November 24th. The season runs for 6 weeks through the week of December 20th. (Half share folks, we will try to keep your same Week A/B designation you had for the Main Season). CSA members can still sign up for a winter share but we do need payment by Friday, November 13th, to confirm our harvest numbers. Prices are the same as last year, $200 for a full share and $110 for a half share. New this year are string construction lights to get you safely from the parking lot to the barn; a project on our to-do list for years. Six more weeks of harvest sounds great to me!
A Brief Note on Share Splitting
By Derek McGeehan
We're currently updating our split share policy at the farm because of lingering issues that have come to our attention. Members are said to be splitting a share when they make an informal arrangement to divide up their harvest bounty with a family member, friend, or neighbor that is not a part of the member's household. We want to make a policy that works equally for all of our members. Once we have a finalized policy in place we will notify you and it will be posted on the website and in the barn. Some of the issues include extra work for Dana and I, miscommunication amongst a split share, and treating a full share like two half shares but only paying for a full share. We think it would be best for the farm to have a set split share policy for new and old members that establishes rules. Splitting a share will still be an option but there will be guidelines to follow. Thank you for understanding.
Member ideas and suggestions
By Linda Dansbury
Judy Reed emailed me this week with a few things she did with her harvest. I haven't used my pressure cooker in a few years, and truthfully I had almost forgotten that I had one, so thank you Judy for reminding me. After a busy day, this wonderful tool turns out tasty meals quickly. Please send your ideas to me at lindadansbury@comcast.net. Below are Judy's ideas/suggestions:
Sausage, pepper and onions:
I steamed sweet Italian sausage and cut it into chunks. I then sauteed 2 tablespoons olive oil and sautéed sweet peppers, onions and garlic. Put the sausage back into pan and add chopped tomatoes, chicken broth, and some white wine or dry vermouth. Simmer until the tomatoes are mush. Add lots of ground pepper and a pinch of kosher salt.
Pork chops in pressure cooker:
I put four bone - in pork chops with a cup of broth (chicken , turkey) into the pressure cooker. Cook under pressure 11 minutes. When steam is gone add potatoes, cut in chunks. (as many or as little as you want). Cook under pressure 5 minutes. Let steam escape quickly then add two pounds of green beans and cook under pressure for 3-4 minutes. Let steam escape manually. Serve with lots of freshly ground pepper. Salt as needed.

Sounds simple but is delicious. Must use broth, not water or there will be no flavor. This amount of food in a 6 quart pressure cooker may be too much, but mine is 8 quarts. If need be, reduce amount of potatoes and beans.
Tomato, onion and feta salad:
Cut tomatoes into chunks. Slice onions thinly, then cut rings in half. add feta cheese cut into squares. Dress with lots of good olive oil, a little bit of white balsamic vinegar to cut the oil, some fresh or dried oregano, pepper and salt. Serve very cold.
Change in weather and eating patterns
By Linda Dansbury
Today and this coming week the weather is forecasted to be very fall - like. I for one, welcome the change in the seasons. Don't get me wrong, I do wish we could have the amazing tasting tomatoes all year! But I truly enjoy cooking differently in the cooler months. Longer cooking soups and stews are a welcome change from the salads we have been eating all summer. This is the time of year I start digging into my storage crops: winter squash and potatoes will begin to be consumed, and greens will be sauteed or chopped and added to soups and stews. I was searching this site for kohlrabi uses - in the spring I told you that I typically cut them up and eat as a snack with my lunch, so I am not an expert on preparing it. There are several delicious recipes: kohlrabi slaw, kohlrabi salad, sauteed kohlrabi and even kohlrabi fries!
Another fall veggie staple is cabbage - as with kohlrabi, cabbage stores very well, and is a healthy and versatile ingredient - slaws, sauteing adds an almost nutty flavor, add to soups (think minestrone) and even a little added to lettuce adds a nice crunch and taste to a salad.
So, enjoy the cooler weather and let me know how you prepared your harvest at lindadansbury@comcast.net

How I enjoyed my harvest this week
By Linda Dansbury
This past week went by in a blur, so I am struggling to remember what I ate this past week, but here are a few things I prepared:
Spaghetti squash, garlic, tomatoes, herbs - made an uncooked tomato sauce (recipe is on the website) and served it with the spaghetti squash. There are several methods of cooking spaghetti squash, but I have found the easiest for me is to heat the oven to about 400 degrees. Slice the squash in half the long way. Dig out the seeds and stringy parts in both halves - you can either discard or save the seeds to roast. Place cut side down in a baking dish - I add enough water to just coat the dish. Bake until tender, 30-45 min, depending on the size of the squash. I start testing for doneness at just under half an hour. It should be easily pierced with a knife, but don't cook it too long, or it gets mushy. I don't mind the time this takes as I can prepare other ingredients while the squash is cooking. I know a lot of people like to microwave the squash, but I have overcooked part of the squash on more than one occasion in the microwave.
Swiss chard, onions, garlic - I grilled portobello mushrooms, and while that was going, I sauteed up onion and garlic and the chopped Swiss chard stems. When tender, I added the chopped up leaves and sauteed just until wilted. Topped the grilled mushrooms with the greens mixture, sprinkled with a little parmesan cheese and enjoyed.
Kale, onions - I had a lot of the dressing left from the mushroom/kale salad, so I made it again, using cut up portobello mushrooms. Yum!
Okra, potatoes, leek, herbs - roasted together until all were tender and slightly browned. Really delicious and so easy!
Please let me know how you enjoyed your harvest at lindadansbury@comcast.net