Welcome fall and the full-blood-super moon eclipse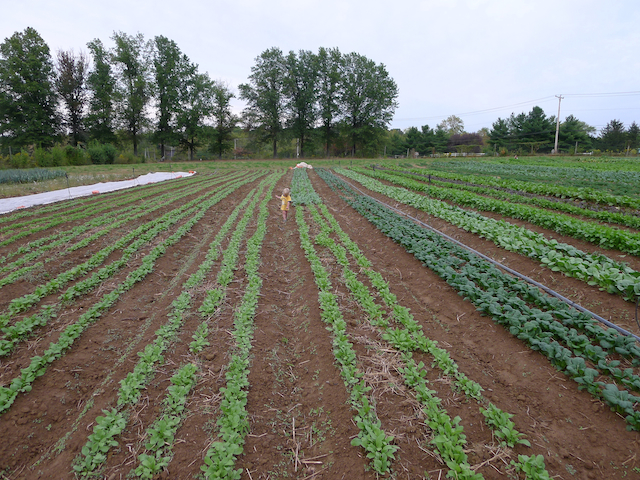 Rows of fall brassica family greens and roots fill up Field #2.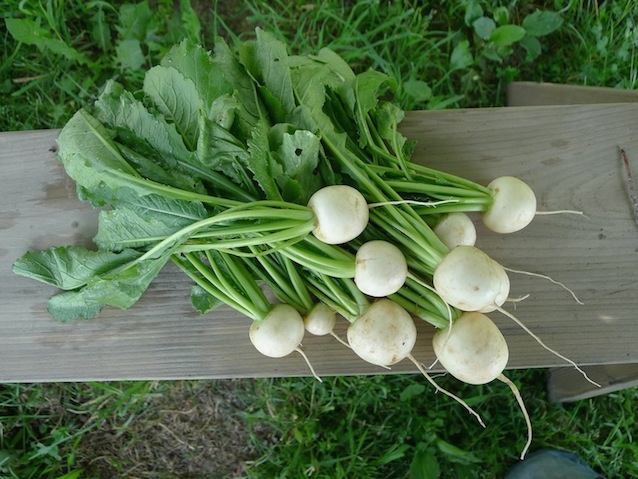 Hakurei turnips are some of the best roots eaten raw.
News
Notes From The Field
Changing Seasons
By Derek McGeehan
A few weeks ago I was wondering when the abrupt temperature change and seasonal shift would occur, and it appears to have coincided with the official start of fall and the full-blood-super-moon-eclipse that occurs on Sunday night. Sounds appropriate to me. The lingering summer heat into September that we've tolerated along with mostly absent rainfall has my inner clock somewhat off, feeling more like summer time not fall time. This past week I spent time again rushing around setting up irrigation on the last of the new crops. Now that it is there and easily turned on we don't need any rain again. Power over the weather! (Sarcasm). I still feel an uneasy sense though when it only rains once in six weeks, but it is interesting to observe how unirrigated plants and cover crops tolerate it and make it through and somehow even grow. Our cover crops that were sown right before the last rain two and a half weeks ago, for example, germinated and are slowly covering the soil, which is what they're meant to do. The cover crops that were sown right before the prior rain event, five and a half weeks ago, are now two feet tall with the buckwheat getting ready to flower. I like to imagine the activity in the soil that allows them to thrive in this weather. I remember a past season where the opposite occurred, where we received fifteen inches of rain in one month, and somehow there were crops that pulled through and were harvestable. Their resiliency and tolerance amazes me.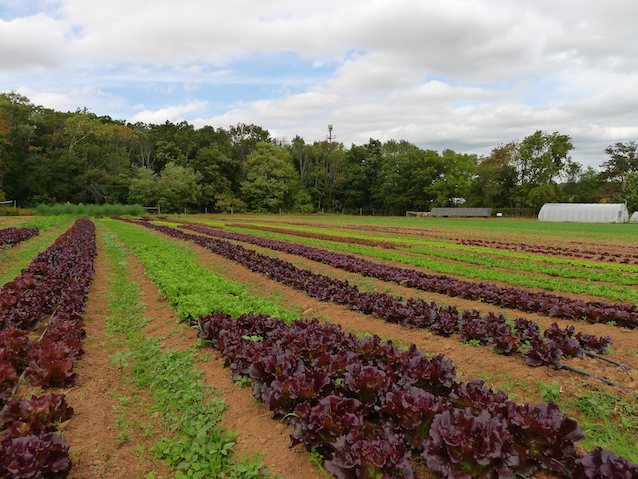 Rows of fall lettuces and chicories have been irrigated and cultivated and now wait to be harvested.
Harvests have been great this year once again. A dry season after a cold winter tends to allow the farm to reach its productive peak. Certain bugs and diseases are thwarted by the prolonged cold and we can add water to crops as we see fit. We're now entering harvest week number twenty with a total of twenty-six weeks for the Main Season followed by six weeks of the Winter CSA. Pretty soon we'll be battling frosts and freezes instead of bugs and weeds. Stretching out the season with simple cold protective measures like floating row cover and unheated high tunnels has been fun to experiment with, but I think we're learning what the limits of the row cover are, especially when trying to use it to cover way too much produce. We'll live and learn and hopefully make the right decision before we invest time, labor, and money based on the past three seasons of the Winter CSA. I'm still intrigued by offering CSA shares year-round at some point, but we'd ideally grow cold hardy greens harvested fresh alongside storage crops and roots. Possibilities are endless with appropriate infrastructure and fossil fuels, but I think I'm currently more interested in doing it without additional dinosaur and ancient forest fuel. However, maintaining a temperature of thirty-two degrees versus lows of ten or fifteen makes a huge difference and doesn't use that much fuel. Of course, what is wrong with a January break?

Expected Harvest
Hakurei Turnips Are Here
By Derek McGeehan
Harvest #20 (Week B) should include hakurei turnips, kale, chard, lettuces, arugula, dill, cilantro, garlic, onions, heirloom tomatoes, winter squash, broccoli, leeks, and cabbage. Some items will be a choice. U-pick should include flowers and herbs.
Workshifts Over For Season
By Derek McGeehan
Workshifts have ended for the year. If you weren't able to finish your hours, please send your $15 per missed work hour check made payable to "Anchor Run CSA" as soon as possible (half share - $60, full share - $120). This fills out the balance of your share cost and saves us the need to contact you for payment.
2015 Winter Share
By Derek McGeehan
The Winter CSA will begin on Tuesday, November 17th, 1-8pm, for Full Shares and Week A Half Shares. Week B Half Shares begin Tuesday, November 24th. The season runs for 6 weeks through the week of December 20th. (Half share folks, we will try to keep your same Week A/B designation you had for the Main Season). CSA members can still sign up for a winter share but we do need payment by Friday, November 13th, to confirm our harvest numbers. Prices are the same as last year, $200 for a full share and $110 for a half share. New this year are string construction lights to get you safely from the parking lot to the barn; a project on our to-do list for years. Six more weeks of harvest sounds great to me!
How I enjoyed my harvest this week
By Linda Dansbury
Derek says that this week's harvest is #20 and I can't believe the CSA season is racing by so quickly! We had a lot of commitments this past week, so I didn't get to cook very much. I did make the following soup so that my greens wouldn't go bad - it is just a template, but it did come out delicious.
Heat olive oil in a large soup pot. Add chopped onions and saute until soft and lightly colored. Add 2 chopped cloves of garlic and saute' for about a minute. Added a lot of water - not sure how much - it was a large pot. Add roughly chopped carrots, celery (I have celery in my garden and still have some farm carrots). I also added a rind from parmesan cheese, and herbs - bay leaf and parsley. While these came to a simmer, I chopped up my various greens, putting them in piles based on cooking times. Kale in one pile and Swiss chard and beet tops in another pile - I added the Swiss chard stems to pot to cook along with carrots and celery. I then added some tomatoes that I chopped up that were getting a little old but still fine to use. I added pasta (I am often a lazy cook, so I don't cook the pasta separately, as most recipes state to do) and kale into the pot at the same time, assuming that they would take about the same to cook. When there was 5 minutes left, I added the Swiss chard greens and beet greens and let simmer until the greens and pasta were tender. Topped with grated cheese and more parsley to serve.
Note - because I planned to freeze some of the soup, I removed half of it to a separate pot to cook, and only added the pasta to half of it. I find thawed out cooked pasta to not be very good. I also could have added beans to make it more hearty, but didn't think of that until I was already eating it. When you thaw out the soup for later, you can then add pasta if you like and beans too if you have them handy.
Abundance of broccoli plus turnips and arugula
By Linda Dansbury
Ideally, the weather would have cooled down and we would be receiving one or two broccoli heads per week over the next few weeks, however ideal doesn't always happen. The warm dry temperatures have caused the broccoli plantings to catch up to each other but I was still surprised to find three large heads waiting for me in the pick up room and that following two nice sized heads the week before. So, what to do with all the broccoli? Maybe you didn't know that it is delicious roasted; try
Broccoli Aglio Olio with Bread Crumb "Gremolata".
It is much simpler than the fancy name sounds and is quite delicious. Also
, Sauteed Leeks and Broccoli
is a winning dish. A good way to preserve it is to make it into soup and freeze for an easy, delicious meal this week when the temperatures cool down even more, or later when frost is blanketing your home. I saute carrots, some type of onion (leeks, onions) and celery until soft and slightly colored. Meanwhile, cut up the broccoli and stems into small pieces. When the veggies are ready, deglaze with a little white wine (optional), then add your preference of broth - veggie or chicken, or even water. I like to add a bay leaf, a couple parsley and thyme stems as well. Add the cut up broccoli and simmer until quite tender. Remove the herb stems if using. Use an immersion blender to blend as smooth as you like. For a garnish, you can save some small florets, lightly steam them, and then top each bowl of soup with them. Some slivered toasted almonds on top are a nice touch as well.
Arugula is another green that we receive in both spring and fall. I love the peppery flavor of arugula! In looking through recipes on this site, I found one that blends that pepper with softer flavors, and I intend to make it this week -
Orzo with Arugula and Tomato
.
Member ideas and suggestions
By Linda Dansbury
This week, I received one new recipe from a fellow member, Judee Algazi, who has a blog called
www.glutenfreematters.com
for kohlrabi soup. It sounds delicious and is very nutrient packed! If you have a recipe, method, or even a question, please email me at lindadansbury@comcast.net.
Recipes
V Kohlrabi, Kale and Red Lentil Soup
From member and blogger Judee Algazi; Prep time 15 minutes; Cook time 30 minutes; Serves 6 small bowls
Olive oil spray + 1 Tablespoon of olive oil
1 medium to large kohlrabi bulb , peeled and diced
2 carrots, diced or sliced (your choice)
1 cup of diced onion
1 or 2 cloves garlic, chopped
3/4 cup of red lentils, picked over and washed
1 cup of chopped raw kale
2 and 1/2 cups water
4-5 cups of vegetable broth
2 tablespoon of Trader Joe's 21 Salute (a salt free seasoning mix) (or Mrs. Dash or your own concoction of dried herbs)
Cracked pepper to taste
Sea salt at the very end after tasting, only if needed
Spray an eight quart soup pan with olive oil spray. Add onion, garlic, and carrots and sauté for about 3 minutes. Add the olive oil and the kohlrabi. Saute for another 5 minutes on low heat stirring frequently. Add the red lentils, the water and 2 cups of broth. Bring to a boil and then lower the temperature and simmer for about 15 minutes.
Add 2 more cups of broth and continue to simmer. Add seasonings (except salt) and cook until the red lentils are soft and dissolved (about 15 more minutes).
Use an immersion blender to blend the soup 75 %, leaving a small amount of the chunky vegetables. If there is not enough soup add the additional cup of broth. Taste and add salt if needed. Add a small amount of uncooked chopped kale to each bowl. The kale will wilt and soften in the in the hot soup.