Awaiting the arrival of our new farmer...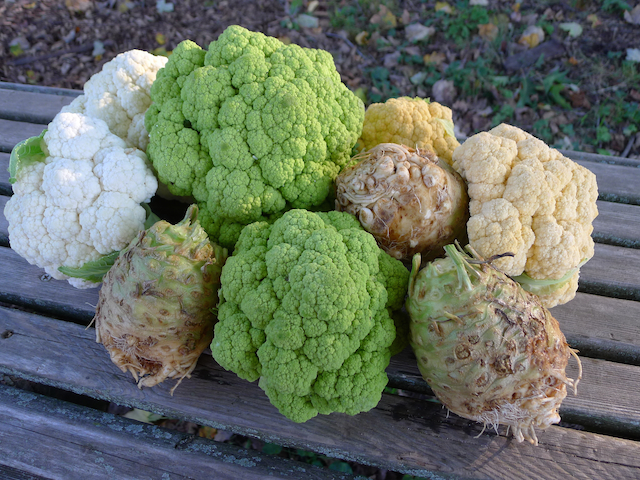 Two important vegetables of autumn are cauliflower and celeriac. Who knew that cauliflower came in so many colors?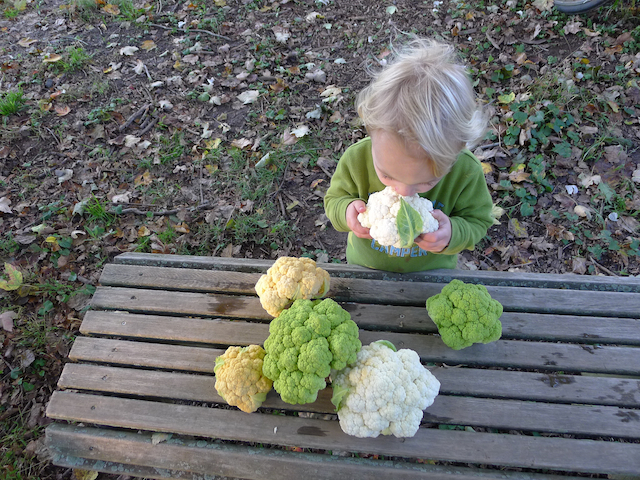 Proof of its deliciousness, Gabe samples some produce before he decides to take it and run.
News
Notes From The Field
Drying Out
By Derek McGeehan
We're now slowly drying out after what was probably the wettest week on the farm this year. It is a good time of year to receive a lot of rainfall since our ground preparations and plantings are mostly concluded. However, we do still need to plant next year's garlic and are hoping to do so where the sweet potatoes are now, rather than disturb and prepare new ground. That being said, we still need to harvest all of the sweet potatoes, especially before we receive a freeze or frosts become frequent. After they're retrieved they'll cure in the warm greenhouse where they undergo minor chemical and physical changes that give them a longer shelf-life and make them sweeter. We're planning to embark on this project this week. After they are out of the ground I'll chisel plow, spread compost, possibly use a disc harrow to chop up the organic matter, added minerals and fertilizer, bed shape a couple of times, then finally plant the cloves which turn into next year's bulbs. And I almost forgot the final step: lay straw mulch three to four inches thick over the whole patch to insulate the soil so the bulbs don't frost heave out of the ground. Hopefully this job will be accomplished on a non-windy day.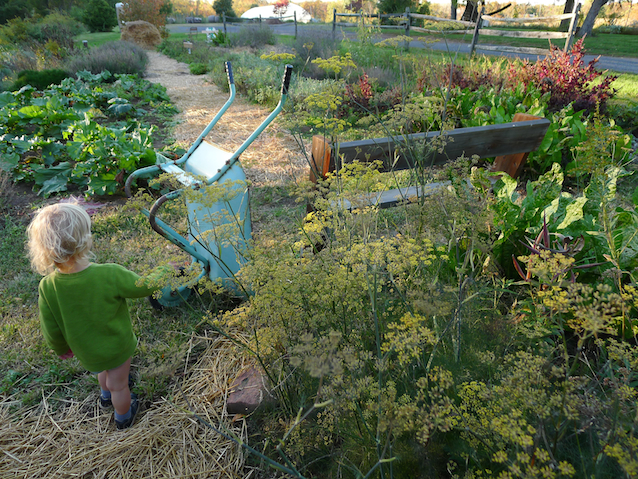 Fall colors and fall light plus a tidy herb garden and a little garden gnome make for a nice photo. Thanks to all of the CSA members that worked hard in the herb garden this year!
Of course mostly on our minds right now is the pending arrival of our new family member. We're looking forward to meeting this new little person and introducing him/her to the farm and community. Thanks to everyone for their well-wishes and love.

Expected Harvest
Celery Root or Celeriac
By Derek McGeehan
Harvest #22 (Week B) should include celeriac, potatoes, kale, garlic, butternut squash, cabbage, broccoli, cauliflower, onions, leeks, lettuces, chard, collards, endive, escarole, greens mix, and broccoli raab. Some items will be a choice. U-pick should include herbs.
Workshifts Over For Season
By Derek McGeehan
Workshifts have ended for the year. If you weren't able to finish your hours, please send your $15 per missed work hour check made payable to "Anchor Run CSA" as soon as possible (half share - $60, full share - $120). This fills out the balance of your share cost and saves us the need to contact you for payment.
2015 Winter Share
By Derek McGeehan
The Winter CSA will begin on Tuesday, November 17th, 1-8pm, for Full Shares and Week A Half Shares. Week B Half Shares begin Tuesday, November 24th. The season runs for 6 weeks through the week of December 20th. (Half share folks, we will try to keep your same Week A/B designation you had for the Main Season). CSA members can still sign up for a winter share but we do need payment by Friday, November 13th, to confirm our harvest numbers. Prices are the same as last year, $200 for a full share and $110 for a half share. New this year are string construction lights to get you safely from the parking lot to the barn; a project on our to-do list for years. Six more weeks of harvest sounds great to me!
A lot of greens, plus celeriac
By Linda Dansbury
Looking at this week's harvest list, I am in awe of the variety of items we are receiving. Here are a couple of ideas on how to use these beautiful, healthy greens.
Endive and Escarole - very similar in taste profile and they keep in the fridge pretty well. I often mix a few of these leaves in with other more mild greens, which yields a nice, flavorful salad. They are also good on their own. They truly complement the flavors of fall - pears, apples, beets, cranberries, goat cheese and nuts combine with them to make wonderful salads! They can also be added to soups, stews, chili, bean and lentil stews - so many things!
Kale and Chard - we have talked about these quite a bit in the past - just search the website for many recipes: from gratins, to stews, and soups.
Collards
- I don't remember receiving these this year prior to this past week. Most people think of collard greens cooked all day with a ham hock and while that is a very traditional way to use them, try the
Skillet squash and Collards with Barley
. Slice or chop the collards small and they will cook up faster - as with so many other dishes, other greens may also be used - just add the greens to the squash at the appropriate time based on how long it will take them to become tender. Kale will take slightly less time than collards, chard less again and escarole and endive should just be wilted.
The new veggie this week is
celeriac
, which is also known as celery root, knob celery and turnip-rooted celery. It was developed from the same wild species as did stalk celery so it does have a distinct similarity in flavor to celery. It had medicinal and religious uses in many early civilizations, including those of Egypt, Greece and Italy. In Europe, celeriac is a historic favorite, but isn't used as much in the United States. The vegetable's most classic recipe is in the cold French salad
celerie remoulade
, in which the root is peeled, grated, "cooked" in lemon juice (or blanched briefly in acidulated water) to lose a bit of its rawness, then dressed with a mustardy mayonnaise. Celeriac is loaded with Vitamin C, potassium, and phosphorous.The flesh is crispy when raw, silky smooth when cooked.
Celeriac is delicious roasted in combination with other veggies, boiled along with potatoes for a "mixed mash", or added to cole slaws. Search the web site for many recipes. Celeriac keeps very well in the fridge. The veggie is unusual looking; be careful when peeling - the outer covering is a little tricky to peel. Once peeled it must be cooked or dressed immediately because it will oxidize quickly and turn an unappetizing brown. If it needs to sit for a bit before cooking, place the pieces in cold water in which a squeeze of lemon has been added.
Enjoy the harvest and please share your thoughts with me at lindadansbury@comcast.net. Please put Anchor Run in the subject line.
Members ideas and suggestions
By Linda Dansbury
I received a link from member Kim Glassman for Easy Korean Beef and Kale. I had made a very similar recipe from Food and Wine magazine during last winter's share with the baby kale we were receiving and it was so simple and delicious. I was glad to get the reminder of this dish from Kim!
If you have any ideas on using your harvest, please email me at lindadansbury@comcast.net
How did I enjoy my harvest?
By Linda Dansbury
In an effort to not be too redundant in what I am making, I searched the website for recipes this week that I haven't made in a long time and I found some wonderful surprises:
Swiss chard, onions, garlic
- made the
Chick Pea and Chard Leaf Curry
. Melody Sharma, one of our former interns had sent me the recipe and it is delicious. I do not have commercially made Garam Masala but the recipe lists what is in it. Yum!
Cilantro, garlic - made cilantro pesto and froze it, but I think I will use it for fish tacos this coming week since the weather is supposed to be so nice.
Kale - I am not sure that I have ever mentioned that I made smoothies for my breakfast some mornings and I do add some kale to them along with frozen fruit, Greek yogurt and flax seed. Delicious and healthy!
Potatoes, leeks, rosemary - made oven roasted potatoes with leeks - they turned out nice and brown and very tasty.
Maybe this week I'll start eating some of the winter squashes! Stay tuned...
Please let me know how you enjoyed your harvest at lindadansbury@comcast.net and don't forget to put Anchor Run in the subject line so that I can easily find your email.
Recipes
V Easy Korean Beef
Member Kim Glassman sent this to me from a blog she found - it has also been in a recent Food and Wine issue. Substitute ground pork, chicken or turkey for the beef. The greens and scallions can also be changed to whatever you have on hand.
1 pound lean ground beef (or pork, turkey, or chicken)
1/4 cup brown sugar
1/4 cup soy sauce (I always use reduced sodium)
1 Tablespoon sesame oil
3 cloves garlic, minced
1/2 teaspoon fresh ginger, minced
1/2 – 1 teaspoon crushed red pepper - or minced hot pepper
Bunch of kale - de-stemmed and roughly chopped
salt and pepper
1 bunch green onions, sliced - or add sliced leeks or onions to the pan with the ground meat
Heat a large skillet over medium heat. Brown the ground beef in the sesame oil. Add the garlic towards the end of browning and cook for a couple of minutes. Drain the fat.
Add the kale and stir to wilt.

Add the brown sugar, soy sauce, ginger, salt and pepper and red pepper. Simmer for a few minutes to blend the flavors. Serve over rice and garnish with scallions, if using.