Endive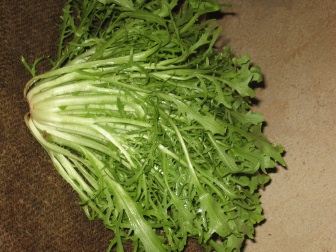 Endive has two forms, narrow-leaved endive called curly endive and the broad-leaved endive which is often called escarole. The outside leaves of an endive head are green and bitter. The inner leaves of the endive head are light green to creamy-white and milder flavored. Endive is rich in many vitamins and minerals, especially in folate and vitamin A and K, and is high in fiber.
Storing / Preserving:
Endive, although fairly sturdy as lettuce goes, prefers to stay a little moist, so place damp paper towels in a plastic bag and store in the fridge for up to 5 days. You can revive limp endive by first placing it in lukwarm water, than put into ice water to shock it.
Preparation / Use Suggestions:
Both types of endive are used in salad mixtures with blander- flavored lettuce to prepare a salad with a "little bite" added to the flavor. They can also be used in soups, or sauteed in olive oil and garlic and then tossed with pasta along with walnut pieces and your favorite cheese. Or try these options:
Crumble blue cheese over endive or a mix of greens and sprinkle with green onion. Drizzle over a vinaigrette of olive oil, lemon juice, salt and pepper.
Or with goat cheese: Crumble some chèvre on your salad. Garnish with red onion and slivers of garlic. Dress with olive oil, lime juice and honey.
Country style - with bacon bits, croutons and garlic. For a light meal, add a hard-boiled egg.
Autumn salad - endive lettuce, beets, apples, walnuts.
Italian - with a vinaigrette of olive oil, balsamic vinegar, mustard and garlic… and with some dandelions!