Chinese or Napa Cabbage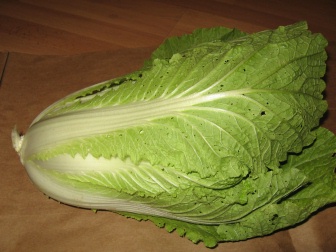 Chinese cabbage is also called Napa cabbage. It is a mild and slightly crunchy green that is most often eaten raw in salads or coleslaw. Because it is in the same family as broccoli, it shares many of the same health benefits and phytochemicals. In order to preserve the vitamins, do not cut the cabbage until you are ready to use it.
Storing / Preserving:
Chinese cabbage will keep in your refrigerator for at least a week. Wash it when you get it home, then place in a sealed plastic bag.
Preparation / Use Suggestions:
Chinese cabbage is more delicate and milder than regular cabbage and can be used as a substitute. It can be used in salads and coleslaws and can also be sliced in strips and sauteed in a combination of olive oil and butter, then add salt and pepper. It is much sweeter than you would imagine.