Mizuna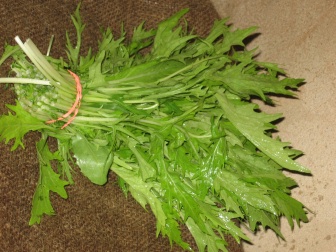 Mizuna is a feathery, light-to-medium green Japanese green with a mild mustardy flavor. Since it is in the brassica family, it shares many of the same health benefits of broccoli, brassica rabe, and cabbage.
Storing / Preserving:
The best ways to store greens are either a bit moist in a perforated plastic bag in the refrigerator, or wrapped in damp paper towels in a perferated bag in the refridgerator. They should keep for about a week.
Preparation / Use Suggestions:
In this part of the world, mizuna is typically eaten in salads as part of mesclun mixes, but is very tasty when used as more prominent player in a salad. A nice way to compliment the mustardy flavor is to add cheese, such as blue or goat, and nuts, such as walnuts to the salad. The leaves can also be added to soups, stews and stir fries. Just add chopped mizuna at the end of the cooking process. It only takes a minute to wilt the greens.