Member Work Guidelines
Everything you need to know about our work requirement.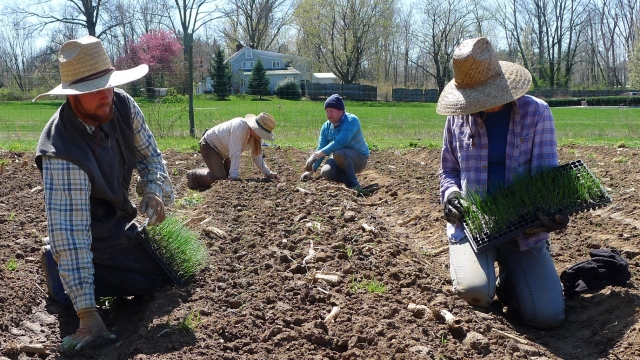 Getting Involved. Involvement in the CSA beyond the cost of a farmshare is vital to making our community farm sustainable. It is also lots of fun working with the farmers and your neighbors and getting to know them better! Each FULL farmshare commits to perform a minimum of 8 hours of work for the farm over the course of the season. Each HALF farmshare commits to perform a minimum of 4 hours of work for the farm over the course of the season. Jobs consist of planting, harvesting, weeding, and thinning plus other miscelaneous jobs. Your help is most appreciated early in the season (April, May and June) - each share should plan on doing at least half of their hours by the end of June. You will reap the benefit of your labor later in the year!!
When are workshifts? This varies, but for much of the growing season, workshifts are available on Sunday mornings, Tuesday evenings and Wednesday mornings. Some Friday and Saturday mornings are available in the early part of the season, along with a monthly non-Tuesday weekday evening shift to accomodate everyone's schedule. In addition, there are "special project" days when it is time for garlic, onion, and potato harvests, and strawberry and garlic planting. There are also some special work assignments such as working every Sunday in the Children's Garden. You can always check on the website or on the calendar in the pickup room in the barn (once weekly pickups have begun) to see what is coming up.
How do I sign up for worksheets?
The best way to sign up for shifts is on this website. Instructions may be found
here
. You may sign up yourself, or any other member of your share up to the night before a shift begins. Once weekly pickups have begun, you may also sign up on the large calendar in the pickup room in the barn. Simply put your name on an available time slot (and mark it on your calendar at home so you don't forget).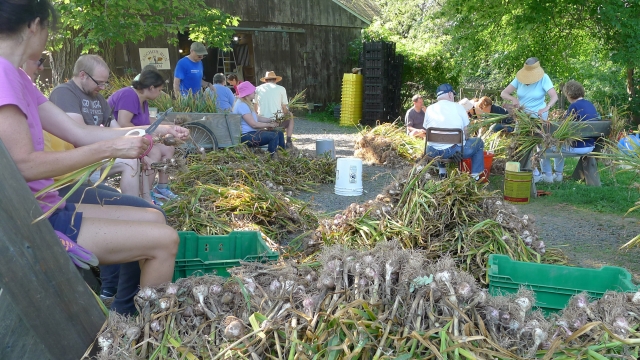 What do I do when I show up for my workshift? Important: Please arrive 5 minutes early to your shift so that we can begin on-time. Simply park in the back, just as you would if you were coming to the farm for pickup or a potluck. Meet by the entrance to the barn. One of the farmers, interns, or superworkers will meet you to show you what needs to be done that day. Farmers/interns work together for the entire workshift. Workgloves and any needed tools are at the farm (although you may bring your own tools if you wish). Note: if you prefer to wear "gardening gloves," please bring your own.

What if it is raining? Workshifts are generally cancelled when it is raining. If it is actively raining just before the beginning of your shift, you do not need to come to the farm. If the farmers know the night before a shift that the workshift will definitely be cancelled due to weather or field conditions, they will post this information on the website. If you have a question about whether or not your shift will be happening, call Derek and Dana (215-598-1519).
Can I bring my children to my workshift? Please use appropriate discretion when bringing children to your workshift. Childcare is not available, and most workshifts involve working in the field. On the other hand, many children enjoy being out in the field while Mom and Dad are working, and it can be a wonderful part of the experience for all. You are responsible for your children's safety at all times.

If my children are old enough to work, does their time count towards the work requirement? If they are able to do the work that an adult would do, with the same amount of supervision, yes. Sometimes 2-3 children in the same family working together with a parent would count as a single shift. if you have any questions about your particular situation, talk to Derek, Dana, or Jeff Bence, the Workshift Coordinator.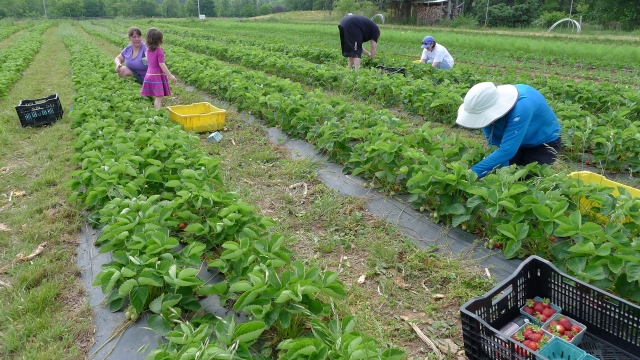 What if all the adults in the share have physical restrictions? Anchor Run CSA will not deny membership to anybody based on physical ability. If you have special circumstances that make fulfilling the work requirement not possible, please speak to the farmers.
Can we work more than the minimum requirement of hours? Yes! Yes! Yes! And for those of you who are new to the CSA, don't think this is a funny question! The first year member Jeff Bence joined the farm, he finished his required hours by the beginning of June, and ended up spending 45-50 hours out in the fields. There is something very satisfying about planting, and weeding, and harvesting, and watching your labor turn into the food that we all eat. Plus, you get to meet a lot of really great people - the farmers, and like-minded neighbors. If you are really excited about going above and beyond (as about 20% of you do each year), please let Jeff know if you would like to be on the special "call me when you need me" list - there are always special projects coming up that need a few people that are available on short notice!!
What if I don't complete my work hours? If members are unable to complete their work hours by the end of the season, to cover the costs of hiring help to complete necessary tasks, members will be billed at a rate $15.00 per unworked hour. Those who prefer to contribute financially rather than fulfilling the work requirement associated with their share may pay in advance at the time of registration.
What if I have questions about the work requirement at Anchor Run CSA? Please contact Dana or Derek: